Abstract
The bioactive metabolites produced by two plant growth promoting rhizobacteria strains, a Pseudomonas aeruginosa strain RRLJ 04 and a Bacillus cereus strain BS 03, which showed growth promotion and disease control in pigeon pea against Fusarium udum, were isolated and screened for their efficacy to control fusarial wilt of pigeon pea under gnotobiotic and nursery condition. Bioactive metabolites viz., BM 1 and BM 2 from RRLJ 04 and BM 3 from BS 03 also showed in vitro antibiosis against F. udum. Seeds treated with 50 μl seed−1 of BM 1, 30 μl seed−1 of BM 2 and 70 μl seed−1 of BM 3 and grown in pathogen infested soil showed suppression of wilt disease besides growth enhancement. Per cent disease control was 90 % with BM 2 application as compared to 87 and 83 %, respectively in BM 1 and BM 3 after 90 days of growth. BM 2 treated plants were more resistant to the pathogen as compared to the other fractions tested. Mycelial dry weight was found to be reduced on treatment with the bioactive metabolites. Formation of chlamydospore-like structures was observed in the pathogen mycelium treated with BM 3. The analytical studies confirmed that two of these metabolites are phenazine derivatives.
This is a preview of subscription content, log in to check access.
Access options
Buy single article
Instant access to the full article PDF.
US$ 39.95
Price includes VAT for USA
Subscribe to journal
Immediate online access to all issues from 2019. Subscription will auto renew annually.
US$ 199
This is the net price. Taxes to be calculated in checkout.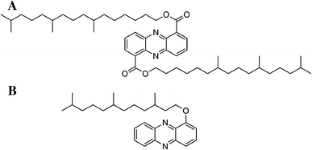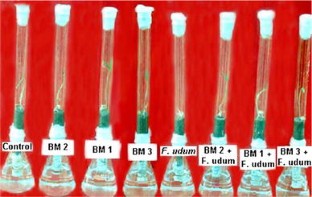 References
Ahimou F, Jacques P, Deleu M (2000) Surfactin and iturin A effects on Bacillus subtilis surface hydrophobicity. Enzyme Microb Technol 27:749–751

Alagawadi AR, Gaur AC (1988) Asociative effect of Rhizobium and phosphate-solubilising bacteria on the yield and nutrient uptake of chickpea. Plant Soil 105:241–246

Bakker PAHM, Ran LX, Pieterse CMJ, Van Loon LC (2003) Understanding the involvement of rhizobactria mediated induction of systemic resistance in biocontrol of plant diseases. Can J Plant Pathol 25:5–9

Bapat S, Shah AK (2000) Biological control of fusarial wilt of pigeon pea by Bacillus brevis. Can J Microbiol 46:125–132

Bhattacharyya N, Jha DK (2012) Plant growth-promoting rhizobacteria (PGPR): emergence in agriculture. World J Microbiol Biotechnol 28:1327–1350

Chan Y, McCormick WA, Seifert KA (2003) Characterization of an antifungal soil bacterium and its antagonistic activities against Fusarium species. Can J Microbiol 49:253–262

Chaurasia B, Pandey A, Palani LS, Trivedi P, Kumar B, Colvin N (2005) Diffusible and volatile compounds produced by an antagonistic Bacillus subtilis strain cause structural deformations in pathogenic fungi in vitro. Microbiol Res 160:75–81

Compant S, Duffy B, Nowak J, Cle'ment C, Barka EA (2005) Use of plant growth promoting bacteria for biocontrol of plant diseases: principle, mechanisms of action and future prospects. Appl Environ Microbiol 71:4951–4959

Cook RJ (2007) Management of resident plant growth—promoting rhizobacteria with the cropping system: a review of experience in the US Pacific Northwest. Eur J Plant Pathol 119:255–264

Czaczyk K, Trojanowska K, Stachowiak B (2002) Inhibition of ergosterol biosynthesis in fungal plant pathogens by Bacillus species. Pol J Environ Stud 11:93–597

Defago G, Haas D (1990) Pseudomonas as antagonists of soil borne plant pathogens: modes of action and genetic analysis. In: Bollag J, Stotzky G (eds) Soil biochemistry, vol 6. Marcel Dekker, New York, pp 249–291

Dileep Kumar BS, Bezbaruah B (1997) Plant growth promotion and fungal pest control through an antibiotic and siderophore producing fluorescent Pseudomonas strain from tea (Camellia sinensis (L) O. Kuntze) plantations. Indian J Exp Biol 35:89–292

Dutta S, Podile AR (2010) Plant growth promoting rhizobacteria (PGPR): the bugs to debug the root zone. Crit Rev Microbiol 36:232–244

Dutta S, Mishra AK, Dileep Kumar BS (2005) Efficacy of two rhizobacterial strains on growth promotion, nodulation and disease control of pigeon pea in presence of a rhizobial strain in soil infested with Fusarium udum. In: Chakraborty U, Chakraborty B (eds) Stress biology. Narosa Publishing House Pvt. Ltd., New Delhi, pp 247–251

Dutta S, Mishra AK, Dileep Kumar BS (2008) Induction of systemic resistance against fusarial wilt in pigeon pea through interaction of plant growth promoting rhizobacteria and rhizobia. Soil Biol Biochem 40:452–461

Dwivedi D, Johri BN (2003) Antifungals from fluorescent pseudomonads: biosynthesis and regulation. Curr Sci 85:693–1703

Fernando WGD, Pierson LS (1999) The effect of increased phenazine antibiotic production on the inhibition of economically important soil–borne plant pathogens by Pseudomonas aureofaciens 30–84. Arch Phytopathol Plant Prot 32:491–502

GaoFen ML, Qiao XW, Hao BQ (2004) Preliminary purification and characterization of antifungal substance produced by Bacillus cereus strain, BC98-I. Acta Phytophylacica Sinica 31:65–370

Harish S, Manjula K, Podile AR (1998) Fusarium udum is resistant to the mycolytic activity of a biocontrol strain of Bacillus subtilis AF 1. FEMS Microbiol Ecol 25:385–390

Kajimura Y, Sugiyama M, Kaneda M (1995) Bacillopeptins, new cyclic lipopeptide antibiotics from Bacillus subtilis FR-2. J Antibiot 48:1095–1103

Kiprop EK, Baudoin JP, Mwang'ombe AW, Kimani PM, Mergeai G, Maquet A (2002) Characterization of Kenyan isolates of Fusarium udum form pigeon pea [Cajanus cajan (L.) Millsp.] by cultural characteristics, aggressiveness and AFLP analysis. J Phytopathol 150:517–525

Kloepper JW, Zablotowiz RM, Tipping EM, Lifshitz R (1991) Plant growth promotion mediated by bacterial rhizosphere colonizers. In: Keister DL, Cregan PB (eds) The rhizosphere and plant growth. Kluwer Academic Publishers, Dordrecht, pp 315–326

Kumar RS, Ayyadurai N, Pandiaraja P, Reddy AV, Venkateswarlu Y, Prakash O, Sakthivel N (2005) Characterization of antifungal metabolite produced by a new strain P. aeruginosa PUPa3 that exhibits broad-spectrum antifungal activity and biofertilizing traits. J Appl Microbiol 98:145–154

Lugtenberg B, Kamilova F (2009) Plant growth promoting rhizobacteria. Annu Rev Microbiol 63:541–556

Mazzola M, Cook RJ, Thomashow LS, Weller DM, Pierson LS (1992) Contribution of phenazine antibiotic biosynthesis to the ecological competence of fluorescent pseudomonads in soil habitats. Appl Environ Microbiol 58:2616–2624

Moyne AL, Shelby R, Cleveland TE, Tuzun S (2001) Bacillomycin D: an iturin with antifungal activity against Aspergillus flavus. J Appl Microbiol 90:622–629

Perez JC, Arango JS, Uribe LFP (2012) Returning to our roots. In: Proccedings of the 9th international and 1st Latin American PGPR workshop. Quirama, Medellín, Colombia, 3–9 June 2012

Raaijmakers JM, Vlami M, De Souza JT (2002) Antibiotic production by bacterial biocontrol agents. Antonie van Leeuwenhock 81:537–547

Reddy MV, Sharm SB, Nene YL (1990) Pigeonpea: disease management. In: Nene YL, Hall SD, Shiela VK (eds) Pigeon pea. CA B Int, UK, pp 303–307

Sadfi N, Cherif M, Hajlaoui MR, Boudabbous A, Belanger R (2002) Isolation and partial purification of antifungal metabolites produced by Bacillus cereus. Ann Microbiol 52:323–337

Saharan BS, Nehra V (2011) Plant growth promoting rhizobacteria: a critical review. Life Sci Med Res 21:1–30

Sharma A, Johri BN (2003) Combat of iron deprivation through a plant growth promoting fluorescenst Pseudomonas strain GRP3 in mung bean (Vigna radiata L. Wilzeck). Microbiol Res 158:1–5

Srivastava AK, Singh T, Jana TK, Arora DK (2001) Induced resistance and control of charcoal rot in Cicer areitinum (chickpea) by Pseudomonas fluorescens. Can J Bot 79:787–795

Vasudeva RS, Subbaiah TV, Sastry MLN, Rangaswamy G, Iyengar MRS (1958) 'Bulbiformin', an antibiotic produced by Bacillus subtilis. Ann Appl Biol 46:336–345

Yu GY, Sinclair B, Hartman GL, Bertagnolli BL (2002) Production of iturin A by Bacillus amyloliquefaciens suppressing Rhizoctonia solani. Soil Biol Biochem 34:955–963

Zhang F, Dashti N, Hynes RK, Smith DL (1997) Plant growth promoting rhizobacteria and soybean (Glycine max L. Merr.) growth and physiology at suboptimal root zone temperatures. Ann Bot 79:243–249
Acknowledgments
The authors are thankful to Dr. P. G. Rao, Director, North East Institute of Science and Technology (CSIR), Jorhat for his keen interest and help in this work. Dutta and Morang thank Department of Science and Technology, Government of India and University Grant Commission, New Delhi, respectively for the financial assistance to carry out a part of this work. Dileep Kumar thanks Dr. Suresh Das, Director and Dr. A. Sundaresan, Head, Agroprocessing and Natural Products Division of National Institute for Interdisciplinary Science and Technology (CSIR), Thiruvanathapuram for their help to publish this work.
Electronic supplementary material
Below is the link to the electronic supplementary material.
About this article
Cite this article
Dutta, S., Morang, P., Nishanth Kumar, S. et al. Fusarial wilt control and growth promotion of pigeon pea through bioactive metabolites produced by two plant growth promoting rhizobacteria. World J Microbiol Biotechnol 30, 1111–1121 (2014). https://doi.org/10.1007/s11274-013-1532-9
Received:

Accepted:

Published:

Issue Date:
Keywords
Bacillus cereus

Bioactive metabolites

Chlamydospore-like structures

Fusarium udum

Growth promotion

Pseudomonas aeruginosa

Wilt disease control