Abstract
In recent years the potential of using microbes as biotechnological sources of industrially relevant enzymes has stimulated a renewed interest in the exploration of new unconventional habitats like trove of natural biodiversity. In this work, grape marcs was selected as extreme environment because of its limited nutrients, exposure to solar radiation, temperature fluctuations and ethanol. One hundred and eighty non-Saccharomyces yeasts and two hundred and twenty Saccharomyces cerevisiae strains were screened for the production of extracellular amylases, cellulases, lipases, pectinases, proteases and xylanases. Two non-Saccharomyces strains were found effective for the hydrolysis of cellulose and starch while eleven S. cerevisiae isolates were described as proficient pectinase producers. For the first time, thirteen S. cerevisiae strains, potentially able to use starch as the sole carbon source, were reported and their potential amylolytic phenotype was found to be related to a non extracellular alpha-amylase. This study encourages the selection of yeasts isolated from grape marcs as sources of unusual and industrially interesting enzymes for future biotechnological applications.
This is a preview of subscription content, log in to check access.
Access options
Buy single article
Instant access to the full article PDF.
US$ 39.95
Price includes VAT for USA
Subscribe to journal
Immediate online access to all issues from 2019. Subscription will auto renew annually.
US$ 199
This is the net price. Taxes to be calculated in checkout.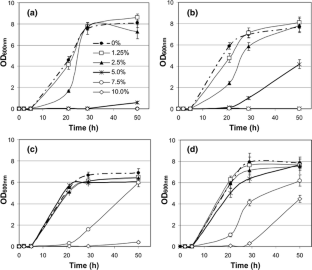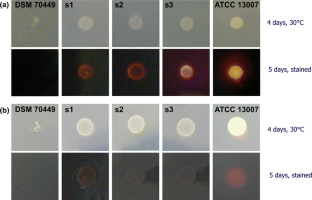 References
Antranikian G, Vorgias CE, Bertoldo C (2005) Extreme environments as a resource for microorganisms and novel biocatalysts. Adv Biochem Eng Biotechnol 96:219–262

Attfield PV, Bell PJL (2006) Use of population genetics to derive non recombinant Saccharomyces cerevisiae strains that grow using xylose as a sole carbon source. FEMS Yeast Res 6:862–868

Bastawde KB (1992) Xylan structure, microbial xylanases, and their mode of action. World J Microbiol Biotechnol 8:353–368

Bhat MK, Bhat S (1997) Cellulose degrading enzymes and their potential industrial applications. Biotechnol Adv 15:583–620

Bilinski CA, Russell I, Stewart GG (1987) Applicability of yeast extracellular proteinases in brewing: physiological and biochemical aspects. Appl Environ Microbiol 53:495–499

Blanco P, Sieiro C, Villa TG (1999) Production of pectic enzymes in yeasts. FEMS Microbiol Lett 175:1–9

Bovo B, Andrighetto C, Carlot M, Corich V, Lombardi A, Giacomini A (2009) Yeast population dynamics during pilot-scale storage of grape marcs for the production of Grappa, a traditional Italian alcoholic beverage. Int J Food Microbiol 129:221–228

Brizzio S, Turchetti B, de Garcıa V, Libkind D, Buzzini P, van Broock M (2007) Extracellular enzymatic activities of basidiomycetous yeasts isolated from glacial and subglacial waters of northwest Patagonia (Argentina). Can J Microbiol 53:519–525

Buzzini P, Martini A (2002) Extracellular enzymatic activity profiles in yeast and yeast-like strains isolated from tropical environments. J Appl Microbol 93:1020–1025

Charoenchai C, Fleet GH, Henschke PA, Todd BEN (1997) Screening of non-Saccharomyces wine yeasts for the presence of extracellular hydrolytic enzymes. Aust J Grape Wine Res 3:2–8

Chi Z, Chi Z, Liu G, Wang F, Ju L, Zhang T (2009) Saccharomycopsis fibuligera and its applications in biotechnology. Biotechnol Adv 27:423–431

Ciafardini G, Zullo BA, Cioccia G, Iride A (2006) Lipolytic activity of Williopsis californica and Saccharomyces cerevisiae in extra virgin olive oil. Int J Food Microbiol 107:27–32

Corich V, Carraro A, Giacomini A (2005) Valutazione della popolazione microbica in vinacce di uve Prosecco destinate alla produzione di Grappa. Vignevini 11:143–147

Corich V, Romanato R, Carraro A, Lante A, Giacomini A (2007) Valutazioni sull'uso di lieviti selezionati e sul trattamento di acidificazione di vinacce per la produzione di grappa. Vignevini 11:129–134

Da Silva EG, De Fátima Borges M, Medina C, Piccoli RH, Schwan RF (2005) Pectinolytic enzymes secreted by yeasts from tropical fruits. FEMS Yeast Res 5:859–865

De Mot R, Verachtert H (1987) Some microbiological and biochemical aspects of starch bioconversion by amylolytic yeasts. Crit Rev Biotechnol 5:259–272

De Rosa T, Castagner R (1994) Tecnologia delle grappe e dei distillati d'uva. Edagricole, Bologna

Delfini C (1995) Scienza e tecnica di microbiologia enologica. Edizioni Il lievito, Asti, Italy

Esteve-Zarzoso B, Manzanares P, Ramön D, Quero A (1998) The role of non-Saccharomyces yeasts in industrial winemaking. Internatl Microbiol 1:143–148

Favaro L, Basaglia M, Trento A, Saayman M, Rose SH, van Zyl WH, Casella S (2010a) Development of raw starch hydrolysing yeasts for industrial bioethanol production. J Biotechnol 150:S142. doi:10.1016/j.jbiotec.2010.08.371

Favaro L, Basaglia M, Saayman M, Rose S, van Zyl WH, Casella S (2010b) Engineering amylolytic yeasts for industrial bioethanol production. Chem Eng Trans 20:97–102. doi:10.3303/CET1020017

Favaro L, Jooste T, Basaglia M, Rose SH, Saayman M, Görgens JF, Casella S, van Zyl WH (2012a) Codon-optimized glucoamylase sGAI of Aspergillus awamori improves starch utilization in an industrial yeast. Appl Microbiol Biotechnol 95:957–968

Favaro L, Basaglia M, Casella S (2012b) Processing wheat bran into ethanol using mild treatments and highly fermentative yeasts. Biomass Bioenergy 46:605–617

Favaro L, Basaglia M, van Zyl WH, Casella S (2013a) Using an efficient fermenting yeast enhances ethanol production from unfiltered wheat bran hydrolysates. Appl Energy 102:170–178

Favaro L, Jooste T, Basaglia M, Rose SH, Saayman M, Görgens JF, Casella S, van Zyl WH (2013b) Designing industrial yeasts for the consolidated bioprocessing of starchy biomass to ethanol. Bioengineered 4:1–6

Forsburg SL, Rhind N (2006) Basic methods for fission yeast. Yeast 23:173–183

Guillamon JM, Sabatè J, Barrio E, Cano J, Querol A (1998) Rapid identification of wine yeast species based on RFLP analysis of the ribosomal internal transcribed spacer (ITS) region. Arch Microbiol 169:387–392

Gupta R, Gigras P, Mohapatra H, Goswami VK, Chauhan B (2003) Microbial α-amylases: a biotechnological perspective. Process Biochem 38:1599–1616

Henschke PA, Jiranek V (1993) Yeasts-metabolism of nitrogen compounds. In: Fleet GH (ed) Wine microbiology and biotechnology. Harwood Academic Publishers, Chur, pp 77–164

James JA, Lee BH (1997) Glucoamylases: microbial sources, industrial applications and molecular biology - a review. J Food Biochem 21:1–52

Jayani RS, Saxena S, Gupta R (2005) Microbial pectinolytic enzymes: a review. Process Biochem 40:2931–2944

Jung HK, Park CD, Bae DH, Hong JH (2008) Isolation of alcohol-tolerant amylolytic Saccharomyces cerevisiae and its application to alcohol fermentation. Food Sci Biotechnol 17:1160–1164

Laluce C, Mattoon JR (1984) Development of rapidly fermenting strains of Saccharomyces diastaticus for direct conversion of starch and dextrins to ethanol. Appl Environ Microbiol 48:17–25

Loperena L, Soria L, Varela H, Lupo S, Bergalli A, Guigou M, Pellegrino A, Bernardo A, Calvino A, Rivas F, Batista S (2012) Extracellular enzymes produced by microorganisms isolated from maritime Antartica. World J Microbiol Biotechnol 28:2249–2256

Lynd LR, Weimer PJ, van Zyl WH, Pretorius IS (2002) Microbial cellulose utilization: fundamentals and biotechnology. Microbiol Mol Biol Rev 66:506–577

Marrs B, Delagrave S, Murphy D (1999) Novel approaches for discovering industrial enzymes. Curr Opin Microbiol 2:241–245

McKay AM (1990) Degradation of polygalacturonic acid by Saccharomyces cerevisiae. Lett Appl Microbiol 11:41–44

Miller GL (1959) Use of dinitrosalicyclic acid reagent for determination of reducing sugars. Anal Chem 31:26–428

Naumov GI, Naumova ES, Smith M, de Hoog GS (2006) Molecular-genetic diversity of the ascomycetous yeast genus Arthroascus: Arthroascus babjevae sp. nov., Arthroascus fermentans var. arxii var. nov. and geographical populations of Arthroascus schoenii. Int J Syst Evol Microbiol 56:1997–2007

Ogrydziak DM, Mortimer RK (1977) Genetics of extracellular protease production in Saccharomycopsis lipolytica. Genetics 87:621–632

Pretorius IS, Chow T, Marmur J (1986) Identification and physical characterization of yeast glucoamylase structural genes. Mol Gen Genet 203:36–41

Pugh TA, Shah JC, Magee PT, Clancy MJ (1989) Characterization and localization of the sporulation glucoamylase of Sacchromyces cerevisiae. Biochim Biophys Acta Proteins Proteomics 994:200–209

Sanchez J, Guiraud JP, Gazy P (1984) A study of the polygalacturonase activity of several yeast strains isolated from cocoa. Appl Microbiol Biotechnol 20:262–267

Spencer JFT, Spencer DM (1979) Osmotic sensitivity and proteinase production in a strain of Saccharomyces cerevisiae. Z Naturforsch, C: J Biosci 34:131–135

Strauss MLA, Jolly NP, Lambrechts MG, van Resemburg P (2001) Screening for the production of extracellular hydrolytic enzymes by non-Saccharomyces wine yeasts. J Appl Microbiol 91:182–190

Suh S, Blackwell M, Kurtzman CP, Lachance M (2006) Phylogenetics of Saccharomycetales, the ascomycete yeasts. Mycologia 98:1006–1017

Teather RM, Wood PJ (1982) Use of congo red-polysaccharide interactions in enumeration and characterization of cellulolytic bacteria from the bovine rumen. Appl Environ Microb 43:777–780

van Zyl WH, Lynd LR, den Haan R, McBride JE (2007) Consolidated Bioprocessing for bioethanol production using Saccharomyces cerevisiae. Adv Biochem Eng Biotechnol 108:205–235

Verma G, Nigam P, Singh D, Chaudhary K (2000) Bioconversion of starch to ethanol in a single-step process by coculture of amylolytic yeasts and Saccharomyces cerevisiae 21. Bioresour Technol 72:261–266

Yarrow D (1998) Methods for the isolation, maintenance and identification of yeasts. In: Kurtzman CP, Fell JW (eds) The yeasts. A taxonomic study. Elsevier, Amsterdam, pp 77–99
Acknowledgments
This work was partially financed by the BiotechIIbis and BiotechIII projects (Regione Veneto, Italy) and the Progetto di Ateneo 2010 n. CPDA102570 (University of Padova, Italy). Dr. Lorenzo Favaro is recipient of "Assegno di ricerca" grant (University of Padova). Denis Vedoato, Federico Fontana and Giancarlo Corno are acknowledged for technical help.
About this article
Cite this article
Lorenzo, F., Viviana, C., Alessio, G. et al. Grape marcs as unexplored source of new yeasts for future biotechnological applications. World J Microbiol Biotechnol 29, 1551–1562 (2013). https://doi.org/10.1007/s11274-013-1319-z
Received:

Accepted:

Published:

Issue Date:
Keywords
Grape marcs

Yeasts

Extracellular enzymatic activities

Pectinase

Cellulase

Amylase