Abstract
Transglutaminases (TGases) catalyze post-translational protein modifications by ε-(γ-glutamyl) links and covalent amide bonds. In plant, this enzyme is poorly studied and only the Zea mays TGase gene (tgz) has been cloned. The tgz had been expressed in Escherichia coli, but the recombinant protein was mainly present in inclusion bodies. Therefore, to obtain active, soluble protein, we optimized its coding sequence according to the codon bias of Pichia pastoris and synthesized the sequence with SOEing-PCR. The optimized fragment was successfully transformed into P. pastoris GS115 by electroporation. The optimal conditions for expression were under a final concentration of 0.5 % methanol and a time-course of 96 h. The synthesized recombinant Zea mays transglutaminase (TGZs) was purified by affinity method, its production was 4.4 mg/L, and the specific activity was 0.889 U/mg under optimal expression condition. Optimal activity for TGZs was observed at 37 °C and a pH of 8.0, respectively. The cross-linking reaction of TGZs to the casein was studied, and the result was same as the reaction of casein by microbial transglutaminase. These results indicated that an effective procedure for expressing and purifying TGZs in P. pastoris GS115 was established.
This is a preview of subscription content, log in to check access.
Access options
Buy single article
Instant access to the full article PDF.
US$ 39.95
Price includes VAT for USA
Subscribe to journal
Immediate online access to all issues from 2019. Subscription will auto renew annually.
US$ 199
This is the net price. Taxes to be calculated in checkout.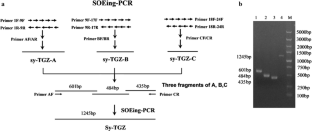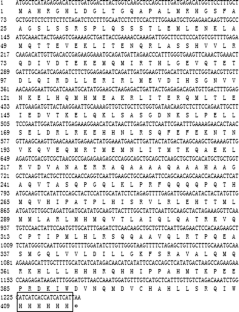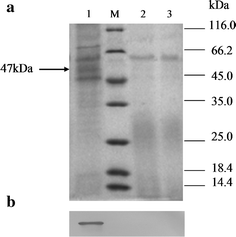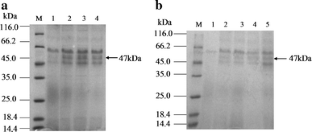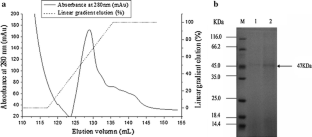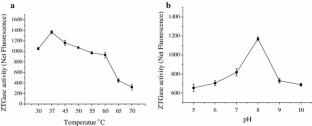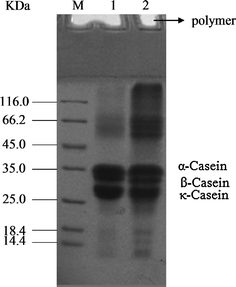 Abbreviations
TGase:

Transglutaminase

tgz :

Zea mays transglutaminase gene

TGZs:

The synthesized recombinant Zea mays transglutaminase

MTG:

Microbial transglutaminase

TGZ:

Maize chloroplast transglutaminase

tgzs :

The synthesized Zea mays transglutaminase gene
References
Ando H, Adachi M, Umeda K, Matsuura A, Nonaka M, Uchio R, Tanaka H, Motoki M (1989) Purification and characteristics of a novel transglutaminase derived from microorganisms. Agric Biol Chem 53(10):2613–2617

Bellevik S, Summerer S, Meijer J (2002) Overexpression of Arabidopsis thaliana soluble epoxide hydrolase 1 in Pichia pastoris and characterisation of the recombinant enzyme. Protein Expr Purif 26(1):65–70

Beninati S, Bergamini CM, Piacentini M (2009) An overview of the first 50 years of transglutaminase research. Amino Acids 36(4):591–598

Carvajal P, Villalobos E, Campos A, Torné JM, Barberà E, Santos M (2006) Zea mays L. transglutaminase expression in Escherichia coli. Microb Cell Fact 5(Suppl 1):P8

Carvajal P, Gibert J, Campos N, Lopera O, Barberà E, Torné JM, Santos M (2011) Activity of maize transglutaminase overexpressed in Escherichia coli inclusion bodies: an alternative to protein refolding. Biotechnol Prog 27(1):232–240

Carvajal-Vallejos PK, Campos A, Fuentes-Prior P, Villalobos E, Almeida AM, Barbera E, Torné JM, Santos M (2007) Purification and in vitro refolding of maize chloroplast transglutaminase over-expressed in Escherichia coli. Biotechnol Lett 29(8):1255–1262

Cereghino JL, Cregg JM (2000) Heterologous protein expression in the methylotrophic yeast Pichia pastoris. FEMS Microbiol Rev 24(1):45–66

Chung S (1972) Comparative studies on tissue transglutaminase and factor XIII. Ann NY Acad Sci 202(1):240–255

Cregg JM, Cereghino JL, Shi J, Higgins DR (2000) Recombinant protein expression in Pichia pastoris. Mol Biotechnol 16(1):23–52

Daly R, Hearn MTW (2005) Expression of heterologous proteins in Pichia pastoris: a useful experimental tool in protein engineering and production. J Mol Recognit 18(2):119–138

DeJong G, Koppelman S (2002) Transglutaminase catalyzed reactions: impact on food applications. J Food Sci 67(8):2798–2806

Della Mea M, Caparrós-Ruiz D, Claparols I, Serafini-Fracassini D, Rigau J (2004) AtPng1p. The first plant transglutaminase. Plant Physiol 135(4):2046–2054

Du G, Cui L, Zhu Y, Chen J (2007) Improvement of shrink-resistance and tensile strength of wool fabric treated with a novel microbial transglutaminase from Streptomyces hygroscopicus. Enzyme Microb Technol 40(7):1753–1757

Dube M, Schäfer C, Neidhart S, Carle R (2007) Texturisation and modification of vegetable proteins for food applications using microbial transglutaminase. Eur Food Res Technol 225(2):287–299

Folk J, Cole P (1966) Mechanism of action of guinea pig liver transglutaminase. J Biol Chem 241(23):5518

Grossowicz N, Wainfan E, Borek E, Waelsch H (1950) The enzymatic formation of hydroxamic acids from glutamine and asparagine. J Biol Chem 187(1):111–125

Hermanrud CE, Lucas CL, Sykes M, Huang CA, Wang Z (2011) Expression and purification of soluble murine CD40L monomers and polymers in yeast Pichia pastoris. Protein Expr Purif 76(1):115–120

Ho ML, Leu SZ, Hsieh JF, Jiang ST (2000) Technical approach to simplify the purification method and characterization of microbial transglutaminase produced from Streptoverticillium ladakanum. J Food Sci 65(1):76–80

Hu S, Li L, Qiao J, Guo Y, Cheng L, Liu J (2006) Codon optimization, expression, and characterization of an internalizing anti-ErbB2 single-chain antibody in Pichia pastoris. Protein Expr Purif 47(1):249–257

Icekson I, Apelbaum A (1987) Evidence for transglutaminase activity in plant tissue. Plant Physiol 84(4):972

Jin X, Meng N, Xia L (2011) Expression of an endo-β-1, 4-glucanase gene from Orpinomyces PC-2 in Pichia pastoris. Int J Mol Sci 12(5):3366–3380

Lauber S, Henle T, Klostermeyer H (2000) Relationship between the crosslinking of caseins by transglutaminase and the gel strength of yoghurt. Eur Food Res Technol 210(5):305–309

Lee SG, Koh HY, Han SJ, Park H, Na DC, Kim IC, Lee HK, Yim JH (2010) Expression of recombinant endochitinase from the Antarctic bacterium, Sanguibacter antarcticus KOPRI 21702 in Pichia pastoris by codon optimization. Protein Expr Purif 71(1):108–114

Li J, Hong Y, Xiao Y, Xu Y, Fang W (2007) High production of laccase B from Trametes sp. in Pichia pastoris. World J Microb Biot 23(5):741–745

Lorand L, Graham RM (2003) Transglutaminases: crosslinking enzymes with pleiotropic functions. Nat Rev Mol Cell Biol 4(2):140–156

Macauley-Patrick S, Fazenda ML, McNeil B, Harvey LM (2005) Heterologous protein production using the Pichia pastoris expression system. Yeast 22(4):249–270

Marx CK, Hertel TC, Pietzsch M (2008) Purification and activation of a recombinant histidine-tagged pro-transglutaminase after soluble expression in Escherichia coli and partial characterization of the active enzyme. Enzyme Microb Technol 42(7):568–575

Masuda T, Tamaki S, Kaneko R, Wada R, Fujita Y, Mehta A, Kitabatake N (2004) Cloning, expression and characterization of recombinant sweet-protein thaumatin II using the methylotrophic yeast Pichia pastoris. Biotechnol Bioeng 85(7):761–769

Moon JH, Hong YH, Huppertz T, Fox PF, Kelly AL (2009) Properties of casein micelles cross-linked by transglutaminase. Int J Dairy Technol 62(1):27–32

Smiddy M, Martin JEGH, Kelly A, De Kruif C, Huppertz T (2006) Stability of casein micelles cross-linked by transglutaminase. J Dairy Sci 89(6):1906–1914

Sreekrishna K, Brankamp RG, Kropp KE, Blankenship DT, Tsay JT, Smith PL, Wierschke JD, Subramaniam A, Birkenberger LA (1997) Strategies for optimal synthesis and secretion of heterologous proteins in the methylotrophic yeast Pichia pastoris. Gene 190(1):55–62

Torné Cubiró J, Santos Lozano M, Talavera Baro D, Villalobos Amador E, Rigau Lloveras J (2003) Maize nucleotide sequence coding for a protein with transglutaminase activity and use thereof. WO Patent WO/2003/102,128

Villalobos E, Torné J, Rigau J, Ollés I, Claparols I, Santos M (2001) Immunogold localization of a transglutaminase related to grana development in different maize cell types. Protoplasma 216(3):155–163

Villalobos E, Santos M, Talavera D, Rodrıguez-Falcón M, Torné J (2004) Molecular cloning and characterization of a maize transglutaminase complementary DNA. Gene 336(1):93–104

Wu YW, Tsai YH (2006) A rapid transglutaminase assay for high-throughput screening applications. J Biomol Screen 11(7):836–843. doi:10.1177/1087057106291585

Yang J, Liu L (2010) Codon optimization through a two-step gene synthesis leads to a high-level expression of Aspergillus niger lip2 gene in Pichia pastoris. J Mol Catal B Enzym 63(3–4):164–169

Yokoyama K, Nio N, Kikuchi Y (2004) Properties and applications of microbial transglutaminase. Appl Microbiol Biotechnol 64(4):447–454

Yu Y-J, Wu S-C, Chan H–H, Chen Y-C, Chen Z-Y, Yang M-T (2008) Overproduction of soluble recombinant transglutaminase from Streptomyces netropsis in Escherichia coli. Appl Microbiol Biotechnol 81(3):523–532

Zhang W, Yueqing C, Yuxian X (2008) Cloning of the subtilisin Pr1A gene from a strain of locust specific fungus, Metarhizium anisopliae, and functional expression of the protein in Pichia pastoris. World J Microb Biot 24(11):2481–2488

Zhu Y, Tramper J (2008) Novel applications for microbial transglutaminase beyond food processing. Trends Biotechnol 26(10):559–565
Acknowledgments
This work was supported by National Nature Science Foundation of China (Grant No. 30972041).
Electronic supplementary material
Below is the link to the electronic supplementary material.
About this article
Cite this article
Li, H., Zhang, L., Cui, Y. et al. Expression of soluble recombinant transglutaminase from Zea mays in Pichia pastoris . World J Microbiol Biotechnol 29, 939–947 (2013). https://doi.org/10.1007/s11274-012-1250-8
Received:

Accepted:

Published:

Issue Date:
Keywords
Transglutaminase

Zea mays

Codon optimization

Pichia pastoris GS115