Abstract
Xanthomonas oryzae pv. oryzae (Xoo) is the causal agent of rice bacterial leaf blight, one of the most important rice bacterial diseases in China and many other countries. The upstream portions of 41 candidate genes encoding non-transcription activator-like effectors of Xoo Chinese strain 13751 were fused with the coding sequence of AvrBs159-445 in a broad host-range vector. The constructed plasmids were respectively introduced into Xoo strain 13751 and avrBs1 deletion mutant of X. campestris pv. campestris strain 8004 by tri-parental conjugation. The resultant transconjugants were respectively tested for hypersensitive response (HR) elicitation on pepper ECW-10R. Nine strains were able to elicit HR on pepper, indicating that the nine genes (XOO0037, XOO0103, XOO0110, XOO0315, XOO1488, XOO2875, XOO3150, XOO3222 and XOO4134) encoded effectors. Among them, xopAE 13751 (XOO0110), expressed in Xoo strain 13751 growing in rice leaves, was a new experimentally confirmed effector gene. XopAE13751 contains 11 leucine rich repeats. Furthermore, mutants for the nine effector genes were created in Xoo strain 13751 and subsequently tested for virulence in rice. As a result, only the xopR 13751 (XOO4134) deletion mutant GXMxopR showed a significant reduction in virulence in hybrid rice cv. Teyou63 compared to the wild type. However, the growth of GXMxopR in host plant rice was not affected. These results indicated that xopR 13751 was required for full virulence of Xoo strain 13751 by inducing rice disease tolerance.
This is a preview of subscription content, log in to check access.
Access options
Buy single article
Instant access to the full article PDF.
US$ 39.95
Price includes VAT for USA
Subscribe to journal
Immediate online access to all issues from 2019. Subscription will auto renew annually.
US$ 199
This is the net price. Taxes to be calculated in checkout.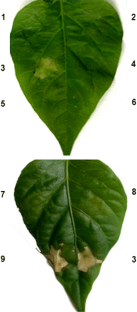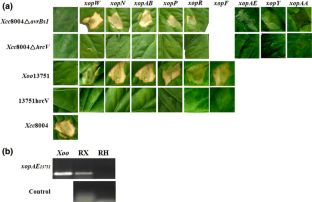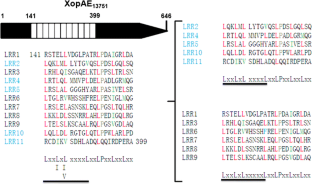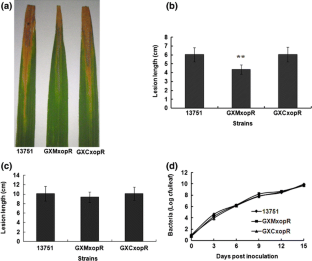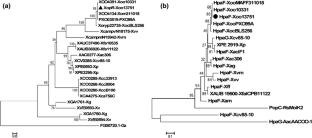 References
Akimoto-Tomiyama C, Furutani A, Tsuge S, Washington EJ, Nishizawa Y, Minami E, Ochiai H (2012) XopR, a type III effector secreted by Xanthomonas oryzae pv. oryzae, suppresses microbe-associated molecular pattern-triggered immunity in Arabidopsis thaliana. Mol Plant-Microbe Interact 25:505–514

Bent AF, Innes RW, Ecker JR, Staskawicz BJ (1992) Disease development in ethylene-insensitive Arabidopsis thaliana infected with virulent and avirulent Pseudomonas and Xanthomonas pathogens. Mol Plant-Microbe Interact 5:372–378

Block A, Schmelz E, O'Donnell PJ, Jones JB, Klee HJ (2005) Systemic acquired tolerance to virulence bacterial pathogens in tomato. Plant Physiol 138:1481–1490

Büttner D, Bonas U (2009) Regulation and secretion of Xanthomonas virulence factors. FEMS Microbiol Rev 34:107–133

Büttner D, He SY (2009) Type III protein secretion in plant pathogenic bacteria. Plant Physiol 150:1656–1664

Cho HJ, Park YJ, Noh TH, Kim YT, Kim JG, Song ES, Lee DH, Lee BM (2008) Molecular analysis of the hrp gene cluster in Xanthomonas oryzae pathovar oryzae KACC10859. Microb Pathog 44:473–483

Feng JX, Song ZZ, Duan CJ, Zhao S, Wu YQ, Wang C, Dow JM, Tang JL (2009) The xrvA gene of Xanthomonas oryzae pv. oryzae, encoding an H-NS-like protein, regulates virulence in rice. Microbiology 155:3033–3044

Furutani A, Takaoka M, Sanada H, Noguchi Y, Oku T, Tsuno K, Ochiai H, Tsuge S (2009) Identification of novel type III secretion effectors in Xanthomonas oryzae pv. oryzae. Mol Plant-Microbe Interact 22:96–106

Jiang BL, He YQ, Cen WJ, Wei HY, Jiang GF, Jiang W, Hang XH, Feng JX, Lu GT, Tang DJ, Tang JL (2008) The type III secretion effector XopXccN of Xanthomonas campestris pv. campestris is required for full virulence. Res Microbiol 159:216–220

Jiang W, Jiang BL, Xu RQ, Huang JD, Wei HY, Jiang GF, Cen WJ, Liu J, Ge YY, Li GH, Su LL, Hang XH, Tang DJ, Lu GT, Feng JX, He YQ, Tang JL (2009) Identification of six type III effector genes with the PIP box in Xanthomonas campestris pv. campestris and five of them contribute individually to full pathogenicity. Mol Plant-Microbe Interact 22:1401–1411

Kauffman HE, Reddy APK, Hsiek SP, Marca SD (1973) An improved technique for evaluating resistance of race varieties to Xanthomonas oryzae. Plant Dis Rep 57:537–541

Kim JG, Park BK, Yoo CH, Jeon E, Oh J, Hwang I (2003) Characterization of the Xanthomonas axonopodis pv. glycines Hrp pathogenicity island. J Bacteriol 185:3155–3166

Kim JG, Taylor KW, Hotson A, Keegan M, Schmelz EA, Mudgett MB (2008) XopD SUMO protease affects host transcription, promotes pathogen growth, and delays symptom development in Xanthomonas-infected tomato leaves. Plant Cell 20:1915–1929

Kim JG, Li X, Roden JA, Taylor KW, Aakre CD, Su B, Lalonde S, Kirik A, Chen Y, Baranage G, McLane H, Martin GB, Mudgett MB (2009) Xanthomonas T3S effector XopN suppresses PAMP-triggered immunity and interacts with a tomato atypical receptor-like kinase and TFT1. Plant Cell 2:1305–1323

Lindgren PB (1997) The role of hrp genes during plant-bacterial interactions. Annu Rev Phytopathol 35:129–152

Lund ST, Stall RE, Klee HJ (1998) Ethylene regulates the susceptible response to pathogen infection in tomato. Plant Cell 10:371–382

Macho AP, Zumaquero A, Ortiz-Martin I, Beuzon CR (2009) Competitive index in mixed infections: a sensitive and accurate assay for the genetic analysis of Pseudomonas syringae-plant interactions. Mol Plant Pathol 8:437–450

Mukaihara T, Tamura N (2009) Identification of novel Ralstonia solanacearum type III effector proteins through translocation analysis of hrpB-regulated gene products. Microbiology 155:2235–2244

Niño-Liu DO, Ronald PC, Bogdanove AJ (2006) Xanthomonas oryzae pathovars: model pathogens of a model crop. Mol Plant Pathol 7:303–324

Noël L, Thieme F, Nennstiel D, Bonas U (2002) Two novel type III-secreted proteins of Xanthomonas campestris pv. vesicatoria are encoded within the hrp pathogenicity island. J Bacteriol 184:1340–1348

O'Donnell PJ, Jones JB, Antoine FR, Ciardi J, Klee HJ (2001) Ethylene-dependent salicylic acid regulates an expanded cell death response to a plant pathogen. Plant J 25:315–323

Ochiai H, Inoue Y, Takeya M, Sasaki A, Kaku H (2005) Genome sequence of Xanthomonas oryzae pv. oryzae suggests contribution of large numbers of effector genes and insertion sequences to its race diversity. JARQ 39:275–287

Ryan RP, Vorhölter FJ, Potnis N, Jones JB, Van Sluys MA, Bogdanove A, Dow JM (2011) Pathogenomics of Xanthomonas: understanding bacterium-plant interactions. Nat Rev Microbiol 9:344–355

Schäfer A, Tauch A, Jäger W, Kalinowski J, Thierbach G, Pühler A (1994) Small mobilizable multi-purpose cloning vectors derived from the Escherichia coli plasmids pK18 and pK19: selection of defined deletions in the chromosome of Corynebacterium glutamicum. Gene 145:69–73

Song CF, Yang B (2010) Mutagenesis of 18 type III effectors reveals virulence function of XopZPXO99A in Xanthomonas oryzae pv. oryzae. Mol Plant-Microbe Interact 23:893–902

Sugio A, Yang Y, White FF (2005) Characterization of the hrpF pathogenicity peninsula of Xanthomonas oryzae pv. oryzae. Mol Plant-Microbe Interact 18:546–554

Tamura K, Peterson D, Peterson N, Stecher G, Nei M, Kumar S (2011) MEGA5: molecular evolutionary genetics analysis using maximum likelihood, evolutionary distance, and maximum parsimony methods. Mol Biol Evol 28:2731–2739

Tang JL, Feng JX, Li QQ, Wen HX, Zhou DL, Wilson TJ, Dow JM, Ma QS, Daniels MJ (1996) Cloning and characterization of the rpfC gene of Xanthomonas oryzae pv. oryzae: involvement in exopolysaccharide production and virulence to rice. Mol Plant-Microbe Interact 9:664–666

Tsuge S, Furutani A, Fukunaka R, Oku T, Tsuno K, Ochiai H, Inoue Y, Kaku H, Kubo Y (2002) Expression of Xanthomonas oryzae pv. oryzae hrp genes in XOM2, a novel synthetic medium. J Genet Plant Pathol 68:363–371

Turner P, Barber CE, Daniels MJ (1985) Evidence for clustered pathogenicity genes in Xanthomonas campestris pv. campestris. Mol Gen Genet 199:338–343

White FF, Potnis N, Jones JB, Koebnik R (2009) The type III effectors of Xanthomonas. Mol Plant Pathol 10:749–766

Xu RQ, Blanvillain S, Feng JX, Jiang BL, Li XZ, Wei HY, Kroj T, Lauber E, Roby D, Chen B, He YQ, Lu GT, Tang DJ, Vasse J, Arlat M, Tang JL (2008) AvrACXcc8004, a type III effector with a leucine rich repeat domain from Xanthomonas campestris pathovar campestris confers avirulence in vascular tissues of the Arabidopsis thaliana ecotype Col-0. J Bacteriol 190:343–355

Zhao B, Dahlbeck D, Krasileva KV, Fong RW, Staskawicz BJ (2011) Computational and biochemical analysis of the Xanthomonas effector AvrBs2 and its role in the modulation of Xanthomonas type three effector delivery. PLoS Pathogen 7:e1002408
Acknowledgments
This work was supported by the 973 Programme of the Ministry of Science and Technology of China (2012CB114003); the Bagui Scholar Program of Guangxi (2011A001); the open project of the Key Laboratory of Ministry of Education for Microbial and Plant Genetic Engineering, China (J0602); and BOURSES DOCTORALES EN ALTERNANCE from French Embassy in China.
Electronic supplementary material
Below is the link to the electronic supplementary material.
About this article
Cite this article
Zhao, S., Mo, W., Wu, F. et al. Identification of non-TAL effectors in Xanthomonas oryzae pv. oryzae Chinese strain 13751 and analysis of their role in the bacterial virulence. World J Microbiol Biotechnol 29, 733–744 (2013). https://doi.org/10.1007/s11274-012-1229-5
Received:

Accepted:

Published:

Issue Date:
Keywords
Bacterial blight of rice

Type III secretion system

Hypersensitive response