Abstract
Erwinia carotovora subsp. carotovora (Ecc), the causal agent of bacterial soft rot, is one of the destructive pathogens of postharvest vegetables. In this study, a bacterial isolate (BGP20) from the vegetable farm soil showed strong antagonistic activity against Ecc in vitro, and its twofold cell-free culture filtrate showed excellent biocontrol effect in controlling the postharvest bacterial soft rot of potatoes at 25 °C. The anti-Ecc metabolites produced by the isolate BGP20 had a high resistance to high temperature, UV-light and protease K. Based on the colonial morphology, cellular morphology, sporulation, and partial nucleotide sequences of 16S rRNA and gyrB gene, the isolate BGP20 was identified as Bacillus amyloliquefaciens subsp. plantarum. Further in vivo assays showed that the BGP20 cell culture was more effective in controlling the postharvest bacterial soft rot of green peppers and Chinese cabbages than its twofold cell-free culture filtrate. In contrast, the biocontrol effect and safety of the BGP20 cell culture were very poor on potatoes. In the wounds of potatoes treated with both the antagonist BGP20 and the pathogen Ecc, the viable count of Ecc was 31,746 times that of BGP20 at 48 h of incubation at 25 °C. But in the wounds of green peppers, the viable count of BGP20 increased 182.3 times within 48 h, and that of Ecc increased only 51.3 %. In addition, the treatment with both BGP20 and Ecc induced higher activity of phenylalanine ammonia-lyase (PAL) than others in potatoes. But the same treatment did not induce an increase of PAL activity in green peppers. In conclusion, the present study demonstrated that the isolate BGP20 is a promising candidate in biological control of postharvest bacterial soft rot of vegetables, but its main mode of action is different among various vegetables.
This is a preview of subscription content, log in to check access.
Access options
Buy single article
Instant access to the full article PDF.
US$ 39.95
Price includes VAT for USA
Subscribe to journal
Immediate online access to all issues from 2019. Subscription will auto renew annually.
US$ 199
This is the net price. Taxes to be calculated in checkout.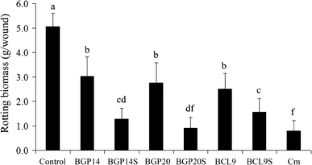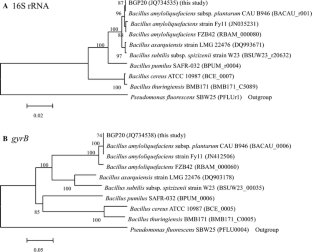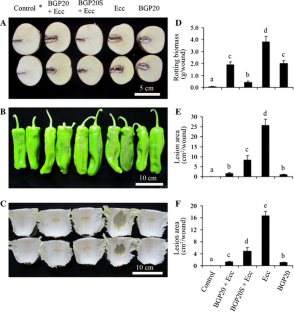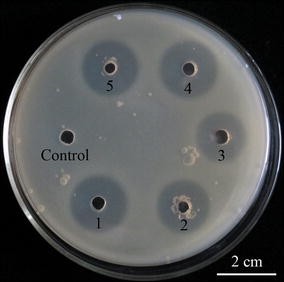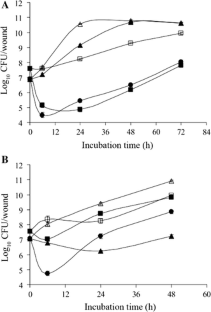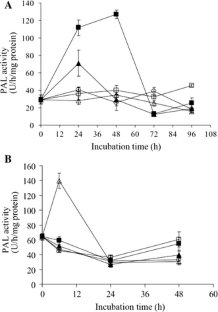 References
Abraham AO, Laing MD, Bower JP (2010) Isolation and in vivo screening of yeast and Bacillus antagonists for the control of Penicillium digitatum of citrus fruit. Biol Control 53:32–38

Arrebola E, Sivakumar D, Bacigalupo R, Korsten L (2010) Combined application of antagonist Bacillus amyloliquefaciens and essential oils for the control of peach postharvest diseases. Crop Prot 29:369–377

Assis JS, Maldonado R, Muñoz T, Escribano MI, Merodio C (2001) Effect of high carbon dioxide concentration on PAL activity and phenolic contents in ripening cherimoya fruit. Postharvest Biol Tec 23:33–39

Bhat KA, Masood SD, Bhat NA, Bhat MA, Razvi SM, Mir MR, Akhtar S, Wani N, Habib M (2010) Current status of post harvest soft rot in vegetables: a review. Asian J Plant Sci 9(4):200–208

Casals C, Elmer PAG, Viñas I, Teixidó N, Sisquella M, Usall J (2012) The combination of curing with either chitosan or Bacillus subtilis CPA-8 to control brown rot infections caused by Monilinia fructicola. Postharvest Biol Tec 64:126–132

Cladera-Olivera F, Caron GR, Motta AS, Souto AA, Brandelli A (2006) Bacteriocin-like substance inhibits potato soft rot caused by Erwinia carotovora. Can J Microbiol 52:533–539

De Costa DM, Zahra ARF, Kalpage MD, Rajapakse EMG (2008) Effectiveness and molecular characterization of Burkholderia spinosa, a prospective biocontrol agent for controlling postharvest disease of banana. Biol Control 47:257–267

Demoz BT, Korsten L (2006) Bacillus subtilis attachment, colonization, and survival on avocado flowers and its mode of action on stem-end rot pathogens. Biol Control 37:68–74

Dong YH, Zhang XF, Xu JL, Zhang LH (2004) Insecticidal Bacillus thuringiensis silences Erwinia carotovora virulence by a new form of microbial antagonism, signal interference. Appl Environ Microb 70:954–960

Droby S, Wisniewski M, Macarisin D, Wilson C (2009) Twenty years of postharvest biocontrol research: is it time for a new paradigm? Postharvest Biol Tec 52:137–145

Du JH, Fu MR, Li MM, Xia W (2007) Effects of chlorine dioxide gas on postharvest physiology and storage quality of green bell pepper (Capsicum frutescens L. var. Longrum). Agric Sci China 6:214–219

Fan SY, Le JG, Cheng GJ, Wu CJ (2008) Chinese cabbage-pak-choi transcriptome map construction with cDNA-AFLP techniques. Agric Sci China 7:1181–1188

Finking R, Marahiel MA (2004) Biosynthesis of nonribosomal peptides. Annu Rev Microbiol 58:453–488

Food and Drug Administration (1999) Code of Federal Regulations, Title 21: Food and Drugs, Chapter 1: Food and Drug Administration Department of Health and Human Services, Part 184: direct food substances affirmed as generally recognized as safe. US Government Printing Office, Washington, DC

Heil M, Bostock RM (2002) Induced systemic resistance (ISR) against pathogens in the context of induced plant defences. Annals Bot 89:503–512

Hu HQ, Li XS, He H (2010) Characterization of an antimicrobial material from a newly isolated Bacillus amyloliquefaciens from mangrove for biocontrol of Capsicum bacterial wilt. Biol Control 54:359–365

Ippolito A, Ghaouth AE, Wilson CL, Wisniewski MA (2000) Control of postharvest decay of apple fruit by Aureobasidium pullulans and induction of defense responses. Postharvest Biol Tec 19:265–272

Jansky SH, Jin LP, Xie KY, Xie CH, Spooner DM (2009) Potato production and breeding in China. Potato Research 52:57–65

Kikumoto T (2000) Ecology and biocontrol of soft rot of Chinese cabbage. J Gen Plant Pathol 66:275–277

Liao CH (2009) Control of foodborne pathogens and soft-rot bacteria on bell pepper by three strains of bacterial antagonists. J Food Protect 72:85–92

Liu X, Fang W, Liu L, Yu T, Lou B, Zheng X (2010) Biological control of postharvest sour rot of citrus by two antagonistic yeasts. Lett Appl Microbiol 51:30–35

Martin-Visscher LA, van Belkum MJ, Garneau-Tsodikova S, Whittal RM, Zheng J, McMullen LM, Vederas JC (2008) Isolation and characterization of carnocyclin A, a novel circular bacteriocin produced by Carnobacterium maltaromaticum UAL307. Appl Environ Microb 74:4756–4763

Nally MC, Pesce VM, Maturano YP, Muñoz CJ, Combina M, Toro ME, Castellanos de Figureoa LI, Vazquez F (2012) Biocontrol of Botrytis cinerea in table grapes by non-pathogenic indigenous Saccharomyces cerevisiae yeasts isolated from viticultural environments in Argentina. Postharvest Biol Tec 64:40–48

Ongena M, Jacques P (2008) Bacillus lipopeptides: versatile weapons for plant disease biocontrol. Trends Microbiol 16:115–125

Ongena M, Duby F, Jourdan E, Beaudry T, Jadin V, Dommes J, Thonart P (2005) Bacillus subtilis M4 decreases plant susceptibility towards fungal pathogens by increasing host resistance associated with differential gene expression. Appl Microbiol Biot 67:692–698

Osman MS, Sivakumar D, Korsten L (2011) Effect of biocontrol agent Bacillus amyloliquefaciens and 1-methyl cyclopropene on the control of postharvest diseases and maintenance of fruit quality. Crop Prot 30:173–178

Pérombelon MCM (2002) Potato diseases caused by soft rot erwinias: an overview of pathogenesis. Plant Pathol 51:1–12

Romero D, de Vicente A, Rakotoaly RH, Dufour SE, Veening JW, Arrebola E, Cazorla FM, Kuipers OP, Paquot M, Pérez-García A (2007) The iturin and fengycin families of lipopeptides are key factors in antagonism of Bacillus subtilis toward Podosphaera fusca. Mol Plant Microbe In 20:430–440

Sharma RR, Singh D, Singh R (2009) Biological control of postharvest diseases of fruits and vegetables by microbial antagonists: a review. Biol Control 50:205–221

Shu-Bin L, Mao F, Ren-Chao Z, Juan H, Xiao L (2012) Characterization and evaluation of the endophyte Bacillus B014 as a potential biocontrol agent for the control of Xanthomonas axonopodis pv. dieffenbachiae - induced blight of Anthurium. Biol Control. doi:http://dx.doi.org/10.1016/j.biocontrol.2012.06.002

Tamura K, Peterson D, Peterson N, Stecher G, Nei M, Kumar S (2011) MEGA5: molecular evolutionary genetics analysis using maximum likelihood, evolutionary distance, and maximum parsimony methods. Mol Biol Evol 28:2731–2739

Thompson JD, Gibson TJ, Plewniak F, Jeanmougin F, Higgins DG (1997) The Clustal_X windows interface: flexible strategies for multiple sequence alignment aided by quality analysis tools. Nucleic Acids Res 24:4876–4882

Weisburg WG, Barns SM, Pelletier DA, Lane DJ (1991) 16S ribosomal DNA amplification for phylogenetic study. J Bacteriol 173:697–703

Yamamoto S, Harayama S (1995) PCR amplification and direct sequencing of gyrB genes with universal primers and their application to the detection and taxonomic analysis of Pseudomonas putida strains. Appl Environ Microb 61:1104–1109

Yao HJ, Tian SP (2005) Effects of a biocontrol agent and methyl jasmonate on postharvest diseases of peach fruit and the possible mechanisms involved. J Appl Microbiol 98:941–950

Zhang D, Spadaro D, Garibaldi A, Gullino ML (2011) Potential biocontrol activity of a strain of Pichia guilliermondii against grey mold of apples and its possible modes of action. Biol Control 57:193–201

Zhao B, He SJ (2002) Microbiology experiment. Science Press, Beijing. (In Chinese)

Zhao Y, Qian G, Fan J, Yin F, Zhou Y, Liu C, Shen Q, Hu B, Liu FQ (2012) Identification and characterization of a novel gene, hshB, in Xanthomonas oryzae pv. oryzicola co-regulated by quorum sensing and clp. Phytopathology 102:252–259
Acknowledgments
We are very grateful to Jia-Qin Fan (Nanjing Agricultural University) for kindly providing the pathogen Erwinia carotovora subsp. carotovora. This work was supported by the Post-Doctoral Fund of Jiangsu Province, China.
About this article
Cite this article
Zhao, Y., Li, P., Huang, K. et al. Control of postharvest soft rot caused by Erwinia carotovora of vegetables by a strain of Bacillus amyloliquefaciens and its potential modes of action. World J Microbiol Biotechnol 29, 411–420 (2013). https://doi.org/10.1007/s11274-012-1193-0
Received:

Accepted:

Published:

Issue Date:
Keywords
Postharvest bacterial diseases

Erwinia carotovora subsp. carotovora
Bacillus amyloliquefaciens subsp. plantarum

Biological control

Mode of action