Abstract
A recombinant Escherichia coli was engineered to produce the commercially important amino acid l-phenylalanine (l-Phe) using glycerol as the carbon source. Compared to the conventionally used glucose and sucrose, glycerol is a less expensive carbon source. As phenylalanine dehydrogenase (PheDH) activity is involved in the last step of l-Phe synthesis in E. coli, a phenylalanine dehydrogenase gene (phedh) from the thermotolerant Bacillus lentus was cloned into pRSFDuet-1 (pPheDH) and expressed in E. coli BL21(DE3). The resulting clone had a limited ability to produce l-Phe from glycerol, possibly because of a poor glycerol uptake by the cell, or an inability to excrete l-Phe, or both. Therefore, yddG gene encoding an aromatic amino acid exporter and glpF gene encoding a glycerol transport facilitator were coexpressed with the phedh in a reengineered E. coli. In a glycerol medium, the maximum l-Phe production rates of the clones pPY (phedh and yddG genes) and pPYF (phedh, yddG and glpF genes) were 1.4- and 1.8-fold higher than the maximum production rate of the pPheDH clone. The better producing pPYF clone was further evaluated in a 5 l stirred-tank fermenter (37 °C, an aeration rate of 1 vvm, an agitation speed of 400 rpm). In the fermenter, the maximum concentration of l-Phe (366 mg/l) was achieved in a much shorter period compared to in the shake flasks. In the latter, the highest titer of l-Phe was only 76 % of the maximum value attained in the fermenter.
This is a preview of subscription content, log in to check access.
Access options
Buy single article
Instant access to the full article PDF.
US$ 39.95
Price includes VAT for USA
Subscribe to journal
Immediate online access to all issues from 2019. Subscription will auto renew annually.
US$ 199
This is the net price. Taxes to be calculated in checkout.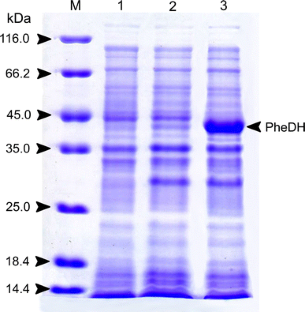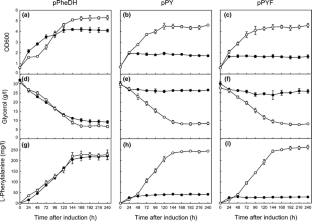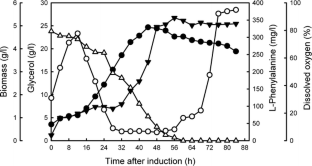 References
Asano Y, Nakazawa A, Kondo K (1987) Bacillus phenylalanine dehydrogenase produced in E. coli, its purification and application to l-phenylalanine synthesis. Agric Biol Chem 51:2621–2623

Bollag DM, Rozycki MD, Edelstein SJ (1996) Protein Methods, 2nd edn. Wiley-Liss, New York

Bondioli P, Bella LD (2005) An alternative spectrophotometric method for the determination of free glycerol in biodiesel. Eur J Lipid Sci Technol 107:153–157. doi:10.1002/ejlt.200401054

Bongaerts J, Krämer M, Müller U, Raeven L, Wubbolts M (2001) Metabolic engineering for microbial production of aromatic amino acids and derived compounds. Metab Eng 3:289–300. doi:10.1006/mben.2001.0196

Brunhuber NMW, Blanchard JS (1994) The biochemistry and enzymology of amino acid dehydrogenases. Crit Rev Biochem Mol Biol 29:415–467. doi:10.3109/10409239409083486

da Silva GP, Mack M, Contiero J (2009) Glycerol: a promising and abundant carbon source for industrial microbiology. Biotechnol Adv 27:30–39. doi:10.1016/j.biotechadv.2008.07.006

Doroshenko V, Airich L, Vitushkina M, Kolokolova A, Livshits V, Mashko S (2007) YddG from Escherichia coli promotes export of aromatic amino acids. FEMS Microbiol Lett 275:312–318. doi:10.1111/j.1574-6968.2007.00894.x

Hori H, Yoneyama H, Tobe R, Ando T, Isogai E, Katsumata R (2011) Inducible l-alanine exporter encoded by the novel gene ygaW (alaE) in Escherichia coli. Appl Environ Microbiol 77:4027–4034. doi:10.1128/AEM.00003-11

Inkure S (2005) Purification and characterization of phenylalanine dehydrogenase from Bacillus lentus. Dissertation, Chulalongkorn University, Thailand

Khamduang M, Packdibamrung K, Chutmanop J, Chisti Y, Srinophakun P (2009) Production of l-phenylalanine from glycerol by a recombinant Escherichia coli. J Ind Microbiol Biotechnol 36:1267–1274. doi:10.1007/s10295-009-0606-z

Law J, Lee S, Tsen A, Tsul KW, Yu N (2002) The role of glycerol and isopropyl thiogalactoside in Escherichia coli growth and lactose induction of β-galactosidase. J Exp Microbiol Immunol 2:97–102

Leuchtenberger W, Huthmacher K, Drauz K (2005) Biotechnological production of amino acids and derivatives: current status and prospects. Appl Microbiol Biotechnol 69:1–8. doi:10.1007/s00253-005-0155-y

Lu D, Grayson P, Schulten K (2003) Glycerol conductance and physical asymmetry of the Escherichia coli glycerol facilitator GlpF. Biophys J 85:2977–2987

Mierendorf R, Yeager K, Novy R (1994) Advance products and protocols for molecular biology research. The pET System: your choice for expression. Innovations newsletter of Novagen, Inc. http://www.biol.sc.edu/~vogt/LAP/pET%20-%20company%20flier%201.pdf. Accessed 15 January 2012

Seol W, Shatkin AJ (1992) Escherichia coli α-ketoglutarate permease is constitutively expressed proton symporter. J Biol Chem 267:6409–6413

Simmonds S, Dowling MT, Stone D (1954) Metabolism of phenylalanine and tyrosine by Escherichia coli strain K-12. J Biol Chem 208:701–724

Thongchuang M (2006) Cloning and expression of phenylalanine dehydrogenase from Bacillus lentus. Dissertation, Chulalongkorn University, Thailand

Weckbecker A, Hummel W (2004) Glucose dehydrogenase for the regeneration of NADH and NADPH. In: Barredo JL (ed) Methods in Biotechnology, vol 17: microbial enzymes and biotransformations. Humana Press Inc., Totowa, pp 241–253
Acknowledgments
This research was supported by a grant in the program "Strategic Scholarships for Frontier Research Network for the Joint Ph.D. Program, Thai Doctoral Degree" from the Office of the Higher Education Commission, Thailand, the Chulalongkorn University Graduate Scholarship to commemorate the 72nd anniversary of His Majesty King Bhumibol Adulyadej, and the A1B1-MICO (TRF) project of the Faculty of Science, Chulalongkorn University. Access to some scientific equipment was provided by the National Center of Excellence for Environmental and Hazardous Waste Management, Chulalongkorn University.
Electronic supplementary material
Below is the link to the electronic supplementary material.
About this article
Cite this article
Thongchuang, M., Pongsawasdi, P., Chisti, Y. et al. Design of a recombinant Escherichia coli for producing l-phenylalanine from glycerol. World J Microbiol Biotechnol 28, 2937–2943 (2012). https://doi.org/10.1007/s11274-012-1104-4
Received:

Accepted:

Published:

Issue Date:
Keywords
Phenylalanine dehydrogenase

l

-Phenylalanine

Glycerol facilitator

Aromatic amino acid exporter

Bacillus lentus
Escherichia coli BL21(DE3)