Abstract
We have taxonomically and phylogenetically characterized a novel nitrogen-fixing bacterial strain, NH-1, which was recently isolated from surface sediments of the South China Sea. The presence of the nifH gene was determined by PCR amplification. The strain NH-1 was found to belong to the genus Pseudacidovorax based on phenotypic characterization, 16S rDNA sequencing, G+C content and DNA–DNA hybridization. Isolate NH-1 was identified as Pseudacidovorax intermedius. In addition, we investigated the links between environmental factors and the nitrogenase activity of NH-1. We found that the nitrogen fixation capacity of NH-1 varied strongly when cells were grown with different ammonium ion and oxygen concentrations, amino acids and carbohydrates. This is the first report of the isolation of Pseudacidovorax from the ocean and the first study to explore the effects of different culture conditions on the nitrogenase activities of the isolate. This study provides evidence that marine nitrogen-fixing microorganisms are far more diverse than currently recognized.
This is a preview of subscription content, log in to check access.
Access options
Buy single article
Instant access to the full article PDF.
US$ 39.95
Price includes VAT for USA
Subscribe to journal
Immediate online access to all issues from 2019. Subscription will auto renew annually.
US$ 199
This is the net price. Taxes to be calculated in checkout.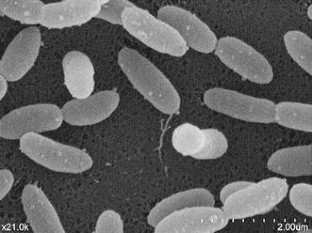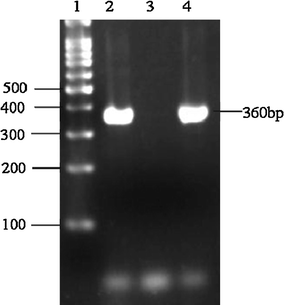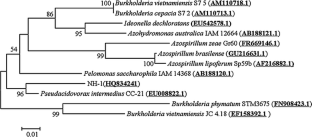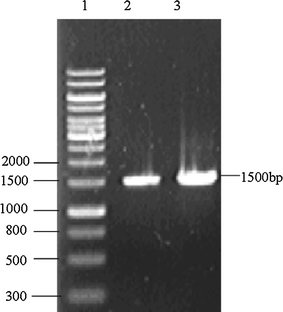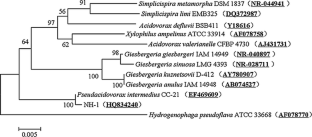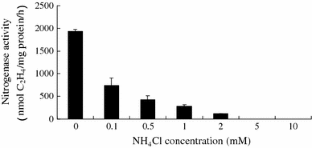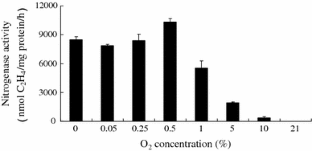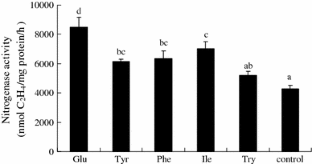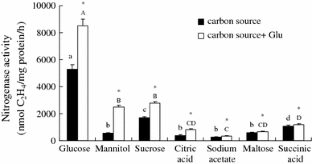 References
Aranibar J, Anderson I, Ringrose S, Macko S (2003) Importance of nitrogen fixation in soil crusts of southern African arid ecosystems: acetylene reduction and stable isotope studies. J Arid Environ 54:345–358

Bradford MM (1976) A rapid and sensitive method for the quantitation of microgram quantities of protein utilizing the principle of protein-dye binding. Anal Biochem 72(1):248–254

Capone DG, Carpenter EJ (1982) Nitrogen fixation in the marine environment. Science 217(4565):1140

Carpenter EJ, Romans K (1991) Major role of the cyanobacterium Trichodesmium in nutrient cycling in the North Atlantic Ocean. Science 254(5036):1356

Chen YL, Chen HY, Lin YH (2003) Distribution and downward flux of Trichodesmium in the South China Sea as influenced by the transport from the Kuroshio current. Mar Ecol Prog Ser 259:47–57

Church MJ, Bjrkman KM, Karl DM, Saito MA, Zehr JP (2008) Regional distributions of nitrogen-fixing bacteria in the Pacific Ocean. Limnol Oceanogr 53(1):63

Church MJ, Mahaffey C, Letelier RM, Lukas R, Zehr JPKD (2009) Physical forcing of nitrogen fixation and diazotroph community structure in the North Pacific subtropical gyre. Global Biogeochem Cy 23:1–19

De Ley J (1970) Reexamination of the association between melting point, buoyant density, and chemical base composition of deoxyribonucleic acid. J Bacteriol 101(3):738–754

De Ley J, Cattoir H, Reynaerts A (1970) The quantitative measurement of DNA hybridization from renaturation rates. Eur J Biochem 12(1):133–142

Dore JE, Brum JR, Tupas LM, Karl DM (2002) Seasonal and interannual variability in sources of nitrogen supporting export in the oligotrophic subtropical North Pacific Ocean. Limnol oceanogr 1595–1607

Ejechi B (1998) Effect of combined bacterial and urea treatment on biodegradation of wood by basidiomycete fungi. J Phytopathol 146:533–538

Farnelid H, Berg T, Riemann L (2009) Identity and dynamics of putative N2-fixing picoplankton in the Baltic Sea proper suggest complex patterns of regulation. Environ Microbiol Rep 1(2):145–154

Harrigan WF, MacCance ME, Acha IG, Villanueva JR (1968) Metodos de laboratorio en microbiologia. Editorial Academia, Leon

Heda GD, Madigan MT (1986) Aspects of nitrogen fixation in Chlorobium. Arch Microbiol 143(4):330–336

Hill S (1976) Influence of atmospheric oxygen concentration on acetylene reduction and efficiency of nitrogen fixation in intact Klebsiella pneumoniae. J Gen Microbiol 93:335–345

Hofmann M, Brian D (1991) Sequencing PCR DNA amplified directly from a bacterial colony. Biotechniques 11(1):16–17

Kampfer P, Thummes K, Chu HI, Tan CC, Arun A, Chen WM, Lai WA, Shen FT, Rekha P, Young CC (2008) Pseudacidovorax intermedius gen. nov., sp. nov., a novel nitrogen-fixing betaproteobacterium isolated from soil. Int J Syst Evol Micr 58(2):491–495

Klassen G, Pedrosa F, Souza E, Funayama S, Rigo L (1997) Effect of nitrogen compounds on nitrogenase activity in Herbaspirillum seropedicae SMR1. Can J Microbiol 43(9):887–891

Klugkist J, Haaker H (1984) Inhibition of nitrogenase activity by ammonium chloride in Azotobacter vinelandii. J Bacteriol 157(1):148

Koneman E, Allen S, Janda W, Schreckenberger P, Winn W (1997) Color atlas and textbook of diagnostic microbiology. Lippincott, Philadelphia

Letelier R, Dore J, Winn C, Karl D (1996) Seasonal and interannual variations in photosynthetic carbon assimilation at station. Deep-Sea Res Pt II 43(2–3):467–490

Li Z, Yicheng Sun, Xianjun M, Yiping W (2002) cAMP receptor protein (CRP) downregulates Klebsiella pneumoniae nif promoters in Escherichia coli. Chin Sci Bull 47(19):1622–1628

Lodwig E, Hosie A, Bourdes A, Findlay K, Allaway D, Karunakaran R, Downie J, Poole P (2003) Amino-acid cycling drives nitrogen fixation in the legume Rhizobium symbiosis. Nature 422(6933):722–726

Meyer J, Kelley BC, Vignais PM (1978) Nitrogen fixation and hydrogen metabolism in photosynthetic bacteria. Biochimie 60(3):245–260

Moisander PH, Beinart RA, Voss M, Zehr JP (2008) Diversity and abundance of diazotrophic microorganisms in the South China Sea during intermonsoon. The ISME journal 2(9):954–967

Mulholland MR, Capone DG (2000) The nitrogen physiology of the marine N2-fixing cyanobacteria Trichodesmium spp. Trends Plant Sci 5(4):148–153

Poly F, Monrozier LJ, Bally R (2001) Improvement in the RFLP procedure for studying the diversity of nifH genes in communities of nitrogen fixers in soil. Res Microbiol 152(1):95–103

Post A, Dedej Z, Gottlieb R, Li H, Thomas D, El-Absawi M, El-Naggar A, El-Gharabawi M, Sommer U (2002) Spatial and temporal distribution of Trichodesmium spp. in the stratified Gulf of Aqaba, Red Sea. Mar Ecol-Prog Ser 239:241–250

Rawson DM (1985) The effects of exogenous amino acids on growth and nitrogenase activity in the cyanobacterium Anabaena cylindrica PCC 7122. J Gen Microbiol 131(10):2549

Rees AP, Gilbert JA, Kelly-Gerreyn BA (2009) Nitrogen fixation in the western English Channel (NE Atlantic Ocean). Mar Ecol-Prog Ser 374:7–12

Saitou N, Nei M (1987) The neighbor-joining method: a new method for reconstructing phylogenetic trees. Mol Biol Evol 4(4):406–425

Sambrook J, Fritsch EF, Maniatis T (1989) Molecular cloning, 2nd edn. Cold Spring Harbor Laboratory Press, Cold Spring Harbor

Sanudo-Wilhelmy SA, Kustka AB, Gobler CJ, Hutchins DA, Yang M, Lwiza K, Burns J, Capone DG, Raven JA, Carpenter EJ (2001) Phosphorus limitation of nitrogen fixation by Trichodesmium in the central Atlantic Ocean. Nature 411(6833):66–69

Smibert R, Krieg N (1981) General characterization. Manual of Methods for General Bacteriology American Society for Microbiology, Washington, DC 850:409–433

Tamura K, Peterson D, Peterson N, Stecher G, Nei M, Kumar S (2011) MEGA5: molecular evolutionary genetics analysis using maximum likelihood, evolutionary distance, and maximum parsimony methods. Mol Biol Evol 28:2731–2739

Thompson JD, Gibson TJ, Plewniak F, Jeanmougin F, Higgins DG (1997) The CLUSTAL_X windows interface: flexible strategies for multiple sequence alignment aided by quality analysis tools. Nucleic Acids Res 25(24):4876–4882

Yanagi M, Yamasato K (1993) Phylogenetic analysis of the family Rhizobiaceae and related bacteria by sequencing of 16S rRNA gene using PCR and DNA sequencer. FEMS Microbiol Lett 107(1):115–120

Zehr JP, Mellon MT, Zani S (1998) New nitrogen-fixing microorganisms detected in oligotrophic oceans by amplification of nitrogenase (nifH) genes. Appl Environ Microbiol 64(9):3444–3450

Zehr JP, Carpenter EJ, Villareal TA (2000) New perspectives on nitrogen-fixing microorganisms in tropical and subtropical oceans. Trends Microbiol 8(2):68–73
Acknowledgments
We thank Professor Y. Li of the State Key Laboratory for Agrobiotechnology, China Agricultural University, Beijing, China, for providing the sediment samples used in this research. This research work was kindly supported by the Project of National Natural Science Foundation of China (31070082).
About this article
Cite this article
Zhang, L., Chen, S. Pseudacidovorax intermedius NH-1, a novel marine nitrogen-fixing bacterium isolated from the South China Sea. World J Microbiol Biotechnol 28, 2839–2847 (2012). https://doi.org/10.1007/s11274-012-1093-3
Received:

Accepted:

Published:

Issue Date:
Keywords
nifH

Nitrogen-fixing

Pseudacidovorax

South China Sea

Nitrogenase activity