Abstract
In this study, the traditional culture-based technique and the 16S rDNA sequencing method were used to investigate the characterization of bacterial community in the stomach contents and mucus of yellow catfish (Pelteobagrus fulvidraco). The culture-based technique disclosed that the average bacterial numbers in the gastric contents and mucus were 5.79 × 107 cfu/g (cfu: colony forming unit) and 1.89 × 105 cfu/g, respectively. Several different bacteria were obtained from gastric contents, including species from genera Bradyrhizobium, Phyllobacterium, Plesiomonas, Hafnia, Edwardsiella, Pseudomonas, and Bacillus. However, only two species were isolated from the gastric mucus, including species from genera Plesiomonas and Aeromonas. Forty-five phylotypes were observed from the 65 positive clones from the stomach contents (library SC); nineteen phylotypes were detected from the 45 clones from the stomach mucus (library SM). Further analyses revealed that the fish stomach harbored characteristic microbiota, where Firmicutes was dominant, followed by Proteobacteria and Bacteroidetes and Fusobacteria. This characterization of bacterial community is markedly different from that of the fish intestine, where Proteobacteria is predominant, followed by Fusobacteria and Firmicutes. Chloroflexi (1.5%) was only found in the library SC, while Actinobacteria (4.4%) was only found in the library SM, suggesting that microbiota of GI contents was quite different from that of GI mucus. In addition, several species of bacteria found in the stomach may be potentially opportunistic pathogens, indicating that fish digestive tract is a reservoir for many nosocomial pathogens.
This is a preview of subscription content, log in to check access.
Access options
Buy single article
Instant unlimited access to the full article PDF.
US$ 39.95
Price includes VAT for USA
Subscribe to journal
Immediate online access to all issues from 2019. Subscription will auto renew annually.
US$ 199
This is the net price. Taxes to be calculated in checkout.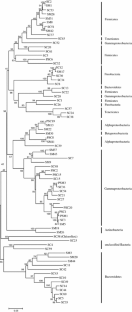 References
Altschul SF, Gish W, Miller W, Myers EW, Lipman DJ (1990) Basic local alignment search tool. J Mol Biol 215:403–410

Austin A, Al-Zahrani AMJ (1988) The effect of antimicrobial compounds on the gastrointestinal microflora of rainbow trout, Salmo gairdneri Richardson. J Fish Biol 33:1–14

Cahill MM (1990) Bacterial flora of fishes: a review. Microb Ecol 19:21–41

Campanella JJ, Bitincka L, Smalley J (2003) MatGAT: an application that generates similarity/identity matrices using protein or DNA sequences. BMC Bioinform 4:29

Cole JR, Chai B, Farris RJ, Wang Q, Julam SA, McGarrel DM, Garrity GM, Tiedje JM (2005) The ribosomal database project (RDP-II): sequences and tools for high-throughput rRNA analysis. Nucleic Acids Res 33:D294–D296

Donskey CJ (2004) The role of the intestinal tract as a reservoir and source for transmission of nosocomial pathogens. Clin Infect Dis 39:219–226

Han Q, Xia WF, Luo YS, Wang WB (2004) Research on the activity of protease of yellow catfish (Pelteobagrus fulvidraco). Reserv Fish 24:6–7 (in Chinese with English abstract)

He SX, Zhou ZG, Liu YC, Shi PJ, Yao B, Ringø E, Yoon I (2009) Effects of dietary Saccharomyces cerevisiae fermentation product (DVAQUA®) on growth performance, intestinal autochthonous bacterial community and non-specific immunity of hybrid tilapia (Oreochromis niloticus ♀ × O. aureus ♂) cultured in cages. Aquaculture 294:99–107

Kim DH, Brunt J, Austin B (2007) Microbial diversity of intestinal contents and mucus in rainbow trout (Oncorhynchus mykiss). J Appl Microbiol 102:1654–1664

Molinari LM, Scoaris DdO, Pedroso RB, Bittencourt NdLR, Nakamura CV (2003) Bacterial microflora in the gastrointestinal tract of Nile tilapia, Oreochromis niloticus, cultured in a semi-intensive system. Acta Sci Biol Sci Maringa 25:267–271

Navarrete P, Espejo RT, Romero J (2009) Molecular analysis of microbiota along the digestive tract of juvenile Atlantic salmon (Salmo salar L.). Microb Ecol 57:550–561

Nayak SK (2010) Role of gastrointestinal microbiota in fish. Aquac Res 41:1553–1573

Pond MJ, Stone DM, Alderman DJ (2006) Comparison of conventional and molecular techniques to investigate the intestinal microflora of rainbow trout (Oncorhynchus mykiss). Aquaculture 261:194–203

Ringø E, Birkbeck TH (1999) Intestinal microflora of fish larvae and fry. Aquac Res 30:73–93

Ringø E, Strøm E, Tabachek JA (1995) Intestinal microflora of salmonids: a review. Aquac Res 26:773–789

Ringø E, Olsen RE, Mayhew TM, Myklebust R (2003) Electron microscopy of the intestinal microflora of fish. Aquaculture 227:395–415

Ringø E, Sperstad S, Myklebust R, Refstie S, Krogdahl A (2006) Characterisation of the microbiota associated with intestine of Atlantic cod (Gadus morhua L.): the effect of fish meal, standard soybean meal and a bioprocessed soybean meal. Aquaculture 261:829–841

Silva FCdP, Nicoli JR, Zambonino-Infante JL, Kaushik S, Gatesoupe FJ (2011) Influence of the diet on microbial diversity of faecal and gastrointestinal contents in gilthead sea bream (Sparus aurata) and intestinal contents in goldfish (Carassius auratus). FEMS Microbiol Ecol 78:285–296

Spanggaard B, Huber I, Nielsen J, Nielsen T, Appel KF, Gram L (2000) The microflora of rainbow trout intestine: a comparison of traditional and molecular identification. Aquaculture 182:1–15

Stackebrandt E, Goebel BM (1994) Taxonomic note: a place for DNA–DNA reassociation and 16S rRNA sequence analysis in the present species definition in bacteriology. Int J Syst Evol Microbiol 44:846–849

Tamura K, Dudley J, Nei M, Kumar S (2007) MEGA4: molecular evolutionary genetics analysis (MEGA) software version 4.0. Mol Biol Evol 24:1596–1599

Verschuere L, Rombaut G, Sorgeloos P, Verstraete W (2000) Probiotic bacteria as biological control agents in aquaculture. Microbiol Mol Biol Rev 64:655–671

Wu SG, Gao TH, Zheng YZ, Wang WW, Cheng YY, Wang GT (2010) Microbial diversity of intestinal contents and mucus in yellow catfish (Pelteobagrus fulvidraco). Aquaculture 303:1–7

Ye SG, Li H, Qiao G, Li ZS (2009) First case of Edwardsiella ictaluri infection in China farmed yellow catfish Pelteobagrus fulvidraco. Aquaculture 292:6–10

Yu D, Wang G, Xie J, Guan S, Hu Z, Wu L (2007) Acitivity change of protease and amylase in digestive organs of grouper, Epinephelus coioides. J Zhejiang Ocean Univ (Nat Sci) 26:246–251 (in Chinese with English abstract)

Zhou ZG, Liu YH, Shi PJ, He SX, Yao B, Ringø E (2009) Molecular characterization of the autochthonous microbiota in the gastrointestinal tract of adult yellow grouper (Epinephelus awoara) cultured in cages. Aquaculture 286:184–189
Acknowledgments
The research was financially supported by grants from National Basic Research Program of China (No. 2009CB118705), the Open Fund of State Key Laboratory of Freshwater Ecology and Biotechnology (No. 2011FB07), and the earmarked fund for China Agriculture Research System (No. CARS-46-08).
About this article
Cite this article
Wu, S., Tian, J., Wang, G. et al. Characterization of bacterial community in the stomach of yellow catfish (Pelteobagrus fulvidraco). World J Microbiol Biotechnol 28, 2165–2174 (2012) doi:10.1007/s11274-012-1022-5
Received:

Accepted:

Published:

Issue Date:
Keywords
Microbiota

Pelteobagrus fulvidraco

16S rDNA clone library

Stomach