Abstract
Lactic acid bacteria from indigenous pickled vegetables and fermented beverages (fermented rice and Madhuca longifolia flowers) were isolated and investigated for their functional characteristics in vitro as potential new probiotic strains. Four isolates (all Lactobacillus spp.) selected on the basis of high tolerance to bile (0.2%) were identified by standard and molecular methods (16S rDNA) as L. helveticus, L. casei, L. delbrueckii and L. bulgaricus from pickled vegetables and fermented beverages respectively. These selected strains had antibiotic resistance, tolerance to artificial gastric juice and phenol (0.4%), enzymatic profile, and antagonistic activity against enteric pathogens (Enterobacter sakazakii, Salmonella typhimurium, Shigella flexneri 2a, Listeria monocytogenes, Yersinia enterocolitica and Aeromonas hydrophila). All strains survived well in artificial gastric juice at low pH (3.0) values for 4 h, possessed bile salt hydrolase activity and were susceptible to most antibiotics including vancomycin. Additionally, the isolates exhibited high tolerance to phenol, high cell surface hydrophobicity (>60%) and induced proliferation of murine splenocytes. All the four strains of present study suppressed the Con A-stimulated proliferation of the mouse spleen cells, although L. casei had the strongest suppressive effect. The results of this study suggest a potential application of the strains (following human clinical trials), for developing probiotic foods.
This is a preview of subscription content, log in to check access.
Access options
Buy single article
Instant unlimited access to the full article PDF.
US$ 39.95
Price includes VAT for USA
Subscribe to journal
Immediate online access to all issues from 2019. Subscription will auto renew annually.
US$ 199
This is the net price. Taxes to be calculated in checkout.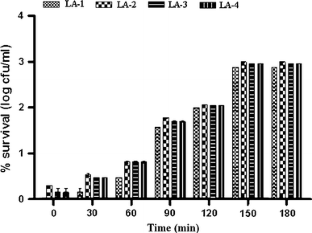 References
Battcock M, Azam-Ali S (1998) Fermented fruits and vegetables, a global perspective. FAO Agricultural Services Bulletin No. 134, Food and Agriculture Organization of the U.N., Rome. ISBN: 92-5-104226-8

Casey PG, Casey GD, Gardiner GE, Tangney M, Stanton C, Ross RP, Hill C, Fitzgerald GF (2004) Isolation and characterization of anti-Salmonella lactic acid bacteria from the porcine gastrointestinal tract. Lett Appl Microbiol 39:431–438

Chesson A, Franklin A, Aumaître A, Sköld O, Leclercq R, von Wright A, Guillot JF (2002) Opinion of the scientific committee on animal nutrition on the criteria for assessing the safety of microorganisms resistant to antibiotics of human and veterinary importance. Directorate C-Scientific Opinions. European Commission Health and Consumer Protection Directorate-General, Brussels

Choi CW, Park MH, Hwang SH, Woo SG, Song MK, Im JJ, Hong SG, Kim JH (2003) Novel microorganism Pediococcus pentosaceus EROM 101, having immune enhancement, anticancer and antimicrobial activities. Free patents online (http://www.freepatentsonline.com/20050131288.html)

Chou LS, Weimer B (1999) Isolation and characterization of acid- and bile-tolerant isolates from strains of Lactobacillus acidophilus. J Dairy Sci 82:23–31

Cole CB, Fuller R, Carter SM (1989) Effect of probiotic supplements of Lactobacillus acidophilus and Bifidobacterium adolescentis on β-glucosidase and β-glucuronidase activity in the lower gut of rats associated with a human faecal flora. Microb Ecol Health Dis 2:223–225

Coppola R, Succi M, Tremonte P, Reale A, Salzano G, Sorrentino E (2005) Antibiotic susceptibility of L. rhamnosus strains isolated from Parmigiano Reggiano cheese. Lait 85:193–204

De Boever P, Wouters R, Verschaeve L, Berckmans P, Schoeters G, Verstraete W (2000) Protective effect of the bile salt hydrolase-active Lactobacillus reuteri against bile salt cytotoxicity. Appl Microbiol Biotechnol 53:709–714

De Smet I, Van Hoorde L, Vande Woestyne M, Christianes H, Verstraete W (1995) Significance of bile salt hydrolytic activities of lactobacilli. J Appl Microbiol 79:292–301

Du Toit M, Franz CMAP, Dicks LMT, Schillinger U, Haberer P, Warlies B, Ahrens F, Holzapfel WH (1998) Characterisation and selection of probiotic lactobacilli for a preliminary minipig feeding trial and their effect on serum cholesterol levels, faeces pH, and faeces moisture content. Int J Food Microbiol 40:93–104

Fernández MF, Boris S, Barbés C (2003) Probiotic properties of human lactobacilli strains to be used in the gastrointestinal tract. J Appl Microbiol 94:449–455

Franz C, Specht I, Haberer P, Holzapfel WH (2001) Bile salt hydrolase activity of enterococci isolated from food: screening and quantitative determination. J Food Prot 64:725–729

Gill HSKJ, Rutherfurd JP, Gopal PK (2000) Enhancement of natural and acquired immunity by Lactobacillus rhamnosus (HN001), Lactobacillus acidophilus (HN017) and Bifidobacterium lactis (HN019). Br J Nutr 83:167–176

Grill JP, Perrin S, Scheneider F (2000) Bile salt toxicity to some bifidobacteria strains: role of conjugated bile salt hydrolase and pH. Can J Microbiol 46:878–884

Halami PM, Chandrashekar A, Nand K (2000) Lactobacillus farciminis MD, a newer strain with potential for bacteriocin and antibiotic assay. Lett Appl Microbiol 30:197–202

He X, Lux R, Kuramitsu HK, Anderson MH, Shi W (2009) Achieving probiotic effects via modulating oral microbial ecology. Adv Dent Res 21:53–56

Heilig HGHJ, Zoetendal EG, Vaughan EE, Marteau P, Akkermans ADL, de vos VW (2002) Molecular diversity of Lactobacillus spp. and other lactic acid bacteria in the human intestine as determined by specific amplification of 16S ribosomal DNA. Appl Environ Microbiol 68:114–123

Hofmann A (1991) Enterohepatic circulation of bile acids. In: Schultz SG, Forte JG, Rauner BB (eds) Handbook of physiology. Section 6: the gastrointestinal system, vol 3, pp 567–580

Jin LZ, Ho YW, Ali MA, Abdullah N, Jalaludin S (1996) Effect of adherent Lactobacillus spp. on in vitro adherence of Salmonella to the intestinal epithelial cells of chicken. J Appl Bacteriol 81:201–206

Kim EJ, Young YJ, Kang SJ, Chang SY, Huh K, Nam DH (2001) Molecular discrimination of Cervidae Antlers and Rangifer Antlers. J Biochem Mol Biol 34:114–117

Knorr D (1998) Technology aspects related to microorganisms in functional foods. Trends Food Sci Technol 9:295–306

Kociubinsky G, Pérez P, De Antoni G (1999) Screening of bile resistance and bile precipitation in lactic acid bacteria and bifidobacteria. J Food Prot 62:905–912

Kostinek M, Pukall R, Rooney AP, Schillinger U, Hertel C, Charles HHW (2005) Lactobacillus arizonensis is a later heterotypic synonym of Lactobacillus plantarum. Int J Syst Evol Microbiol 55:2485–2489

Lee YK, Salminen S (1995) The coming age of probiotics. Trends Food Sci Technol 6:241–245

Lee K, Jang SJ, Lee HJ, Ryoo N, Kim M, Hong SG, Chong Y (2004) Increasing prevalence of vancomycin-resistant Enterococcus faecium, expanded-spectrum cephalosporin-resistant Klebsiella pneumoniae, and imipenem-resistant Pseudomonas aeruginosa in Korea: KONSAR study in 2001. J Korean Med Sci 19:8–14

Mann GV (1974) Studies of a surfactant and cholesteremia in the Maasai. Am J Clin Nutr 27:464–469

Marshall VM (1979) A note on screening hydrogen peroxide-producing lactic acid bacteria using a non-toxic chromogen. J Appl Bacteriol 47:327–328

Marteau P, Minekus M, Havenaar R, Huis In't Veld JHJ (1997) Survival of lactic acid bacteria in a dynamic model of the stomach and small intestine: validation and the effects of bile. J Dairy Sci 80:1031–1037

Matsuzaki T, Chin J (2000) Modulating immune responses with probiotic bacteria. Immunol Cell Biol 78:67–73

Mourad K, Nour-Eddine K (2006) In vitro preselection criteria for probiotic Lactobacillus plantarum strains of fermented olives origin. Int J Probiot Prebiot 1:27–32

Murosaki S, Muroyama K, Yamamoto Y, Kusaka H, Liu T, Yoshikai Y (1999) Immunopotentiating activity of nigerooligosaccharides for the T Helper 1-like immune response in mice. Biosci Biotech Biochem 63:373–378

Naidu AS, Bidlack WR, Clemens RA (1999) Probiotic spectra of lactic acid bacteria (LAB). Cri Rev Food Sci Nutr 38:13–126

Pérez Elortondo FJ, Albisu M, Barcina Y (1999) Physicochemical properties and secondary microflora variability in the manufacture and ripening of Idiazabal cheese. Lait 79:281–290

Ramadan MM, Tantawy EA, Shehata MS (2005) Effect of gamma rays on seed germination and seedling growth of some timber trees. Annals of Agric Sci Moshtohor 43:869–883

Reniero R, Cocconcelli P, Bottazzi V, Morelli L (1992) High frequency of conjugation in Lactobacillus mediated by an aggregation-promoting factor. J Gen Microbiol 138:763–768

Schiffrin EJ, Brassart D, Servin AL, Rochat F, Donnet-Hughes A (1997) Immune modulation of blood leukocytes in humans by lactic acid bacteria: criteria for strain selection. Am J Clin Nutr 66:515–520

Schillinger U, Lücke FK (1987) Identification of lactobacilli from meat and meat products. Food Microbiol 4:199–208

Shin HS, Huang EJ, Park BS, Sakai T (1999) The effects of seed inoculation on the rate of garbage composting. Environ Technol 20:293–300

Suskovic J, Brkic B, Matosic S, Maric V (1997) Lactobacillus acidophilus M 92 as potential probiotic strain. Milchwissenschaft 52:430–435

Tamang JP, Thapa N, Rai B, Thapa S, Yonzan H, Dewan S, Tamang B, Sharma R, Rai A, Chettri R (2007) Food consumption in Sikkim with special reference to traditional fermented foods and beverages: a micro-level survey. J Hill Res 20:1

Tannock GW, Dashkevitz MP, Feighner SD (1989) Lactobacilli and bile salt hydrolase in the murine intestinal tract. Appl Environ Microbiol 55:1848–1851

Uhlman L, Schillinger U, Rupnow JR, Holzapfel WH (1992) Identification and characterisation of two bacteriocin-producing strains of Lactococcus lactis isolated from vegetables. Int J Food Microbiol 16:141–151

Vescovo M, Torriani S, Dellaglio F, Bottazzi V (1993) Basic characteristics, ecology and application of Lactobacillus plantarum: a review. Annali di Microbiologia ed Enzimologia 43:261–284

Xanthopoulos V, Litopoulou-Tzanetaki E, Tzanetakis N (eds) (1997) In vitro study of Lactobacillus species strains on bile tolerance and cholesterol removal. In: Lactic acid bacteria—Lactic 97. Presses Universitaires de Caen, Caen

Zoetendal EG, Akkermans ADL, de Vos WM (1998) Temperature gradient gel host-specific communities of active bacteria. Appl Environ Microbiol 64:3854–3859
Acknowledgments
The authors thank the Director, Thapar University, Patiala for providing adequate infrastructure and Department of Biotechnology, Govt. of India for financial support.
About this article
Cite this article
Kumar, M., Ghosh, M. & Ganguli, A. Mitogenic response and probiotic characteristics of lactic acid bacteria isolated from indigenously pickled vegetables and fermented beverages. World J Microbiol Biotechnol 28, 703–711 (2012). https://doi.org/10.1007/s11274-011-0866-4
Received:

Accepted:

Published:

Issue Date:
Keywords
Cell hydrophobicity

Lactobacillus

Non dairy

Probiotics

Proliferation