Abstract
We have previously demonstrated that C. histolyticum reference strain ATCC 19401 produces not only lethal factor but also hitherto unrecognized vacuolating toxin. The aim of this study was to compare vacuolating and lethal activities of six reference C. histolyticum strains (ATCC 6282, 8034, 17859, 17860, 19401 and 25770) and to determine whether production of vacuolating toxin is strain-dependent and how the amounts of both toxins produced by the same strain are related to each other and also to protease, collagenase and clostripain activities. All strains produced vacuolating and lethal toxins as well as collagenase, clostripain and proteases, but with different yield. Strain ATCC 19401 demonstrated considerable vacuolating and lethal activities and low activity of collagenase, clostripain and proteases. In other strains such relationship was not evident. Positive correlations were observed in collagenase and clostripain activities of all studied C. histolyticum strains (r = 0.71). Positive correlations were detected also in vacuolating activities of studied strains and clostripain (r = 0.62) and collagenase (r = 0.87) production, and this effect was statistically significant (P < 0.05). Negative non-significant correlations were detected: (a) in lethal activities of studied strains and clostripain, or collagenase activities, (b) in vacuolating activities and protease production.
This is a preview of subscription content, log in to check access.
Access options
Buy single article
Instant access to the full article PDF.
US$ 39.95
Price includes VAT for USA
Subscribe to journal
Immediate online access to all issues from 2019. Subscription will auto renew annually.
US$ 199
This is the net price. Taxes to be calculated in checkout.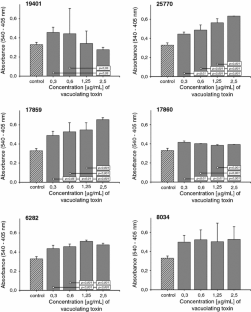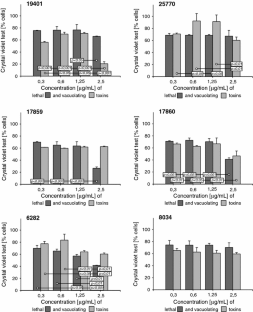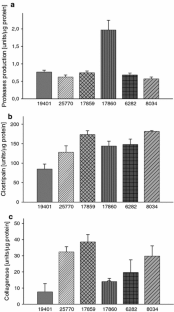 References
Berman S, Lowenthal JP, Webster ME, Altieri PL, Gochenour RB (1961) Factors affecting the elaboration by Clostridium histolyticum of proteinases capable of debriding third degree burn eschars on guinea pigs. J Bacteriol 82:582–588

Bicsak TA, Harper E (1985) Purification of non-specific protease-free collagenase from Clostridium histolyticum. Anal Biochem 145:286–291

Bowen HE (1952) A comparison of the lethal and haemolytic toxins of Clostridium histolyticum. Yale J Biol Med 25:131–138

de Bernard M, Moschioni M, Papini E, Telford J, Rappuoli R, Montecucco C (1998) Cell vacuolization induced by Helicobacter pylori vac A toxin: cell line sensitivity and quantitative estimation. Toxicol Lett 99:109–115

Finegold SM, Song Y, Liu C, Hecht DW, Summanen P, Kononen E, Allen SD (2005) Clostridium clostridiforme: a mixture of three clinically important species. Eur J Clin Microbiol Infect Dis 24:319–324

Flick DA, Gifford GE (1984) Comparison of in vitro cell cytotoxic assays for tumor necrosis factor. J Immunol Methods 68:167–175

Giles AM, Imhoff JM, Keil B (1979) Alpha-clostripain. Chemical characterization, activity, and thiol content of the highly active form of clostripain. J Bacteriol 254:1462–1468

Jankowska-Steifer E, Jóźwiak J, Grzela T, Komar A, Niderla J, Łazarczyk M, Korczak-Kowalska G, Moskalewski S, Martirosian G (2006) Vacuolation of HeLa cells by a partially purified Clostridium histolyticum cytotoxin. FEMS Immunol Med Microbiol 46:360–366

Jóźwiak J, Komar A, Jankowska E, Martirosian G (2006) Inhibition of Clostridium histolyticum supernatant cytotoxic activity by protease inhibitors. Enzyme Microb Technol 39:29–31

Jóźwiak J, Jankowska-Steifer E, Grzela T, Komar A, Moskalewski S, Martirosian G (2007) Lethal factor of Clostridium histolyticum kills cells by apoptosis. FEMS Immunol Med Microbiol 49:296–303

Kessler E, Yaron A (1973) A novel aminopeptidase from Clostridium histolyticum. Biochem Biophys Res Commun 50:405–412

Kono T (1968) Purification and partial characterization of collagenolytic enzymes from Clostridium histolyticum. Biochemistry 7:1106–1114

Mandl I, Ferguson LT, Zaffuto SF (1957) Exopeptidases of Clostridium histolyticum. Arch Biochem Biophys 69:565–581

Mitchell WM, Harrington WF (1968) Purification and properties of clostridiopeptidase B (clostripain). J Biol Chem 243:4683–4692

Mookhtiar KA, van Wart HE (1992) Clostridium histolyticum collagenase: a new look at some old enzymes. Matrix Suppl 1:116–126

Moskalewski S, Sochańska KR, Wiwatowski T (1973) The presence of a factor toxic to pancreatic beta cells in some collagenase preparations. Bull Acad Pol Sci 22(2):127–130

Nishida S, Imaizumi M (1966) Toxigenicity of Clostridium histolyticum. J Bacteriol 91:477–483

Oakley CL, Warrack GH (1950) The alpha, beta and gamma antigens of Costridium histolyticum. J Gen Microbiol 4:365–373

Pasternack JG, Bengtson IA (1940) The experimental pathological changes produced by the toxin of Clostridium histolyticum in animals. Pub Health Rep Wash 55:775–784

Porter W, Cunningham L, Mitchell W (1971) Studies on the active site of clostripain. The specific inactivation by the chloromethyl ketone derived from a-N-Tosyl-L- Lysine. J Biol Chem 246:7675–7682

Schallehn G, Wolff HW (1988) Morphologische veränderungen humaner embryonaler lungfibroblasten durch cytotoxine verschiedener clostridium- species. Zbl Bakt Hyg A 267:367–378

Shamraeva SA, Vlasova EV, Shemanova GF, Pyleva ZA (1967) Determination of the activity of Clostridium histolyticum toxins in tissue cultures (in Russian). J Microbiol 5:102–105

Shemanova GF, Vlasova EV, Shamraeva SA (1967) Obtaining of highly purified preparations of a-lethal factor from Clostridium histolyticum (in Russian). Met Bioch Iss 3:632–635

Sparrow LG, McQuade AB (1973) Isolation by affinity chromatography of neutral proteinase from Clostridium histolyticum. Biochim Biophys Acta 302:90–94

Steward SE (1936) Studies on the production of toxin by Clostridium histolyticum. Pub Health Rep Wash 51:1272–1279

Takahashi S, Seifter S, Binder M (1970) Elastolytic activities of Clostridium histolyticum. Biochem Biophys Res Commun 39:1058–1064

Twining SS (1984) Fluorescein isothiocyanate-labeled casein assay for proteolytic enzymes. Anal Biochem 142:30–34

Ullmann D, Jakubke HD (1994) The specificity of clostripain from Clostridium histolyticum. Mapping the S'subsites via acetyl transfer to amino acid amides and peptides. Eur J Biochem 223:865–872

Vlasova YV, Tsurikov FF (1966) Production of a lethal toxin and C. histolyticum collagenase on casein nutritive media. Zhurnal Mikrobiologii, Epidemiologiii Immunobiologii 1:112–114 (technical translation FSTC-HT-23-512-68)

Weinberg M, Séguin P (1916) Contribution à L'étiologie de la gangrene gazeuse. CR Acad Sci Paris 163:449–451

Yoshihara K, Matsushita O, Minami J, Okabe A (1994) Cloning and nucleotide sequence analysis of the col. H gene from Clostridium histolyticum encoding a collagenase and a gelatinase. J Bacteriol 176:6489–6496
Acknowledgments
This work was supported by a grant from the Polish Ministry of Scientific Research and Information Technology Nr 40404132/0949.
About this article
Cite this article
Jankowska-Steifer, E., Martirosian, G., Ekiel, A. et al. Vacuolating, lethal, collagenase and clostripain activities of six reference ATCC Clostridium histolyticum strains. World J Microbiol Biotechnol 27, 1689–1694 (2011). https://doi.org/10.1007/s11274-010-0623-0
Received:

Accepted:

Published:

Issue Date:
Keywords
Clostridium histolyticum

Toxins

Collagenase

Clostripain

Proteases