Abstract
A gene encoding staphylokinase from Staphylococcus aureus was cloned into the plant transformation binary vector pCAMBIA 1304. The transgene was introduced into the genome of A. thaliana via in planta Agrobacterium tumefaciens–mediated genetic transformation. The presence of the staphylokinase gene was confirmed by PCR in 60% of the investigated plants. The presence of the fusion protein (119 kDa) was confirmed by SDS–PAGE and Western blot analysis in protein extracts from putative transgenics. Furthermore, the amidolytic assay confirmed the activity of SAK in protein extracts in 23 out of 45 transgenic lines of A. thaliana plants.
This is a preview of subscription content, log in to check access.
Access options
Buy single article
Instant access to the full article PDF.
US$ 39.95
Price includes VAT for USA
Subscribe to journal
Immediate online access to all issues from 2019. Subscription will auto renew annually.
US$ 199
This is the net price. Taxes to be calculated in checkout.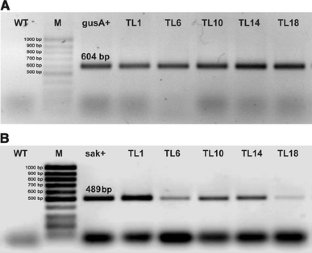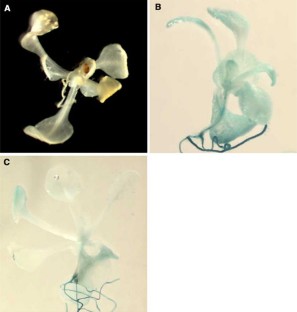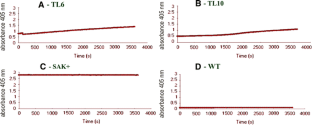 Abbreviations
AGL1:

Agrobacterium tumefaciens strain

bp:

Base pair

dNTP:

Deoxyribonucleotide triphosphate

EDTA:

Ethylenediaminetetraacetate

FAA:

Fixing agent (formalin, glacial acetic acid, ethanol)

gusA :

β-glucuronidase

MES:

4-Morpholineethanesulfonic acid

MS:

Murashige and skoog salts

nptII:

Neomycin phosphotransferase II

pCAMBIA:

Binary vector

PCR:

Polymerase chain reaction

PolTaq:

Polymerase from Thermococcus aquaticus

SAK:

Staphylokinase

T-DNA:

Transferred DNA
References
Behnke D, Gerlach D (1987) Cloning and expression in Escherichia coli, Bacillus subtilis and Streptococcus sanguis of a gene for staphylokinase-a bacterial plazminogen activator. Mol Gen Genet 210:528–534

Bokareva MI, Jin T, Tarkowski A (2006) Staphylococcus aureus: staphylokinase. Int J Biochem Cell Biol 38:504–509

Collen D (1998) Staphylokinase: a potent, uniquely fibrin-selective thrombolytic agent. Nat Med 4:279–284

Collen D, Moreau H, Stockx L, Vanderschueren S (1996) Recombinant staphylokinase variants with altered immunoreactivity II: thrombolytic properties and antibody induction. Circ J 94:207–216

Dellaporta SL, Wood J, Hicks JB (1983) A plant DNA mini-preparation: version II. Plant Mol Biol Rep 1:19–71

Dobrowolska A, Kononowicz AK (2004) Expression of CaMV:sak-gusA-mgfp gene in tobacco plants. World J Microbiol Biotech 20:333–335

Doran P (2000) Foreign protein production in plant tissue cultures. Curr Opin Biotech 11:199–204

Emani C, Sunilkumar G, Rathore KS (2002) Transgene silencing and reactivation in sorghum. Plant Sci 162:181–192

Fischer RE, Drossard J, Commandeur U, Schillberg S, Emans N (1999) Towards molecular farming in the future: moving from diagnostic protein and antibody production in microbes to plants. Biotechnol Appl Biochem 30:99–100

Franken E, Teuschel UR, Rüdiger H (1997) Recombinant proteins from transgenic plants. Curr Opin Biotech 8:411–416

Giddings G (2001) Transgenic plants as protein factories. Curr Opin Biotech 12:450–454

Giddings G, Allison G, Brooks D (2000) Transgenic plants as factories for biopharmaceuticals. Nat Biotech 18:1151–1155

Haffani YZ, Overney S, Yelle S, Bellemare G, Belzile F (2000) Premature polyadenylation contributes to the poor expression of the Bacillus thuringiensis cry3Ca1 gene in transgenic potato plants. Mol Gen Genet 264:82–88

Hassairi A, Masmoudi K, Albouy J, Robaglia C, Jullien M, Ellouz R (1998) Transformation of two potato cultivars "Spunta" i "Claustar" (Solanum tuberosum) with lettuce mosaic virus coat protein gene and heterologous immunity to potato virus Y. Plant Sci 136:31–42

Herbers K, Sonnenwald U (1999) Production of new/modified proteins in transgenic plants. Curr Opin Biotech 10:163–168

Hiei Y, Kubo T (1997) Transformation of rice mediated by Agrobacterium tumefaciens. Plant Mol Biol 35:205–218

Hood EE, Jilka JM (1999) Plant–based production of xenogenic proteins. Curr Opin Biotech 10:382–386

Hood EE, Woodard SL, Horn ME (2002) Monoclonal antibody manufacturing in transgenic plants-myths and realities. Curr Opin Biotech 13:630–635

Kohli A, Griffiths S, Palacios N, Twyman RM, Vain P, Laurie D, Christou P (1999) Molecular characterization of transforming plasmid rearrangements in transgenic rice reveals a recombination hotspot in the CaMV 35S promoter and confirms the predominance of microhomology mediated recombination. Plant J 17:591–601

Kononowicz AK, Nelson DE, Singh NK, Hasegawa PM, Bressan RA (1992) Regulation of the osmotin gene promoter. Plant Cell 4:513–524

Larric JW, Thomas DW (2001) Producing proteins in transgenic plants and animals. Curr Opin Biotech 12:411–418

Lijnen HR, De Cock F, Van Hoef B, Schlott B, Collen D (1994) Characterization of the interaction between plasminogen and staphylokinase. Eur J Biochem 224:143–149

Lowry OH, Rosebrough NJ, Farr Al, Randall RJ (1951) Protein measurement with the folin phenol reagent. J Biol Chem 193:265–275

Mandi N, Soorapaneni S, Rewanwar S, Kotwal P, Prasad B, Mandal G, Padmanbhan S (2009) High yielding recombinant staphylokinase in bacterial expression system-cloning, expression, purification and activity studies. Protein Expr Purif 64:69–75

Moreadith RW, Collen D (2003) Clinical development of PEGylated recombinant staphylokinase (PEG-Sak) for bolus thrombolytic treatment of patients with acute myocardial infarction. Adv Drug Deliv Rev 55:1337–1345

Ren D, Li D, Yang W, Li Y, Gou X, Liang B, Li B, Wu Q (2008) Novel preparation protocol for the expression and purification of recombinant staphylokinase. Biotechnol Appl Biochem 51:9–13

Ross AM (1999) New plasminogen activators: a clinical review. Clin Cardiol 22:165–171

Sambrook J, Fritsch EE, Maniatis T (1989) Molecular cloning: a laboratory manual. Cold Spring Harbor Lab Press, Cold Spring Harbor

Stöger E, Sack M, Fisher R (2002) Plantibodies: applications, advantages and bottlenecks. Curr Opin Biotech 13:161–166

Wiktorek-Smagur A, Hnatuszko K, Kononowicz AK (2009) Flower bud dipping or vacuum infiltration–two methods of Arabidopsis thaliana transformation. Russ J Plant Physiol 56:560–568
Acknowledgments
This work was supported by The Ministry of Science and Higher Education research grant No. 6 P04B 003 18 and the University of Lodz grant No 505/040396.
About this article
Cite this article
Wiktorek-Smagur, A., Hnatuszko-Konka, K., Geszberg, A. et al. Expression of a staphylokinase, a thrombolytic agent in Arabidopsis thaliana . World J Microbiol Biotechnol 27, 1341–1347 (2011). https://doi.org/10.1007/s11274-010-0583-4
Received:

Accepted:

Published:

Issue Date:
Keywords
Arabidopsis thaliana
Agrobacterium tumefaciens

Staphylokinase

Recombinant proteins