Abstract
UreB is one of the urease subunits of Helicobacter pylori and can be used as an excellent antigen candidate for H. pylori vaccination. Easy access to highly purified UreB protein, facilitate advances in therapeutic or preventive strategies. To achieve a simplified purification procedure, the present report represents a novel method of producing recombinant urease subunit B extracellularly. ureB gene from 26,695 standard strain was amplified by PCR and cloned into pET-26b(+) expression vector. UreB was expressed as a soluble, N-terminal pelB and C-terminal hexahistidine-tagged fusion protein (UreB-6His) and secreted into the periplasmic space of Escherichia coli. Expression of the recombinant UreB in E. coli BL21 (DE3) was induced by isopropylthio-β-d-galactoside (IPTG). Expression of UreB was confirmed by sodium dodecyl sulphate–polyacrylamide gel electrophoresis (SDS–PAGE) and western blot analysis using anti-His monoclonal antibody. UreB-6His protein was extracted from the periplasm by osmotic shock treatment and was purified in one step by Nickel affinity chromatography. In conclusion, the present protocol is easier to perform; more time effective and low cost than earlier methods.
This is a preview of subscription content, log in to check access.
Access options
Buy single article
Instant access to the full article PDF.
US$ 39.95
Price includes VAT for USA
Subscribe to journal
Immediate online access to all issues from 2019. Subscription will auto renew annually.
US$ 199
This is the net price. Taxes to be calculated in checkout.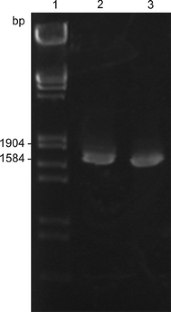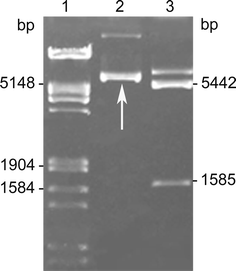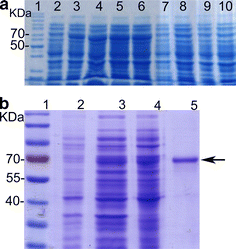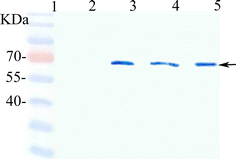 References
Akada JK, Shirai M, Takeuchi H, Tsuda M, Nakazawa T (2000) Identification of the urease operon in Helicobacter pylori and its control by mRNA decay in response to pH. Mol Microbiol 36:1071–1084

Baneyx F, Mujacic M (2004) Recombinant protein folding and misfolding in Escherichia coli. Nat Biotechnol 22:1399–1408

Bradford MM (1976) A rapid and sensitive method for the quantitation of microgram quantities of protein utilizing the principle of protein-dye binding. Anal Biochem 72:248–254

Cornelis P (2000) Expressing genes in different Escherichia coli compartments. Curr Opin Biotechnol 11:450–454

Corthesy-Theulaz I, Porta N, Glauser M, Saraga E, Vaney AC, Haas R, Kraehenbuhl JP, Blum AL, Michetti P (1995) Oral immunization with Helicobacter pylori urease B subunit as a treatment against Helicobacter infection in mice. Gastroenterology 109:115–121

Cuenca R, Blanchard TG, Czinn SJ, Nedrud JG, Monath TP, Lee CK, Redline RW (1996) Therapeutic immunization against Helicobacter mustelae in naturally infected ferrets. Gastroenterology 110:1770–1775

Czinn SJ (2005) Helicobacter pylori infection: detection, investigation, and management. J Pediatr 146:S21–S26

Del Giudice G, Michetti P (2004) Inflammation, immunity and vaccines for Helicobacter pylori. Helicobacter 9(1):23–28

Evans DJ Jr, Evans DG, Kirkpatrick SS, Graham DY (1991) Characterization of the Helicobacter pylori urease and purification of its subunits. Microb Pathog 10:15–26

Ferrero RL, Thiberge JM, Huerre M, Labigne A (1994) Recombinant antigens prepared from the urease subunits of Helicobacter spp.: evidence of protection in a mouse model of gastric infection. Infect Immun 62:4981–4989

Ferrero RL, Thiberge JM, Kansau I, Wuscher N, Huerre M, Labigne A (1995) The GroES homolog of Helicobacter pylori confers protective immunity against mucosal infection in mice. Proc Natl Acad Sci USA 92:6499–6503

Haas R, Meyer TF (1997) Vaccine development against Helicobacter pylori infections. Biologicals 25:175–177

Hatzifoti C, Wren BW, Morrow WJ (2000) Helicobacter pylori vaccine strategies–triggering a gut reaction. Immunol Today 21:615–619

Hatzifoti C, Bajaj-Elliott M, Dorrell N, Anyim M, Prentice MB, Nye KE, Wren B, Morrow WJ (2004) A plasmid immunization construct encoding urease B of Helicobacter pylori induces an antigen-specific antibody response and upregulates the expression of beta-defensins and IL-10 in the stomachs of immunized mice. Vaccine 22:2651–2659

Icatlo FC Jr, Kuroki M, Kobayashi C, Yokoyama H, Ikemori Y, Hashi T, Kodama Y (1998) Affinity purification of Helicobacter pylori urease. Relevance to gastric mucin adherence by urease protein. J Biol Chem 273:18130–18138

Labigne A, Cussac V, Courcoux P (1991) Shuttle cloning and nucleotide sequences of Helicobacter pylori genes responsible for urease activity. J Bacteriol 173:1920–1931

Laemmli UK (1970) Cleavage of structural proteins during the assembly of the head of bacteriophage T4. Nature 227:680–685

Lee CK, Weltzin R, Thomas WD Jr, Kleanthous H, Ermak TH, Soman G, Hill JE, Ackerman SK, Monath TP (1995) Oral immunization with recombinant Helicobacter pylori urease induces secretory IgA antibodies and protects mice from challenge with Helicobacter felis. J Infect Dis 172:161–172

Loo T, Patchett ML, Norris GE, Lott JS (2002) Using secretion to solve a solubility problem: high-yield expression in Escherichia coli and purification of the bacterial glycoamidase PNGase F. Protein Expr Purif 24:90–98

Malik A, Jenzsch M, Lubbert A, Rudolph R, Sohling B (2007) Periplasmic production of native human proinsulin as a fusion to E. coli ecotin. Protein Expr Purif 55:100–111

Mergulhao FJ, Summers DK, Monteiro GA (2005) Recombinant protein secretion in Escherichia coli. Biotechnol Adv 23:177–202

Miller JH (1972) Experiments in molecular genetics. Cold Spring Harbor Laboratory Press, Cold Spring Harbor, New York

Morihara F, Hifumi E, Yamada M, Nishizono A, Uda T (2008) Therapeutic effects of molecularly designed antigen UREB138 for mice infected with Helicobacter pylori. Biotechnol Bioeng 100:634–643

Neu HC, Heppel LA (1965) The release of enzymes from Escherichia coli by osmotic shock and during the formation of spheroplasts. J Biol Chem 240:3685–3692

Pappo J, Thomas WD Jr, Kabok Z, Taylor NS, Murphy JC, Fox JG (1995) Effect of oral immunization with recombinant urease on murine Helicobacter felis gastritis. Infect Immun 63:1246–1252

Rastgar Jazii F, Karkhane AA, Yakhchali B, Fatemi SS, Deezagi A (2007) A simplified purification procedure for recombinant human granulocyte macrophage-colony stimulating factor from periplasmic space of Escherichia coli. J Chromatogr B Analyt Technol Biomed Life Sci 856:214–221

Rossi G et al (2004) Therapeutic vaccination against Helicobacter pylori in the beagle dog experimental model: safety, immunogenicity, and efficacy. Infect Immun 72:3252–3259

Rupnow MF, Owens DK, Shachter R, Parsonnet J (1999) Helicobacter pylori vaccine development and use: a cost-effectiveness analysis using the Institute of Medicine Methodology. Helicobacter 4:272–280

Sambrook J, Russell DW (2001) Molecular cloning: a laboratory manual. Cold Spring Harbor Laboratory Press, Cold Spring Harbor, New York

Sandkvist M, Bagdasarian M (1996) Secretion of recombinant proteins by gram-negative bacteria. Curr Opin Biotechnol 7:505–511

Shokri A, Sanden AM, Larsson G (2003) Cell and process design for targeting of recombinant protein into the culture medium of Escherichia coli. Appl Microbiol Biotechnol 60:654–664

Stadtlander CT, Gangemi JD, Khanolkar SS, Kitsos CM, Farris HE Jr, Fulton LK, Hill JE, Huntington FK, Lee CK, Monath TP (1996) Immunogenicity and safety of recombinant Helicobacter pylori urease in a nonhuman primate. Dig Dis Sci 41:1853–1862

Turbett GR, Hoj PB, Horne R, Mee BJ (1992) Purification and characterization of the urease enzymes of Helicobacter species from humans and animals. Infect Immun 60:5259–5266

NCBI. National Center for Biotechnology Information. Available from http://www.ncbi.nlm.nih.gov/genbank

Zhao W, Wu W, Xu X (2007) Oral vaccination with liposome-encapsulated recombinant fusion peptide of urease B epitope and cholera toxin B subunit affords prophylactic and therapeutic effects against H. pylori infection in BALB/c mice. Vaccine 25:7664–7673
Acknowledgments
This article has been extracted from an approved research (application No. U-870244) which has financially been supported by Research Deputy of Jundishapur University of Medical Sciences, Ahvaz, Iran. The authors would like to thank Mrs. Neisi and Mrs. Lotfi from Virology Department for assistance with this work, and Mrs. Noorbehbahani and Mrs. Amuzegari from Biochemistry Department of Jundishapur University of Medical Sciences, Ahvaz, Iran for their experience in chromatography throughout this study.
About this article
Cite this article
Alvandi, A., Farajzadeh, A., Ghaforian Borojerdnia, M. et al. Periplasmic expression and one-step purification of urease subunit B of Helicobacter pylori . World J Microbiol Biotechnol 27, 969–974 (2011). https://doi.org/10.1007/s11274-010-0540-2
Received:

Accepted:

Published:

Issue Date:
Keywords
Helicobacter pylori

Urease subunit B

Cloning

Periplasmic expression