Abstract
The potential of ligninolytic enzymes, including lignin peroxidase (LiP) as the main enzyme from the spent mushroom substrate of Pleurotus sajor-caju was evaluated for the decolourisation of five dyes from azo and anthraquinone dye groups. Among the azo dyes, reactive black 5 and reactive orange 16 were 84.0 and 80.9% decolourised respectively, after 4 h of incubation with 45 U of LiP as compared to 32.1% decolourisation of disperse blue 79. Among the anthraquinone dyes, disperse red 60 was decolourised to 47.2% after 4 h of incubation with 45 U of LiP as compared to 5.9% decolourisation of disperse blue 56. Increasing the LiP concentration and incubation time had a positive effect on the decolourisation of anthraquinone dyes as compared to azo dyes. A 67.9% decolourisation of synthetic textile waste-water was achieved after 4 h of incubation with 25 U of LiP. Increasing the incubation time significantly increased (P < 0.05) the decolourisation of synthetic textile waste-water. Further, there was a 52.4% reduction in the toxicity of synthetic textile waste-water treated with 55 U of LiP for 4 h. However, only 35.7% reduction in toxicity was achieved when the synthetic textile waste-water was treated with 55 U of LiP for 24 h. In this study, it was shown that the spent mushroom substrate of P. sajor-caju could be a cheap source of ligninolytic enzymes for the decolourisation of dyes in textile industry wastewaters.
This is a preview of subscription content, log in to check access.
Access options
Buy single article
Instant access to the full article PDF.
US$ 39.95
Price includes VAT for USA
Subscribe to journal
Immediate online access to all issues from 2019. Subscription will auto renew annually.
US$ 199
This is the net price. Taxes to be calculated in checkout.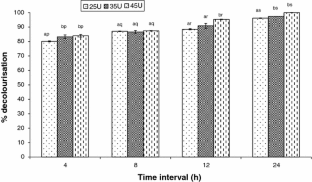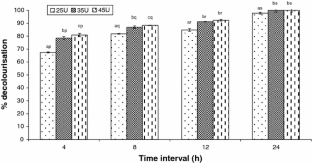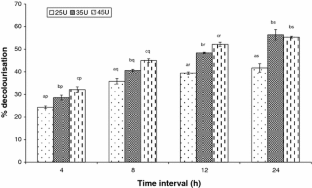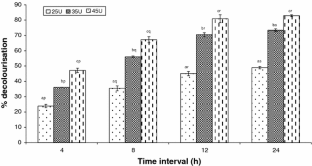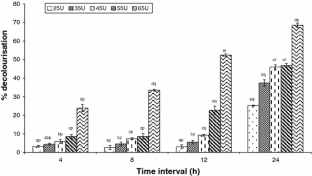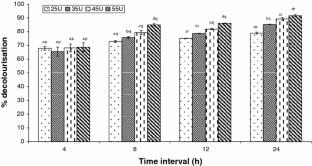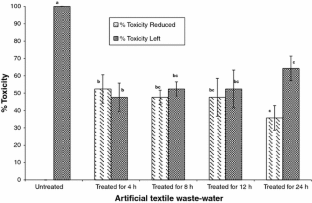 References
Abadulla E, Tzanov T, Costa S, Robra KH, Cavaco-Paulo A, Gubitz GM (2000) Decolorization and detoxification of textile dyes with a laccase from Trametes hirsuta. Appl Environ Microbiol 66:3357–3362

Arslan I, Balcioglu IA, Bahnemann DW (2000) Advanced chemical oxidation of reactive dyes in simulated dyehouse effluents by ferrioxalate-fenton/UV-A and TiO2/UV-A processes. Dyes Pigments 47:207–218

Avneesh DS, Abdullah N, Vikineswary S (2002) Extraction of enzymes from spent compost of Pleurotus sajor-caju and its potential use for decolourisation of synthetic dyes. Mal J Sci 21:9–16

Avneesh DS, Abdullah N, Vikineswary S (2003) Optimization of extraction of bulk enzymes from spent mushroom compost. J Chem Technol Biotechnol 78:743–752

Avneesh DS, Vikineswary S, Abdullah N, Annuar MSM, Ramachandran KB (2010) Decolourisation of chemically different dyes by enzymes from spent compost of Pleurotus sajor-caju and their kinetics. Afr J Biotechnol 9:041–054

Banat IM, Nigam P, Singh D, Marchant R (1996) Microbial decolorization of textile-dye containing effluents: a review. Biores Technol 58:217–227

Bilgi S, Demir C (2005) Identification of photooxidation degradation products of C. I. Reactive orange 16 dye by gas chromatography–mass spectrometry. Dyes Pigments 66:69–76

Brix KV, Cardwell RD, Adams WJ (2003) Chronic toxicity of arsenic to the Great Salt lake brine shrimp Artemia franciscana. Ecotox Environ Safety 54:169–175

Champagne PP, Ramsay JA (2005) Contribution of manganese peroxidase and laccase to dye decoloration by Trametes versicolor. Appl Environ Microbiol 69:276–285

Christie RM (2001) Colour chemistry. Royal Society of Chemistry, Cambridge

Chung KT, Stevens SEJ (1993) Degradation of azo dyes by environmental microorganisms and helminthes. Environ Toxicol Chem 12:2121–2132

Clarke A, Anliker R (1980) Organic dyes and pigments. In: Hutzinger O (ed) The handbook of environmental chemistry. Springer, Heidelberg, pp 181–215

Darah I, Ibrahim CO (1998) Biotreatment of local batik (Textile) factories effluent by cultures of Phanerochaete chrysosporium. J Biosci 9:105–111

Fawer MS, Stierli J, Cliffe S, Fiechter A (1991) The characterization of immobilized lignin peroxidase by flow injection analysis. Biochim Biophys Acta 1076:15–22

Gouvea CAK, Wypych F, de Moraes SG, Duran N, Nagata N, Peralta-Zamora P (2000) Semiconductor—assisted photocatalytic degradation of reactive dyes in aqueous solution. Chemosphere 40:433–440

Hao OJ, Kim H, Chang PC (2000) Decolorization of wastewater. Crit Rev Environ Sci Technol 30:449–505

Heinfling A, Bergbauer M, Szewzyk U (1997) Biodegradation of azo and phthalocyanine dyes by Trametes versicolour and Bjerkandera adusta. Appl Environ Microbiol 48:261–266

Heinfling A, Martinez MJ, Martinez AT, Bergbauer M, Szewzyk U (1998) Transformation of industrial dyes by manganese peroxidases from Bjerkandera adusta and Pleurotus eryngii in a manganese—independent reaction. Appl Environ Microbiol 64:2788–2793

Kanegusuku M, Benassi JC, Perosa RC, Yunes RA, Filho VC, Maia AA, de-Souza MM, Monache FD, Niero R (2002) Cytotoxic, hypoglycaemic activity and photochemical analysis of Rubus imperialis (Rosaceae). Biol Study Rubus imperialis 57:272–276

Kirby N, Mc Mullan G, Marchant R (1995) Decolourisation of an artificial textile effluent by Phanerochaete chrysosporium. Biotechnol Letters 17:761–764

Krishnaraju AV, Rao TVN, Sundararaju D, Vanisree M, Tsay HS, Subbaraju V (2005) Assessment of bioactivity of Indian medicinal plants using brine shrimp (Artemia salina) lethality assay. Int J Appl Sci Eng 3:125–134

Marzullo L, Cannio R, Giardina P, Santini MT, Sannia G (1995) Veratryl alcohol oxidase from Pleurotus ostreatus participates in lignin biodegradation and prevents polymerization of laccase oxidized substrates. J Biol Chem 270:3823–3827

Maximo C, Costa-Ferreira M (2004) Decolourisation of reactive textile dyes by Irpex lacteus and lignin modifying enzymes. Process Biochem 39:1475–1479

Mazmanci MA, Unyayar A (2005) Decolourisation of reactive black 5 by Funalia trogii immobilized on Luffa cylindrica sponge. Process Biochem 40:337–342

Mohorcic M, Teodorovic S, Golob V, Friedrich J (2006) Fungal and enzymatic decolourisation of artificial textile dye baths. Chemosphere 63:1709–1717

Munari FM, Gaio TA, Calloni R, Dillon AJP (2008) Decolorization of textile dyes by enzymatic extract and submerged cultures of Pleurotus sajor-caju. W J Microbiol Biotechnol 24:1383–1392

Murugesan K, Dhamija A, Nam IH, Kim YM, Chang YS (2007) Decolourization of reactive black 5 by laccase: Optimization by response surface methodology. Dyes Pigments 75:176–194

Novotny C, Dias N, Kapanen A, Malachova K, Vandrovcova M, Itavaara M, Lima N (2006) Comparative use of bacterial, algal and protozoan tests to study toxicity of azo- and anthraquinone dyes. Chemosphere 63:1436–1442

O'Neill C, Hawkes FR, Hawkes DL, Lourenco ND, Pinheiro HM, Delée W (1999) Colour in textile effluents—sources, measurement, discharge consents and simulation: a review. J Chem Technol Biotechnol 74:1009–1018

Pasti-Grigsby MB, Paszczynski A, Goszczynski S, Crawford DL, Crawford RL (1992) Influence of aromatic substitution patterns on azo dye degradability by Streptomyces spp. and Phanerochaete chrysosporium. Appl Environ Microbiol 58:3605–3613

Peralta-Zamora P, Kunz A, de Moraes SG, Pelegrini R, Moleiro PD, Reyes J (1999) Degradation of reactive dyes—I. A comparative study of ozonation, enzymatic and photochemical processes. Chemosphere 38:835–852

Podgornik H, Grgic I, Perdih A (1999) Decolorization rate of dyes using lignin peroxidases of Phanerochaete chrysosporium. Chemosphere 38:1353–1359

Ramsay JA, Nguyen T (2002) Decoloration of textile dyes by Trametes versicolor and its effect on dye toxicity. Biotechnol Letters 24:1757–1761

Rice SA, Mannes IB (2004) Brine shrimp bioassays: a useful technique in biological investigation. Am Biol Teach 66:208–215

Selvam K, Swaminathan K, Chae KS (2003) Decolourization of azo dyes and a dye industry effluent by a white rot fungus Thelephora sp. Biores Technol 88:115–119

Slokar YM, Zupan J, Majcen Le Marechal A (1999) The use of artificial neural network (ANN) for modeling of the H2O2/UV decoloration process: part I. Dyes Pigments 42:123–135

Svobodova K, Senholdt M, Novotny C, Rehorek A (2007) Mechanism of reactive orange 16 degradation with white rot fungus Irpex lacteus. Process Biochem 42:1279–1284

Tien M, Kirk TK (1983) Lignin degrading enzymes from the hymenomycete, Phanerochaete chrysosporium Burds. Science 221:661–663

Tuisel H, Sinclair R, Bumpus JA, Ashbaugh W, Brock BJ, Aust SD (1990) Lignin peroxidase H2 from Phanerochaete chrysosporium: purification, characterization and stability to temperature and pH. Arch Biochem Biophys 279:158–166

Vandevivere PC, Bianchi R, Verstraete W (1998) Treatment and reuse of wastewater from the textile wet-processing industry: review of emerging technologies. J Chem Technol Biotechnol 72:289–302

Weber EJ, Adams RL (1995) Chemical and sediment mediated reduction of the azo dye Disperse Blue 79. Environ Sci Technol 29:1163–1170

Wesenberg D, Kyriakides I, Agathos SN (2003) White-rot fungi and their enzymes for the treatment of industrial dye effluents. Biotechnol Adv 22:161–187

Yesilada O, Yildirim SC, Birhanli E, Apohan E, Asma D, Kuru F (2010) The evaluation of pre-grown mycelial pellets in decolorization of textile dyes during repeated batch process. W J Microbiol Biotechnol 26:33–39

Yu G, Wen X, Li R, Qian Y (2006) In vitro degradation of a reactive azo dye by crude ligninolytic enzymes from nonimmersed liquid cultures of Phanerochaete chrysosporium. Process Biochem 41:1987–1993

Zhao X, Hardin IR (2007) HPLC and spectrophotometric analysis of biodegradation of azo dyes by Pleurotus ostreatus. Dyes Pigments 73:322–325

Zhao X, Hardin IR, Hwang HM (2006) Biodegradation of a model azo disperse dye by the white rot fungus Pleurotus ostreatus. Int Biodeter Biodegr 57:1–6

Zille A, Tzanov T, Gubitz GM, Cavaco-Paulo A (2003) Immobilized laccase for decolourization of reactive black 5 dyeing effluent. Biotechnol Letters 25:1473–1477
Acknowledgments
The authors thank Ministry of Science, Technology and Environment, Malaysia, for the IRPA (Intensive Research in Priority Areas) grants 09-02-03-0675, 01-02-03-1002, University of Malaya for the short-term research fund (Vot F) F0145/2003A and Mr. John Kuan from Highland and Lowland Mushroom Industry, Semenyih, Selangor, Malaysia for providing Pleurotus sajor-caju bags.
About this article
Cite this article
Singh, A.D., Vikineswary, S., Abdullah, N. et al. Enzymes from spent mushroom substrate of Pleurotus sajor-caju for the decolourisation and detoxification of textile dyes. World J Microbiol Biotechnol 27, 535–545 (2011). https://doi.org/10.1007/s11274-010-0487-3
Received:

Accepted:

Published:

Issue Date:
Keywords
Textile dye decolourisation

Spent mushroom substrate

Pleurotus sajor-caju

Toxicity reduction

Artemia salina