Abstract
Salmonella enterica serovar Choleraesuis (S.Choleraesuis) can cause salmonellosis in pigs and humans. Currently, the most common method used for the subtyping of this Salmonella serovar is pulsed field gel electrophoresis (PFGE) using XbaI as a DNA digestion enzyme. In this study, we compared and combined PFGE with the randomly amplified polymorphic DNA method, for the typing of 95 S. Choloraesuis strains isolated from diseased pigs. Using PFGE with XbaI, with AvrII, and with SpeI digested DNA, 29, 74, and 40 patterns, respectively, were obtained. Also, 53, 15, and 35 strains, respectively, belong to the major patterns X1, A1, and S1. When these three digestion patterns were combined, 83 PFGE pattern combinations were obtained. On the other hand, using RAPD with selected primer alone generated 76 patterns, and 11 strains which fell within a single X1A1S1 PFGE combination pattern were discriminated into 10 patterns. Thus, for S. Choloraesuis, PFGE with AvrII allowed higher discrimination than PFGE with XbaI, and some of the PFGE groupings obtained by combining the XbaI, AvrII and SpeI digestion patterns were further subdivided by the RAPD method.
This is a preview of subscription content, log in to check access.
Access options
Buy single article
Instant access to the full article PDF.
US$ 39.95
Price includes VAT for USA
Subscribe to journal
Immediate online access to all issues from 2019. Subscription will auto renew annually.
US$ 199
This is the net price. Taxes to be calculated in checkout.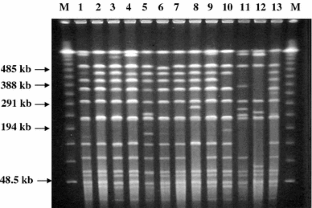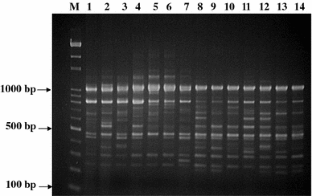 References
Asai T, Namimatsu T, Osumi T, Kojima A, Harada K, Aoki H, Sameshima T, Takahashi T (2010) Molecular typing and antimicrobial resistance of Salmonella enterica subspecies enterica serovar Choleraesuis isolates from diseased pigs in Japan. Comp Immunol Microbiol Infect Dis 33:109–119

Chang CC, Lin YH, Chang CF, Yeh KS, Chiu CH, Chu C, Chien MS, Hsu YM, Tsai LS, Chiou CS (2005) Epidemiologic relationship between fluoroquinolone- resistant Salmonella enterica Serovar Choleraesuis strains isolated from humans and pigs in Taiwan (1997 to 2002). J Clin Microbiol 43:2798–2804

Chiu TH, Chen TR, Hwang WZ, Tsen HY (2005) Sequencing of an internal transcribed spacer region of 16S–23S rRNA gene and designing of PCR primers for the detection of Salmonella spp. in food. Int J Food Microbiol 97:259–265

Hunter PR, Gaston MA (1988) Numerical index of the discriminatory ability of typing system: an application of Simpson's index of diversity. J Clin Microbiol 26:2465–2466

Löfström C, Eriksson J, Aspán A, Häggblom P, Gunnarsson A, Borch E, Rådström P (2006) Improvement and validation of RAPD in combination with PFGE analysis of Salmonella enterica ssp. enterica serovar Senftenberg strains isolated from feed mills. Vet Microbiol 114:345–351

Lopes VC, Velayudhan BT, Halvorson DA, Lauer DC, Gast RK, Nagaraja KV (2004) Comparison of methods for differentiation of Salmonella enterica serovar Enteritidis phage type 4 isolates. Am J Vet Res 65:538–543

Malorny B, Schroeter A, Bunge C, Hoog B, Steinbeck A, Helmuth R (2001) Evaluation of molecular typing methods for Salmonella enterica serovar Typhimurium DT104 isolated in Germany from healthy pigs. Vet Res 32:119–129

Martina WB, Liebisch B, Schwarz S, Watts JL (1996) Molecular characterization of Salmonella enterica subsp. enterica serovar Choleraesuis field isolates and differentiation from homologous live vaccine strains Suisaloral and SC-54. J Clin Microbiol 34:2460–2463

Niwat C, Ramasoota P, Bangtrakulnonth A, Sasipreeyajan J, Svenson SB (2000) Application of randomly amplified polymorphic DNA(RAPD) analysis for typing avian Salmonella enterica subsp. enterica. FEMS Immun Med Microbiol 29:221–225

Pang JC, Chiu TH, Chiou CS, Schroeter A, Guerra B, Helmuth R, Tsen HY (2005) Pulsed-field gel electrophoresis, plasmid profiles and phage types for the human isolates of Salmonella enterica serovar Enteritidis obtained over 13 years in Taiwan. J Appl Microbiol 99:1472–1483

Weide-Botjes M, Liebisch B, Schwarz S, Watts JL (1996) Molecular characterization of Salmonella enterica subsp. enterica serovar choleraesuis field isolates and differentiation from homologous live vaccine strains suisaloral and SC-54. J Clin Microbiol 34:2460–2463

Xi M, Zheng J, Zhao S, Brown EW, Meng J (2008) An enhanced discriminatory pulsed-field gel electrophoresis scheme for subtyping Salmonella serotypes Heidelberg, Kentucky, SaintPaul, and Hadar. J Food Prot 71:2067–2072
Acknowledgments
This project is supported by the National Science Council, Taipei, Taiwan. The project no. is NSC 97-2317-B-241-001.
About this article
Cite this article
Chiu, T., Pang, J., Chen, M. et al. Improvement of strain discrimination by combination of RAPD with PFGE for the analysis of the swine isolates of Salmonella enterica serovar Choleraesuis. World J Microbiol Biotechnol 27, 465–469 (2011). https://doi.org/10.1007/s11274-010-0467-7
Received:

Accepted:

Published:

Issue Date:
Keywords
Salmonella enterica serovar Choleraesuis

Swine isolates

PFGE

RAPD