Abstract
We developed and evaluated the specificity and sensitivity of a simple loop-mediated isothermal amplification (LAMP) method for rapid detection of P. aeruginosa strains. The optimal reaction condition was found to be 65°C for 45 min, with the detection limit as 100 fg DNA/tube and 10 CFU/reaction. Application of LAMP assays were performed 426 clinical samples (including 252 P. aeruginosa and 174 non- P. aeruginosa isolates) using a rapid procedure and easy result confirmation. Sensitivity of LAMP and PCR assays was found to be 97.6% (246/252) and 90.5% (228/252), respectively; with a 100% specificity for both assays.
This is a preview of subscription content, log in to check access.
Access options
Buy single article
Instant access to the full article PDF.
US$ 39.95
Price includes VAT for USA
Subscribe to journal
Immediate online access to all issues from 2019. Subscription will auto renew annually.
US$ 199
This is the net price. Taxes to be calculated in checkout.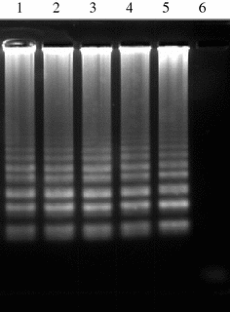 References
Deschaght P, de Baere T, van Simaey L, van Daele S, de Baets F, de Vos D, Pirnay JP, Vaneechoutte M (2009) Comparison of the sensitivity of culture, PCR and quantitative real-time PCR for the detection of Pseudomonas aeruginosa in sputum of cystic fibrosis patients. BMC Microbiol 9:244

Jarvis WR, Martone WJ (1992) Predominant pathogens in hospital infections. J Antimicrob Chemother 29(Suppl A):19–24

Lodeng AGG, Ahlen C, Lysvand H, Mandal LH, Iversen OJ (2006) Development and evaluation of a new PCR assay for detection of Pseudomonas aeruginosa D genotype. Clin Microbiol Infect 12:761–768

Schwartz T, Volkmann H, Kirchen S, Kohnen W, Schon-Holz K, Jansen B, Obst U (2006) Real-time PCR detection of Pseudomonas aeruginosa in clinical and municipal wastewater and genotyping of the ciprofloxacin-resistant isolates. FEMS Microbiol Ecol 57:158–167

Spencer RC (1996) Predominant pathogens found in the European prevalence of infection in intensive care study. Eur J Clin Microbiol Infect Dis 15:281–285

Xu Z, Shi L, Zhang C, Zhang L, Li X, Cao Y, Li L, Yamasaki S (2007) Nosocomial infection caused by class 1 integron-carrying Staphylococcus aureus in a hospital in South China. Clin Microbiol Infect 13:980–984

Xu Z, Li L, Alam MJ, Zhang L, Yamasaki S, Shi L (2008a) First confirmation of integron-bearing methicillin-resistant Staphylococcus aureus. Curr Microbiol 57:264–268

Xu Z, Shi L, Alam MJ, Li L, Yamasaki S (2008b) Integron-bearing methicillin-resistant coagulase-negative staphylococci in South China, 2001–2004. FEMS Microbiol Lett 278:223–230

Xu Z, Li L, Shirtliff ME, Alam MJ, Yamasaki S, Shi L (2009) Occurrence and characteristics of class 1 and 2 integrons in Pseudomonas aeruginosa isolates from patients in Southern China. J Clin Microbiol 47:230–234

Zhao X, Li Y, Wang L, You L, Xu Z, Li L, He X, Liu Y, Wang J, Yang L (2009) Development and application of a loop-mediated isothermal amplification method on rapid detection Escherichia coli O157 strains from food samples. Mol Biol Rep. doi: 10.1007/s11033-009-9700-6
Acknowledgments
This work was supported by Science Foundation of Ministry of Education of China (706046), National Natural Science Foundation of China (20436020) and State Scholarship Fund of China Scholarship Council (2008615044).
Additional information
Xihong Zhao and Li Wang contributed equally to this work.
About this article
Cite this article
Zhao, X., Wang, L., Li, Y. et al. Development and application of a loop-mediated isothermal amplification method on rapid detection of Pseudomonas aeruginosa strains. World J Microbiol Biotechnol 27, 181–184 (2011). https://doi.org/10.1007/s11274-010-0429-0
Received:

Accepted:

Published:

Issue Date:
Keywords
Loop-mediated isothermal amplification (LAMP)

P. aeruginosa

Rapid detection