Abstract
Dermatophytes are a group of fungi able to invade keratinized tissues of humans and animals, causing dermatomycosis. Azole antifungal drugs are commonly used in the treatment of dermatomycosis. However, this group of chemicals is known to cause side effects in patients and due to increased use of these medications, azoles are known to cause drug resistance. Having said this, the purpose of the present study was to investigate an alternative anti dermatophyte which is plant based. In this study, allicin, which is a pure bioactive compound isolated from garlic, was tested for its potential as a treatment of dermatomycosis. The study evaluated the in vitro efficacy of pure allicin used alone against ten isolates of Trichophyton rubrum and it was found that the MIC50 and MIC90 ranged from 0.78–25.0 μg/ml, whereas the MIC values for ketoconazole and fluconazole ranged from 0.25–8.0 and 1.0–32.0 μg/ml, respectively, at 28°C for both 7 and 10 days incubation. On the other hand, time–kill studies revealed that the antifungicidal effect of allicin became active within 12–24 h of management in vitro and that it was as good as that of ketoconazole. Finally, most of the tested drug combinations demonstrated synergistic or additive interactions for all isolates for both 7 and 10 days incubation at 28°C. In conclusion, when used alone, allicin showed very good potential as an antifungal compound against mycoses-causing dermatophytes, performing better than the synthetic drug fluconazole and almost as good as ketoconazole. Furthermore, allicin in combination with ketoconazole or with fluconazole frequently showed synergistic or additive interactions against dermatomycosis.
This is a preview of subscription content, log in to check access.
Access options
Buy single article
Instant access to the full article PDF.
US$ 39.95
Price includes VAT for USA
Subscribe to journal
Immediate online access to all issues from 2019. Subscription will auto renew annually.
US$ 199
This is the net price. Taxes to be calculated in checkout.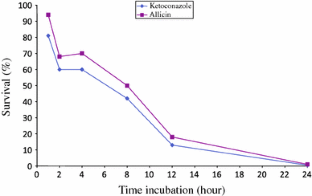 References
Al-Mohsen I, Hughes WT (1998) Systemic antifungal therapy: past, present and future. Ann Saudi Med 18(1):28–38

Amagase H, Petesch BL, Matsuura H, Kasuga S, Itakura Y (2001) Intake of garlic and its bioactive components. J Nutr 131:955S–962S

Aslani MR, Mohri M, Chekani M (2006) Effects of garlic (Allium sativum) and its chief compound, allicin, on acute lethality of cyanide in rat. Comp Clin Pathol 15(4):211–213

Barros M, Santos D, Hamdan J (2007) Evaluation of susceptibility of Trichophyton mentagrophytes and Trichophyton rubrum clinical isolates to antifungal drugs using a modified CLSI microdilution method (M38-A). J Med Microbiol 56:514–518

Cai Y, Wang R, Pei F, Liang B-B (2007) Antibacterial activity of allicin alone and in combination with b—Lactams against Staphylococcus spp. and Pseudomonas aeruginosa. J Antibio 60(5):335–338

Ferna′ndez-Torres B, Inza I, Guarro J (2003) Comparison of in vitro antifungal susceptibilities of conidia and hyphae of dermatophytes with thick-wall macroconidia. Antimicrob Agents Chemother 47:3371–3372

Gardner CD, Lawson LD, Block E, Chatterjee LM, Kiazand A, Balise RR, Kraemer HC (2007) Effect of raw garlic vs. commercial garlic supplements on plasma lipid concentrations in adults with moderate hypercholesterolemia: a randomized clinical trial. Arch Intern Med 167(4):346–353

Ghannoum MA, Chaturvedi V, Espinel-Ingroff A, Pfaller MA, Rinaldi MG, Lee-Yang W, Warnock DW (2004) Intra- and interlaboratory study of a method for testing antifungal susceptibilities of dermatophytes. J Clin Microbiol 42:2977–2979

Korting HC, Ollert M, Abeck D, the German Collaborative Dermatophyte Drug Susceptibility Study Group (1995) Results of German multicenter study of antimicrobial susceptibilities of Trichophyton rubrum and Trichophyton mentagrophytes strains causing tinea unguium. Antimicrob Agents Chemother 39:1206–1208

Mosquera J, Sharp A, Moore CB, Warn PA, Denning DW (2002) Invitro interaction of terbinafine with itraconazole, fluconazole, amphotericin B and 5-flucytosine against Aspergillus spp. J Antimicrob Chemother 50:189–194

National Committee for Clinical Laboratory Standards (2002) Reference method for broth dilution antifungal susceptibility testing of filamentous fungi, Approved standard M38-A. National Committee for Clinical Laboratory Standards, Wayne

Odds FC, Brown AJP, Gow NAR (2003) Antifungal agents: mechanisms of action. Trends Microbiol 11:272–279

Ozawa H, Okabayashi K, Kano R, Watanabe S, Hasegawa A (2005) Antifungal activities of the combination of tacrolimus and itraconazole against Trichophyton mentagrophytes. J Vet Med Sci 67(6):629–630

Pelletier R, Loranger L, Marcotte H, Carolis E (2002) Voriconazole and fluconazole susceptibility of Candida isolates. J Med Microbiol 51:479–483

Pengelly A (2004) The constituents of medicinal plants: an introduction to the chemistry and therapeutics of herbal medicines. 2nd. CABI publishing, UK, pp 1–12, 25, 78, 101

Pyun M, Shin S (2006) Antifungal effects of the volatile oils from Allium plants against Trichophyton species and synergism of the oils with ketoconazole. Phytomedicine 13:394–400

Rex JH, Pfaller MA, Walsh TJ (2001) Antifungal susceptibility testing: practical aspects and current challenges. Clin Microbiol Rev 14:643–658

Santos DA, Hamdan JS (2005) Evaluation of broth microdilution antifungal susceptibility testing conditions for Trichophyton rubrum. J Clin Microbiol 43:1917–1920

Santos DA, Barros MES, Hamdan JS (2006) Establishing a method of inoculum preparation for susceptibility testing of Trichophyton rubrum and Trichophyton mentagrophytes. J Clin Microbiol 44(1):98–101

Shadkchan Y, Shemesh E, Mirelman D, Miron T, Rabinkov A, Wilchek M, Osherov N (2004) Efficacy of allicin, the reactive molecule of garlic, in inhibiting Aspergillus spp. in vitro, and in a murine model of disseminated aspergillosis. J Antimicrobial Chemother 53:832–836

Swinne D, Watelle M, Nolard N (2005) In vitro activities of voriconazole, fluconazole, itraconazole and amphotericin B against non Candida albicans yeast isolates. Rev Iberoam Micol 22:24–28

Wilson EA, Demmig-Adams B (2007) Antioxidant, anti-inflammatory, and antimicrobial properties of garlic and onions. Nutr Food Sci 3:178–183

Woods-Panzaru S, Nelson D, McCollum G, Ballard LM, Millar C (2009) An examination of antibacterial and antifungal properties of constituents described in traditional Ulster cures and remedies. Ulster Med J 78(1):13–15

Yamada Y, Azuma K (1977) Evaluation of the in vitro antifungal activity of allicin. Antimicrob Agents Chemother 11(4):743–749

Yoshida S, Kasuga S, Hayashi N, Ushiroguchi T, Matsuura H, Shizutoshi N (1987) Antifungal activity of ajoene derived from garlic. Appl Environ Microbiol 53(3):615–617
Acknowledgments
This study was supported by the Research University Grants Scheme (RUGS) from University Putra Malaysia. We thank Dr Sassan Rezaie, Associate Professor of Department of Medical Mycology in Tehran University of Medical Sciences, Iran for sending the isolates of dermatophytes used in this investigation.
Conflict of interest statement
The authors have declared that no conflict of interest exists.
About this article
Cite this article
Aala, F., Yusuf, U.K., Jamal, F. et al. In vitro antifungal activity of allicin alone and in combination with two medications against Trichophyton rubrum . World J Microbiol Biotechnol 26, 2193–2198 (2010). https://doi.org/10.1007/s11274-010-0404-9
Received:

Accepted:

Published:

Issue Date:
Keywords
Allicin

Antifungal drugs

Dermatophytes

MIC (minimal inhibitory concentration)