Abstract
Culturable chitinolytic bacterial diversity was studied in chitin-rich soils collected from two industries involved in chitin production. A total of 27 chitinolytic isolates were isolated among which only 10 showed zone of clearance ≥4 mm on colloidal chitin agar plate. Using morphological, biochemical and 16S rDNA analysis, isolates were identified as Bacillus, Paenibacillus, Stenotrophomonas and Pseudomonas. Molecular phylogenetic analysis revealed that Gammaproteobacteria and Bacilli were found to be the predominant classes in these chitin-enriched soils. Chitinolytic bacterial population densities were significantly high and showed a rather simple community composition dominated by genus Bacillus and Stenotrophomonas (74%). This is the first report on assessing the chitinolytic bacterial diversity of soils from industries involved in chitin production.
This is a preview of subscription content, log in to check access.
Access options
Buy single article
Instant access to the full article PDF.
US$ 39.95
Price includes VAT for USA
Subscribe to journal
Immediate online access to all issues from 2019. Subscription will auto renew annually.
US$ 199
This is the net price. Taxes to be calculated in checkout.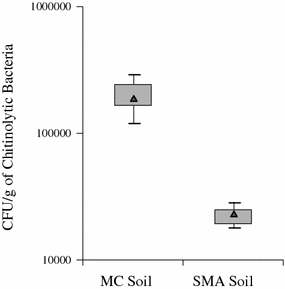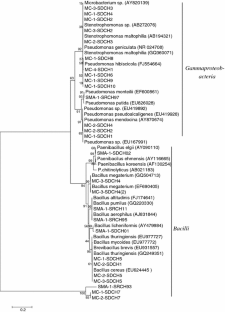 References
Benson HJ (1990) Microbiological applications-a laboratory manual in general microbiology. WMC Brown Publishers, Boulevard

Berger LR, Reynolds DM (1988) Colloidal chitin preparation. Methods Enzymol 161:140–142

Bhattacharya D, Nagpure A, Gupta RK (2007) Bacterial chitinases: properties and potential. Crit Rev Biotechnol 27(1):21–28

Cody RM (1989) Distribution of chitinase and chitobiase in Bacillus. Curr Microbiol 19:201–205

Girvan MS, Bullimore J, Pretty N, Osborn AM, Ball AS (2003) Soil type is the primary determinant of the composition of the total and active bacterial communities in arable soils. Appl Environ Microbiol 69:1800–1809

Gonzalez-Franco AC, Deobald LA, Spivak A, Crawford DL (2003) Actinobacterial chitinase like enzymes: profile of rhizosphere versus non-rhizosphere isolates. Can J Microbiol 49:683–698

Holt JG, Krieg NR, Sneath PH (1994) Bergey's manual of determinative bacteriology. Williams and Wilkins Pub, Philadelphia

Howard MB, Ekborg AN, Weiner RM, Hutcheson SW (2003) Detection and characterization of chitinases and other chitin-modifying enzymes. J Ind Microbiol Biotechnol 30:623–635

Kamil Z, Rizk M, Saleh M, Moustafa M (2007) Isolation and identification of rhizosphere soil chitinolytic bacteria and their potential in antifungal biocontrol. Global J Mol Sci 2(2):57–66

Kim HS, Timmis KN, Golyshin PN (2007) Characterization of a chitinolytic enzyme from Serratia sp. KCK isolated from kimchi juice. Appl Microbiol Biotechnol 75:1275–1283

Kishore GK, Pande S, Podile AR (2005a) Phylloplane bacteria increase seedling emergence growth and yield of field-grown groundnut (Arachis hypogaea L.). Lett Appl Microbiol 40:260–268

Kishore GK, Pande S, Podile AR (2005b) Biological control of late leaf spot of peanut (Arachis hypogaea) with chitinolytic bacteria. Phytopathology 95:1157–1165

Kumar S, Dudley J, Nei M, Tamura K (2008) MEGA: a biologist-centric software for evolutionary analysis of DNA and protein sequences. Brief Bioinform 9:299–306

Kurita K (2006) Chitin and chitosan: functional biopolymers from marine crustaceans. Mar Biotechnol 8:203–226

Nishimura T, Toyota K, Mochizuki M (2005) Predominant culturable Bacillus species in Japanese arable soils and their potential as biocontrol agents. Microb Environ 20:61–68

Poulsen PHB, Møller J, Magid J (2008) Determination of a relationship between chitinase activity and microbial diversity in chitin amended compost. Bioresource Technol 99:4355–4359

Sambrook J, Russell DW (2001) Molecular cloning: a laboratory manual. Cold Spring Harbor Laboratory Press, Cold Spring Harbor

Smit E, Leeflang P, Gommans S, van den Broek J, van Mill S, Wernars K (2001) Diversity and seasonal fluctuations of the dominant members of the bacterial soil community in a wheat field as determined by cultivation and molecular methods. Appl Environ Microbiol 67:2284–2291

Tharanathan RN, Kittur FS (2003) Chitin-the undisputed biomolecules of great potential. Crit Rev Food Sci Nutr 43:61–87

Wang S, Hwang J (2001) Microbial reclamation of shellfish wastes for the production of chitinases. Enzy Microb Technol 28:376–382

Wang SL, Chio SH, Chang WT (1997) Production of chitinase from shell-fish wastes by Pseudomonas aeruginosa K-187. Proc Natl Sci Counc ROC (B) 21:71–79

Yasir M, Aslam Z, Kim SW, Lee S, Jeon CO, Chung YR (2009) Bacterial community composition and chitinase gene diversity of vermicompost with antifungal activity. Bioresour Technol 100:4395–4403

Zhu X, Zhou Y, Fenf J (2007) Analysis of both chitinase and chitosanase produced by Sphingomonas sp. CJ-5. J Zhejiang Univ Sci 8:831–838
Acknowledgments
We gratefully acknowledge the financial support under University Grants Commission-Centre for Advanced Studies (UGC-CAS), Department of Biotechnology-Centre for Research and Education in Biology and Biotechnology (DBT-CREBB) program to the School of Life Sciences and Department of Science and Technology-Fund for Improvement of Science and Technology Infrastructure in Universities and Higher Educational Institutions (DST-FIST) programs to the Department of Plant Sciences, University of Hyderabad, and Prof. Ch. Venkata Ramana for his guidance in molecular characterization of bacterial isolates. SND and PVSRN thank DST-Centre for Nanoscience and DBT, respectively for research fellowships. We thank Dr. Domnique Gillet and Dr. Prasuna K. from Mahatani Chitosan and S. M. Agritech, respectively for providing the chitin-rich soil samples from their factory premises.
About this article
Cite this article
Das, S.N., Sarma, P.V.S.R.N., Neeraja, C. et al. Members of Gammaproteobacteria and Bacilli represent the culturable diversity of chitinolytic bacteria in chitin-enriched soils. World J Microbiol Biotechnol 26, 1875–1881 (2010). https://doi.org/10.1007/s11274-010-0369-8
Received:

Accepted:

Published:

Issue Date:
Keywords
Chitin-enriched soil

Culturable diversity

Chitinolytic bacteria

16S rDNA

Gammaproteobacteria
Bacilli