Abstract
The yeasts are microorganisms with great potential for biotechnological applications in diverse areas. The biological control of phytopathogens by yeasts has showed satisfactory results under laboratory conditions, and it has already produced commercial formulations. With this as focus, this work aims to perform in vitro and in vivo evaluations of the action of a Torulaspora globosa yeast strain (1S112), isolated from sugarcane rhizosphere, against the phytopathogenic mold Colletotrichum sublineolum, the causative agent of anthracnose in sorghum. In vitro experiments included the antagonism test in Petri dishes with morphological hyphal evaluation; yeast killer activity; siderophore, volatile compound and hydrolytic enzyme production. In vivo experiments were conducted in greenhouse conditions with a sorghum variety susceptible to C. sublineolum by evaluating the anthracnose disease for 6 weeks. The results indicated that the yeast strain significantly controlled the fungal growth, either in vitro or in vivo. The strain of T. globosa exhibited killer activity against two sensitive strains, which is a novel capacity for this species. The yeast did not produce siderophores, volatile compounds or hydrolytic enzymes, although it has reduced the mycelial growth, resulting in hyphal deformities but not cell death. The yeast controlled the anthracnose disease in sorghum, either inoculated before or after the fungal spores, suggesting that the competition for space and nutrients to dominate the mold and killer toxin production, altering the hyphal morphology, are mechanisms utilized by the yeast in the biocontrol.
This is a preview of subscription content, log in to check access.
Access options
Buy single article
Instant access to the full article PDF.
US$ 39.95
Price includes VAT for USA
Subscribe to journal
Immediate online access to all issues from 2019. Subscription will auto renew annually.
US$ 199
This is the net price. Taxes to be calculated in checkout.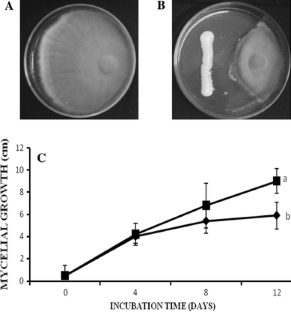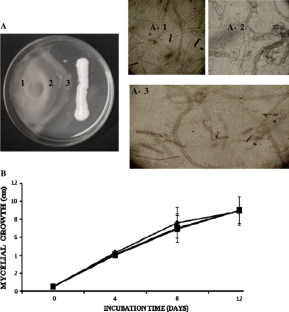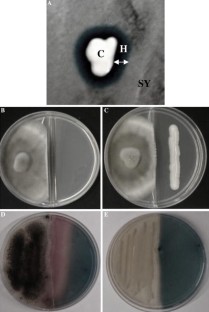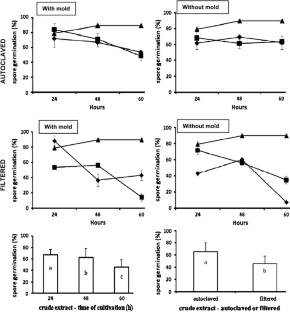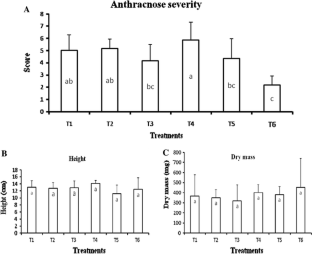 References
Ahansal L, Sassi AB, Martini A, Vaughan-Martini A, Walker G, Boussaid A (2008) Biodiversity of yeasts isolated from the indigenous forest of Argan (Argania spinosa (L.) Skeels) in Morocco. World J Microbiol Biotechnol 24:777–782

Arras G, De Cicco V, Arru S, Lima G (1998) Biocontrol by yeast of blue mould of citrus fruits and the mode of action of an isolate of Pichia guilliermondii. J Hortic Sci Biotech 73:413–418

Brown AE, Hamilton JTG (1993) Indole-3-ethanol produced by Zygorrhynchus moelleri and indole-3-acetic acid analogue with antifungal activity. Mycol Res 96:71–74

Buzzini P, Corazzi L, Turchetti B, Buratta M, Martini A (2004) Characterization of the in vitro antimycotic activity of a novel killer protein from Williopsis saturnus DBVPG4561 against emerging pathogenic yeasts. FEMS Microbiol Lett 238:359–365

Calvente V, Benuzzi D, Tosetti MIS (1999) Antagonistic action of siderophores from Rhodotorula glutinis upon the postharvest pathogen Penicillium expansum. Int Biodeter Biodegr 43:167–172

Capdeville G, Souza Junior MTS, Santos JRP, Miranda SP, Caetano AR, Falcão R, Gomes ACMM (2007) Scanning electron microscopy of the interaction between Cryptococcus magnus and Colletotrichum gloeosporioides on papaya fruit. Pesqui Agropecu Bras 42(11):1537–1544

Casela CR, Ferreira AS (1995) Virulence associations in the sorghum anthracnose fungus Colletotrichum graminicola. Fitopathol Bras 20:33–38

Castoria R, De Curtis F, Lima G, Caputo L, Pacífico S, De Cicco V (2001) Aureobasidium pullulans (LS-30) an antagonist of postharvest pathogens of fruits: study on its modes of action. Postharvest Biol Tech 22:7–17

Ceccato-Antonini SR, Tosta CD, Silva AC (2004) Determination of yeast killer activity in fermenting sugarcane juice using selected ethanol-making strains. Braz Arch Biol Tech 47:13–23

Chanchaichaovivat A, Panijpan B, Ruenwongsa P (2008) Putative modes of action of Pichia guilliermondii strain R13 in controlling chilli anthracnose after harvest. Biol Control 47:207–215

Chaurasia B, Pandey A, Palni LMS, Trivedi P, Kumar B, Colvin N (2005) Diffusible and volatile compounds produced by an antagonistic Bacillus subtilis strain cause structural deformations in pathogenic fungi in vitro. Microbiol Res 160:75–81

Coelho AR (2005) Controle de Penicillium expansum/Biodegradação de Patulina: perfil cromatográfico de composto bioativo de leveduras killer visando aplicação pós-colheita. Ph.D. thesis, Universidade Estadual de Londrina

De La Pena P, Barros F, Gascón S, Lazo PS, Ramos S (1981) Effect of yeast killer toxin on sensitive cells of Saccharomyces cerevisiae. J Biol Chem 256:10420–10425

Droby S (2006) Yeast Metschnikowia fructicola NRRL Y-30752 for inhibiting deleterious microorganisms on plants. US Patent 6994849

Droby S, Chalutz E, Wilson CL, Wisniewski M (1989) Characterization of the biocontrol activity of Debaryomyces hansenii in the control of Penicillium digitatum on grapefruit. Can J Microbiol 35:794–800

Droby S, Vinokur V, Weiss B, Cohen L, Daus A, Goldschmidt EE, Porat R (2002) Induction of resistance to Penicillium digitatum in grapefruit by the yeast biocontrol agent Candida oleophila. Phytopathology 92:393–399

El Ghaouth A, Wilson CL, Wisniewski M (1998) Ultrastructural and cytochemical aspects of the biological control of Botrytis cinerea by Candida saitoana in apple fruit. Phytopathology 88:282–291

El Ghaouth A, Wilson CL, Wisniewski M (2003) Control of postharvest decay of apple fruit with Candida saitoana and induction of defense responses. Phytopathology 93:344–348

El-Tarabily KA, Sivasithamparam K (2006) Potential of yeasts as biocontrol agents of soil-borne fungal plant pathogens and as plant growth promoters. Biom Life Sci 47:25–35

Ferreira JHS, Matthee FN, Thomas AC (1991) Biological control of Eutypa lata on grapevine by an antagonistic strain of Bacillus subtilis. Phytopathology 81:283–287

Fialho MB (2004) Efeito in vitro de Saccharomyces cerevisiae sobre Guignardia citricarpa, agente causal da pinta preta dos citros. Dissertation, Escola Superior de Agricultura. "Luiz de Queiroz", Universidade de São Paulo

Filonow AB (1998) Role of competition for sugars by yeast in the biocontrol of gray mold of apple. Biocontrol Sci Tech 8:243–256

Fokkema NJ (1984) Competition for endogenous and exogenous nutrients between Sporobolomyces roseus and Cochliobolus sativus. Can J Bot 62:2463–2468

Golubev WI (1998) Mycocins (killer toxins). In: Kurtzman CP, Fell JW (eds) The yeasts, a taxonomic study. Elsevier, Amsterdam, pp 55–62

Hofte M, Poppe L, Druvefors U, Schnurer J, De Cal A, Melgarejo P, Stèpien V, Jijakli MH (2004) Modes of action of Candida sake CPA-1, Pantoea agglomerans CPA-2, Epicoccum nigrum 282 and Pichia anomala J121, effective antagonists of postharvest pathogens. In: International workshop disease biocontrol in food production: development of biocontrol agents of fungal diseases for commercial applications in food production systems, Seville, Spain, March 24–27, p 27

Jacobs CJ, Van Vuoren HJJ (1991) Effects of different killer yeast on wine fermentations. J Amst Soc Brew 42:295–299

Janisiewicz WJ, Korsten L (2002) Biological control of postharvest diseases of fruits. Annu Rev Phytopathol 40:411–441

Janisiewicz WJ, Tworkoski TJ, Sharer C (2000) Characterizing the mechanism of biological control of postharvest diseases on fruits with a simple method to study competition for nutrients. Phytopathology 90:1196–1200

Jijakli MH, Lepoivre P (1998) Characterization of an exo-β-1, 3-glucanase produced by Pichia anomala strain K, antagonist of Botrytis cinerea on apples. Phytopathology 88:335–343

Levy RM (2003) Aplicação de leveduras no controle de Penicillium expansum. Ph.D. Thesis, Universidade Estadual de Londrina

Marquina D, Santos A, Peinado JM (2002) Biology of killer yeasts. Int Micrbiol 5:65–72

Martinac B, Zhu H, Kubalski A, Zhou X, Culbertson M, Bussey H, Kung C (1990) Yeast K1 killer toxin forms ion channels in sensitive yeast spheroplasts and in artificial liposomes. Cell Biol 87:6228–6232

Martinez Noel GMA, Madrid EA, Botin R, Lamattina L (2001) Indole acetic acid attenuates disease severity in potato-Phytophtora infestans interaction and inhibits the pathogen growth in vitro. Plant Physiol Biochem 39:815–823

Masih EI, Paul B (2002) Secretion of beta-1, 3-glucanase by the yeast Pichia membranifaciens and its possible role in the biocontrol of Botrytis cinerea causing mold disease of the grapevine. Curr Microbiol 44:391–395

Masih EI, Slezack-Deschaumes S, Marmaras I, Ait Barka E, Vernet G, Charpentier C, Adholeya A, Paul B (2001) Characterization of the yeast Pichia membranifaciens and its possible use in the biological control of Botrytis cinerea. FEMS Microbiol Lett 202:227–232

Milagres AMF, Machuca A, Napoleão D (1999) Detection of siderophore production from several fungi and bacteria by a modification of chrome azurol S (CAS) agar plate assay. J Microbiol Methods 37:1–6

Miller GH (1959) Use of dinitrosalicylic acid reagent for determination of reducing sugar. Anal Chem 31:426–429

Nakamura TT, Murakami M, Saotome K, Tomita T, Kitsuwa P, Meyers SP (1991) Identification of indole-3-acetic acid in Pichia spartinae, an ascosporogenous yeast from Spartina alterniflora marshland environments. Mycologia 83:662–664

Piccinin E, Di Piero RM, Pascholati SF (2005) Efeito de Saccharomyces cerevisiae na produtividade de sorgo e na severidade de doenças foliares no campo. Fitopatol Bras 30:5–9

Pinto NFJA (2003) Controle químico da antracnose (Colletotrichum graminicola) do sorgo. Rev Bras Milho e Sorgo 2:148–152

Saligkarias ID, Gravanis FT, Eptona HAS (2002) Biological control of Botrytis cinerea on tomato plants by use of epiphytic yeasts Candida guilliermondii strains 1001 and US 7 and Candida oleophila strain I-182:II. A study on mode of action. Biol Control 25:151–161

Santos A, Marquina D (2004) Killer toxin of Pichia membranifaciens and its possible use as a biocontrol agent against grey mould disease of grapevine. Microbiology 150:2527–2534

Schwyn B, Neilands JB (1987) Universal chemical assay for the detection and determination of siderophores. Anal Biochem 160:46–56

Shimizu K, Adachi T, Kitano K, Shimazaki T, Totsuka A, Hara S, Dittrich HH (1985) Killer properties of wine yeast and characterization of killer wine yeasts. J Ferment Technol 63:421–429

Shurttleff MC (1980) A compendium of corn diseases, 2nd edn. St Paul, Am Phytopathol Soc, p 105

Skipper N, Bussey H (1977) Mode of action of yeast toxins: energy requirement for Saccharomyces cerevisiae killer toxin. J Bacteriol 129:668–677

Stumm C, Hermans JMH, Middelbeek EJ, Croes AF, De Vries GJM (1977) Killer sensitive relationships in yeasts from natural habitats. Antonie Leeuwenhoek 43:125–128

Taqarort N, Echairi A, Chaussod R, Nouaim R, Boubaker H, Abdellah A, Benaoumar AA, Boudyach E (2008) Screening and identification of epiphytic yeasts with potential for biological control of green mold of citrus fruits. World J Microbiol Biotechnol 24:3031–3038

Urquhart EJ, Punja ZK (2002) Hydrolytic enzymes and antifungal compounds produced by Tilletiopsis species, phyllosphere yeasts that are antagonists of powdery mildew fungi. Can J Microbiol 48:219–229

Vero S, Mondino P, Burgueno J, Soubes M, Wisniewski M (2002) Characterization of biocontrol activity of two yeast strains from Uruguay against blue mold of apple. Postharvest Biol Tech 26:91–98

Vora MS, Shelat HN (1998) Torulospora globosa: a unique solubilizing tricalcium phosphate. Indian J Agric Sci 68:630–631

Walker GM, Mcleod AH, Hodgson VJ (1995) Interactions between killer yeasts and pathogenic fungi. FEMS Microbiol Lett 127:213–222

Wang WL, Chi ZM (2009) Siderophore production by the marine-derived Aureobasidium pullulans and its antimicrobial activity. Bioresource Technol 100:2639–2641

Weiler F, Schmitt MJ (2003) Zygocin, a secreted antifungal toxin of yeast Zygosaccharomyces bailii, and its effect on sensitive fungal cells. FEMS Yeast Res 3:69–76

White TJ, Bruns T, Lee S, Taylor J (1994) Amplification and direct sequencing of fungal ribosomal RNA genes for phylogenetics. In: Innis MA, Gelfand DH, Sninsky JS, White TJ (eds) PCR protocols: a guide to methods and applications. Academic Press, New York, pp 129–141

Wilson CL, Ghaouth A, Chalutz E, Droby S, Stevens C, Lu JY, Khan V, Arul J (1994) Potential of induced resistance to control postharvest diseases of fruits and vegetables. Plant Dis 78:837–844

Windels CE, Lindow SE (1985) Biological control on the phylloplane, 2nd edn. The American Phytopathological Society, Saint Paul

Wisniewski ME, Biles C, Droby S, Mclaughlin R, Wilson CL, Chalutz E (1991) Mode of action of the postharvest biocontrol yeast, Pichia guilliermondii. 1. Characterization of attachment to Botrytis cinerea. Physiol Mol Plant Pathol 39:245–258

Xin G, Glawe D, Doty SL (2009) Characterization of three endophytic, indole-3-acetic acid-producing yeasts occurring in Populus trees. Mycol Res 113(9):973–980

Young TW (1982) The properties of brewing performance of brewing yeast possessing killer character. J Am Soc Brew Chem 42:1–4

Yu T, Chen J, Lu H, Zheng X (2009) Indole-3-acetic acid improves postharvest biological control of blue mold rot of apple by Cryptococcus laurentii. Phytopathology 99(3):258–264

Zanette GF, Nóbrega GMA, Meirelles LDP (2009) Morphogenetic characterization of Colletotrichum sublineolum strains, causal agent of anthracnose of sorghum. Trop Plant Pathol 34(3):146–151
About this article
Cite this article
Rosa, M.M., Tauk-Tornisielo, S.M., Rampazzo, P.E. et al. Evaluation of the biological control by the yeast Torulaspora globosa against Colletotrichum sublineolum in sorghum. World J Microbiol Biotechnol 26, 1491–1502 (2010). https://doi.org/10.1007/s11274-010-0324-8
Received:

Accepted:

Published:

Issue Date:
Keywords
Biological control

Yeasts

Torulaspora globosa
Colletotrichum sublineolum

Killer yeast