Abstract
A total of thirty-three strains of Bacillus were isolated from sixteen samples of naturally fermented congee in Inner Mongolia of China and identified by 16S rDNA sequence analysis. Probiotic properties including acid, bile tolerance and artificial gastrointestinal juice resistance as well as inhibition on pathogenic bacteria were used for screening of Bacillus. After the preliminary selection, four strains including Bacillus licheniformis IMAUB1002, Bacillus subtilis IMAUB1011, Bacillus amyloliquefaciens IMAUB1014 and Bacillus amyloliquefaciens IMAUB1034 showed high tolerance to simulated gastric juice at pH 2.0 for 3 h with survival rate all above 92%. And then through gastrointestinal transit, survival rates of these four strains were above 90%. Furthermore, Bacillus licheniformis IMAUB1002 performed well in tolerance to bile salt (0.6%) and inhibitory activity to five food-borne pathogens among four strains of Bacillus. The results suggested that Bacillus licheniformis IMAUB1002 should be considered as a potential probiotics. Further study will be focused on evaluation of these porbiotics properties in vivo and clarification of its other functional properties so as to use it in functional foods production in future.
This is a preview of subscription content, log in to check access.
Access options
Buy single article
Instant access to the full article PDF.
US$ 39.95
Price includes VAT for USA
Subscribe to journal
Immediate online access to all issues from 2019. Subscription will auto renew annually.
US$ 199
This is the net price. Taxes to be calculated in checkout.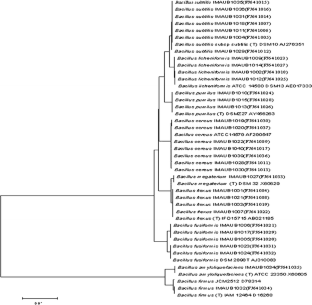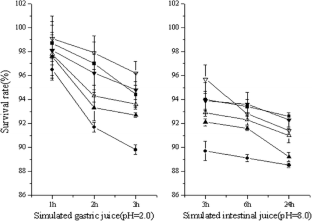 References
Anthony T, Rajesh T, Kayalvizhi N, Gunasekaran P (2009) Influence of medium components and fermentation conditions on the production of bacteriocin(s) by Bacillus licheniformis AnBa9. Bioresour Technol 100:872–877

Barbosa TM, Serra CR, La Ragione RM, Woodward MJ, Henriques AO (2005) Screening for Bacillus isolates in the broiler gastrointestinal tract. Appl Environ Microbiol 71:968–978

Bezkorovainy A (2001) Probiotics: determinants of survival and growth in the gut. Am J Clin Nutr 73:399S–405S

Bizani D, Motta AS, Morrissy JA, Terra RM, Souto AA, Brandelli A (2005) Antibacterial activity of cerein 8A, a bacteriocin-like peptide produced by Bacillus cereus. Int Microbiol Jun 8:125–131

Blandino A, Al-Aseeri ME, Pandiella SS, Cantero D, Webb C (2003) Cereal-based fermented foods and beverages. Food Res Int 36:527–543

Carteris WP, Kelly PM, Morelli L, Collins JK (1998) Development and application of an in vitro methodology to determine the transit tolerance of potentially probiotics Lactobacilli and Bifidobacterium species in the upper human gastrointestinal tract. J Appl Microbiol 84:759–768

Cavazzoni V, Adami A (1993) Biomass production, preservation and characteristic of a strain of Bacillus coagulans usable as probiotic. Microbiol Aliments Nutr 11:93–100

Chateau N, Deschamps AM, Hadj Sassi A (1994) Hetero-geneity of bile salts resistance in the Lactobacillus isolates of a probiotic consortium. Lett Appl Microbiol 18:42–44

Cosson C, Deschamps AM (1994) Comportement de souches bactériennes probiotiques en présence de bile et de sels biliaires. Microbiol Aliments Nutr 12:93–98

Dawson PA (1998) Bile secretion and the enterohepatic circulation of bile acids. In: Feldman M, Scharschmidt BF, Sleisenger MH (eds) Sleisenger and Fordtran's gastrointestinal and liver disease: pathophysiology, diagnosis, management, 6th edn. Saunders, Philadelphia, pp 1052–1063

Del Piano M, Morelli L, Strozzi GP, Allesina S, Barba M, Deidda F, Lorenzini P, Ballaré M, Montino F, Orsello M, Sartori M, Garello E, Carmagnola S, Pagliarulo M, Capurso L (2006) Probiotics: from research to consumer. Dig Liver Dis 38(Suppl 2):248–255

Endres JR, Clewell A, Jade KA, Farber T, Hauswirth J, Schauss AG (2009) Safety assessment of a proprietary preparation of a novel probiotic, Bacillus coagulans, as a food ingredient. Food Chem Toxicol 47:1231–1238

Fuller R (1992) Probiotics: the scientific basis. Chapman and Hall, London

Gadaga TH, Mutukumira AN, Narvhus JA, Feresu SB (1999) A review of traditional fermented foods and beverages of Zimbabwe. Int J Food Microbiol 53:1–11

Gilliland SE, Staley TE, Bush LJ (1984) Importance in bile tolerance of Lactobacillus acidophilus used as a diatery adjunct. J Dairy Sci 67:3045–3051

Hashimoto T, Tabata M (2004) Survival of Lactobacillus sakei HS-1 in the human digestive tract. J Jpn Soc Food Sci 51:309–311

Hong HA, Khaneja R, Tam NMK, Cazzato A, Tan S (2009) Bacillus subtilis isolated from the human gastrointestinal tract. Res Microbiol 160:134–143

Hyronimus B, Le Marrec C, Sassi AH, Deschamps A (2000) Acid and bile tolerance of spore-forming lactic acid bacteria. Int J Food Microbiol 61:193–197

Kabir AM, Aiba Y, Takagi A, Kamiya S, Miwa T, Koga Y (1997) Prevention of Helicobacter pylori infection by Lactobacilli in a gnotobiotic murine model. Gut 41:49–55

Kleerebezem M, Vaughan EE (2009) Probiotic and gut lactobacilli and bifidobacteria: molecular approaches to study diversity and activity. Annu Rev Microbiol 63:269–290

Kos B, Jagoda S, Goreta J, Matosic S (2000) Effect of protectors on the viability of Lactobacillus acidophilus M92 in simulated gastrointestinal conditions. Food Technol Biotechnol 38:121–127

Kristoffersen SM, Ravn S, Tourasse NJ, Okstad OA, Kolsto AB, Davies W (2007) Low concentrations of bile salts induce stress responses and reduce motility in Bacillus cereus ATCC 14570. J Bacteriol 189:5302–5313

Kumprecht I, Zobac P (1996) Continuous application of probiotics Bacillus C.I.P. 5832 in the nutrition of chicken broilers. Anim Sci 41:311–316

Mante ES, Sakyi-Dawson E, Amoa-Awua WK (2003) Antimicrobial interactions of microbial species involved in the fermentation of cassava dough into agbelima with particular reference to the inhibitory effect of lactic acid bacteria on enteric pathogens. Int J Food Microbiol 89:41–50

Motta AS, Cannavan FS, Tsai SM, Brandelli A (2007) Characterization of a broad range antibacterial substance from a new Bacillus species isolated from Amazon basin. Arch Microbiol 188(4):367–375

Ouoba LII, Diawara B, Jespersen L, Jakobsen M (2007) Antimicrobial activity of Bacillus subtilis and Bacillus pumilus during the fermentation of African locust bean (Parkia biglobosa) for Soumbala production. J Appl Microbiol 102:963–970

Pereira DIA, Gibson GR (2002) Effects of consumption of probiotics and prebiotics on serum lipid levels in humans. Crit Rev Biochem Mol Biol 37:259–281

Roberts D, Watson GN, Gilbert RJ (1982) Contamination of food plants and plant products with bacteria of public health significance. In: Rhodes-Roberts ME, Skinner FA (eds) Bacteria and plants. Academic Press, London, pp 169–195

Roy A, Moktan B, Sarkar PK (2007) Characteristics of Bacillus cereus isolates from legume-based Indian fermented foods. Food Control 18:1555–1564

Salminen S, von Wright A (1998) Lacticacid bacteria: microbiology and functional aspects, 2nd edn. Marcel Dekker Inc, New York, pp 211–253

Salminen S, Isolauri E, Salminen E (1996) Clinical use of probiotics for stabilizing the gut mucosal barrier: successful strains and future challenges. Antonie van Leeuwenhoek 70:347–358

Scarpellini M, Mora D, Colombo S, Franzetti L (2002) Development of genus/species-speciWc PCR analysis for identification of Carnobacterium strains. Curr Microbiol 45:24–29

Servin AL (2004) Antagonistic activities of lactobacilli and bifidobacteria against microbial pathogens. FEMS Microbiol Rev 28:405–440

Sgorbati B, Scardovi V, LeBlanc DJ (1982) Plasmids in the genus Bifidobacterium. J Gen Microbiol 128:2121–2131

Singh J, Rivenson A, Tomita M, Shimamura S, Ishibashi N, Reddy BS (1997) Bifidobacterium longum, a lactic acid producing intestinal bacterium inhibits colon cancer and modulates the intermediate biomarkers of colon carcinogenesis. Carcinogenesis 18:833–841

Tamura K, Dudley J, Nei M, Kumar S (2007) MEGA4: molecular evolutionary genetics analysis (MEGA) software version 4.0. Mol Biol Evol 24:1596–1599

Taranto MP, Pesce de Ruiz Holgado A, Font de Valdez G (1997) Suggested criteria for selecting bile resistant Enterococcus faecium strains for probiotic purposes. Microbiol Aliments Nutr 15:3–6

Turnbull PCB (1996) Bacillus. In: Baron S et al (eds) Barron's medical microbiology, 4th edn. University of Texas Medical Branch, Texas. ISBN 0-9631172-1-1

Valero M, Hernandez-Herrero LA, Giner MJ (2007) Survival, isolation and characterization of a psychrotrophic Bacillus cereus strain from a mayonnaise-based ready-to-eat vegetable salad. Food Microbiol 24:671–677

Walker DK, Gilliland SE (1993) Relationship among bile tolerance, bile salt deconjugation, and assimilation of cholesterol by Lactobacillus acidophilus. J Dairy Sci 76:956–961

Walker WH, Fitzpatrick SL, Barrera-Saldana HA, Resendez-Perez D, Saunders GF (1991) The human placental lactogen genes:structure, function, evolution andtranscriptional regulation. Endocr Rev 12:316–318
Acknowledgments
This work was supported by Hi-Tech Research and Development Program of China (863 Planning) (Grant No. 2007AA10Z353) and the earmarked fund for Modern Agro-industry Technology Research System of China.
About this article
Cite this article
Wang, Y., Zhang, H., Zhang, L. et al. In vitro assessment of probiotic properties of Bacillus isolated from naturally fermented congee from Inner Mongolia of China. World J Microbiol Biotechnol 26, 1369–1377 (2010). https://doi.org/10.1007/s11274-010-0309-7
Received:

Accepted:

Published:

Issue Date:
Keywords
Naturally fermented congee

Bacillus

Identification

Selection

Probiotic properties