Abstract
The ability to form persistent biofilms makes the pathogenic bacterium Listeria monocytogenes a hazardous contaminant in food processing environments. Growth and biofilm formation of L. monocytogenes EGD-e were studied in defined medium (HTM) and in tryptic soy broth (TSB) with different supplements. TSB + 1% glucose gave optimal results. Using this medium, biofilm development on the model surface polystyrene (microtiter plate) was monitored by the standard crystal violet staining for adherent cells after bacterial cultivation for 24 and 48 h at five different temperatures (4, 18, 25, 30 and 37°C). In parallel, the matrix exopolysaccharide formed after 48 h of incubation was quantified by staining with ruthenium red. In both assays incubation at 30°C yielded the highest values. The formation of larger scale biofilms on dialysis membranes, placed on TSB agar with 1% glucose for 48 h, was studied by scanning electron microscopy. Contiguous and multilayered biofilms were observed at 18, 25, 30 and 37°C incubation temperature. The methodology is suitable for quantitative and microscopic studies and, in addition, yields sufficient cell mass for subsequent biochemical and molecular biological analyses.
This is a preview of subscription content, log in to check access.
Access options
Buy single article
Instant access to the full article PDF.
US$ 39.95
Price includes VAT for USA
Subscribe to journal
Immediate online access to all issues from 2019. Subscription will auto renew annually.
US$ 199
This is the net price. Taxes to be calculated in checkout.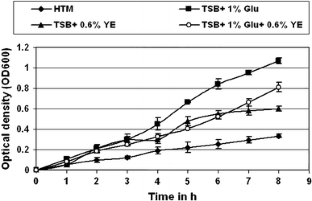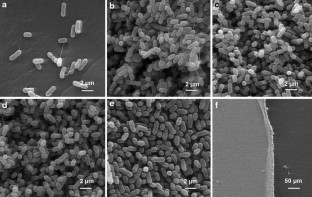 References
Borucki MK, Peppin JD, White D, Loge F, Call DR (2003) Variation in biofilm formation among strains of Listeria monocytogenes. Appl Environ Microbiol 69:7336–7342

Busch SV, Donnelly CW (1992) Development of a repair-enrichment broth for resuscitation of heat-injured Listeria monocytogenes and Listeria innocua. Appl Environ Microbiol 58:14–20

Di Bonaventura G, Piccolomini R, Paludi D, D'Orio V, Vergara A, Conter M, Lanieri A (2008) Influence of temperature on biofilm formation by Listeria monocytogenes on various food–contact surfaces: relationship with motility and cell surface hydrophobicity. J Appl Microbiol 104:1552–1561

Djordjevic D, Wiedmann M, McLandsborough LA (2002) Microtiter plate assay for assessment of Listeria monocytogenes biofilm formation. Appl Environ Microbiol 68:2950–2958

Dunne WM (2002) Bacterial adhesion: seen any good biofilms recently ? Clin Microbiol Rev 15:155–166

Farber JM, Peterkin PI (1991) Listeria monocytogenes, a food-borne pathogen. Microbiol Rev 55:476–511

Freitag NE, Port GC, Miner MD (2009) Listeria monocytogenes—from saprophyte to intracellular pathogen. Nat Rev 7:623–628

Gandhi M, Chikindas ML (2007) Listeria: a foodborne pathogen that knows how to survive. Int J Food Microbiol 113:1–15

Hain T, Chatterjee SS, Ghai R, Kuenne CT, Billion A, Steinweg C, Domann E, Kärst U, Jänsch L, Wehland J, Eisenreich W, Bacher A, Joseph B, Schär J, Kreft J, Klumpp J, Loessner MJ, Dorscht J, Neuhaus K, Fuchs TM, Scherer S, Doumith M, Jacquet C, Martin P, Cossart P, Rusniock C, Glaser P, Buchrieser C, Goebel W, Chakraborty T (2007) Pathogenomics of Listeria spp. Int J Med Microbiol 297:541–557

Hefford MA, D′Aoust S, Cyr TD, Austin JW, Sanders G, Kheradpir E, Kalmokoff ML (2005) Proteomic and microscopic analysis of biofilms formed by Listeria monocytogenes 568. Can J Microbiol 51:197–208

Jefferson KK (2004) What drives bacteria to produce a biofilm? FEMS Microbiol Lett 236:163–173

Kalmokoff ML, Austin JW, Wan XD, Sanders G, Banerjee S, Farber JM (2001) Adsorption, attachment and biofilm formation among isolates of Listeria monocytogenes using model conditions. J Appl Microbiol 91:725–734

Kathariou S (2002) Listeria monocytogenes virulence and pathogenicity, a food safety perspective. J Food Protect 65:1811–1829

Kumar S, Parvathi A, George J, Krohne G, Karunasagar I, Karunasagar I (2009) A study on the effects of some laboratory-derived genetic mutations on biofilm formation by Listeria monocytogenes. World J Microbiol Biotechnol 25:527–531

Mah TFC, O′Toole GA (2001) Mechanisms of biofilm resistance to antimicrobial agents. Trends Microbiol 9:34–39

Moltz AG, Martin SE (2005) Formation of biofilms by Listeria monocytogenes under various growth conditions. J Food Protect 68:92–97

Resch A, Rosenstein R, Nerz C, Götz F (2005) Differential gene expression profiling of Staphylococcus aureus cultivated under biofilm and planktonic conditions. Appl Environ Microbiol 71:2663–2676

Swaminathan B, Gerner-Smidt P (2007) The epidemiology of human listeriosis. Microbes Infect 9:1236–1243

Tsai HS, Hodgson DA (2003) Development of a synthetic minimal medium for Listeria monocytogenes. Appl Environ Microbiol 69:6943–6945
Acknowledgments
We thank Daniela Bunsen, University of Würzburg, for her technical assistance during SEM studies. This work was supported by grants to S.G. from the Department of Science and Technology, Govt. of India (SR/FT/L-89/2005) and from the Indian Council for Medical Research (5/8/9/56/2006-ECD-I) and to J.K. from the International Bureau/Bundesministerium für Bildung und Forschung, Germany (IND 06/010).
About this article
Cite this article
Zameer, F., Gopal, S., Krohne, G. et al. Development of a biofilm model for Listeria monocytogenes EGD-e. World J Microbiol Biotechnol 26, 1143–1147 (2010). https://doi.org/10.1007/s11274-009-0271-4
Received:

Accepted:

Published:

Issue Date:
Keywords
Biofilm

Cellulose membrane

Listeria monocytogenes

Polystyrene

Temperature

Scanning electron microscopy