Abstract
Fungal pigments are a potential resource as natural food colorant. Endophytic fungus SX01, which is able to produce abundant soluble red pigments, was isolated from the twigs of Ginkgo biloba L. For further research and utilization of this strain and its secondary metabolites, morphological and molecular characteristics of SX01 was identified. Morphological identification which employed light microscope and scanning electron microscope showed that SX01 was a species of genera Penicillium. ITS1-5.8S-ITS2 region and 18S rRNA gene were then cloned, and the molecular phylogeny of these two sequences proved that strain SX01 was Penicillium purpurogenum.
This is a preview of subscription content, log in to check access.
Access options
Buy single article
Instant access to the full article PDF.
US$ 39.95
Price includes VAT for USA
Subscribe to journal
Immediate online access to all issues from 2019. Subscription will auto renew annually.
US$ 199
This is the net price. Taxes to be calculated in checkout.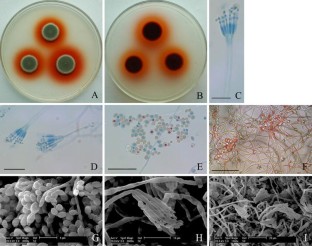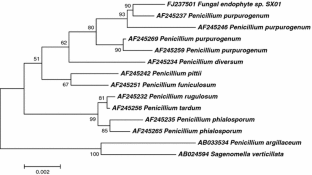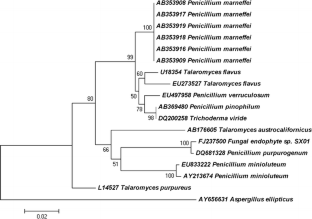 References
Arnold AE, Maynard Z, Gilbert GS, Coley PD, Kursar TA (2000) Are tropical fungal endophytes hyperdiverse? Ecol Lett 3(4):267–274. doi:10.1046/j.1461-0248.2000.00159.x

Baayen RP, Bonants PJM, Verkley G et al (2002) Nonpathogenic isolates of the citrus black spot fungus, Guignardia citricarpa, identified as a cosmopolitan endophyte of woody plants, G. mangiferae (Phyllosticta capitalensis). Phytopathology 92(5):464–477. doi:10.1094/PHYTO.2002.92.5.464

Büchi G, White JD, Wogan GN (1965) The structures of mitorubrin and mitorubrinol. J Am Chem Soc 87(15):3484–3489. doi:10.1021/ja01093a036

Carroll G (1988) Fungal endophytes in stems and leaves: from latent pathogen to mutualistic symbiont. Ecology 69:2–9. doi:10.2307/1943154

Chen G, Zhu Y, Wang HZ, Wang SJ, Zhang RQ (2007) The metabolites of a mangrove endophytic fungus, Penicillium thomi. J Asian Nat Prod Res 9(2):159–164. doi:10.1080/10286020500480423

Dufosse L (2006) Microbial production of food grade pigments. Food Technol Biotechnol 44:313–321. doi:10.1007/BF01569999

Guo LD, Hyde KD, Liew ECY (2000) Identification of endophytic fungi from Livistona chinensis based on morphology and rDNA sequences. New Phytol 147(3):617–630. doi:10.1111/j.1469-8137.2000.00716.x

Ho WH, Ranghoo VM, Hyde KD, Hodgkiss IJ (1999) Ultrastructural study in Annulatascus hongkongensis sp nov., a freshwater ascomycete. Mycologia 91:885–892

Juzlova P, Martinkova L, Kren V (1996) Secondary metabolites of the fungus Monascus: a review. J Ind Microbiol 16:163–170

King TJ, Roberts JC, Thompson DJ (1970) The structure of purpurogenone, a metabolite of Penicillium purpurogenum stoll: an X-ray study. J Chem Soc D 22:1499. doi:10.1039/C2970001499a

Lacap DC, Liew ECY, Hyde KD (2003) An evaluation of the fungal "morphotype" concept based on ribosomal DNA sequences. Fungal Divers 12:53–66

Martinez AT, Ramirez C (1978) Penicillium fagi sp. nov., isolated from beech leaves. Mycopathologia 63:57–59. doi:10.1007/BF00473161

Melvyn G (2003) Pigments of fungi (Macromycetes). Nat Prod Rep 20:615–639. doi:10.1039/b202267m

Naik BS, Shashikala J, Krishnamurthy YL (2009) Study on the diversity of endophytic communities from rice (Oryza sativa L.) and their antagonistic activities in vitro. Microbiol Res 164(3):290–296. doi:10.1016/j.micres.2006.12.003

Okane I, Nakagiri A, Ito T (2001) Identity of Guignardia sp. inhabiting ericaceous plants. Can J Bot 79(1):101–109. doi:10.1139/cjb-79-1-101

Petrini O (1991) Fungal endophytes of tree leaves. In: Microbial ecology of leaves, pp 179–197

Promputtha I, Jeewon R, Lumyong S, McKenzie EHC, Hyde KD (2005) Ribosomal DNA fingerprinting in the identification of non sporulating endophytes from Magnolia liliifera (Magnoliaceae). Fungal Divers 20:167–186

Raper KB, Thom C (1949) A manual of the Penicillia. The Williams & Wilkins Company, Baltimora

Roberts JC, Thompson DJ (1971) Studies in mycological chemistry. Part XXVII. Reinvestigation of the structure of purpurogenone, a metabolite of Penicillium purpurogenum Stoll. J Chem Soc C 3488–3492. doi: 10.1039/J39710003488

Robinson N, Wood K, Hylands PJ (1992) Gibson TM: blue pigments of Penicillium herquei. J Nat Prod 55:814–817. doi:10.1021/np50084a019

Sambrook J, Russell DW (2001) Molecular cloning: a laboratory manual, 3rd edn. Cold Spring Harbor Laboratory Press, Cold Spring Harbor, 103 pp

Sameer ASM, Kristian FN, Thomas OL, Jens CF, Anne SM, Ulf T (2005) Exploring fungal biodiversity for the production of water-soluble pigments as potential natural food colorants. Curr Opin Biotech 16(2):231–238. doi:10.1016/j.copbio.2005.03.004

Sardaryan E (2002) Strain of the microorganism Penicillium oxalicum var. Armeniaca and its application. US Patent 6,340,586 B1

Stierle A, Strobel G, Stierle D (1993) Taxol and taxane production by Taxomyces andreanae, an endophytic fungus of Pacific yew. Science 260(5105):214–216. doi:10.1126/science.8097061

Stone JK, Sherwood MA, Carroll GC (1996) Canopy microfungi: function and diversity. Northwest Sci 70:37–45

Strobel A (2003) Endophytes as sources of bioactive products. Microbes Infect 5(6):535–544. doi:10.1016/S1286-4579(03)00073-X

Tamura K, Dudley J, Nei M, Kumar S (2007) MEGA4: molecular evolutionary genetics analysis (MEGA) software version 4.0. Mol Biol Evol 24(8):1596–1599. doi:10.1093/molbev/msm092

Thompson JD, Gibson TJ, Plewniak F, Jeanmougin F, Higgins DG (1997) The CLUSTALX windows interface: flexible strategies for multiple sequence alignment aided by quality analysis tools. Nucleic Acids Res 25(24):4876–4882

Vega FE, Pava-Ripoll M, Buyer JS (2005) Endophytic bacteria in Coffea arabica L. J Basic Microbiol 45:371–380. doi:10.1002/jobm.200410551

Vega FE, Posada F, Peterson SW, Gianfagna TJ, Chaves F (2006) Penicillium species endophytic in coffee plants and ochratoxin A production. Mycologia 98(1):31–42. doi:10.3852/mycologia.98.1.31

Velez-Rodriguez L, Rivera-Vargas LI (2007) Recent studies of fungal pathogens of onion in Puerto Rico. J Agric Univ Puerto Rico 91(1/2):31

Wang L, Zhou HB, Frisvad JC, Samson RA (2004) Penicillium persicinum, a new griseofulvin, chrysogine and roquefortine C producing species from Qinghai province, China. Antonie Van Leeuwenhoek 86(2):173–179. doi:10.1023/B:ANTO.0000036140.86059.51

Wei JC (1979) Manual of fungi identification. Shanghai Scientific & Technical Publishers, Shanghai, 511 pp (in Chinese)

White TJ, Bruns T, Lee S, Taylor J (1990) Amplification and direct sequencing of fungal ribosomal RNA genes for phylogenetics. PCR Protoc Guide Methods Appl 18:315–322

Wipornpan P, Paul WJT, Rebecca F, Kevin DH, Saisamorn L (2005) Morphological and molecular characterization of Colletotrichum species from herbaceous plants in Thailand. Fungal Divers 18:117–133
Acknowledgments
This research was supported by Xinmiao Talents Scheme of Zhejiang Province, China (2007R40G2060031) and the National Natural Science Foundation of China (30670482). The work was performed in Institute of Bioengineering, Zhejiang Sci-Tech University, P. R. China.
About this article
Cite this article
Qiu, M., Xie, R., Shi, Y. et al. Isolation and identification of endophytic fungus SX01, a red pigment producer from Ginkgo biloba L. World J Microbiol Biotechnol 26, 993–998 (2010). https://doi.org/10.1007/s11274-009-0261-6
Received:

Accepted:

Published:

Issue Date:
Keywords
Endophytic fungus

Ginkgo biloba L

Identification

Penicillium purpurogenum

Red pigment