Abstract
In greenhouse experiments, an invert emulsion (MSG 8.25) was tested with spores of the mycoherbicidal fungus Colletotrichum gloeosporioides f. sp. aeschynomene, a highly virulent pathogen of the leguminous weed Aeschynomene virginica (northern jointvetch), but considered "immune" against another leguminous weed, Sesbania exaltata (hemp sesbania). A 1:1 (v/v) fungus/invert emulsion mixture resulted in 100% infection and mortality of inoculated hemp sesbania seedlings over a 21 day period. Microscopic examinations revealed that the fungus proliferated within the cells of hemp sesbania and produced anthracnose lesions containing acervuli on infected stems. The fungus was reisolated and found to infect and kill northern jointvetch seedlings, thus fulfilling Koch's postulates for disease identification. These results suggest that this invert emulsion expands the host range of C. gloeosporioides f. sp. aeschynomene, and possibly improves the bioherbicidal potential of this pathogen.
This is a preview of subscription content, log in to check access.
Access options
Buy single article
Instant access to the full article PDF.
US$ 39.95
Price includes VAT for USA
Subscribe to journal
Immediate online access to all issues from 2019. Subscription will auto renew annually.
US$ 199
This is the net price. Taxes to be calculated in checkout.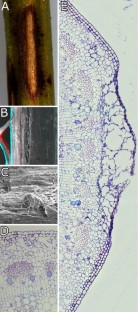 References
Amsellem Z, Sharon A, Gressel J, Quimby PC (1990) Complete abolition of high threshold of two mycoherbicides (Alternaria cassiae and Alternaria crassa) when applied in invert emulsion. Phytopathology 80:925–929

Amsellem Z, Sharon A, Gressel J (1991) Abolition of selectivity of two mycoherbicidal organisms and enhanced virulence of avirulent fungi by an invert emulsion. Phytopathology 81:985–988

Auld BA (1993) Vegetable oil suspension emulsions reduce dew dependence of a mycoherbicide. Crop Protect 12:477–479

Boyette CD (1994) Unrefined corn oil improves the mycoherbicidal activity of Colletotrichum truncatum for hemp sesbania (Sesbania exaltata) control. Weed Technol 8:526–528

Boyette CD, Abbas HK (1994) Host range alteration of the bioherbicidal fungus Alternaria crassa with fruit pectin and plant filtrates. Weed Sci 42:487–491

Boyette CD, Abbas HK, Smith RJ Jr (1991) Invert emulsions alter host specificity of biocontrol fungi. Proc Am Phytopathol Soc 18:126

Boyette CD, Quimby PC Jr, Bryson CT, Egley GH, Fulgham FE (1993) Biological control of hemp sesbania (Sesbania exaltata) under field conditions with Colletotrichum truncatum formulated in an invert emulsion. Weed Sci 41:497–500

Boyette CD, Hoagland RE, Weaver MA (2007) Biocontrol efficacy of Colletotrichum truncatum for hemp sesbania (Sesbania exaltata) is enhanced with unrefined corn oil and surfactant. Weed Biol & Manage 7:70–76

Cartwright KD, Boyette CD, Scott R, Cartwright RD, Hoagland RE, Stetina KC, Weaver MA (2008) Return of the mycoherbicide Collego to mid-south rice fields: Lockdown 2008. Abstr Weed Sci Soc Am 51:136

Charudattan R (2005) Ecological, practical, and political inputs into selection of weed targets: what makes a good biological control target? Biolog Control 35:183–196

Daniel JT, Templeton GE, Smith RJ Jr, Fox WT (1973) Biological control of northern jointvetch in rice with an endemic fungal disease. Weed Sci 21:303–307

Dodd JC, Estrada A, Jeger MJ (1992) Epidemiology of Colletotrichum gloeosporioides in the tropics. In: Bailey JA, Jeger MJ (eds) Colletotrichum: biology, pathology and control. CAB International, Wallingford, pp 308–325

Goodwin PH (2001) A molecular weed—mycoherbicide interaction: Colletotrichum gloeosporioides f. sp. malvae and round-leaved mallow, Malva pusilla. Can J Plant Pathol 23:28–35

Koch R (1893) "Über den augenblicklichen Stand der bakteriologischen Choleradiagnose" (in German). Zeit Hygiene Infectionskrankheiten 14:319–333

Makowski RMD, Mortensen K (1992) The first mycoherbicide in Canada: Collectotrichum gloeosporioides f.sp. malvae for round-leaved mallow control. In: Proceedings of 1st international weed control conference weed science society of Victoria, vol 2, pp 298–300

Mintz AS, Heiny DK, Weidemann GJ (1992) Factors influencing the biocontrol of tumble pigweed (Amaranthus albus) with Aposphaeria amaranthi. Plant Dis 76:267–269

O'Connell RJ, Perfect S, Hughes B, Carzaniga R, Bailey J, Green J (2000) Dissecting the cell biology of Colletotrichum infection processes. In: Prusky D, Freeman S, Dickman MB (eds) Colletotrichum—host specificity, pathology and host–pathogen interactions. APS Press, St. Paul, pp 57–77

Perfect SE, Hughes B, O'Connell RJ, Green JR (1999) Colletotrichum—a model genus for studies on pathology and fungal-plant interactions. Fungal Gen Biol 27:186–198

Quimby PC Jr, Fulgham FE, Boyette CD, Connick WJ Jr (1989) An invert emulsion replaces dew in biocontrol of sicklepod—a preliminary study. In: Hovde D, Beestman GB (eds) Pesticide formulations and application systems. American Society for Testing Materials, West Conshohocken, pp 267–270

Sandrin TR, TeBeest DO, Weidemann GJ (2003) Soybean and sunflower oils increase the infectivity of Colletotrichum gloeosporioides f.sp. aeschynomene to northern jointvetch. Biolog Control 26:244–252

Steele RGD, Torrey JH, Dickeys DA (1997) Multiple comparisons. Principles and procedures of statistics—a biometrical approach. McGraw Hill, New York, 365 pp

TeBeest DO (1985) Techniques for testing and evaluating plant pathogens for weed control. J Agric Entomol 2:123–129

TeBeest DO (1988) Additions to the host range of Colletotrichum gloeosporioides f. sp. aeschynomene. Plant Dis 72:16–18

Templeton GE, Smith RJ Jr, TeBeest DO (1989) Perspectives on mycoherbicides two decades after discovery of the Collego pathogen. In: Delfosse ES (ed) Proceedings of the VII international symposium on the biological control of weeds 6–11 March 1988, Rome. Ist Sper Patol Veg (MAF), Rome, pp 553–558

Tuite J (1969) Plant pathological methods: fungi and bacteria. Burgess Press, Minneapolis, 239 pp

Vanderplank JE (1982) Host-pathogen interactions in plant diseases. American phytopathological society, 1984. Academic Press, New York 207 pp

Watson AK, Gressel J, Sharon A, Dinoor A (2000) Colletotrichum strains for biological control. In: Prusky D, Freeman S, Dickman MB (eds) Colletotrichum: host specificity, pathology and host-pathogen interactions. American Phytopathological Society Press, St. Paul, pp 245–265

Weaver MA, Lyn ME, Boyette CD, Hoagland RE (2007) Bioherbicides for weed control. In: Updhyaya MK, Blackshaw RE (eds) Non-chemical weed management. CABI, Internat, Cambridge, pp 93–110

Wei YD, Byer KN, Goodwin PH (1997) Hemibiotrophic infection of round-leaved mallow by Colletotrichum gloeosporioides f. sp. malvae in relation to leaf senescence and reducing reagents. Mycol Res 101:357–364

Womack GJ, Burge MN (1993) Mycoherbicide formulation and the potential for bracken control. Pest Sci 37:337–341

Yang S, Jong SC (1995) Factors influencing pathogenicity of Myrothecium verrucaria isolated from Euphorbia esula on species of Euphorbia. Plant Dis 79:998–1002

Yang S, Dowler WM, Schaad NW, Connick WJ Jr (1998) Method for the control of weeds with weakly virulent or non-virulent plant pathogens. US Patent No. 5,795,845
About this article
Cite this article
Douglas Boyette, C., Bowling, A.J., Vaughn, K.C. et al. Induction of infection in Sesbania exaltata by Colletotrichum gloeosporioides f. sp. aeschynomene formulated in an invert emulsion. World J Microbiol Biotechnol 26, 951–956 (2010). https://doi.org/10.1007/s11274-009-0250-9
Received:

Accepted:

Published:

Issue Date:
Keywords
Bioherbicide

Biological weed control

Colletotrichum gloeosporioides f. sp. aeschynomene

Invert emulsion

Mycoherbicide

Sesbania exaltata