Abstract
The production of inexpensive chitinolytic enzymes is an element in the utilization of shellfish-processing waste. In this study, shrimp and crab shell powder, prepared by treating shrimp- and crab-processing waste by boiling and crushing, was used as a substrate for the isolation of an antifungal chitinase-producing microorganism. Bacillus subtilis NPU 001, a strain isolated from soil samples, excreted a chitinase when cultured in a medium containing 2% (w/v) shrimp and crab shell powder as the major carbon source. The chitinase, which was purified by sequential chromatography, had a Mw of 31 kDa and a pI of 5.4. The purified chitinase (2 mg ml−1) inhibited hyphal extension of the fungus Fusarium oxysporum. Compared with other known bacterial chitinases, the unique characteristics of NPU 001 chitinase include antifungal activity against plant-pathogenic fungi and the production of chitotriose as the major enzymatic hydrolysate from colloidal chitin.
This is a preview of subscription content, log in to check access.
Access options
Buy single article
Instant access to the full article PDF.
US$ 39.95
Price includes VAT for USA
Subscribe to journal
Immediate online access to all issues from 2019. Subscription will auto renew annually.
US$ 199
This is the net price. Taxes to be calculated in checkout.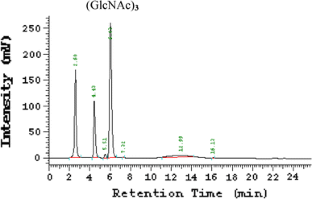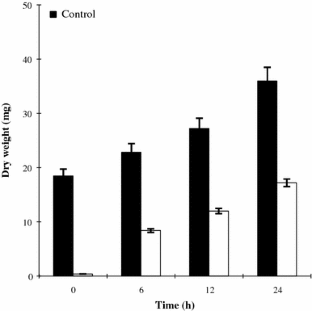 References
Chang WT, Chen C, Wang SL (2003) An antifungal chitinase produced by Bacillus cereus using shrimp and crab shell powder as a carbon source. Curr Microbiol 47:102–108

Chang WT, Chen YC, Jao CL (2007) Antifungal activity and enhancement of plant growth Bacillus cereus grown on chitin wastes. Biores Technol 98:1226–1230

Chang WT, Hsieh CH, Hsieh HS, Chen C (2009) Conversion of crude chitosan to an anti-fungal protease by Bacillus cereus. World J Microbiol Biotechnol 25:375–382

Deane EE, Whipps JM, Lynch JM, Peberdy JF (1998) The purification and characterization of a Trichoderma harzianum exochitinase. Biochem Biophys Acta 1383:101–110

Di Pietro A, Lorito M, Hayes CK, Broadway RM, Harman GE (1993) Endochitinase from Gliocladium virens: isolation, characterization, and synergistic antifungal activity in combination with gliotoxin. Phytopathology 83:308–313

Imoto T, Yagishita K (1971) A simple activity measurement by lysozyme. Agric Biol Chem 35:1154–1156

Kishore GK, Pande S (2007) Chitin-supplemented foliar application of chitinolytic Bacillus reduces severity of Botrytis gray mold disease in chickpea under controlled conditions. Lett Appl Microbiol 44:98–105

Laemmli UK (1970) Cleavage of structural proteins during the assembly of the head of bacteriophage T4. Nature (London) 227:680–688

Lorito M, Harman GE, Hayes CK, Broadway RM, Tronsmo A, Woo SL, Di Pietro A (1993) Chitinolytic enzyme produced by Trichoderma harzianum: Antifungal activity of purified endochitinase and chitobiosidase. Mol Plant Pathol 83:302–307

Patil RS, Ghormade V, Deshpande MV (2000) Chitinolytic enzymes: an exploration. Enzyme Microb Technol 26:473–483

Reyes-Ramirez A, Escudero-Abarca BI, Aguilar-Uscanga G, Hayward-Janes PM, Barboza-Corona JE (2004) Antifungal activity of Bacillus thuringiensis chitinase and its potential for the biocontrol of phytopathogenic fungi in soybean seeds. J Food Sci 69:M131–M134

Sakuda S (1996) Studies on the chitinase inhibitors. Allosamidins. In: Muzzarelli RAA (ed) Chitin enzymology, vol 2. Eur Chitin Soc, Grottammare, Italy, pp 203–212

Shaikh SA, Deshpande MV (1993) Chitinolytic enzymes: their contribution to basic and applied research. World J Microbiol Biotechnol 9:468–475

Wang SL, Chang WT (1997) Purification and characterization of two bifunctional chitinase/lysozymes extracellularly produced by Pseudomonas aeruginosa K-187 in shrimp and crab shell powder medium. Appl Environ Microbiol 63:380–386
Acknowledgments
This work was supported in part by a grant from the National Science Council, Republic of China (NSC97-2221-E-346-005).
About this article
Cite this article
Chang, W., Chen, M. & Wang, S. An antifungal chitinase produced by Bacillus subtilis using chitin waste as a carbon source. World J Microbiol Biotechnol 26, 945–950 (2010). https://doi.org/10.1007/s11274-009-0244-7
Received:

Accepted:

Published:

Issue Date:
Keywords
Bacillus subtilis

Chitinase

Fusarium

Shrimp and crab shell