Abstract
The lactate excretion by Rhizopus oryzae on various carbohydrates was studied in order to assess the potential of lactate production from raw materials. Six collection strains were tested on ten commercial carbohydrates i.e. glucose, xylose, glycerol, sucrose, lactose, cellobiose, inulin, starch, cellulose and fructose in flask or stirred-tank bioreactor. On glucose and xylose, lactate was produced by R. oryzae UMIP 4.77 at 73 and 8 gL−1 respectively, indicating that lignocellulosic materials could be used as possible raw substrates. Two lignocellulosic substrates were therefore experimented in stirred-tank bioreactor with R. oryzae UMIP 4.77. The first one was hemicellulosic material, which is a concentrated C6 and C5 sugar solution resulting from washing of a steamed wheat straw sample. The second was cellulosic material, which is a partially-hydrolyzed unbleached pulp paper. In a simultaneous saccharification fermentation process, a final production of 24.1 gL−1 of lactate was obtained from cellulosic material.
This is a preview of subscription content, log in to check access.
Access options
Buy single article
Instant access to the full article PDF.
US$ 39.95
Price includes VAT for USA
Subscribe to journal
Immediate online access to all issues from 2019. Subscription will auto renew annually.
US$ 199
This is the net price. Taxes to be calculated in checkout.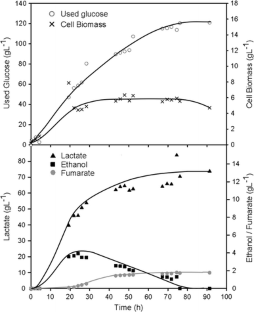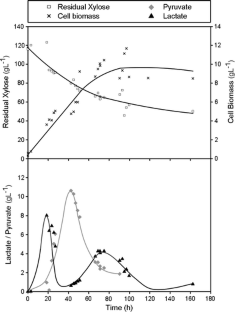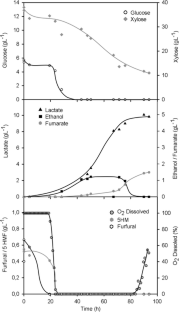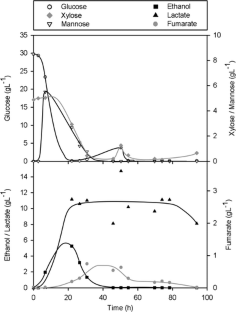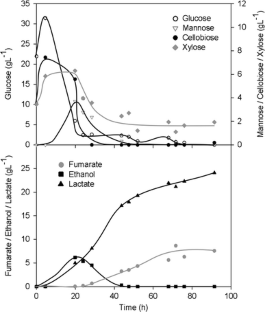 References
Abe SI, Takagi M (1991) Simultaneous saccharification and fermentation of cellulose to lactic acid. Biotechnol Bioeng 37:93–96

Bai DM, Jia MZ, Zhao XM, Ban R, Shen F, Li XG, Xu SM (2003) L(+)-lactic acid production by pellet-form Rhizopus oryzae R1021 in a stirred tank fermentor. Chem Eng Sci 58:785–791

Bulut S, Elibol M, Ozer D (2004) Effect of different carbon sources on L(+)-lactic acid production by Rhizopus oryzae. Biochem Eng J 21:33–37

Datta R, Henry M (2006) Lactic acid: recent advances in products, processes and technologies - a review. J Chem Technol Biot 81:1119–1129

Dubois M, Gilles KA, Hamilton JK, Rebers PA, Smith F (1956) Colorimetric method for determination of sugars and related substances. Anal Chem 28:350–356

Liu ZL, Slininger PJ, Dien BS, Berhow MA, Kurtzman CP, Gorsich SW (2004) Adaptative response of yeasts to furfural and 5-hydroxymethylfurfural and new chemical evidence for HMF conversion to 2, 5-bis-hydroxymethylfuran. J Ind Microbiol Biotechnol 31:345–352

Maas R, Bakker R, Eggink G, Weusthuis R (2006) Lactic acid production from xylose by the fungus Rhizopus oryzae. Appl Microbiol Biotechnol 72:861–868

Michel-Savin D, Marchal R, Vandecasteele JP (1990) Butyric fermentation: metabolic behaviour and production performance of Clostridium tyrobutyricum in a continuous culture with cell recycle. Appl Microbiol Biotechnol 34:172–177

Miura S, Arimura T, Itoda N, Dwiarti L, Jin Beng Fenq M, Cui Hong Bin M, Okabe M (2004) Production of l-lactic acid from corncob. J Biosci Bioeng 97:153–157

Park EY, Kosakai Y, Okabe M (1998) Efficient production of L-(+)-lactic acid using mycelial cotton-like flocs of Rhizopus oryzae in an air-lift bioreactor. Biotechnol Prog 14:699–704

Park EY, Anh PN, Okuda N (2004) Bioconversion of waste office paper to L(+)-lactic acid by the filamentous fungus Rhizopus oryzae. Bioresource Technol 93:77–83

Ruengruglikit C, Hang YD (2003) L(+)-Lactic acid production from corncobs by Rhizopus oryzae NRRL-395. Lebensm Wiss Technol 36:573–575

Zhang ZY, Jin B, Kelly JM (2007) Production of lactic acid from renewable materials by Rhizopus fungi. Biochem Eng J 35:251–263

Zhou Y, Dominguez JM, Cao N, Du J, Tsao GT (1999) Optimization of l-lactic acid production from glucose by Rhizopus oryzae ATCC 52311. Appl Biochem Biotechnol 77–79:401–407
Acknowledgments
We are grateful to Nicolas Gutlé for his help in figure conception.
About this article
Cite this article
Vially, G., Marchal, R. & Guilbert, N. L(+) Lactate production from carbohydrates and lignocellulosic materials by Rhizopus oryzae UMIP 4.77. World J Microbiol Biotechnol 26, 607–614 (2010). https://doi.org/10.1007/s11274-009-0210-4
Received:

Accepted:

Published:

Issue Date:
Keywords
Carbohydrates

Lignocellulose

Lactic acid

SSF

Rhizopus oryzae