Abstract
Very limited studies have been done to investigate the algal biotransformation of codeine to its opioid derivatives. On the other hand, microalgae have been recently introduced as potential tools for green synthesis of various organic compounds. In the present work, the capability of biotransformation of codeine by a locally isolate strain of cyanobacterium, Nostoc muscorum, was evaluated. Incubation of the whole cells of Nostoc muscorum with codeine (I) under continuous light photoregime of 60 μmol photons/m2s at 25°C for 5 days gave rise to four transformation products. The bioproducts were separated by gas chromatography and identified as 6-acetylcodeine (II), oxycodone (III), norcodeine (IV), morphine (V) and based on their mass spectra. Observed modifications included O-demethylation, N-demethylation, C6-acetylation, C14-hydroxilation, Δ7-reduction, and C6-oxidation. The ability of N. muscorum to convert codeine to oxycodone (III) represents an uncommon pattern of codeine metabolism in microorganisms that may be of industrial importance.
This is a preview of subscription content, log in to check access.
Access options
Buy single article
Instant access to the full article PDF.
US$ 39.95
Price includes VAT for USA
Subscribe to journal
Immediate online access to all issues from 2019. Subscription will auto renew annually.
US$ 199
This is the net price. Taxes to be calculated in checkout.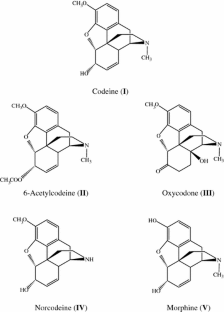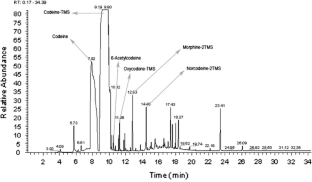 References
Arabi H, Tabatabaei Yazdi M, Faramarzi MA (2009) Application of organic mono-phase and organic-aqueous two-liquid-phase systems in microalgal converssion of androst-4-en-3, 17-dione by Nostoc muscorum. Biocatal Biotransform 27:219–225

Borowitzka MA (1988). Algal growth media and sources of cultures. In: Borowitzka MA, Borowitzka JL (eds) Micro-algal biotechnology. Cambridge University Press, Cambridge, pp 456–465

Bruce NC, Wilmot CJ, Jordan KN, Trebilcock AE, Gray Stephens LD, Lowe CR (1990) Microbial degradation of the morphine alkaloids: identification of morphinone as an intermediate in the metabolism of morphine by Pseudomonas putida M10. Arch Microbiol 154:465–470

Bruce NC, Wilmot CJ, Jordan KN, Stevens LDG, Lowe CR (1991) Microbial degradation of the morphine alkaloids: purification and characterization of morphine dehydrogenase from Pseudomonas putida M10. Biochem J 274:875–880

Faramarzi MA, Yazdi MT, Ghostinroudi H, Amini M, Ghasemi Y, Jahandar H, Arabi H (2006) Nostoc muscorum: a regioselective biocatalyst for 17-carbonyl reduction of androst-4-en-3, 17-dione and androst-1, 4-dien-3, 17-dione. Ann Microbiol 56:253–256

Faramarzi MA, Adrangi S, Tabatabaei Yazdi M (2008) Microalgal bio-transformation of steroids, a review. J Phycol 44:27–37

Gibson M, Soper CJ, Parfitt RT, Sewell GJ (1984) Studies on the mechanism of microbial N-demethylation of codeine by cell free extracts of Cunninghamella bainieri. Enzyme Microb Technol 6:471–475

Hajimahmoodi M, Faramarzi MA, Mohammadi N, Soltani N, Oveisi MR, Nafissi-Varcheh N (2009) Evaluation of antioxidant properties and total phenolic contents of some strains of microalgae. J Appl Phycol. doi: 10.1007/s10811-009-9424-y

Iizuka K, Okuda S, Aida K, Asai T, Tsuda K, Yamada M, Seki I (1960) Mikrobiolgische Verwandlung von Thebaine in das 14-Hydroxycodeinon mittels einiger Pilze. Chem Pharm Bull 8:1056–1057

Iizuka K, Yamada M, Suzuki J, Seki I, Aida K, Okuda S, Asai T, Tsuda K (1962) Untersuchungen auf dem Gebiet der mikrobiologischen Umsetzung. XVI. Umwandlung von Alkaloiden in der Morphinreiche durch Trametes sanguinea. Chem Pharm Bull 10:67–70

Kowalska T, Sherma J (2006) Preparative layer chromatography. Taylor & Francis, Boca Raton, p 173

Kunz DA, Reddy GS, Vatvars A (1985) Identification of the transformation products arising from bacterial oxidation of codeine by Streptomyces griseus. Appl Environ Microbiol 50:831–836

Liras P, Umbreit WW (1975) Transformation of morphine by resting cells and cell free systems of Arthrobacter sp. Appl Microbiol 30:262–266

Lister DL, Kanungo G, Rathbone DA, Bruce NC (1999) Transformation of codeine to important semisynthetic opiate derivatives by Pseudomonas putida m10. FEMS Microbiol Lett 181:137–144

Liu BK, Wu Q, Xu JM, Lin XF (2007) N-methylimidazole significantly improves lipase-catalysed acylation of ribavirin. Chem Commu 21:295–297

Potts M (2002) Nostoc. In: Whitton BA, Potts M (eds) The ecology of cyanobacteria their diversity in time and space. Kluwer Academic Publisher, New York, pp 465–504

Rao SR, Tripathi U, Ravishanker GA (1999) Biotransformation of codeine to morphine in freely suspended cells and immobilized cultures of Spirulina platensis. World J Microbiol Biotechnol 15:465–469

Rathbone DA, Bruce NC (2002) Microbial transformation of alkaloids. Curr Opin Microbiol 5:274–281

Rathbone DA, Holt PJ, Lowe CR, Bruce NC (1997) Molecular analysis of the Rhodococcus sp. strain H1 her gene and characterization of its product, a heroin esterase, expressed in Escherichia coli. Appl Environ Microbiol 63:2062–2066

Sabzevari O, Abdi K, Amini M, Shafiee A (2004) Application of a simple and sensitive GC-MS method for determination of morphine in the hair of opium abusers. Anal Bionanl Chem 379:120–124

Sewell GJ, Soper CJ, Parfitt RT (1984) The screening of some microorganisms for their ability to N-dealkylate drug molecules. Appl Microbiol Biotechnol 19:247–251

Tabatabaei Yazdi M, Arabi H, Faramarzi MA, Ghasemi Y, Amini M, Shokravi S, Aziz Mohseni F (2004) Biotransformation of hydrocortisone by a natural isolate of Nostoc muscorum. Phytochemistry 65:2205–2209

Tamagnini P, Troshina O, Oxelfelt F, Salema R, Lindblad P (2002) Hydrogenase and hydrogen metabolism of cyanobacteria. Microbiol Mol Biol 66:1–20

Walker AJ, Bruce NC (2004) Combined biological and chemical catalysis in the preparation of oxycodone. Tetrehedron 60:561–568

Wasserscheid P (2007) Continuous reactions using ionic liquids as catalytic phase. J Ind Eng Chem 13:325–338

Wolk CP, Ernst A, Elhai J (1994) Heterocyst metabolism and development. In: Bryant DA (ed) The molecular biology of cyanobacteria. Kluwer Academic Publishers, Dordrecht, pp 769–823

Yamada M, Iizuka K, Okuda S, Asai T, Tsuda K (1962) Untersuchungen auf dem Gebiet der mikrobiologischen Umsetzung. XVII. Umwandlungvon Alkaloiden in der Morphin-reiche durch Trametes sanguinea. Chem Pharm Bull 10:981–984

Yamada M, Iizuka K, Okuda S, Asai T, Tsuda K (1963) Untersuchungen auf dem Gebiet der mikrobiologischen Umsetzung. XVIII. Umwandlung von Alkaloiden in der Morphin-reich durch Trametes sanguinea (3). Chem Pharm Bull 11:206–208

Zhang Q, Rich JO, Cotterill IC, Pantaleone DP, Michels PC (2005) 14-hydroxylation of opiates: catalytic direct autoxidation of codeinone to 14-hydroxycodeinone. J Am Chem Soc 127:7286–7287
Acknowledgments
This work was supported financially by grant number 88-01-33-8239 from Research Council of Tehran University of Medical Sciences & Health Services, Tehran, Iran. The helpful advice of Dr. Sina Adrangi (Tehran University of Medical Sciences, Tehran, Iran) is also acknowledged.
About this article
Cite this article
Niknam, S., Faramarzi, M.A., Abdi, K. et al. Bioconversion of codeine to semi-synthetic opiate derivatives by the cyanobacterium Nostoc muscorum . World J Microbiol Biotechnol 26, 119–123 (2010). https://doi.org/10.1007/s11274-009-0150-z
Received:

Accepted:

Published:

Issue Date:
Keywords
Nostoc muscorum

Biotransformation

Alkaloid

Codeine

Opiate derivatives