Abstract
Feruloyl esterases (FAEs) of a strain of Aspergillus niger (CFR 1105) grown in solid state (ssf) and submerged fermentations (smf) using wheat bran both as carbon source and inducer of the enzyme were studied. The feruloyl esterase activity was maximum after 4 days in solid state as well as in submerged fermentations (32.5 and 31.5 U/g dry weight of wheat bran respectively) and the enzyme titers were comparable. The specific activity was maximum on day 2 in ssf (12.8 U/mg protein) and it decreased thereafter, whereas specific activity was maximum on day 3 (11.7 U/mg protein) in smf and it remained constant up to 5 days. Two isoenzymes of feruloyl esterases were isolated and purified to homogeneity by conventional protein purification methods from the day 5 culture filtrate of A. niger grown in smf. On a DEAE-cellulose column, two enzyme activity peaks designated as FAE-1 and FAE-2 were eluted with 0.3 and 0.35 M NaCl, respectively. They were monomeric glycoproteins with approximate molecular weights of 50 kDa (FAE-1) and 55 kDa (FAE-2), respectively. FAE-1 showed a temperature optimum of 40°C whereas FAE-2 showed a wider temperature optimum of 40–50°C. FAE-1 and FAE-2 exhibited pH optima of 9 and 6, respectively, and both were stable over a pH range of 6–9. The ability of the enzyme to be active in alkaline pH may be advantageous in biotechnological applications.
This is a preview of subscription content, log in to check access.
Access options
Buy single article
Instant access to the full article PDF.
US$ 39.95
Price includes VAT for USA
Subscribe to journal
Immediate online access to all issues from 2019. Subscription will auto renew annually.
US$ 199
This is the net price. Taxes to be calculated in checkout.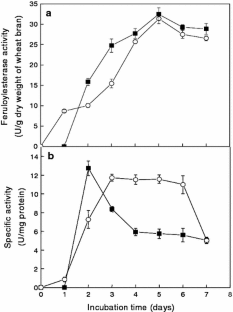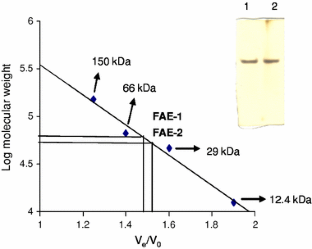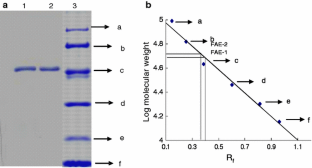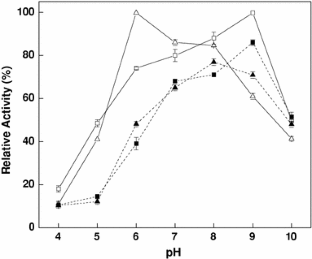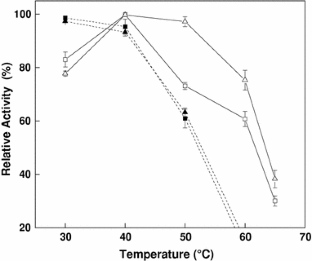 References
Asther M, Haon M, Roussos S, Record E, Delattre M, Lesage-Meessen L, Labat M, Asther M (2002) Feruloyl esterase from Aspergillus niger a comparison of the production in solid state and submerged fermentation. Process Biochem 38:685–691

Benoit I, Navarro D, Marnet N, Rakotomanomana N, Lesage-Meessen L, Sigoillot JC, Asther M, Asther M (2006) Feruloyl esterases as a tool for the release of phenolic compounds from agro-industrial by-products. Carbohydr Res 341:1820–1827

Borneman WS, Ljungdahl LG, Hartley RD, Akin DE (1992) Purification and partial characterization of two feruloyl esterases from the anaerobic fungus Neocallimastix strain MC-2. Appl Environ Microbiol 57:3762–3766

Brillouet JM, Joseleau JP (1987) Investigation of the structure of a heteroxylans from the outer pericarp (Beeswing bran) of wheat kernel. Carbohydr Res 159:109–126

De Vries RP, Michelsen B, Poulsen CH, Kroon PA, Van Den Heuvel RHH, Faulds CB, Williamson G, Van Den Hombergh JPTW, Visser J (1997) The faeA Genes from Aspergillus niger and Aspergillus tubingensis encode ferulic acid esterases involved in degradation of complex cell wall polysaccharides. Appl Environ Microbiol 63:4638–4644

De Vries RP, VanKuyk PA, Kester HCM, Visser J (2002) The Aspergillus niger faeB gene encodes a second feruloyl esterase involved in pectin and xylan degradation and is specifically induced in the presence of aromatic compounds. Biochem J 363:377–386

Donaghy J, McKay AM (1997) Purification and characterization of a feruloyl esterase from the fungus Penicillium expansum. J Appl Microbiol 83:718–726

Dubois M, Gilles KH, Hamilton JK, Rebers PA, Smith F (1956) Colorimetric method for determination of sugars and related substances. Anal Chem 28:350–356

Faulds CB, Williamson G (1993) Ferulic acid esterase from Aspergillus niger: purification and partial characterization of two forms from a commercial source of pectinase. Biotechnol Appl Biochem 17:349–359

Faulds CB, Williamson G (1994) Purification and characterization of a ferulic acid esterase (FAE-III) from Aspergillus niger: specificity for the phenolic moiety and binding to microcrystalline cellulose. Microbiology 140:779–787

Ferrer M, Golyshina OV, Chernikova TN, Khachane AN, Reyes-Duarte D, Vitor AP, Santos MD, Strompl C, Elborough K, Jarvis G, Neef A, Yakimov MM, Timmis KN, Golyshin PN (2005) Novel hydrolase diversity retrieved from a metagenome library of bovine rumen microflora. Environ Microbiol 7(12):1996–2010

Hartley RD, Jones EC (1977) Phenolic components and degradability of cell walls of grass and legume species. Phytochemistry 16:1531–1534

Hegde S, Kavitha S, Varadaraj MC, Muralikrishna G (2006) Degradation of cereal bran polysaccharide-phenolic acid complexes by Aspergillus niger CFR1105. Food Chem 96:14–19

Hegde S, Srinivas P, Muralikrishna G (2009) Single step synthesis of 4-nitrophenyl ferulate for spectrophotometric assay of feruloyl esterases. Anal Biochem 387:128–129

Kavitha S, Hegde S, Muralikrishna G, Varadaraj MC, Rati Rao E (2005) Starch and cell wall degrading enzymes from fungal organisms grown on cereal and millet brans. Eur Food Res Technol 220:560–564

Koseki T, Furuse S, Iwano K, Matsuzawa H (1998) Purification and characterization of a feruloyl esterase from Aspergillus awamori. Biosci Biotechnol Biochem 62:2032–2034

Kroon PA, Faulds CB, Williamson G (1996) Purification and characterization of a novel esterase induced by growth of Aspergillus niger on sugar-beet pulp. Biotechnol Appl Biochem 23:255–262

Laemmli UK (1970) Cleavage of structural proteins during the assembly of the head of bacteriophage T4. Nature 227:680–685

Latha GM, Srinivas P, Muralikrishna G (2007) Purification and characterization of ferulic acid esterase from malted fingermillet (Eleusine coracana, Indaf-15). J Agric Food Chem 55:9704–9712

McCrae SL, Leith KM, Gordon AH, Wood TM (1994) Xylan degrading enzyme system produced by the fungus Aspergillus awamori : Isolation and characterization of a feruloyl esterase and a p-coumaroyl esterase. Enzyme Microb Technol 16:826–834

Mueller-Harvely I, Hartley RD, Harris PJ, Curzon EH (1986) Linkage of p-coumaroyl and feruloyl groups to cell wall polysaccharides of barley straw. Carbohydr Res 148(2):71–85

Rademacher TW, Parekh RB, Dwek RA (1988) Glycobiology. Annu Rev Biochem 57:785–838

Rumbold K, Biely P, Mastihubova M, Gudeli M, Gubitz G, Robra KH, Bernard A (2003) Prior purification and properties of a feruloyl esterase involved in lignocellulose degradation by Aureobasidium pullulans. Appl Environ Microbiol 69:5622–5626

Shin HD, Chen RR (2006) Production and characterization of a type B feruloyl esterase from Fusarium proliferatum NRRL 26517. Enzyme Microb Technol 38:478–485

Topakas E, Christakopoulos P (2004) Production and partial characterization of alkaline feruloyl esterases by Fusarium oxysporum during submerged batch cultivation. World J Microbiol Biotechnol 20:245–250

Topakas E, Kalogeris E, Kekos D, Macris BJ, Christakopoulos P (2003a) Production and partial characterization of feruloyl esterase by Sporotrichum thermophile in solid-state fermentation. Process Biochem 38:1539–1543

Topakas E, Stamatis H, Biely P, Kekos D, Macris BJ, Christakopoulos P (2003b) Purification and characterization of a feruloyl esterase from Fusarium oxysporum catalyzing esterification of phenolic acids in ternary water/organic solvent mixtures. J Biotechnol 102:33–44

Topakas E, Vafiadi C, Christakopoulos P (2007) Microbial production, characterization and applications of feruloyl esterases. Process Biochem 42:497–509

Wray W, Boulikas T, Wray VP, Hancock R (1981) Silver staining of proteins in polyacrylamide gels. Anal Biochem 118:197–203

Zacharius RM, Zell TE (1969) Glycoprotein staining following electrophoresis on acrylamide gels. Anal Biochem 30:148–152
Acknowledgments
We thank Dr. V. Prakash, F.R.Sc., Director CFTRI for his constant support and encouragement and also thank Dr. M. C. Varadaraj Head, Human Resource Development, CFTRI for providing laboratory facilities for microbiological experiments. SH thanks Council of Scientific & Industrial Research, New Delhi, India for the grant of Senior Research Fellowship.
About this article
Cite this article
Hegde, S., Muralikrishna, G. Isolation and partial characterization of alkaline feruloyl esterases from Aspergillus niger CFR 1105 grown on wheat bran. World J Microbiol Biotechnol 25, 1963–1969 (2009). https://doi.org/10.1007/s11274-009-0095-2
Received:

Accepted:

Published:

Issue Date:
Keywords
Solid state fermentation

Submerged fermentation

Aspergillus niger CFR 1105

Feruloyl esterase

Wheat bran