Abstract
In a screening program for isolation of thermophilic lipase-producing bacteria, a number of thermophilic bacteria were isolated from desert soil from Baltim, Egypt. Among 55 isolates, a potent bacterial candidate (starin-5) was characterized and identified by biochemical and PCR techniques, based on 16S rRNA sequencing. Phylogenetic analysis revealed its closeness to geobacilli especially the thermophilic Geobacillus stearothermophilus with optimal growth and lipolytic enzyme activity at 60°C and pH 7.0. An inducible nature of lipolytic enzyme synthesis using glycerol and glucose was demonstrated. Approximately, 94–100% of the original activity was retained due to thermal stability of the crude enzyme after heat treatment for 15 min at 30–60°C. The enzyme retained 84.84% of its original activity during incubation at 70°C (pH 8.0) for 15 min. Lipase enzyme from G. stearothermophilus strain-5 was immobilized on various carriers and the most suitable carrier was chitin that showed 73.03% of activity yield.
This is a preview of subscription content, log in to check access.
Access options
Buy single article
Instant access to the full article PDF.
US$ 39.95
Price includes VAT for USA
Subscribe to journal
Immediate online access to all issues from 2019. Subscription will auto renew annually.
US$ 199
This is the net price. Taxes to be calculated in checkout.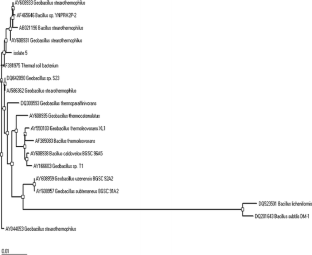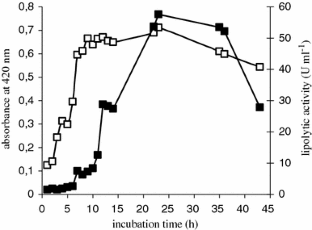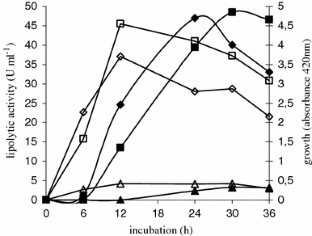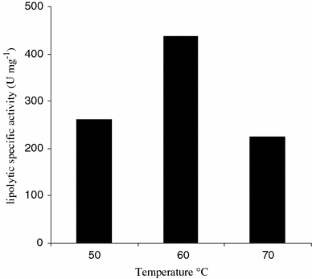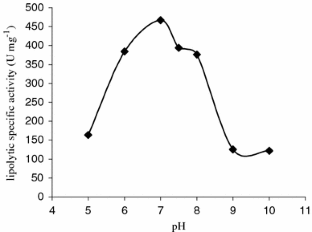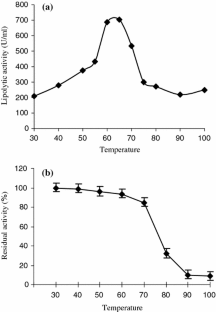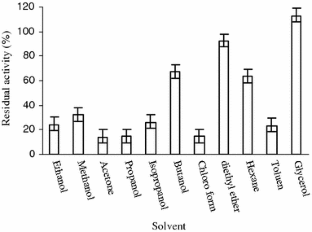 References
Abdel-Fattah YR (2002) Optimization of thermostable lipase production from a thermophilic Geobacillus sp. using Box–Behnken experimental design. Biotechnol Lett 24:1217–1222. doi:10.1023/A:1016167416712

Abdel-Fattah Y, Soliman N, Gaballa A, Sabry S, El-Diwani A (2002) Lipase production from a thermophilic Bacillus sp.: application of Plackett–Burman design for evaluating culture conditions affecting enzyme formation. Acta Microbiol Pol 51:353–366

Becker P, Abu-Reesh I, Markossian S, Antranikian G, Markl H (1997) Determination of the kinetic parameters during continuous cultivation of the lipase-producing thermophile Bacillus sp. IHI-91 on olive oil. Appl Microbiol Biotechnol 48:184–190. doi:10.1007/s002530051036

Bernhard K, Schrempf H, Goebel W (1978) Bacteriocin and antibiotic resistance plasmids in Bacillus cereus and Bacillus subtilis. J Bacteriol 133:897–903

Bradford MM (1976) A rapid and sensitive for the quantitation of microgram quantities of protein utilizing the principle of protein-dye binding. Anal Biochem 72:248–254. doi:10.1016/0003-2697(76)90527-3

Dominguez A, Sanroman A, Fuciños P, R'ua ML, Pastrana L, Longo MA (2004) Quantification of intra- and extra-cellular thermophilic lipase/esterase production by Thermus sp. Biotechnol Lett 26:705–708. doi:10.1023/B:BILE.0000024092.27943.75

Dominguez A, Pastrana L, Longo MA, Rua ML, Sanroman MA (2005) Lipolytic enzyme production by Thermus thermophilus HB27 in a stirred tank bioreactor. Biochem Eng J 26:95–99. doi:10.1016/j.bej.2005.04.006

Dosanjh NS, Kaur J (2002) Immobilization, stability and esterification studies of a lipase from a Bacillus sp. Biotechnol Appl Biochem 36:7–12. doi:10.1042/BA20010070

Eltaweel M, Rahman RNZRA, Salleh AB, Basri M (2005) An organic solvent-stable lipase from Bacillus sp. strain 42. Ann Microbiol 55:187–192

Gupta R, Gupta N, Rathi P (2004a) Bacterial lipases: an overview of production, purification and biochemical properties. Appl Microbiol Biotechnol 64:763–781. doi:10.1007/s00253-004-1568-8

Gupta N, Mehra G, Gupta R (2004b) A glycerol-inducible thermostable lipase from Bacillus sp.: medium optimization by a Plackett–Burman design and by response surface methodology. Can J Microbiol 50:361–368. doi:10.1139/w04-022

Haki GD, Rakshit SK (2003) Developments in industrially important thermostable enzymes: a review. Bioresour Technol 89:17–34. doi:10.1016/S0960-8524(03)00033-6

Kambourova M, Kirilova N, Mandeva DerekovaRA (2003) Purification and properties of thermostable lipase from a thermophilic Bacillus stearothermophilus MC 7. J Mol Catal B Enzym 22:307–313. doi:10.1016/S1381-1177(03)00045-6

Lee DW, Koh YS, Kim K, Kim B, Choi H, Kim D, Suhartono M, Pyun Y (1999) Isolation and characterization of a thermophilic lipase from Bacillus thermoleovorans ID-1. FEMS Microbiol Lett 179:393–400. doi:10.1111/j.1574-6968.1999.tb08754.x

Li H, Zhang X (2005) Characterization of thermostable lipase thermophilic Geobacillus sp. TW1. Protein Expr Purif 42:153–159. doi:10.1016/j.pep.2005.03.011

Nawani N, Kaur J (2000) Purification, characterization and thermostability of lipase from a thermophilic Bacillus sp. J33. Mol Cell Biochem 206:91–96. doi:10.1023/A:1007047328301

Nawani N, Khurana J, Kaur J (2006) A thermostable lipolytic enzyme from a thermophilic Bacillus sp.: purification and characterization. Mol Cell Biochem 290:17–22. doi:10.1007/s11010-005-9076-4

Schmidt-Dannert C, Sztajer H, Stocklein W, Menge U, Schmid RD (1994) Screening, purification and properties of a thermophilic lipase from Bacillus thermocatenulatus. Biochim Biophys Acta 1214:43–53

Sharma R, Soni SK, Vohra RM, Gupta LK, Gupta JK (2002) Purification and characterisation of a thermostable alkaline lipase from a new thermophilic Bacillus sp. RSJ-1. Process Biochem 37:1075–1084. doi:10.1016/S0032-9592(01)00316-8

Soliman NA, Knoll M, Abdel-Fattah YR, Schmid RD, Lange S (2007) Molecular cloning and characterization of thermostable esterase and lipase from Geobacillus thermoleovorans YN isolated from desert soil in Egypt. Process Biochem 42:1090–1100. doi:10.1016/j.procbio.2007.05.005

Vorderwuelbecke T, Kieslich K, Erdmann H (1992) Comparison of lipases by different assays. Enzyme Microb Technol 14:631–639. doi:10.1016/0141-0229(92)90038-P

Wang Y, Srivastava KC, Shen GJ, Wang HY (1995) Thermostable alkaline lipase from a newly isolated thermophilic Bacillus, strain A30-1 (ATCC 53841). J Ferment Bioeng 79:433–438. doi:10.1016/0922-338X(95)91257-6

Ye P, Xu ZK, Che AF, Wu J, Seta P (2005) Chitosan-tethered poly (acrylonitrile-co-maleic acid) hollow fiber membrane for lipase immobilization. Biomaterials 26:6394–6403. doi:10.1016/j.biomaterials.2005.04.019

Zaghloul TI, Kawamura F, Doi R (1985) Translational coupling in Bacillus subtilis of a heterologous Bacillus subtilis-Escherichia coli gene fusion. J Bacteriol 164:550–555
Acknowledgment
M. Sifour is very grateful to the "Ministry of Higher Education and Scientific Research of Algeria" for its financial support.
About this article
Cite this article
Berekaa, M.M., Zaghloul, T.I., Abdel-Fattah, Y.R. et al. Production of a novel glycerol-inducible lipase from thermophilic Geobacillus stearothermophilus strain-5. World J Microbiol Biotechnol 25, 287–294 (2009). https://doi.org/10.1007/s11274-008-9891-3
Received:

Accepted:

Published:

Issue Date:
Keywords
Geobacillus stearothermophilus

Immobilization

Production of lipase

Thermostable lipase