Abstract
Studies were carried out to define the relation between enzyme production and fungal sporulation, in solid-state cultivation conditions of the filamentous fungus Aspergillus oryzae NRRL 2217 to get information on possible links between metabolite synthesis and differentiation phenomena. The efforts taken to explore the possibility for the presence of a neutral protease inside the spores of this fungus was to increase the overall enzyme yield. Results showed that the production of enzyme (neutral protease) and biomass (total protein) were synchronised, both reaching their respective maximum levels at 48 h of fermentation, and decreasing thereafter. Neutral protease synthesis was not related to sporulation. The spores produced were subjected to various permeabilisation procedures, and the increase in the levels of neutral protease was monitored. Mechanical shear was the sole technique that was able to disrupt spores but even this failed to increase enzyme titres, confirming the absence of intra-spore proteases.
This is a preview of subscription content, log in to check access.
Access options
Buy single article
Instant access to the full article PDF.
US$ 39.95
Price includes VAT for USA
Subscribe to journal
Immediate online access to all issues from 2019. Subscription will auto renew annually.
US$ 199
This is the net price. Taxes to be calculated in checkout.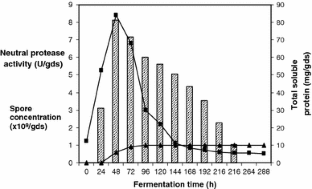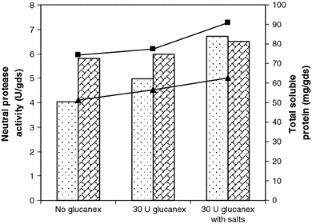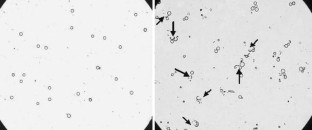 References
Bartnicki-Garcia S (1968) Cell wall chemistry, morphogenesis, and taxonomy of fungi. Annu Rev Microbiol 22:87–108. doi:10.1146/annurev.mi.22.100168.000511

Bloomfield BJ, Alexander M (1967) Melanins and resistance of fungus to lysis. J Bacteriol 93:1276–1280

Böing JTP (1982) Enzyme production. In: Reed G (ed) Prescott and Dunn's industrial microbiology, 4th edn. The AVI publishing company, Inc., USA, p 647

Calvo AM, Wilson RA, Bok JW, Keller NP (2002) Relationship between secondary metabolism and fungal development. Microbiol Mol Biol Rev 66:447–459. doi:10.1128/MMBR.66.3.447-459.2002

Chisti Y, Moo-Young M (1986) Disruption of microbial cells for intracellular products. Enzyme Microb Technol 8:194–204. doi:10.1016/0141-0229(86)90087-6

de Sampaïo G, Bourdineaud J-P, Lauquin G (1999) Constitutive role for GPI anchors in Saccharomyces cerevisiae: cell wall targeting. Mol Microbiol 34:247–256. doi:10.1046/j.1365-2958.1999.01585.x

Demain AL, Velasco J, Adrio JL (2005) Industrial mycology: past, present, and future. In: An Z (ed) Handbook of industrial mycology. Marcel Dekker, New York, pp 3, 6–7

Fincham JRS (1989) Transformation in fungi. Microbiol Rev 53:148–170

Hölker U, Höfer M, Lenz J (2004) Biotechnological advances of laboratory-scale solid-state fermentation with fungi. Appl Microbiol Biotechnol 64:175–186. doi:10.1007/s00253-003-1504-3

Johnston IR (1965) The composition of the cell wall of Aspergillus niger. Biochem J 96:651–658

Keay L, Wildi BS (1970) Proteases of genus Bacillus. I. Neutral proteases. Biotechnol Bioeng 12:179–212. doi:10.1002/bit.260120205

Kelemen MV, Sharpe JEE (1979) Controlled cell disruption: a comparison of the forces required to disrupt different microorganisms. J Cell Sci 35:431–441

Larroche C, Besson I, Gros JB (1994) Behavior of spores of Penicillium roquefortii during fed-batch bioconversion of octanoic acid into 2-heptanone. Biotechnol Bioeng 44:699–709. doi:10.1002/bit.260440606

Lateef A, Oloke JK, Prapulla SG (2007) The effect of ultrasonication on the release of fructosyltransferase from Aureobasidium pullulans CFR 77. Enzyme Microb Technol 40:1067–1070. doi:10.1016/j.enzmictec.2006.08.008

Lowry OH, Rosebrough NJ, Farr AL, Randall RJ (1951) Protein measurement with folin phenol reagent. J Biol Chem 193:265–275

Moksia J, Larroche C, Gros J-B (1996) Gluconate production by spores of Aspergillus niger. Biotechnol Lett 18:1025–1103. doi:10.1007/BF00129725

Pandey A (2003) Solid-state fermentation. Biochem Eng J 13:81–84. doi:10.1016/S1369-703X(02)00121-3

Prakasham RS, Ch Subba Rao, Sarma PN (2006) Green gram husk—an inexpensive substrate for alkaline protease production by Bacillus sp. in solid-state fermentation. Bioresour Technol 97:1449–1454. doi:10.1016/j.biortech.2005.07.015

Ramachandran S, Fontanille P, Pandey A, Larroche C (2007) Spores of Aspergillus niger as reservoir of glucose oxidase synthesised during solid-state fermentation and their use as catalyst in gluconic acid production. Lett Appl Microbiol 44:155–160. doi:10.1111/j.1472-765X.2006.02051.x

Rao MB, Tanksale AM, Ghatge MS, Deshpande V (1998) Molecular and biotechnological aspects of microbial proteases. Microbiol Mol Biol Rev 62:597–635

Salazar O, Asenjo JA (2007) Enzymatic lysis of microbial cells. Biotechnol Lett 29:985–994. doi:10.1007/s10529-007-9345-2

Sandhya C, Sumantha A, Pandey A (2004) Proteases. In: Pandey A, Webb C, Soccol CR, Larroche C (eds) Enzyme technology. Asiatech Publishers Inc., New Delhi, pp 312–325

Sandhya C, Sumantha A, Szakacs G, Pandey A (2005) Comparative evaluation of neutral protease production by Aspergillus oryzae in submerged and solid-state fermentation. Process Biochem 40:2689–2694. doi:10.1016/j.procbio.2004.12.001

Sumantha A, Sandhya C, Szakacs G, Soccol CR, Pandey A (2005) Production and partial purification of a neutral metalloprotease by fungal mixed substrate fermentation. Food Technol Biotechnol 43:313–319

Sumantha A, Larroche C, Pandey A (2006) Microbiology and industrial biotechnology of food-grade proteases: a perspective. Food Technol Biotechnol 244:211–220

Taubert J, Krings U, Berger RG (2000) A comparative study on the disintegration of filamentous fungi. J Microbiol Methods 42:225–232. doi:10.1016/S0167-7012(00)00194-9

Wolken WAM, Tramper J, van der Werf MJ (2003) What can spores do for us? Trends Biotechnol 21:338–345. doi:10.1016/S0167-7799(03)00170-7
Acknowledgements
Sumantha gratefully acknowledges a Senior Research Fellowship from the Council for Scientific and Industrial Research, India and the Eiffel PhD scholarship from the French Ministry of Foreign Affairs.
About this article
Cite this article
Sumantha, A., Fontanille, P., Larroche, C. et al. Exploration of fungal spores as a possible storehouse of proteolytic biocatalysts. World J Microbiol Biotechnol 24, 2897–2901 (2008). https://doi.org/10.1007/s11274-008-9829-9
Received:

Accepted:

Published:

Issue Date:
Keywords
Neutral protease

Aspergillus oryzae

Spore permeabilisation

Solid-state fermentation