Abstract
In this work, Lactobacillus plantarum BP04 was employed as starter culture in dining-hall food waste storage with different inoculant levels at 0, 2 and 10% (v/w) to suppress the outgrowth of pathogenic and spoilage bacteria. Inoculation by Lactobacillus plantarum BP04 was effective in accelerating pH drop and reducing the growth period of enterobacteria to 9, 7 and 2 days, corresponding to inoculant levels at 0, 2 and 10% (v/w). Increasing inoculum levels were found to inhibit the growth of Lactobacillus brevis and Leuconostoc lactis. HPLC analysis revealed that lactic acid was the predominant organic acid during the treatment of dining-hall food waste. Its concentration varied among the fermented processes reflecting variations of microbial activity in the fermented media.
This is a preview of subscription content, log in to check access.
Access options
Buy single article
Instant access to the full article PDF.
US$ 39.95
Price includes VAT for USA
Subscribe to journal
Immediate online access to all issues from 2019. Subscription will auto renew annually.
US$ 199
This is the net price. Taxes to be calculated in checkout.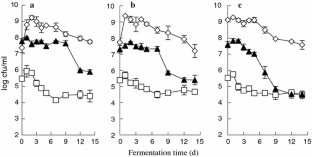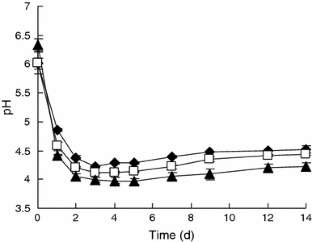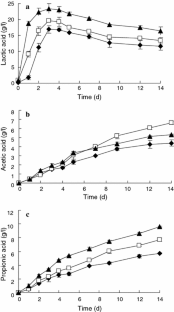 References
Alabi DA, Onibudol MZ, Amusa NA (2005) Chemicals and nutritional composition of four botanicals with fungitoxic properties. World J Agr Sci 1:84–88

Aukrust TW, Blom H, Sandtory BF, Slinde E (1994) Interactions between starter culture and raw material in lactic acid fermentation of sliced carrot. LWT-Food Sci Technol 27:337–341

Chorianopoulos NG, Boziaris IS, Stamatious A, Nychas GJE (2005) Microbial association and acidity development of unheated and pasteurized green-table olives fermented using glucose or sucrose supplements at various levels. Food Microbiol 22:117–124

Fu W, Mathews AP (1999) Lactic acid production from lactose by Lactobacillus plantarum: kinetic model and effects of pH, substrate, and oxygen. Biochem Eng J 3:163–170

Garrido-Fernández A, Fernández Diez MJ, Adams MR (1997) Table olives: production and processing. Chapman & Hall, London, pp 134–206

Han SK, Shin HS (2004) Biohydrogen production by anaerobic fermentation of food waste. Int J Hydrogen Energy 29:569–577

Hao G, Zhang Q, Zhao Y (2006) Upgrading Shanghai refuse management system by containerization water way transportation and integrated treatment. Chin J Environ Pollut Control 28:834–836

Hugh R, Leifson E (1953) The taxonomic significance of fermentative versus oxidative metabolism of carbohydrates by various gram negative bacteria. J Bacteriol 66:24–26

Kim K, Kim WK, Seo DK, Yoo IS, Kim EK, Yoon HH (2003) Production of lactic acid from food waste. Appl Biochem Biotechnol 105:637–647

Klaenhammer T, Altermann E, Arigoni F et al (2002) Discovering lactic acid bacteria by genomics. Antonie van Leeuwenhoek 82:29–58

Kunene NF, Geonaras I, Alexander VH, Hastings JW (2000) Characterization and determination of origin of lactic acid bacteria from sorghum-based fermented weaning foods by analysis of soluble and amplified fragment length polymorphism fingerprinting. Appl Environ Microbiol 66:1084–1092

Lee JY, Kim CJ, Kunz B (2006) Identification of lactic acid bacteria isolated from kimchi and studies on their suitability for application as starter culture in the production of fermented sausages. Meat Sci 72:437–445

Mante ES, Sakyi-Dawson E, Amoa-Awua WK (2003) Antimicrobial interaction of microbial species involved in the fermentation of cassava dough into agbelima with particular reference to the inhibitory effect of lactic bacteria on enteric pathogens. Int J Food Microbiol 89:41–50

Meeske R, Basson HM, Cruywagen CW (1999) The effect of a lactic acid bacterial inoculant with enzyme on the fermentation dynamics, intake and digestibility of Digitaria eriantha silage. Anim Feed Sci Technol 81:237–248

Montano A, de Castro A, Rejano L, Sachez AH (1992) Analysis of zapatera olives by gas and high-performance liquid chromatography. J Chromatogr A 594:259–267

Mugula JK, Narvhus JA, Sorhaug T (2003) Use of starter cultures of lactic acid bacteria and yeasts in the preparation of togwa, a Tanzanian fermented food. Int J Food Microbiol 83:307–318

Muyanja CMBK, Narvhus JA, Treimo J, Langsrud T (2003) Isolation, characterisation and identification of lactic acid bacteria from bushera: a Ugandan traditional fermented beverage. Int J Food Microbiol 80:201–210

Nguyen TTT, Loiseau G, Christele IV, Rochette I, Treche S, Guyot JP (2007) Effect of fermentation by amylolytic lactic acid bacteria, in process combinations, on characteristics of rice/soybean slurries: a new method for preparing high energy density complementary foods for young children. Food Chem 100:623–631

Olasupo NA, Olukoya DK, Odunfa SA (1997) Identification of Lactobacillus species associated with selected African fermented foods. Z Naturforsch (C) 52:105–108

Oyewole OB, Odunfa SA (1990) Characterization and distribution of lactic acid bacteria in cassava fermentation during fufu production. J Appl Bacteriol 68:145–152

Palles T, Beresford T, Condon S, Cogan TM (1998) Citrate metabolism in Lactobacillus casei and Lactobacillus plantarum. J Appl Microbiol 85:147–154

Panagou EZ, Tassou CC (2006) Changes in volatile compounds and related biochemical profile during controlled fermentation of cv. Conservolea green olives. Food Microbiol 23:738–746

Panagou EZ, Tassou CC, Katsaboxakis CZ (2003) Induced lactic acid fermentation of untreated green olives of the Conservolea cultivar by Lactobacillus pentosus. J Sci Food Agric 83:667–674

Sajur SA, Saguir FM, Manca de Nadra MC (2007) Effect of dominant specie of lactic acid bacteria from tomato on natural microflora development in tomato purée. Food Control 18:594–600

Sakai K, Taniguchi M, Miura S, Ohara H, Matsumoto T, Shirai Y (2004) Making plastics from garbage: a novel process for poly-lactate production from municipal food waste. J Ind Ecol 7:63–74

Spyropoulou KE, Chorianopoulos NG, Skandamis PN, Nychas GJE (2001) Survival of Escherichia coli O157:H7 during the fermentation of Spanish-style table olives (conservolea variety) supplemented with different carbon sources. Int J Food Microbiol 66:3–11

Sreenath HK, Moldes AB, Koegel RG, Straub RJ (2001) Lactic acid production from agriculture residues. Biotechnol Lett 23:179–184

Tong WY, Fu XY, Lee SM, Yu J, Liu JW, Wei DZ, Koo YM (2004) Purification of l(+)-lactic acid from fermentation broth with paper sludge as a cellulosic feedstock using weak anion exchanger Amberlite IRA-92. Biochem Eng J 18:89–96

Wang Q, Narita JY, Ren N, Fukushima T, Ohsumi Y, Kusano K, Shirai Y, Ogawa H (2003) Effect of pH adjustment on preservation of kitchen waste used for producing lactic acid. Water Air Soil Pollut 144:405–418

Wang Q, Yamabe K, Narita J, Morishita M, Ohsumi Y, Kusano K, Shirai Y, Ogawa HI (2001) Suppression of growth of putrefactive and food poisoning bacteria by lactic acid fermentation of kitchen waste. Process Biochem 37:351–357

Vereecken KM, van Impe JF (2002) Analysis and practical implementation of a model for combined growth and metabolite production of lactic acid bacteria. Int J Food Microbiol 73:239–250

Vereecken KM, Devlieghere F, Bockstaele A, Debevere J, Van Impe JF (2003) A model for lactic acid-induced inhibition of Yersinia enterocolitica in mono-and coculture with Lactobacillus sakei. Food Microbiol 20:701–713
Acknowledgements
The authors thank Dr. Bo Zhang and Jiehong Zhao for helpful advice, and the Instrumental Analysis Center of SJTU for technical assistance.
About this article
Cite this article
Ye, Z., Zheng, Y., Li, Y. et al. Use of starter culture of Lactobacillus plantarum BP04 in the preservation of dining-hall food waste. World J Microbiol Biotechnol 24, 2249–2256 (2008). https://doi.org/10.1007/s11274-008-9737-z
Received:

Accepted:

Published:

Issue Date:
Keywords
Food waste

Lactic acid

Lactobacillus plantarum
Leuconostoc

Preservation

Starter culture