Summary
The characteristics of bioflocculant MBF3-3 produced by Bacillus sp. BF3-3 were investigated here. MBF3-3 showed excellent flocculating activity on real and synthetic wastewaters, and consumed a much lower dosage than that of the widely used polyaluminum chloride (PAC) when flocculating brewery wastewater. Except Fe3+, metal ions, including Al3+, Mg2+, Ca2+, K+ and Na+, can stimulate the flocculating activity of MBF3-3 obviously, and the stimulating effects increased in the order: monovalent < bivalent < trivalent. MBF3-3 was mainly composed of acidic polysaccharide (66.1%) and protein (29.3%), in which acidic polysaccharide was the main effective flocculating component. OH and COO– groups may play a vital role in the flocculation of suspended particles.
This is a preview of subscription content, log in to check access.
Access options
Buy single article
Instant access to the full article PDF.
US$ 39.95
Price includes VAT for USA
Subscribe to journal
Immediate online access to all issues from 2019. Subscription will auto renew annually.
US$ 199
This is the net price. Taxes to be calculated in checkout.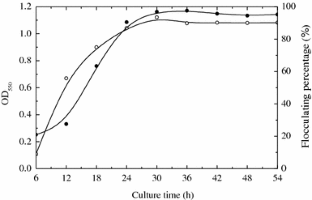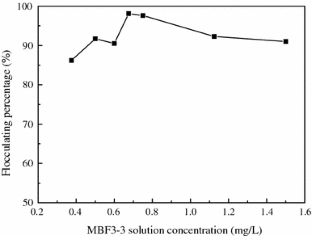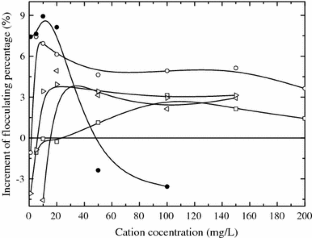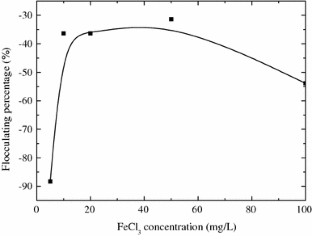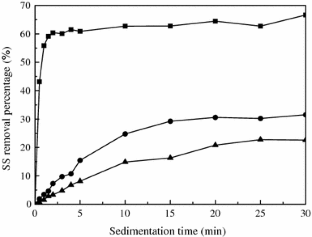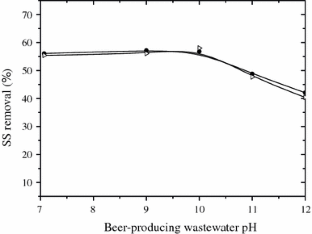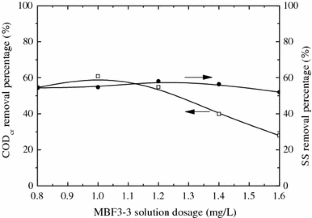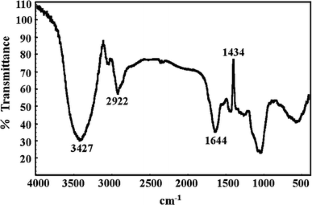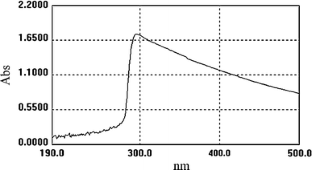 References
Crescenzi V (1995) Microbial polysaccharides of applied interest: ongoing research activities in Europe. Biotechnol Prog 11:251–259

Deng SB, Bai RB, Hu XM, Luo Q (2003) Characteristics of a bioflocculant produced by Bacillus mucilaginosus and its use in starch wastewater treatment. Appl Microbiol Biotechnol 60:588–593

Gao J, Bao HY, Xin MX, Liu YX, Li Q, Zhang YF (2006) Characterization of a bioflocculant from a newly isolated Vagococcus sp. W31. J Zhejiang Univ Sci B 7(3):186–192

Guan BH, Wu ZC, Xu GL, Chen XM (2001) Closed reflux spectrophotometric method for chemical oxygen demand test. J Zhejiang Univ Sci (Science Edition) 28(4):428–433

He N, Li Y, Chen J (2004) Production of a novel polygalacturonic acid bioflocculant REA-11 by Corynebacterium glutamicum. Bioresour Technol 94:99–105

Kurane R, Takeda K, Suzuki T (1986) Screening for and characteristics of microbial flocculants. Agric Biol Chem 50(9):2301–2307

Kurane R, Hatamochi K, Kakuno T, Kiyohara M, Hirono M, Taniguchi Y (1994) Production of a bioflocculant by Rhodococcus erythropolis S-1 grown on alcohols. Biosci Biotechnol Biochem 58:428–429

Lu WY, Zhang T, Zhang DY, Li CH, Wen JP, Du LX (2005) A novel bioflocculant produced by Enterobacter aerogenes and its use in defecating the trona suspension. Biochem Eng J 27:1–7

Nakata K, Kurane R (1999) Production of an extracellular polysaccharide bioflocculant by Klebsiella pneumoniae. Biosci Biotechnol Biochem 63:2064–2068

Salehizadeh H, Shojaosadati SA (2001) Extracellular biopolymeric flocculants: recent trends and biotechnological importance. Biotechnol Adv 19(5):371–385

Salehizadeh H, Shojaosadati SA (2002) Isolation and characterisation of a bioflocculant produced by Bacillus firmus. Biotechnol Lett 24:35–40

Shimofuruya H, Koide A, Shirota K, Tsuji T, Nakamura M, Suzuki J (1996) The production of flocculating substances by Streptomyces griseus. Biosci Biotechnol Biochem 60:498–500

Suh H, Kwon G, Lee C, Kim H, Oh H, Yoon B (1997) Characterization of bioflocculant produced by Bacillus sp. DP-152. J Ferment Bioeng 84:108–112

Wu JY, Ye HF (2007) Characterization and flocculating properties of an extracellular biopolymer produced from a Bacillus subtilis DYU1 isolate. Process Biochem 42:1114–1123

Yim JH, Kim SJ, Ahn SH, Lee HK (2007) Characterization of a novel bioflocculant, p-KG03, from a marine dinoflagellate, Gyrodinium impudicum KG03. Bioresour Technol 98:361–367

Yokoi H, Natsuda O, Hirose J, Hayashi S, Takasaki Y (1995) Characteristics of biopolymer flocculant produced by Bacillus sp. PY-90. J Ferment Bioeng 79:378–380

Yoon SH, Song JK, Go SJ, Ryu JC (1998) Production of biopolymer flocculant by Bacillus subtilis TB11. J Biosci Bioeng 8:606–612

Zhang J, Liu Z, Wang S, Jiang P (2002) Characterization of a bioflocculant produced by the marine myxobacterium Nannocystis sp. NU-2. Appl Microbiol Biotechnol 59:517–522
Acknowledgments
The authors want to acknowledge the contributions of X. Luo undergraduate students for assisting with the experiments.
About this article
Cite this article
Feng, D.L., Xu, S.H. Characterization of bioflocculant MBF3-3 produced by an isolated Bacillus sp.. World J Microbiol Biotechnol 24, 1627 (2008). https://doi.org/10.1007/s11274-008-9654-1
Received:

Accepted:

Published:
Keywords
Bioflocculant

Flocculating properties

Bacillus sp.