Abstract
Conjugative plasmids play a very important role in bacterial adaptation through the dissemination of useful traits. Incompatibility group P-1 (IncP-1) plasmids exhibit an extreme broad-host-range among Gram-negative bacteria and known to be one of the major agents to disseminate various phenotypic traits such as antibiotic resistance and xenobiotic degradation. Although the plasmids are believed to be very stable in most Gram-negative bacteria, little is known about the factors that affect their stability in various hosts, allowing their persistence in bacterial population. Here we show that the stability of the cryptic IncP-1β plasmid pBP136 differed greatly in four different Escherichia coli K12 host backgrounds (MG1655, DH5α, EC100, and JM109), whereas the closely related plasmid pB10 was stable in all four strains. The supply of the kleF gene, which is involved in the stability of IncP-1 plasmids but absent in pBP136, did not improve the stability of the plasmid. Our findings suggest that persistence of IncP-1 plasmids in the absence of selection is affected by strain-specific factors.
This is a preview of subscription content, log in to check access.
Access options
Buy single article
Instant access to the full article PDF.
US$ 39.95
Price includes VAT for USA
Subscribe to journal
Immediate online access to all issues from 2019. Subscription will auto renew annually.
US$ 199
This is the net price. Taxes to be calculated in checkout.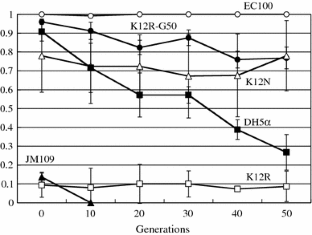 References
Adamczyk M, Jagura-Burdzy G (2003) Spread and survival of promiscuous IncP-1 plasmids. Acta Biochim Pol 50:425–453

Ausubel FM, Brent R, Kingston RE, Moore DD, Seidman JG, Smith JA, Struhl K (1988) Current protocols in molecular biology. Wiley, New York

De Gelder L, Ponciano JM, Joyce P, Top EM (2007) Stability of a promiscuous plasmid in different hosts: no guarantee for a long-term relationship. Microbiology 153:452–463

Frost LS, Leplae R, Summers AO, Toussaint A (2005) Mobile genetic elements: the agents of open source evolution. Nat Rev Microbiol 3:722–732

Funnel BE, Phillips GJ (2004) Plasmid biology. ASM Press, Washington, DC

Gogarten JP, Townsend JP (2005) Horizontal gene transfer, genome innovation and evolution. Nat Rev Microbiol 3:679–687

Kamachi K, Sota M, Tamai Y, Nagata N, Konda T, Inoue T, Top EM, Arakawa Y (2006) Plasmid pBP136 from Bordetella pertussis represents an ancestral form of IncP-1β plasmids without accessory mobile elements. Microbiology 152:3477–3484

Schlüter A, Heuer H, Szczepanowski R, Forney LJ, Thomas CM, Pühler A, Top EM (2003) The 64,508 bp IncP-1β antibiotic multiresistance plasmid pB10 isolated from a waste-water treatment plant provides evidence for recombination between members of different branches of the IncP-1β group. Microbiology 149:3139–3153

Schlüter A, Szczepanowski R, Pühler A, Top EM (2007) Genomics of IncP-1 antibiotic resistance plasmids isolated from wastewater treatment plants provides evidence for a widely accessible drug resistance gene pool. FEMS Microbiol Rev 31:449–477

Sota M, Tsuda M, Yano H, Suzuki H, Forney LJ, Top EM (2007) Region-specific insertion of transposons in combination with selection for high plasmid transferability and stability accounts for the structural similarity of IncP-1 plasmids. J Bacteriol 189:3901–3908

Sørensen SJ, Bailey M, Hansen LH, Kroer N, Wuertz S (2005) Studying plasmid horizontal transfer in situ: a critical review. Nat Rev Microbiol 3:700–710

Wilson JW, Sia EA, Figurski DH (1997) The kilE locus of promiscuous IncPα plasmid RK2 is required for stable maintenance in Pseudomonas aeruginosa. J Bacteriol 179:2339–2347
Acknowledgments
We thank Dr. K. Kamachi (National Institute for Infectious Diseases, Japan) for his kind gift of pBP136. This project was supported by NIH Grant Number P20 RR16448 from the Idaho COBRE Program of the National Center for Research Resources (NCRR).
About this article
Cite this article
Sota, M., Top, E.M. Host-specific factors determine the persistence of IncP-1 plasmids. World J Microbiol Biotechnol 24, 1951–1954 (2008). https://doi.org/10.1007/s11274-008-9653-2
Received:

Accepted:

Published:

Issue Date:
Keywords
Adaptive evolution

Broad-host-range

Horizontal gene transfer

Host factor

IncP-1 plasmid

Plasmid stability