Abstract
In this study we have isolated and characterized yeasts from the soil, leaves and fruits of the indigenous Moroccan Argan tree (Argania spinosa) in two locations: the coastal city of Essaouira and a drier, more stressed environment in Taroudant city. Factorial and classification analyses of the metabolic profiles showed that the yeasts from the soil and those from the fruit seemed to form distinctive groups while those from the leaves were common to the two groups. Associating the profiles with yeast species, the soil isolates seemed to be dominated by profiles associated with basidiomycetous yeasts (Bullera variabilis, association to Filobasidium capsuligenum, and Rhodotorula glutinis) while those of the fruits were associated with ascomycetous yeasts (Pichia angusta and Zygoascus hellenicus). Most profile groups were shared between the leaves and one of the other biotopes owing to the semi-deciduous character of the Argan leaves that dominate in the rhizospheric soil and to the fibrous and low flesh fruits of Argan. Although most metabolic profile groups were represented in both sampling locations, certain groups were encountered only in Taroudant samples among which a group of four yeasts that grew at 44 °C. The Taroudant samples also presented the two most osmo-tolerant yeasts capable of growing at 15% NaCl and 125% sucrose. Some of the yeast strains showed very promising activities of polygalacturonase (0.40 units/g protein) without any pectinesterase activity while others strongly inhibited the gray rot mould Botrytis cinerea, and could be good candidates for the post-harvest control of this mould on fruits.
This is a preview of subscription content, log in to check access.
Access options
Buy single article
Instant access to the full article PDF.
US$ 39.95
Price includes VAT for USA
Subscribe to journal
Immediate online access to all issues from 2019. Subscription will auto renew annually.
US$ 199
This is the net price. Taxes to be calculated in checkout.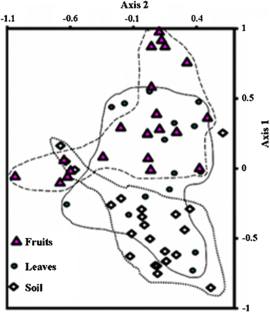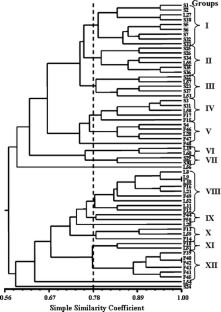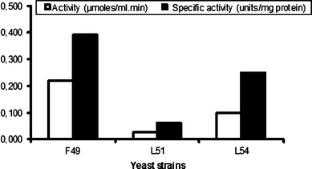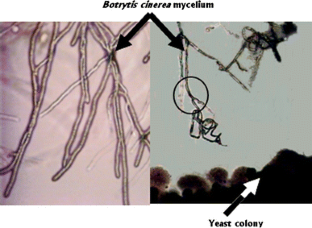 References
Abranches J, Starmer WT, Hagler AN (2001) Yeast–yeast interactions in guava and Tomato fruits. Microbial Ecol 42:186–192

Andrews JH, Kinkrl L, Berbee F, Nordheim E (1987) Fungi leaves and the theory of Island Biogeography. Microbial Ecol 14:277–290

Barnett JA, Payne R, Yarrow D (2000) Yeasts, characteristics and identification, 3rd edn. Cambridge Univ. Press, Cambridge, UK

Blanco P, Carmen S, Tomas G (1999) Production of pectic enzymes in yeasts. FEMS Microbiol Lett 175:1–9

Brysch-Herzberg M (2004) Ecology of yeast in plant–bumblebee mutualism in Central Europe. FEMS Microbiol Ecol 50:87–100

Butinar L, Santos S, Spencer-Martins I, Oren A, Gunde-Cimerman N (2005) Yeast diversity in hypersaline habitats. FEMS Microbiol Lett 244:229–234

Cruz-Guerrero A, Barzana E, Garcıa-Garibay M, Gomez-Ruiz L (1999) Dissolved oxygen threshold for the repression of endo-polygalacturonase production by Kluyveromyces marxianus. Process Biochem 34:621–624

Inàcio J, Pereira P, de Carvalho M, Amaral-Collaço MT, Spencer-Martins I (2002) Estimation and diversity of phylloplane Mycobiota on selected plants in a Mediterranean-type ecosystem in Portugal. Microbial Ecol 44:344–353

Inàcio J, Rodrigues M, Sobral P, Foseca À (2004) Characterization and classification of the phylloplane yeasts from Portugal related to the genus Taphrina and description of five novel Lalaria species. FEMS Yeast Res 4:541–555

Jager ES, Wehner FC, Korsten L (2001) Microbial ecology of the mango phylloplane. Microbial Ecol 42:201–207

Janisievicz WJ, Korsten L (2002) Biological control of postharvest diseases of fruits. Phytopathology 40:411–441

Kurtzman CP, Fell WJ (1998) The yeasts, a taxonomic study, 4th edn. Elsevier

Lachance A, Starmer T, Rosa C, Bowles J, Stuart J, Barker F, Janzen D (2000) Biogeography of the yeasts of ephemeral flowers and their insects. FEMS Yeast Res 1401:1–8

Lachance A, Klemens J, Bowles J, Janzen D (2001) The yeast community of sap fluxes of Costa Rican Maclura (Chlorophora) tinctoria and description of two new yeast species, Candida galis and Candida ortonii. FEMS Yeast Res 1:87–92

Lahav R, Fareleira P, Nejidat A, Abeliovich A (2002) The identification and characterization of osmo-tolerant yeast isolates from chemical wastewater evaporation ponds. Microbial Ecol 44:344–353

Las Heras-Vazquez F, Mingorance-Cazorla L, Clemente-Jimenez J, Rodriguez-Vico F (2003) Identification of yeast species from orange fruit and juice by RFLP and sequence analysis of the 5.8S rRNA gene and the two internal transcribed spacers. FEMS Yeast Res 3:3–9

Mc Cormack P, Wildman H, Jeffries O (1995) The influence of moisture on the suppression of Pseudomonas syringae by Aureobasidium pullulans on an artificial leaf surface. FEMS Microbiol Ecol 16:159–166

Middelhoven WJ (1997) Identity and biodegradative abilities of yeast isolated from plants growing in an arid climate. Anton Van Leeuw 72:81–89

Morais PB, Martins BM, Klaczko LB, Mendonça-Hagler LC, Hagler AN (1995) Yeast succession in the Amazon fruit Parahancornia amapa as resource partitioning among Drosophila spp. Appl Environ Microbiol 6(12):4251–4257

Postmaster A, Sivithamparan K, Turner D (1997) Enumeration and identity of microorganisms isolated from the surface of banana fruits at three developmental stages. Sci Horticult 69:189–197

Sree N, Sridhar M, Suresh K, Banat IM, Venkateswar Rao L (2000) Isolation of thermotolerant, osmotolerant, flocculating Saccharomyces cerevisiae for ethanol production. Bioresource Technol 72:43–46

Wang QM, Bai FY (2004) Four yeast species of the genus Sporobolomyces from plant leaves. FEMS Yeast Res 4:579–586

Wilkinson SC, Anderson JM (2001) Spatial patterns of soil microbial communities in a Norway spruce (Picea abies) plantation. Microbial Ecol 42:248–255
Acknowledgment
This work was supported by the NATO Grant LST.CLG.978577.
About this article
Cite this article
Ahansal, L., Ben Sassi, A., Martini, A. et al. Biodiversity of yeasts isolated from the indigenous forest of Argan (Argania spinosa (L.) Skeels) in Morocco. World J Microbiol Biotechnol 24, 777–782 (2008). https://doi.org/10.1007/s11274-007-9532-2
Received:

Accepted:

Published:

Issue Date:
Keywords
Argania spinosa

Biodiversity

Biological control

Botrytis cinerea

Pectinase production

Yeasts