Abstract
The capsid protein VP2 of canine parvovirus (CPV) was expressed in Escherichia coli using pMAL-c2x vector. After codon optimization, the mutant resulted in high-level expression of fusion protein. A simple procedure was used to purify fusion protein and remove endotoxin from fusion protein preparations. The fusion protein was antigenical similar to the native capsid protein as Western-blot assay performed with polyclonal antibodies obtained from dogs vaccinated with CPV. The immunogenicity of fusion protein was demonstrated in a vaccination experiment conducted with rabbits subcutaneously immunized. Rabbits vaccinated with fusion protein developed high titers of virus-specific antibodies response that neutralized CPV in vitro.
This is a preview of subscription content, log in to check access.
Access options
Buy single article
Instant access to the full article PDF.
US$ 39.95
Price includes VAT for USA
Subscribe to journal
Immediate online access to all issues from 2019. Subscription will auto renew annually.
US$ 199
This is the net price. Taxes to be calculated in checkout.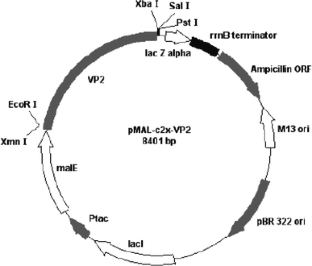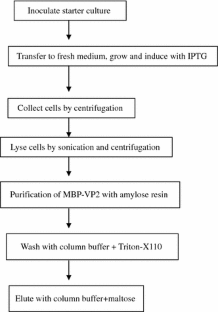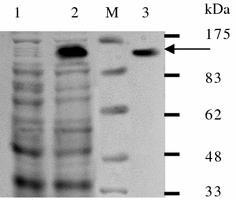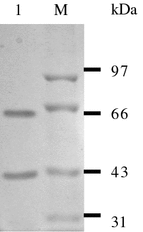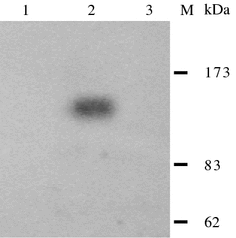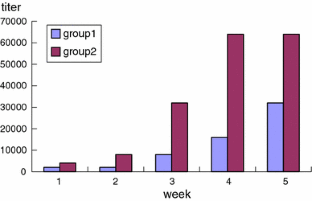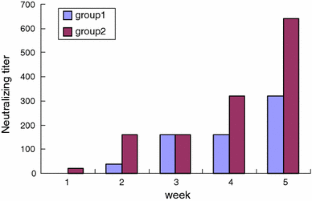 Abbreviations
IPTG:

Isopropyl-β- d-thiogalactopyranoside

MBP:

Maltose-binding protein

OPD:

Orthophenylenediamine

CPV:

Canine parvovirus
Reference
Andre S, Seed B et al (1998) Increased immune response elicited by DNA vaccination with a synthetic gp120 sequence with optimized codon usage. J Virol 72(2):1497–1503

Bjorndal B, Trave G et al (2003) Expression and purification of receptor for activated C-kinase 1 (RACK1). Protein Expr Purif 31:47–55

Bradel-Tretheway BG, et al (2003) Effect of codon-optimization on protein expression by the human herpesvirus 6 and 7 U51 open reading frame. J Virol Methods 111:145–156

Dalsgaard K, Uttentnal J et al (1997) Plant-derive vaccine protects target animals against a viral disease. Nat Biotechnol 15:248–252

Feher A, Boross P et al (2004) Expression of the murine leukemia virus protease in fusion with maltose-binding protein in Escherichia coli. Protein Expr Purif 35:62–68

Fernandez-Fernandez MR, Martinez-Torrecuadrada A et al (1998) Development of an antigen presentation system base on plum pox potyvirus. FEBS Lett 427:229–235

Gil F, Brun A et al (2001) High-yield expressin of a viral peptide vaccine in transgenic plants. FEBS Lett 488:13–17

Langeveld JPM, Ignacio Casal J et al (1994) First peptide vaccine providing protection against viral infection in the target animal: studies of canine parvovirus in dogs. J Virol 68:4506–4513

Langeveld JPM, Martinez-Torrecuadrada J et al (2001a) Characterisation of a protective linear B cell epitope against feline parvovirus. Vaccine 19:2352–2360

Langeveld JPM, Brennan FR et al (2001b) Inactivated recombinant plant virus protects dogs from a lethal challenge with canine parvovirus. Vaccine 19:3661–3670

Liu S, Tobias R et al (1997) Removal of endotoxin from recombinant protein preparations. Clin Biochem 30:455–463

Lo'pez de Turiso JA, Corte's E, Martinez C, Ruiz de Ibanez R, Simarro I, Vela C, Casal JI (1992) Recombinant vaccine for canine parvovirus in dogs. J Virol 66:2748–2753

Marcipar IS, Olivares ML et al (2004) The diagnostic performance of recombinant Trypanosoma cruzi ribosomal P2 protein is influenced by its expression system. Protein Expr Purif 34:1–7

Molina A, Hervas-Stubbs LM et al (2004) High-yield expression of a viral peptide animal vaccine in transgenic tobacco chloroplasts. Plant Biotechnol J 2:141–153

Molina A, Veramendi J, Hervas-Stubbs S (2005) Induction of neutralizing antibodies by a tobacco chloroplast-derived vaccine based on a B cell epitope from canine parvovirus. Virology 342:266–275

Salek-Ardakani S, Stuart AD et al (2001) High level expression and purification of the Esptein-Barr virus encoded cytokine viral interleukin 10:efficient removal of endotoxin. Cytokine 17:1–13

Tsao J, Chapman MS et al (1991) The three-dimensional structure of canine parvovirus and its functional implications. Science 251:1456–1464

Turiso JAL, Cortes E, Ranz A, et al (1991) Fine mapping of canine parvovirus B cell epitopes. J Gen Virol 72:2445–2456

Yeung W, Fuan L (2000) Assessment of the clinical efficacy of various canine parvovirus vaccines, GuangDong. J Anim Vet Sci 25:18–21

Yeung W, Fuan L (2001) Canine gene vaccine and canine antibiotic resistance, GuangDong. J Anim Vet Sci 26:31–32

Yeung W (Yang Dewei), Fanquan Z, Fuan L, Xun WP (2005) Pathology follow-up by antibiotic resistance resulting from gene vaccine usage. Postdoctoral forum of Guangzhou Traditional Chinese Medicine University pp 10–15

Zhao SL, Liang CY et al (2005) Characterization of the RNA-binding domain in the Dendrolimus Punctutas cytoplasmic polyhedrosis virus nonstructural protein p44. Virus Res 114:80–88
Acknowledgments
The authors thank the assistance of researchers involved in the development of this work. This study was funded by the National High Technology Research & Development Program of China (863 Program) (2002AA624010) and Key Science & Technology Program of Guangdong Province of China (2003A3050402).
About this article
Cite this article
Zeng, F., Yeung, W., Lu, Y. et al. Expression, purification, and characterization of VP2 capsid protein of canine parvovirus in Escherichia coli . World J Microbiol Biotechnol 24, 457–463 (2008). https://doi.org/10.1007/s11274-007-9493-5
Received:

Accepted:

Published:

Issue Date:
Keywords
Canine parvovirus

Expression

Optimization

pMAL-c2x vector

VP2 protein