Abstract
The domestic and industrial wastes from approximately 8 million residents are discharged to the Rio-Bogotá river. This study demonstrates the reductive dehalogenation of 2,4,6-trichlorophenol by Rio-Bogotá sediments and that the addition of an external carbon source can stimulate the process in microcosms.
This is a preview of subscription content, log in to check access.
Access options
Buy single article
Instant access to the full article PDF.
US$ 39.95
Price includes VAT for USA
Subscribe to journal
Immediate online access to all issues from 2019. Subscription will auto renew annually.
US$ 199
This is the net price. Taxes to be calculated in checkout.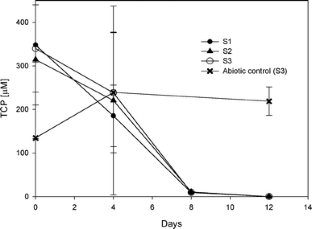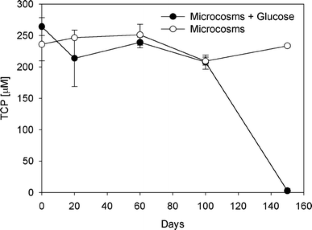 References
Arbeli Z, Ronen Z (2003) Enrichment of a microbial culture capable of reductive debromination of the flame retardant tetrabromobisphenol-A, and identification of the intermediate metabolites produced in the process. Biodegradation 14:385–395

Grotenhuis JTC, Smit M, Plugge CM, Yuansheng X, van Lammeren AAM, Stams AJM, Zehnder AJB (1991) Bacteriological composition and structure of granular sludge adapted to different substrates. Appl Environ Microbiol 57:1942–1949

Smidt H, de Vos WM (2004) Anaerobic microbial dehalogenation. Ann Rev Microbiol 58:43–73
Acknowledgment
This work was supported by the División de Investigación, Universidad Nacional de Colombia, Sede Bogotá (DIB). We are grateful to Matilde Nino-Murcia and Bernard Dutka for their critical and helpful comments on the manuscript.
About this article
Cite this article
Gracía-Chaves, M.C., Arbeli, Z., Plazas, E.C. et al. Reductive dehalogenation of trichlorophenol in sediment from Rio-Bogotá, Colombia: the potential for intrinsic bioremediation and biostimulation. World J Microbiol Biotechnol 23, 1493–1495 (2007). https://doi.org/10.1007/s11274-007-9382-y
Received:

Accepted:

Published:

Issue Date:
Keywords
Colombia

Reductive dehalogenation

Rio Bogota 2,4,6-trichlorophenol