Abstract
Sulfonated azo dyes were decolorized by two wild type photosynthetic bacterial (PSB) strains (Rhodobacter sphaeroides AS1.1737 and Rhodopseudomonas palustris AS1.2352) and a recombinant strain (Escherichia coli YB). The effects of environmental factors (dissolved oxygen, pH and temperature) on decolorization were investigated. All the strains could decolorize azo dye up to 900 mg l−1, and the correlations between the specific decolorization rate and dye concentration could be described by Michaelis–Menten kinetics. Repeated batch operations were performed to study the persistence and stability of bacterial decolorization. Mixed azo dyes were also decolorized by the two PSB strains. Azoreductase was overexpressed in E. coli YB; however, the two PSB strains were better decolorizers for sulfonated azo dyes.
This is a preview of subscription content, log in to check access.
Access options
Buy single article
Instant access to the full article PDF.
US$ 39.95
Price includes VAT for USA
Subscribe to journal
Immediate online access to all issues from 2019. Subscription will auto renew annually.
US$ 199
This is the net price. Taxes to be calculated in checkout.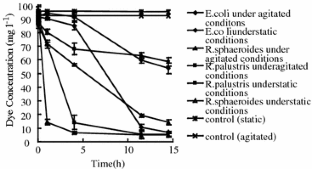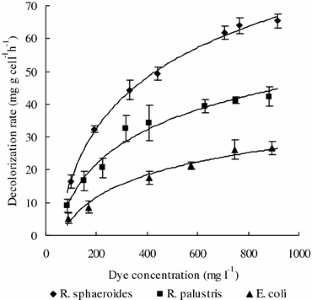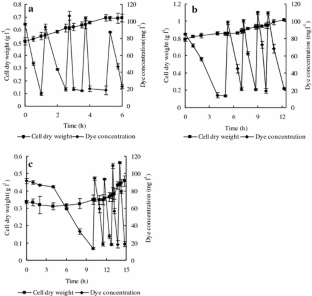 References
Banat IM, Nigam P, Singh D, Marchant R (1996) Microbial decolorization of textile-dye containing effluents: a review. Bioresour Technol 58:217–227

Blümel S, Knackmuss HJ, Stolz A (2002) Molecular cloning and characterization of the gene coding for the aerobic azoreductase from Xenophilus azovorans KF46F. Appl Environ Microbiol 68:3948–3955

Blümel S, Stolz A (2003) Cloning and characterization of the gene coding for the aerobic azoreductase from Pigmentiphaga kullae K24. Appl Microbiol Biotechnol 62:186–190

Chang JS, Chou C, Lin YC, Lin PJ, Ho JY, Hu TL (2001) Kinetic characteristics of bacterial azo-dye decolorization by Pseudomonas luteola. Wat Res 35:2841–2850

Chang JS, Lin CY (2001) Decolorization kinetics of a recombinant Escherichia coli strain harboring azo-dye-decolorizing determinants from Rhodococcus sp. Biotechnol Lett 23:631–636

Chen HZ, Wang RF, Cerniglia CE (2004) Molecular cloning, overexpression, purification, and characterization of an aerobic FMN-dependent azoreductase from Enterococcus faecalis. Protein Expr Purif 34:302–310

Chen HZ, Hopper SL, Cerniglia CE (2005) Biochemical and molecular characterization of an azoreductase from Staphylococcus aureus, a tetrameric NADPH-dependent flavoprotein. Microbiology 151:1433–1441

Chung KT, Fulk GE, Egan M (1978) Reduction of azo dyes by intestinal anaerobes. Appl Environ Microbiol 35:558–562

Cripps C, Bumpus JA, Aust SD (1990) Biodegradation of azo and heterocyclic dyes by Phanerochaete chrysosporium. Appl Environ Microbiol 56:1114–1118

Du CH, Zhou JT, Wang J, Yan B, Lu H, Hou HM (2003) Construction of a genetically engineered microorganism for CO2 fixation using a Rhodopseudomonas/Escherichia coli shuttle vector. FEMS Microbiol Lett 225:69–73

Eichhorn E, VanderPloeg JR, Leisinger T (2000) Deletion analysis of the Escherichia coli taurine and alkanesulfonate transport systems. J Bacteriol 182:2687–2695

Hao OJ, Kim H, Chiang PC (2000) Decolourization of wastewater. Critical Rev Environ Sci Technol 30:449–505

Harazono K, Nakamura K (2005) Decolorization of mixtures of different reactive textile dyes by the white-rot basidiomycete Phanerochaete sordida and inhibitory effect of polyvinyl alcohol. Chemosphere 59:63–68

Kahnert A, Vermeij P, Wietek C, James P, Leisinger T, Kertesz MA (2000) The ssu locus plays a key role in organosulfur metabolism in Pseudomonas putida S-313. J Bacteriol 182:2869–2878

Keck A, Klein J, Kudlich M, Stolz A, Knackmuss HJ, Mattes R (1997) Reduction of azo dyes by redox mediators originating in the naphthalenesulfonic acid degradation pathway of Sphingomonas sp. strain BN6. Appl Environ Microbiol 63:3684–3690

Kudlich M, Keck A, Klein J, Stolz A (1997) Localization of the enzyme system involved in anaerobic reduction of azo dyes by Sphingomonas sp. strain BN6 and effect of artificial redox mediators on the rate of azo dye reduction. Appl Environ Microbiol 63:3691–3694

Liu GF, Zhou JT, Wang J, Song ZY, Qv YY (2006) Bacterial decolorization of azo dyes by Rhodopseudomonas palustris. World J Microbiol Biotechnol 22:1069–1074

Locher HH, Poolman B, Cook AM, Konings WN (1993) Uptake of 4-toluenesulfonate by Comamonas testosteroni T-2. J Bacteriol 175:1075–1080

Mazumder R, Logan JR, Mikell AT Jr, Hooper SW (1999) Characteristics and purification of an oxygen insensitive azoreductase from Caulobacter subvibrioides strain C7-D. J Indust Microbiol Biotechnol 23:476–483

Moutaouakkil A, Zeroual Y, Dzayri FZ, Talbi M, Lee K, Blaghen M (2003) Purification and partial characterization of azoreductase from Enterobacer agglomerans. Arch Biochem Biophys 413:139–146

Raffi F, Hall JD, Cerniglia CE (1997) Mutagenicity of azo dyes used in foods, drugs and cosmetics before and after reduction by Clostridium species from the human intestinal tract. Food Chem Toxicol 35:897–901

Roxon JJ, Ryan AJ, Wright SE (1967) Enzymatic reduction of tartrazine by Proteus vulgaris from rats. Food Chem Toxicol 5:645–656

Russ R, Rau J, Stolz A (2000) The function of cytoplasmic flavin reductases in the reduction of azo dyes by bacteria. Appl Environ Microbiol 66:1429–1434

Shore J (1996) Advances in direct dyes. Ind J Fib Text Res 21:1–29

Song ZY, Zhou JT, Wang J, Yan B, Du CH (2003) Decolourization of azo dyes by Rhodobacter sphaeroides. Biotechnol Lett 25:1815–1818

Stolz A (2001) Basic and applied aspects in the microbial degradation of azo dyes. Appl Microbiol Biotechnol 56:69–80

Walker R (1970) The metabolism of azo compounds: a review of the literature. Food Cosmet Toxicol 8:659–676

Yan B, Zou JT, Wang J, Du CH, Hou HM, Song ZY, Bao YM (2004) Expression and characteristics of the gene encoding azoreductase from Rhodobacter sphaeroides AS1.1737. FEMS Microbiol Lett 236:129–136

Yang QX, Yang M, Pritsch K, Yediler A, Hagn A, Schloter M, Kettrup A (2003) Decolorization of synthetic dyes and production of manganese-dependent peroxidase by new fungal isolates. Biotechnol Lett 25:709–713

Yeh MS, Chang JS (2004) Bacterial decolorization of an azo dye with a natural isolate of Pseudomonas luteola and genetically modified Escherichia coli. J Chem Technol Biotechnol 79:1354–1360
About this article
Cite this article
Liu, G., Zhou, J., Qu, Y. et al. Decolorization of sulfonated azo dyes with two photosynthetic bacterial strains and a genetically engineered Escherichia coli strain. World J Microbiol Biotechnol 23, 931–937 (2007). https://doi.org/10.1007/s11274-006-9316-0
Received:

Accepted:

Published:

Issue Date:
Keywords
Azo dye

Azoreductase

Decolorization

Photosynthetic bacteria

Rhodobacter sphaeroides
Rhodopseudomonas palustris