Abstract
Within the framework of our study, we assessed the nodule occupancy of a mixture of various strains of rhizobia to inoculate several provenances of Acacia senegal and Acacia nilotica. The first part of the experiment was carried out under greenhouse conditions where the plants were cultivated in polyvinyl chloride tubes containing an unsterilized Sangalkam soil low in organic matter and nitrogen. The results showed that 4 and 8 months after sowing, rhizobial strains CIRADF 306 and CIRADF 300 were mainly present in nodules of A. nilotica and A. senegal, respectively. After transferring the seedlings to the more fertile soil in Bel Air field station, the molecular analysis of the nodules showed that strain CIRADF 306 was absent from the nodules of A. nilotica, whereas strain CIRADF 305 which occurred only at low nodule occupancy in the nursery, predominated in the field conditions. On the other hand, strain CIRADF 300 occurred in the majority of the nodules from the various provenances of A. senegal. These results demonstrated actual interaction between inoculated rhizobial strains, soil type and host plant genotype in terms of competitiveness, nodulation and symbiotic nitrogen fixation.
This is a preview of subscription content, log in to check access.
Access options
Buy single article
Instant access to the full article PDF.
US$ 39.95
Price includes VAT for USA
Subscribe to journal
Immediate online access to all issues from 2019. Subscription will auto renew annually.
US$ 199
This is the net price. Taxes to be calculated in checkout.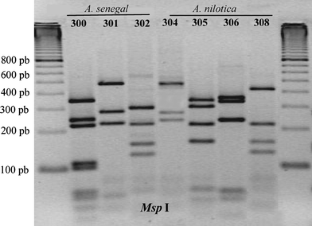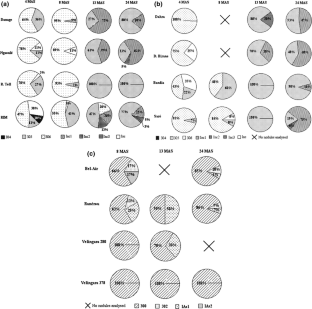 References
Allen ON, Allen EK (1981) The Leguminosae: a source book of characteristics, uses and nodulation. The University of Wisconsin Press, USA

André S, Neyra M, Duponnois R (2003) Arbuscular mycorrhizal symbiosis changes the colonization pattern of Acacia tortilis spp. raddiana rhizosphere by two strains of rhizobia. Microb Ecol 45:137–145

Badji S, Ducousso M, Gueye M, Colonna JP (1988) Nitrogen fixation and cross inoculation with Rhizobium from two acacias species producing arabic gum: Acacia senegal (L.) Wild. and Acacia laeta R. Br. ex Benth. C R Acad Sci Paris 307 (Série III):663–668

Catroux G, Hartmann A, Revellin C (2001) Trends in rhizobial inoculant production and use. Plant Soil 230:21–30

Dommergues YR, Duhoux E, Diem HG (1999) Les arbres fixateurs d'azote: caractéristiques fondamentales et rôle dans l'aménagement des écosystèmes méditerranéens et tropicaux. CIRAD, Editions Espaces, FAO, IRD Montpellier

Giller K (2001) Nitrogen fixation in tropical cropping systems. 2nd edn. CAB International, Wallingford

Lesueur D, Diouf D (2001) Combined effects of rhizobia inoculation and host plant origin on growth and nodulation of Calliandra calothyrsus. In: Finan TM, O'Brian MR, Layzell DB, Vessey JK, Newton W (eds) Nitrogen fixation: global perspectives, Proceedings of the 13th International Congress on nitrogen fixation, Ontario, Canada 27 July 2001. CABI Publishing, Wallingford

Normand P, Ponsonnet. C, Nesme X, Neyra M, Simonet P (1996) ITS analysis of prokaryotes. Mol Microbiol Ecol Man 3:5–12

Picard C, Ponsonnet C, Paget E, Nesme X, Simonet P (1992) Detection and enumeration of bacteria in soil by direct DNA extraction and polymerase chain reaction. Appl Environ Microbiol 58:2717–2722

Ponsonnet C, Nesme X (1994) Identification of Agrobacterium strains by PCR-RFLP analysis of pTi and chromosomal region. Arch Microbiol 161:300–309

Räsänen LA, Sprent JI, Lindström K (2001) Symbiotic properties of sinorhizobia isolated from Acacia and Prosopis nodules in Sudan and Senegal. Plant Soil 235:193–210

Rouvier C, Prin Y, Reddel P, Normand P, Simonet P (1996) Genetic diversity among Frankia strains nodulating members of the family Casuarinaceae in Australia revealed by PCR and RFLP analysis with crushed root nodules. Appl Environ Microbiol 62:979–985

Sanginga N, Danso SKA, Mulongoy K, Ojeifo AA (1994) Persistence and recovery of introduced Rhizobium ten years after inoculation on Leucaena leucocephala grown on an Alfisol in southwestern Nigeria. Plant Soil 159:199–204

Sarr A, Diop B, Peltier R, Neyra M, Lesueur D (2005) Effect of rhizobial inoculation methods and host plant provenances on nodulation and growth of Acacia senegal and Acacia nilotica. New Forest 29:75–87

Streeter JG, Smith R (1998) Introduction of rhizobia into soils—problems, achievements and prospects for the future In: Subba-Rao NS, Dommergues YR (eds), Microbial interactions in agriculture and forestry (volume I). Oxford and IBH Publishing, UK

Vincent JM (1970) A manual for the practical study of root-nodule bacteria. International biological programme. Handbook n°15, Blackwell, Oxford

Vlassak K, Vanderleyden J, Franco A (1996) Competition and persistence of Rhizobium tropici and Rhizobium etli in tropical soil during successive bean (Phaseolus vulgaris L.) cultures. Biol Fertil Soils 21:61–68

Wickens GE, Seif El Din AG, Sita G, Nahal I (1995) Role of Acacia species in the rural economy of dry Africa and the Near East. FAO Conservation Guide n°27, Roma, Italy

Woldemeskel E, Sinclair FL (1998) Variations in seedling growth, nodulation and nitrogen fixation of Acacia nilotica inoculated with eight rhizobial strains. For Ecol Manage 104:239–247
Acknowledgments
This work was funded by the Forest Department of CIRAD. The authors are grateful to Jacques Biagui, Leon Biagui, Cheikh Ndiaye and Lamine Ba for their technical assistance in the nursery and in the field. We wish to thank Dr David Odee from the Kenyan Forestry Research Institute for reviewing the manuscript and editing the English.
About this article
Cite this article
Sarr, A., Lesueur, D. Influence of soil fertility on the rhizobial competitiveness for nodulation of Acacia senegal and Acacia nilotica provenances in nursery and field conditions. World J Microbiol Biotechnol 23, 705–711 (2007). https://doi.org/10.1007/s11274-006-9288-0
Received:

Accepted:

Published:

Issue Date:
Keywords
Acacia provenances

Nodules occupancy

PCR-RFLP

Rhizobia

Soil fertility