Abstract
Waterbirds have high potential as bioindicators of the status and functioning of estuarine ecosystems, because they respond to multiple stress factors in a wide range of spatial scales. The objective of this study was to analyze the dependence of the population size of waterbird species with different degrees of association with waterbodies (High: HAW, Low: LAW) on attributes of the surrounding landscape. This was accomplished by long-term monitoring (2006–2015) of the populations of waterbirds in three estuaries of central Chile; the Itata, Mataquito, and Reloca Rivers. We acquired data on the composition and structure of the landscape for each site from satellite sensors (Landsat TM5, ETM + 7 and OLI 8), specifically the normalized difference moisture index (NDMI). We also obtained the covers of grassland and crops, bare soil and shrubland annually (summer) using a supervised classification. Using point-count data (2013–2015) from the landscape surrounding the Itata estuary, we compared the proportion of the population of different species present within and outside the wetland. The negative temporal correlation (p < 0.05) between the number of Yellow-billed pintails (Anas georgica) inside and outside the estuary strongly suggests the movement of individuals between these two habitats. We found that the abundance of many species in in the estuaries was affected by the variation of some landscape attributes. However, that proportion of LAW and HAW species showing such relationships did not differ significantly. The most important attributes of the landscape for waterbird populations were moisture (flooded sites) and vegetation photosynthetic vigor, shrubland cover. The growing use of waterbird population data as an environmental monitoring tool requires a deep understanding of the factors that drive the changes in both population numbers but also in the data describing the latter. This study highlights the importance of incorporating into waterbird population assessments information from both inside the waterbodies and from their surrounding landscapes.
This is a preview of subscription content, log in to check access.
Access options
Buy single article
Instant access to the full article PDF.
US$ 39.95
Price includes VAT for USA
Subscribe to journal
Immediate online access to all issues from 2019. Subscription will auto renew annually.
US$ 99
This is the net price. Taxes to be calculated in checkout.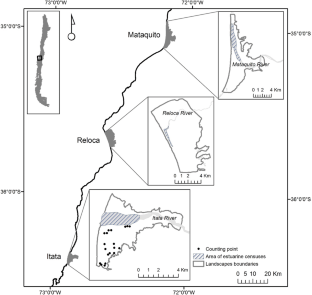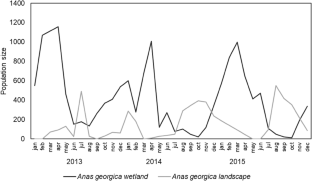 References
Adam P (2002) Salt marshes in a time of change. Environ Conserv 29:39–61. https://doi.org/10.1017/S0376892902000048

Agresti A (1992) A survey of exact inference for contingency tables. Stat Sci 7:131–153

Amano T, Ushiyama K, Fujita G, Higuchi H (2007) Predicting grazing damage by white-fronted geese under different regimes of agricultural management and the physiological consequences for the geese. J Appl Ecol 44:506–515. https://doi.org/10.1111/j.1365-2664.2007.01314.x

Amat JA, Green AJ (2008) Waterbirds as bioindicators of environmental conditions waterbirds as bioindicators of environmental conditions

Batzer DP, Sharitz RR (2006) Ecology of freshwater and estuarine wetlands. University of California Press, Berkeley

Beerens JM, Noonburg EG, Gawlik DE (2015) Linking dynamic habitat selection with wading bird foraging distributions across resource gradients. PLoS ONE 10:e0128182. https://doi.org/10.1371/journal.pone.0128182

Bibby C, Burgess N, Hill D, Mustoe S (2000) Bird census techniques. Academic Press, Cambridge

BirdlifeInternational (2004) Birds in Europe: population estimates, trends and conservation status. IUCN, Cambridge

Blake ER (1977) Handbook of neotropical birds. Univ. Chicago Press, Chicago

Carignan V, Villard MA (2002) Selecting indicator species to monitor ecological integrity: a review. Environ Monit Assess 78:45–61. https://doi.org/10.1023/A:1016136723584

Carlson TN, Ripley DA (1997) On the relation between NDVI, fractional vegetation cover, and leaf area index. Remote Sens Environ 62:241–252. https://doi.org/10.1016/S0034-4257(97)00104-1

Chambers SA (2008) Birds as Environmental Indicators Review of Literature. Park Victoria Tech Ser 48

Cid FD, Antón RI, Caviedes-Vidal E (2007) Organochlorine pesticide contamination in three bird species of the Embalse La Florida water reservoir in the semiarid midwest of Argentina. Sci Total Environ 385:86–96. https://doi.org/10.1016/j.scitotenv.2007.07.004

Cihlar J, Laurent LS, Dyer JA (1991) Relation between the normalize difference vegetation index and ecological variables. Remote Sens Environ 35:279–298

Couve E, Vial C, Ruiz J (2016) Aves de Chile, sus Islas Oceánicas y Península. FS editorial, Punta Arenas

Duncan DC (1987) Nest site distribution and overland brood movements of northern pintails in Alberta. J Wildl Manage 51:716–723. https://doi.org/10.2307/3801732

Eggermont PPB, LaRiccia VN (2009) Maximum penalized likelihood estimation: regression. Springer, New York

Erwin RM, Custer TW (2000) Herons as indicators. In: Kushlan JA, Hafner H (eds) Heron conservation: San Diego. Academic Press, Cambridge, pp 313–330

Estades CF, Vukasovic MA (2013) Waterbird population dynamics at estuarine wetlands of central Chile. Ornitol Trop 24:67–83

Estades CF, Vukasovic MA, Aguirre L (2012) Aves En Los Humedales Costeros De Chile. In: Fariña JM, Camaño A (eds) Humedales Costeros De Chile: Aportes Científicos a Su Gestión Sustentable. Ediciones UC, Chile, pp 67–100

Everard M, Noble D (2010) The development of bird indicators for British fresh waters and wetlands. Aquat Conserv Mar Freshw Ecosyst 20:117–124. https://doi.org/10.1002/aqc.1074

Fjeldså J (2004) The grebes. Oxford University Press, Oxford

Forman RTT, Godron M (1981) Patches and structural components for a landscape ecology. Bioscience 31:733–740

Friedman J (1991) Multivariate adaptive regression splines. Ann Stat 19:1–67. https://doi.org/10.2307/2241837

Fuenzalida H (1971) Climatología de Chile. Dpto. Geofísica y Geodesia, Univ. de Chile, Santiago, Chile

Gaillard J-M, Hebblewhite M, Loison A et al (2010) Habitat-performance relationships: finding the right metric at a given spatial scale. Phil Trans R Soc B 365:2255–2265. https://doi.org/10.1098/rstb.2010.0085

Gibbs JP (2000) Wetland loss and biodiversity conservation. Conserv Biol 14:314–317. https://doi.org/10.1007/s10531-011-0010-7

Goodall JD, Johnson AW, Philippi RA (1951) Las aves de Chile, su conocimiento y sus costumbres, vol II. Platt Establecimientos Gráficos, Buenos Aires

Gregory RD, Van Strien A, Vorisek P et al (2005) Developing indicators for European birds. Phil Trans R Soc B 360:269–288. https://doi.org/10.1098/rstb.2004.1602

Haig SM, Mehlman DW, Oring LW (1998) Avian movements and wetland connectivity in landscape conservation. Conserv Biol 12:749–758

Hanowski JM, Danz NP, Howe RW et al (2007) Considerations for monitoring breeding birds in Great Lakes coastal wetlands. J Great Lakes Res 33:245–252. https://doi.org/10.3394/0380-1330(2007)33%5b245:CFMBBI%5d2.0.CO;2

Hastie T, Tibshirani R, Friedman J (2009) The Elements of Statistical Learning: Data Mining, Inference, and Prediction, 2nd edn. Springer Series in Statistics

Herrando S, Anton M, Sardà-Palomera F et al (2014) Indicators of the impact of land use changes using large-scale bird surveys: land abandonment in a Mediterranean region. Ecol Indic 45:235–244. https://doi.org/10.1016/j.ecolind.2014.04.011

Hilty J, Merenlender A (2000) Faunal indicator taxa selection for monitoring ecosystem health. Biol Conserv 92:185–197. https://doi.org/10.1016/S0006-3207(99)00052-X

Holling CS, Gunderson LH, Walters CJ (1994) The structure and dynamics of the Everglades system: guidelines for ecosystem restoration. In: Davis SM, Ogden JC (eds) Everglades: the ecosystem and its restoration. Lucie Press, Delray Beach, pp 741–756

Jackson S, Austin G, Armitage M (2006) Surveying waterbirds away from major waterbodies: implications for waterbird population estimates in Great Britain. Bird Study 53:105–111. https://doi.org/10.1080/00063650609461423

Jaramillo A (2003) Birds of Chile. Princeton University Press, Princeton

Johnson WP, Schmidt PM, Taylor DP (2014) Foraging flight distances of wintering ducks and geese: a review. Avian Conserv Ecol 9(2):2

Kennish MJ (2002) Environmental threats and environmental future of estuaries. Environ Conserv 29:78–107. https://doi.org/10.1017/S0376892902000061

Kuhn M (2016) A Short Introduction to the caret Package. In: R Found. Stat. Comput. cran.r-project. org/web/packages/caret/vignettes/caret.pdf

Kumar S, Dhankhar R (2015) Monitoring of noise levels at various sites during winter season at Bhindawas wetland, Haryana, India. Curr World Environ 10:807–812

Kumar L, Schmidt K, Dury S, Skidmore A (2006) Imaging spectrometry in vegetation science. In: Meer FD, de Jong SM (eds) Imaging spectroscopy: basic principles and prospective applications. Springer, New York, pp 111–155

Kushlan JA (1993) Colonial waterbirds as bioindicators of environmental change. Colon Waterbirds 16:223–251. https://doi.org/10.2307/1521444

Leito A, Truu J, Õunsaar M et al (2008) The impact of agriculture on autumn staging Eurasian Cranes (Grus grus) in Estonia. Agric Food Sci 17:53–62. https://doi.org/10.2137/145960608784182281

Lewis PA, Stevens JG (1991) Nonlinear Modeling of Time Series Using Multivariate Adaptive Regression Splines (MARS). J Am Stat Assoc 86:864–877. https://doi.org/10.2307/2290499

Luebert F, Pliscoff P (2006) Sinopsis bioclimática y vegetacional de Chile. Edición Universitaria, Santiago

MacMillan D, Hanley N, Daw M (2004) Costs and benefits of wild goose conservation in Scotland. Biol Conserv 119:475–485. https://doi.org/10.1016/j.biocon.2004.01.008

McLusky DS, Elliott M (2004) The estuarine ecosystem: ecology, threats and management. Oxford University Press, New York

Meijering E (2002) A chronology of iinterpolation: from ancient astronomy to modern signal and image processing. Proc IEEE 90:319–342. https://doi.org/10.1109/5.993400

Milborrow S (2016) Earth: Multivariate Adaptive Regression Spline Models. R package. https://cran.r-project.org/web/packages/earth

Ministerio de Agricultura (1999) Decreto 36 Exento. https://www.leychile.cl/N?i=133388&f=1999-03-11&p= ESTABLECE

Mitsch WJ, Gosselink JG (2015) Wetlands, 5th edn. Wiley, New Jersey

Naugle DE, Higgins KF, Nusser SM, Johnson WC (1999) Scale-dependent habitat use in three species of prairie wetland birds. Landsc Ecol 14:267–276. https://doi.org/10.1023/A:1008088429081

Newton I (1998) Population limitation in birds. Academic Press, Cambridge

Obernuefemann KP, Collazo J, Lyons JE (2013) Local movements and wetland connectivity at a migratory stopover of semipalmated Sandpipers (Calidris pusilla) in the southeastern United States. Waterbirds 36:63–76. https://doi.org/10.1675/063.036.0110

Ogden JC, Baldwin JD, Bass OL et al (2014) Waterbirds as indicators of ecosystem health in the coastal marine habitats of southern Florida: 1. Selection and justification for a suite of indicator species. Ecol Indic 44:148–163. https://doi.org/10.1016/j.ecolind.2014.03.007

Paillisson JM, Reeber S, Marion L (2002) Bird assemblages as bio-indicators of water regime management and hunting disturbance in natural wet grasslands. Biol Conserv 106:115–127. https://doi.org/10.1016/S0006-3207(01)00239-7

Pettorelli N, Vik JO, Mysterud A et al (2005) Using the satellite-derived NDVI to assess ecological responses to environmental change. Trends Ecol Evol 20:503–510. https://doi.org/10.1016/j.tree.2005.05.011

Pierluissi S, King SL, Kaller MD (2010) Waterbird nest density and nest survival in rice fields of southwestern Louisiana. Waterbirds 33:323–330. https://doi.org/10.1675/063.033.0308

R Core Team (2014). R: a language and environment for statistical computing

Reynolds RE, Shaffer TL, Loesch CR, Cox RR Jr (2006) The Farm Bill and duck production in the Prairie Pothole Region: increasing the benefits. Wildl Soc Bull 34:963–974. https://doi.org/10.2193/0091-7648(2006)34%5b963:TFBADP%5d2.0.CO;2

Riffell SK, Keas BE, Burton TM (2001) Area and habitat relationships of birds in Great Lakes coastal wet meadows. Wetlands 21:492–507. https://doi.org/10.1672/0277-5212(2001)021%5b0492:AAHROB%5d2.0.CO;2

Rish I (2001) An empirical study of the naive Bayes classifier. In: IJCAI 2001 Workshop on Empirical Methods in Artificial Intelligence. pp 41–46

Robledano F, Esteve MA, Martínez-Fernández J, Farinós P (2011) Determinants of wintering waterbird changes in a Mediterranean coastal lagoon affected by eutrophication. Ecol Indic 11:395–406. https://doi.org/10.1016/j.ecolind.2010.06.010

Rodewald AD, Yahner RH (2001) Influence of landscape composition on avian community structure and associated mechanisms. Ecology 82:3493–3504. https://doi.org/10.1890/0012-9658(2001)082%5b3493:IOLCOA%5d2.0.CO;2

Rodríguez E, Arballo E (2008) Bird species occurring in rice fields and surrounding habitats at Merin Lagoon watershed, Uruguay. In: Hill JE, Hardy B (eds) Proceeding of the second temperate rice conference. pp 43–49

Runge CA, Martin TG, Possingham HP et al (2014) Conserving mobile species. Front Ecol Environ 12:395–402. https://doi.org/10.1890/130237

Sax C (2017) Package "seasonal." https://cran.r-project.org/web/packages/seasonal/seasonal.pdf

Sinclair TR, Hoffer RM, Schreiber MM (1971) Reflectance and internal structure of leaves from several crops during a growing season. Agron J 63:864–868. https://doi.org/10.2134/agronj1971.00021962006300060012x

Skagen SK, Knopf FL (1994) Migrating shorebirds and habitat dynamics at a prairie wetland complex. Wilson Bull 106:91–105

Snäll T, Kindvall O, Nilsson J, Pärt T (2011) Evaluating citizen-based presence data for bird monitoring. Biol Conserv 144:804–810. https://doi.org/10.1016/j.biocon.2010.11.010

Sullivan BL, Wood CL, Iliff MJ et al (2009) eBird: a citizen-based bird observation network in the biological sciences. Biol Conserv 142:2282–2292. https://doi.org/10.1016/j.biocon.2009.05.006

Sundar KSG, Kittur S (2013) Can wetlands maintained for human use also help conserve biodiversity? Landscape-scale patterns of bird use of wetlands in an agricultural landscape in north India. Biol Conserv 168:49–56. https://doi.org/10.1016/j.biocon.2013.09.016

Taft OW, Haig SM (2006) Landscape context mediates influence of local food abundance on wetland use by wintering shorebirds in an agricultural valley. Biol Conserv 128:298–307. https://doi.org/10.1016/j.biocon.2005.09.036

Temple SA, Wiens JA (1989) Bird populations and environmental changes: can birds be bio-indicators? Am. Birds 43:260–270

Tucker CJ (1979) Red and photographic infrared linear combinations for monitoring vegetation. Remote Sens Environ 8:127–150

Tulloch AIT, Possingham HP, Joseph LN et al (2013) Realising the full potential of citizen science monitoring programs. Biol Conserv 165:128–138. https://doi.org/10.1016/j.biocon.2013.05.025

U.S.Census_Bureau (2017) X-13ARIMA-SEATS. https://www.census.gov/ts/x13as/docX13AS.pdf

Walker J, Rotella JJ, Schmidt JH et al (2013) Distribution of duck broods relative to habitat characteristics in the Prairie Pothole Region. J Wildl Manage 77:392–404. https://doi.org/10.1002/jwmg.466

Weller MW (1999) Wetland birds: habitat resources and conservation implications. Cambridge University Press, New York

WetlandInternational (2012) Waterbird Population Estimates, Fifth Edit. Summary Report. Wetlands International, Wageningen, The Netherlands

Ysebaert T, Meininger PL, Meire P et al (2000) Waterbird communities along the estuarine salinity gradient of the Schelde estuary, NW-Europe. Biodivers Conserv 9:1275–1296. https://doi.org/10.1023/A:1008976306651

Zaccagnini ME (2002) Los patos en las arroceras del noreste de Argentina: ¿plagas o recursos para caza deportiva y turismo sostenible? In: Blanco DE, Beltrán J, Balze V (eds) Primer Taller sobre la Caza de Aves Acuáticas. Hacia una estrategia para el uso sustentable. Wetland International, Buenos Aires, pp 35–57
Acknowledgements
The long-term monitoring program upon which this study was based is funded by Arauco. We appreciate the support of Conicyt-Chile to MP Acuña during her doctoral studies. Several field assistants from the Wildlife Ecology Laboratory (LEVS) of the University of Chile, contributed their work during the field campaigns involved in this study. The comments of two anonymous referees significantly improved the quality of this paper.
Additional information
Publisher's Note
Springer Nature remains neutral with regard to jurisdictional claims in published maps and institutional affiliations.
Electronic supplementary material
Below is the link to the electronic supplementary material.
About this article
Cite this article
Acuña, M.P., Vukasovic, M.A., Hernández, H.J. et al. Effects of the surrounding landscape on waterbird populations in estuarine ecosystems of central Chile. Wetlands Ecol Manage 27, 295–310 (2019). https://doi.org/10.1007/s11273-019-09660-9
Received:

Accepted:

Published:

Issue Date:
Keywords
Bioindicators

Estuaries

Landscape attributes

Waterbirds