Abstract
Management and decision making for wetlands need an integrated approach, in which all ecosystem services are identified, their importance are assessed and objectives are formulated about their desired outputs. This approach has been applied successfully in European wetlands with sufficient scientific data. The main objective of this study was to evaluate the application of this approach in the context of a data-poor, multi-use African wetland. The Namatala wetland in Uganda, a wetland under intense pressure from wastewater discharge, conversion to agriculture and vegetation harvesting, was used as a case study. After characterisation of the wetland ecosystem and stakeholder analysis, three management options, subdivided into 13 sub-options, were identified for the wetland. These options were combined into six management solutions. A set of 15 indicators, subdivided into five categories (livelihood; human health; ecology; costs; risk of failure), were identified to assess the performance of these management solutions. Stakeholders' preferences were taken into consideration by means of weights attached to the indicators, and a best-compromise solution was derived which consisted of a combination of sustainable agriculture in the upper Namatala wetland, papyrus buffer strips along the Namatala river channel, sustainable land use (vegetation harvesting, fishing) in lower Namatala wetland, and papyrus buffer zones at the waste-water discharge points. Despite differences of opinion among stakeholder groups about the relative importance of the indicators, the same compromise solution resulted for all stakeholders. It was concluded that this systematic approach and the stakeholder dialogue about the management options were beneficial to the management process, although the approach would benefit from more and better data about the wetland system and from model-derived predictions.
This is a preview of subscription content, log in to check access.
Access options
Buy single article
Instant access to the full article PDF.
US$ 39.95
Price includes VAT for USA
Subscribe to journal
Immediate online access to all issues from 2019. Subscription will auto renew annually.
US$ 99
This is the net price. Taxes to be calculated in checkout.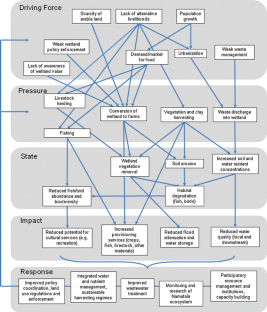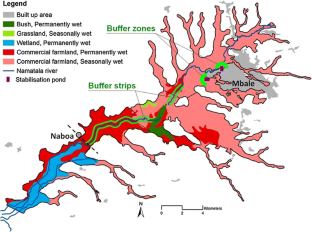 References
Brouwer R, Georgiou S, Turner RK (2003) Integrated assessment and sustainable water and wetland management. A review of concepts and methods. Integr Assess 4:172–184

Carpenter SR, Mooney HA, Agard J, Capistrano D, DeFries RS, Díaz S, Dietz T, Duraiappah AK, Oteng-Yeboah A, Pereira HM, Perrings C, Reid WV, Sarukhan J, Scholes RJ, Whyte A (2009) Science for managing ecosystem services: beyond the Millennium Ecosystem Assessment. Proc Natl Acad Sci 106:1305–1312

Confalonieri R, Bocchi S (2005) Evaluation of CropSyst for simulating the yield of flooded rice in northern Italy. Eur J Agron 23:315–326

de Groot R, Stuip M, Finlayson M, Davidson N (2006) Valuing wetlands: guidance for valuing the benefits derived from wetland ecosystem services. Ramsar Technical Report No. 3, CBD Technical Series No. 27. Ramsar Convention Secretariat, Gland, Switzerland & Secretariat of the Convention on Biological Diversity, Montreal, Canada

de Groot R, Alkemade R, Braat L, Hein L, Willemen L (2010) Challenges in integrating the concept of ecosystem services and values in landscape planning, management and decision making. Ecol Complex 7:260–272

Edyegu D (2010) Floods retarding border demarcation. The new vision. http://www.newvision.co.ug/news/615830-floods-retarding-border-demarcation.html. Accessed 4 July 2010

EEA (2005) European environmental outlook. European Environment Agency, Copenhagen

Gamboa G (2006) Social multi-criteria evaluation of different development scenarios of the Aysén region, Chile. Ecol Econ 59:157–170

Giupponi C (2007) Decision support systems for implementing the European water framework directive: the MULINO approach. Environ Model Softw 22(2):248–258

Hartter J, Ryan SJ (2010) Top-down or bottom-up? Decentralization, natural resource management, and usufruct rights in the forests and wetlands of western Uganda. Land Use Policy 27:815–826

Hein T, Blaschke AP, Haidvogl G, Hohensinner S, Kucera-Hirzinger V, Preiner S, Reiter K, Schuh B, Weigelhofer G, Zsuffa I (2006) Optimized management strategies for the biosphere reserve Lobau, Austria-based on a multi criteria decision support system. Int J Ecohydrol Hydrobiol 6:25–36

Hes EMA, Niu R, van Dam AA (2011) A simulation model for nitrogen and carbon cycling in natural rooted papyrus wetlands in East Africa. Paper presented at the joint meeting of society of wetland scientists, WETPOL and wetland biogeochemistry symposium, Prague, 3–7 July 2011. Book of abstracts. Available at http://www.sws2011.com

Hirabayashi Y, Kanae S, Motoya K, Masuda K, Döll P (2008) A 59-year (1948–2006) global near-surface meteorological data set for land surface models. Part I: development of daily forcing and assessment of precipitation intensity. Hydrol Res Lett 2:36–40

Johnston R, Cools J, Liersch S, Morardet S, Murgue C, Mahieu M, Zsuffa I, Uyttendaele GP (2013) WETwin: a structured approach to evaluating wetland management options in data-poor contexts. Environmental Science & Policy. Special Issue: Management of wetlands in river basins: the WETwin project

Kansiime F, Nalubega M (1999) Wastewater treatment by a natural wetland: the Nakivubo swamp, Uganda. Processes and implications. PhD Thesis, A. A. Balkema Publishers, Rotterdam, The Netherlands

Kipkemboi J, van Dam AA, Ikiara MM, Denny P (2007) Integration of smallholder wetland aquaculture–agriculture systems (Fingerponds) into riparian farming systems at the shores of Lake Victoria, Kenya: socio-economics and livelihoods. Geogr J 173:257–272

Kotze D, Marneweck G, Batchelor A, Lindley D, Collins N (2008) WET-EcoServices: a technique for rapidly assessing ecosystem services supplied by wetlands. WRC Report TT339/08. Water Research Commission, Pretoria

Liersch S, Cools J, Kone B, Koch H, Diallo M, Aich V, Fournet S, Hattermann FF (2013) Vulnerability of food production in the Inner Niger Delta to water resources management under climate variability and change. Environmental Science & Policy. Special Issue: Management of wetlands in river basins: the WETwin project

Lin YF, Jinga SR, Lee DY, Wang TW (2002) Nutrient removal from aquaculture wastewater using a constructed wetlands system. Aquaculture 209:169–184

Macfarlane D, Kotze D, Ellery W, Walters D, Koopman V, Goodman P, Goge C (2008) WET-health: a technique for rapidly assessing wetland health. WRC Report TT 340/08. Water Research Commission, Pretoria

Maltby E, Acreman MC (2011) Ecosystem services of wetlands: pathfinder for a new paradigm. Hydrol Sci J 56:1341–1359

MEA (2005) Ecosystem and human well-being: wetlands and water synthesis. Millennium Ecosystem Assessment, World Resources Institute, Washington DC

MWLE (2004) Nabajjuzi community based wetland management plan (2004–2008). Ministry of Water, Lands and Environment, Kampala, Uganda

Namaalwa S, van Dam AA, Funk A, Ajie GS, Kaggwa RC (2013) A characterization of the drivers, pressures, ecosystem functions and services of Namatala wetland, Uganda. Environmental Science & Policy. Special Issue: Management of wetlands in river basins: the WETwin project

Niemeijer D, de Groot RS (2008) Framing environmental indicators: moving from causal chains to causal networks. Environ Dev Sustain 10:89–106. doi:10.1007/s10668-006-9040-9

Paneque Salgado P, Corral Quintana S, Guimares Pereira Ã, del Moral Ituarte L, Pedregal Mateos B (2009) Participative multi-criteria analysis for the evaluation of water governance alternatives. A case in the Costa del Sol (Malaga). Ecol Econ 68:990–1005

Pemberton CA, Mader-Charles K (2005) Ecotourism as a means of conserving wetlands. J Agric Appl Econ 37:463–474

Ramsar Convention Secretariat (2010a) Managing wetlands: frameworks for managing wetlands of international importance and other wetland sites. In: Ramsar handbooks for the wise use of wetlands, 4th edn, vol 18. Ramsar Convention Secretariat, Gland, Switzerland

Ramsar Convention Secretariat (2010b) Wise use of wetlands: concepts and approaches for the wise use of wetlands. In: Ramsar handbooks for the wise use of wetlands, 4th edn, vol 1. Ramsar Convention Secretariat, Gland, Switzerland

Rebelo LM, McCartney MP, Finlayson CM (2010) Wetlands of sub-Saharan Africa: distribution and contribution of agriculture to livelihoods. Wetl Ecol Manag 18:557–572

Rebelo LM, Johnston R, Hein T, Weigelhofer G, DHaeyer T, Kone B, Cools J (2013) Challenges to the integration of wetlands into IWRM: the case of the Inner Niger Delta (Mali) and the Lobau Floodplain (Austria). Environmental Science & Policy. Special Issue: Management of wetlands in river basins: the WETwin project

Rongoei PJK, Kipkemboi J, Okeyo-Owuor JB, van Dam AA (2013) Ecosystem services and drivers of change in Nyando floodplain wetland, Kenya. Afr J Environ Sci Tech 7:274–291

SCBD (2007) An exploration of tools and methodologies for valuation of biodiversity and biodiversity resources and functions. Note by the Executive Secretary, Secretariat of the Convention on Biological Diversity, CBD Technical Series UNEP/CBD/SBSTTA/11/INF/8

Scholz M, Harrington R, Carroll P, Mustafa A (2007) The integrated constructed wetlands (ICW) concept. Wetlands 27:337–354

Stöckle CO, Donatelli M, Nelson R (2003) CropSyst, a cropping systems simulation model. Eur J Agron 18:289–307

TEEB (2010) The economics of ecosystems and biodiversity for local and regional policy makers. TEEB project document

Thenya T, Wassmann R, Verchot L, Mungai D, Odada EO, Olago DO, Ochola W, Ntiba M, Wandiga S, Gichuki N, Oyieke H (2006) Degradation of the riparian wetlands in the Lake Victoria basin—Yala swamp case study. In: Proceedings of the 11th world lakes conference, vol 2, pp 483–494

Wood A, Dixon A, McCartney M (eds) (2013) Wetland management and sustainable livelihoods in Africa. Routledge, London

Zsuffa I, Cools J (2011) Drivers–States–Impacts–Responses. DSIR analyses at the study sites. WETwin project report. Available at http://www.wetwin.eu/downloads.html

Zsuffa I, Johnston R, Cools J, D'Haeyer T (2012) Final publishable summary report of the WETwin project. European Commission, Community Research and Development Information Service (CORDIS), http://www.cordis.europa.eu/result/report/rcn/56368_en.html
Acknowledgments
This study was part of the EU-FP7 WETwin project (http://www.wetwin.eu). The assistance of Uganda's Wetlands Management Department and National Water and Sewerage Corporation in data collection and establishing contacts with stakeholders are gratefully acknowledged. We also thank all stakeholders and Namatala wetland communities for participating in field work and meetings.
Electronic supplementary material
Below is the link to the electronic supplementary material.
About this article
Cite this article
Zsuffa, I., van Dam, A.A., Kaggwa, R.C. et al. Towards decision support-based integrated management planning of papyrus wetlands: a case study from Uganda. Wetlands Ecol Manage 22, 199–213 (2014). https://doi.org/10.1007/s11273-013-9329-z
Received:

Accepted:

Published:

Issue Date:
Keywords
Decision support

Integrated wetland management

Namatala wetland

Papyrus

Sustainable use

WETwin project