Abstract
Salt marsh management often embraces diverse goals, ranging from the restoration of degraded marshes through re-introduction of tidal flow to the control of salt marsh mosquito production by altering marsh surface topography through Open Water Marsh Management (OMWM). However, rarely have these goals been incorporated in one project. Here we present the concept of Integrated Marsh Management (IMM), which combines the best management practices of salt marsh restoration and OMWM. Although IMM offers a comprehensive approach to ecological restoration and mosquito control, research evaluating this concept's practical implementations has been inadequate. A long-term IMM project at Wertheim National Wildlife Refuge located in a highly urbanized watershed on Long Island, New York, USA was designed to fill this knowledge gap. A combination of restoration and OMWM techniques was employed at two treatment marshes, the results monitored before and after alterations, and compared to two adjacent control marshes. The treatment marshes experienced decreased mosquito production, reduced cover of the invasive common reed (Phragmites australis), expansion of native marsh vegetation, increased killifish and estuarine nekton species abundance, as well as increased avian species diversity and waterbird abundance. This demonstration project validated the IMM conceptual approach and may serve as a case study for similar IMM projects in the future.
This is a preview of subscription content, log in to check access.
Access options
Buy single article
Instant access to the full article PDF.
US$ 39.95
Price includes VAT for USA
Subscribe to journal
Immediate online access to all issues from 2019. Subscription will auto renew annually.
US$ 99
This is the net price. Taxes to be calculated in checkout.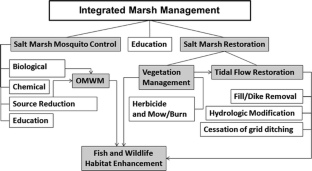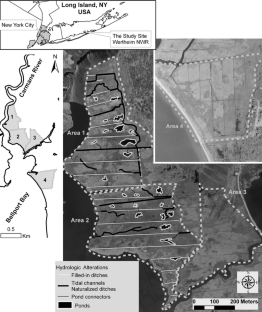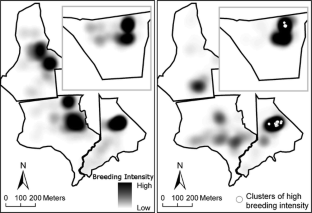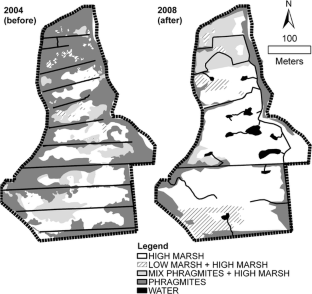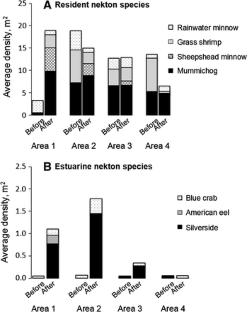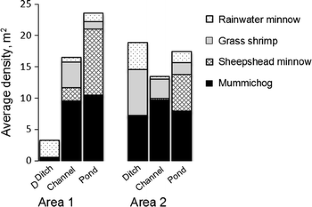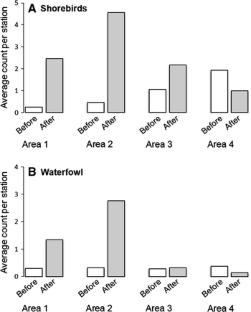 References
Adamowicz SC, Roman CT (2002) Initial ecosystem response of salt marshes to ditch plugging and pool creation: experiments at Rachel Carson National Wildlife Refuge (Maine). USGS Patuxent Wildlife Research Center, Narragansett. ftp://dnrftp.dnr.state.md.us/Public/Outgoing/CCWS/marsh_restoration/Rachel_final.pdf. Accessed 20 Mar 2011

Adamowicz SC, Roman CT (2005) New England salt marsh pools: a quantitative analysis of geomorphic and geographic features. Wetlands 25:279–288

Andreadis TG, Anderson JF, Tirrell-Peck SJ (1998) Multiple isolations of eastern equine encephalitis and highlands J viruses from mosquitoes (Diptera: Culicidae) during a 1996 epizootic in southeastern Connecticut. J Med Entomol 35:296–302

Andreadis TG, Anderson JF, Vossbrinck CR (2001) Mosquito surveillance for West Nile virus in Connecticut, 2000: isolation from Culex pipiens, Cx. restuans, Cx. salinarius, and Culiseta melanura. Emerg Infect Dis 7:670–674

Ballinger A, Lake PS (2006) Energy and nutrient fluxes from rivers and streams into terrestrial food webs. Mar Freshw Res 57:15–28

Benoit LK, Askins RA (1999) Impact of the spread of Phragmites on the distribution of birds in Connecticut tidal marshes. Wetlands 19:194–208

Bourn WS, Cottam C (1950) Some biological effects of ditching tidewater marshes. U.S. Fish and Wildlife Service, Washington DC

Bromberg K, Bertness M (2005) Reconstructing New England salt marsh losses using historical maps. Estuar Coasts 28:823–832

Buchsbaum RN, Catena J, Hutchins E, James-Pirri MJ (2006) Changes in salt marsh vegetation, Phragmites australis, and nekton in response to increased tidal flushing in a New England salt marsh. Wetlands 26:544–557

Chambers RM, Meyerson LA, Saltonstall K (1999) Expansion of Phragmites australis into tidal wetlands of North America. Aquat Bot 64:261–273

Clarke KR (1993) Non-parametric multivariate analyses of changes in community structure. Aust J Ecol 18:117–143

Clarke KR, Gorley RN (2006) PRIMER v6 user manual/tutorial. Primer-E, Plymouth

Connecticut Department of Energy and Environmental Protection (CT DEEP) (2011) Wetland habitat and mosquito management program, wildlife division, Connecticut Department of Energy and Environmental Protection. http://www.ct.gov/mosquito/cwp/view.asp?a=3486&q=415084&mosquitoNav=|. Accessed 5 Jul 2011

Crans WJ (1977) The status of Aedes sollicitans as an epidemic vector of eastern equine encephalitis in New Jersey. Mosq News 37:85–89

Crans WJ, Schulze T, Bruder KW (1986) Status of EEE virus and its mosquito vectors. NJ vector surveill publication No. R-40500-03-86. Vol. 1 No. 3. New Jersey Agricultural Experimental Station, Trenton

Crossett KM, Culliton TJ, Wiley PC, Goodspeed TR (2004) Population trends along the coastal United States: 1980–2008., Coastal Trends Report SeriesNational Oceanic and Atmospheric Administration, National Ocean Service, Rockville, p 47

Darsie RF, Ward RA (1981) Identification and geographical distribution of the mosquitoes of North America, North of Mexico. Mosq Syst 1(Suppl):1–313

Erwin RM, Dawson DK, Stotts DB, Mcallister LS, Geissler PH (1991) Open marsh water management in the mid-atlantic region—aerial surveys of waterbird use. Wetlands 11:209–228

Erwin RM, Hatfield C, Howe MA, Klugman SS (1994) Waterbird use of salt-marsh ponds created for open marsh water management. J Wildl Manag 58:516–524

Ferrigno F, Jobbins DM (1968) Open marsh water management. Proc N J Mosq Control Assoc 55:104–115

Ferrigno F, MacNamara LG, Jobbins DM (1969) Ecological approach for improved management of coastal meadowlands. Proc N J Mosq Control Assoc 56:188–202

Gedan KB, Silliman BR, Bertness MD (2009) Centuries of human-driven change in salt marsh ecosystems. Annu Rev Mar Sci 1:117–141

Grant GS, Kirby-Smith WW (1998) The effect of open-marsh water management on summer bird populations on Topsail Island, North Carolina. Estuaries 21:361–363

James-Pirri MJ, Erwin RM, Prosser DJ (2008) US fish and wildlife service (Region 5) salt marsh study (2001–2006): an assessment of hydrologic alterations on salt marsh ecosystems along the Atlantic coast. USGS Patuxent Wildlife Research Center and University of Rhode Island. ftp://ftpext.usgs.gov/pub/er/md/laurel/OMWM/Region5_salt_marsh_FINAL_REPORT_April12_2008.pdf. Accessed 30 Mar 2011

James-Pirri MJ, Roman CT, Swanson JL (2010) A method to quantitatively sample nekton in salt-marsh ditches and small tidal creeks. Trans Am Fish Soc 139:413–419

James-Pirri MJ, Erwin RM, Prosser DJ, Taylor JD (2011) Responses of salt marsh ecosystems to mosquito control management practices along the Atlantic coast (USA). Restor Ecol 19. doi:10.1111/j.1526-100X.2010.00767.x (published online Feb 2011)

Konisky RA, Burdick DM, Dionne M, Neckles HA (2006) A regional assessment of salt marsh restoration and monitoring in the Gulf of Maine. Restor Ecol 14:516–525

Kulasekera VL, Kramer L, Nasci RS, Mostashari F, Cherry B, Trock SC, Glaser C, Miller JR (2001) West Nile virus infection in mosquitoes, birds, horses, and humans, Staten Island, New York, 2000. Emerg Infect Dis 7:722–725

Means RG (1979) Mosquitoes of New York. Part I. The genus Aedes Meigen with identification keys to genera of Culicidae. New York State Mus Bull 430a, New York State Education Department, Albany

Meredith WH, Lesser CR (2007) An overview of open marsh water management (OMWM) in Delaware, 1979–2007. Proc N J Mosq Control Assoc 94:55–69

Meredith WH, Saviekis DE, Stachecki CJ (1985) Guidelines for 'open marsh water management' in Delaware's salt marshes. Wetlands 5:119–133

Miller WR, Egler FE (1950) Vegetation of the Wequetequock–Pawcatuck tidal marshes, Connecticut. Ecol Monogr 20:143–172

Nayar JK (1985) Bionomics and physiology of Aedes taeniorhynchus and Aedes sollicitans, the salt marsh mosquitoes of Florida. Fla Agric Exp Stn Bull 852:1–148

O'Meara GF (1992) The eastern saltmarsh mosquito, Aedes sollicitans. Wing Beats 3(4):5

Osorio JE, Yuill TM (1994) Venezuelan Equine Encephalitis. In: Handbook of zoonoses, section B: viral, 2nd edn. CRC Press, Boca Raton, pp 33–46

Posey MH, Anson HH (1991) Complex predator-prey interactions within an estuarine benthic community. Ecology 75:2155–2169

Raposa KB (2008) Early ecological responses to hydrologic restoration of a tidal pond and salt marsh complex in Narragansett Bay, Rhode Island. J Coast Res 55:180–192

Raposa KB, Roman CT (2003) Using gradients in tidal restriction to evaluate nekton community responses to salt marsh restoration. Estuaries 26:98–105

Redfield A (1972) Development of a New England salt marsh. Ecol Monogr 42:201–237

Richards AG Jr (1938) Mosquitoes and mosquito control on Long Island, New York, with particular reference to the salt marsh problem. New York State Mus Bull 316(3), The State Education Department, Albany

Rochlin I, Dempsey ME, Campbell SR, Ninivaggi DV (2008) Salt marsh as Culex salinarius larval habitat in coastal New York. J Am Mosq Control Assoc 24:359–367

Rochlin I, Iwanejko T, Dempsey M, Ninivaggi D (2009) Geostatistical evaluation of Integrated Marsh Management impact on mosquito vectors using before–after-control–impact (BACI) design. Int J Health Geogr 8:35. Available at http://www.ij-healthgeographics.com/content/8/1/35

Rochlin I, James-Pirri MJ, Adamowicz SC, Dempsey ME, Iwanejko T, Ninivaggi DV (2012) The effects of Integrated Marsh Management (IMM) on salt marsh vegetation, nekton, and birds. Estuar Coasts 35. doi:10.1007/s12237-011-9468-5 (published online Jan 2012)

Roman CT, Niering WA, Warren RS (1984) Salt marsh vegetation change in response to tidal restriction. Environ Manag 8:141–149

Roman C, Jaworski N, Short F, Findlay S, Warren R (2000) Estuaries of the northeastern United States: habitat and land use signatures. Estuar Coasts 23:743–764

Roman CT, Raposa KB, Adamowicz SC, James-Pirri MJ, Catena JG (2002) Quantifying vegetation and nekton response to tidal restoration of a New England salt marsh. Restor Ecol 10:450–460

Saltonstall K (2002) Cryptic invasion by a non-native genotype of the common reed, Phragmites australis, into North America. Proc Natl Acad Sci USA 99:2445–2449

Sardelis MR, Turell MJ, Dohm DJ, O'Guinn ML (2001) Vector competence of selected North American Culex and Coquillettidia mosquitoes for West Nile virus. Emerg Infect Dis 7:1018–1022

Seigel A, Hatfield C, Hartman JM (2005) Avian response to restoration of urban tidal marshes in the Hackensack Meadowlands, New Jersey. Urban Habitats 3. Available at http://www.urbanhabitats.org/v01n01/nymf_full.html

Stewart-Oaten A, Murdoch WW, Parker KR (1986) Environmental impact assessment: pseudo-replication in time? Ecology 67:929–940

Suffolk County (2009) Wertheim national wildlife refuge water management demonstration project data reports. http://apps.suffolkcountyny.gov/health/suffolkvectorplan/. Accessed 31 Mar 2011

Vaidyanathan R, Edman JD, Cooper LA, Scott TW (1997) Vector competence of mosquitoes (Diptera: Culicidae) from Massachusetts for a sympatric isolate of eastern equine encephalomyelitis virus. J Med Entomol 34:346–352

Warren RS, Fell PE, Rozsa R, Brawley AH, Orsted AC, Olson ET, Swamy V, Niering WA (2002) Salt marsh restoration in Connecticut: 20 years of science and management. Restor Ecol 10:497–513

Weinstein M (2007) Linking restoration ecology and ecological restoration in estuarine landscapes. Estuar Coasts 30:365–370

Willott E (2004) Restoring nature, without mosquitoes? Restor Ecol 12:147–153

Wolfe RJ (1996) Effects of open marsh water management on selected tidal marsh resources: a review. J Am Mosq Control Assoc 12:701–712

Wolfe RJ, Capotosto P (1998) Integrated marsh management: a holistic approach to wetlands management in Connecticut. Proc NE Mosq Control Assoc 44:13
Acknowledgments
The Integrated Marsh Management at WNWR was a collaborative effort between USFWS and Suffolk County. The findings and conclusions in this article are those of the authors and do not necessarily represent the views of the U.S. Fish and Wildlife Service. We are indebted to Deborah Long, Patricia Martinkovic, and Michelle Williams (USFWS) for past and continuing support. We thank Alex Chmielewski, Andy Hinickle, Azucena Ponce, and Monica Williams (USFWS) for invaluable advice and field assistance. Suffolk County Vector Control personnel provided vital support for the project: Margaret Kawalkowski (data entry and QA), Jerry Franklin (maintenance and bird data collection), Valentin Bulgak (GIS support), and field crews (sampling). We thank Walt Dawydiak and Kimberly Shaw (Suffolk County DHS) for excellent project coordination and management, and Phil DeBlasi (Suffolk County DHS) for help with field work. Josh Ver Hague and Craig Kessler (Ducks Unlimited) provided valuable help with design and field sampling. Cashin Associates personnel Kim Somers, Keith Brewer, and Elyse O'Brien collected the field data and David Tonjes produced the draft project reports in 2003–2007.
Conflict of interest
None.
About this article
Cite this article
Rochlin, I., James-Pirri, M., Adamowicz, S.C. et al. Integrated Marsh Management (IMM): a new perspective on mosquito control and best management practices for salt marsh restoration. Wetlands Ecol Manage 20, 219–232 (2012). https://doi.org/10.1007/s11273-012-9251-9
Received:

Accepted:

Published:

Issue Date:
Keywords
Salt marsh restoration

Mosquito control

Open Marsh Water Management (OMWM)

Phragmites australis
Spartina

Salt marsh nekton