Assessment of Pyrethroid Pesticides in Topsoils in Northern Portugal
Abstract
Pyrethroid insecticides are emerging contaminants broadly used for insect pest control in agriculture, veterinary, and domestic applications. Limited information can be found in literature regarding pyrethroid pesticide soil contamination in playgrounds and agricultural areas. The focus of this study was on new findings related to the spatial and seasonal occurrence of pyrethroid pesticide contamination in soils of northern Portugal. The soils were tested during summer and winter seasons. Pyrethroid pesticides were not found in the ten playgrounds sampled during both seasons. For the 18 agricultural soil samples tested, deltamethrin was the only pyrethroid detected, just during the summer season. For those, three of the samples taken were found to be positive with concentrations between 15.7 and 101.7 ng g−1. The results denote the need for monitoring and assessment of pyrethroid pesticide contamination in Portuguese soil. Further research is needed to access the ecological potential impact of pyrethroid pesticides on soil.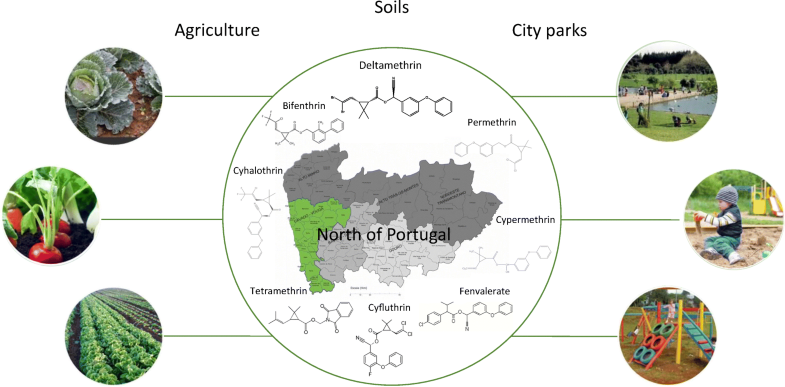 Keywords
Soils 
Pyrethroids 
Deltamethrin 
Agriculture 
Playground 
Notes
Acknowledgments
I. Bragança is grateful to FCT for the doctoral research grant financed by fellowship (SFRH/BD/52504/2014). Paulo C. Lemos acknowledges the support by FCT/MCES for contract IF/01054/2014. The authors are greatly indebted to all financing sources.
Funding Information
This work was supported by the Associate Laboratory for Green Chemistry - LAQV which is financed by the national funds from FCT/MCTES (UID/QUI/50006/2013) and co-financed by the ERDF under the PT2020 Partnership Agreement (POCI-01-0145-FEDER - 007265).
Copyright information
© Springer Nature Switzerland AG 2019