Removal of Methyl Orange from Water Using Sulfur-Modified nZVI Supported on Biochar Composite
Abstract
A biochar-supported FeS/nZVI hybrid material (S-nZVI/BC) was synthesized and used for methyl orange (MO) removal from aqueous solutions. The effects of the S/Fe ratio, initial pH, MO concentrations, contact time, and coexisting ions were investigated. S-nZVI/BC was characterized by X-ray diffraction, transmission electron microscopy, vibrating sample magnetometer, BET surface areas, and X-ray photoelectron spectroscopy. A 1.44-fold increase in MO removal rate (from 36.84 to 53.13%) was observed as the S/Fe molar ratio increased from 0 to 0.5. The removal of MO was highly pH-dependent and the adsorption kinetics data were in agreement with the pseudo-second-order model. The maximum removal rate of MO (0.5 mM) was 76.09% (1.902 ± 0.229 mmol/g) for S-nZVI/BC at pH 2.5. The presence of Cl−, Ca2+, NH4+, and humic acid exerted an inhibitory effect on MO removal, both at low and high concentrations. These results indicate that the sulfidation process would improve the wastewater treatment efficiency. Another benefit is that S-nZVI/BC could be removed from the solution easily by an external magnetic field.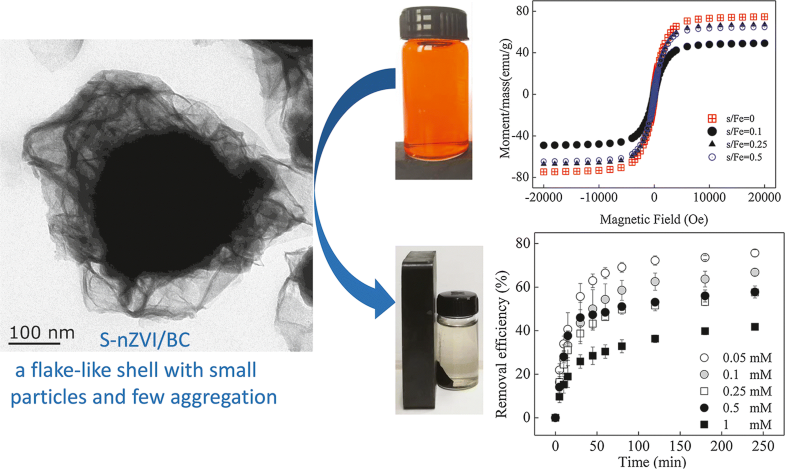 Keywords
Sulfidation 
nZVI 
Biochar 
Dye 
Degradation 
Notes
Acknowledgements
We sincerely thank Mr. Tongning Shang for inspiration during the writing process.
Funding Information
This work was supported by the Natural Science Foundation of Jiangsu Province (CN) (BK20150693), College Students Innovation Project for the R&D of Novel Drugs (no. J1310032), and Fundamental Research Funds for the Central Universities (grant no. 2632018FY01).
Copyright information
© Springer Nature Switzerland AG 2018