Activated Biochar as an Effective Sorbent for Organic and Inorganic Contaminants in Water
Abstract
Adsorption is acknowledged as effective for the removal of pollutants from drinking water and wastewater. Biochar, as a widely available material, holds promises for pollutant adsorption. So far, biochar has been found to be effective for multiple purposes, including carbon sequestration, nutrient storage, and water-holding capacity. However, its limited porosity restricts its use in water treatment. Activation of biochars, when performed at a high temperature (i.e., 900 °C) and in the presence of certain chemicals (H3PO4, KOH) and/or gases (CO2, steam), improves the development of porosity through the selective gasification of carbon atoms. Physicochemical activation process is appropriate for the production of highly porous materials. As well, the morphological and chemical structure of feedstock together with pyro-gasification operating conditions for the biochar production can greatly impact the porosity of the final materials. The effectiveness of activated biochar as adsorbent depends on porosity and on some functional groups connected to its structure, both of these are developed during activation. This study provides a comprehensive synthesis of the effect of several activated biochars when applied to the treatment of organic and inorganic contaminants in water. Results show that high aromaticity and porosity are essential for the sorption of organic contaminants, while the presence of oxygen-containing functional groups and optimum pH are crucial for the sorption of inorganic contaminants, especially metals. Finally, although activated biochar is a promising option for the treatment of contaminants in water, further research is required to evaluate its performance with real effluents containing contaminants of emerging concern.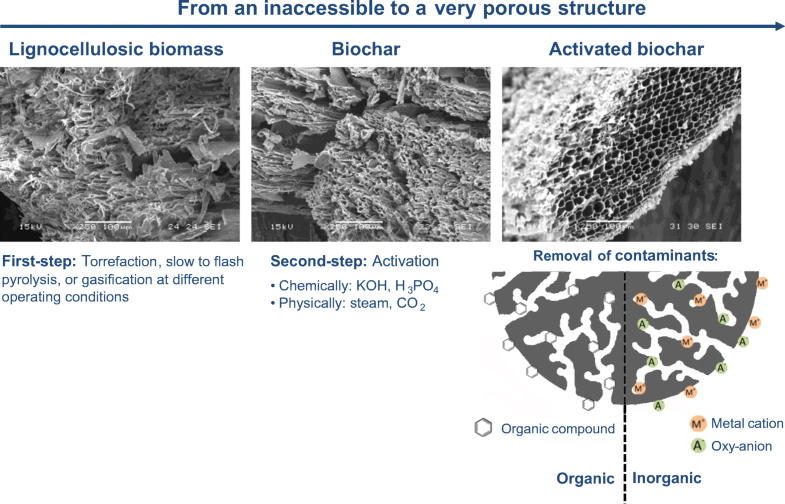 Keywords
Biomass waste 
Biochar 
Activation 
Adsorption 
Water treatment 
Organic and inorganic contaminants 
Notes
Acknowledgments
This study was supported by Québec's Ministry of Economy, Science, and Innovation (Ministère de l'Économie, de la Science et de l'Innovation du Québec), the Natural Sciences and Engineering Research Council of Canada (NSERC), the Canada Research Chair Program, Abitibi-Témiscamingue College, and the Technology Center for Industrial Waste (Centre Technologique des Résidus Industriels) through its partner on this project, Airex Energy.
Funding
The first author, Dr. Flavia Lega Braghiroli, sincerely acknowledges financial support by the NSERC via a Banting Postdoctoral Fellowship (2017–2019).
Copyright information
© Springer International Publishing AG, part of Springer Nature 2018