Abstract
In this study, we investigate the effect of application rate and timing of liquid swine slurry on leaching of antibiotic-resistant bacteria (ARB) and their antibiotic resistance genes (ARGs) through soil columns. Swine slurry was added to laboratory soil columns at rates of 5000 or 30,000 gal ac−1. For both application rates, rainfall was applied at either 1, 7, or 21 days after slurry application. Column effluent and the top centimeter of soil in the columns were sampled post-rainfall for cultivable bacteria and quantitative PCR was used to quantify tetracycline, methicillin, β-lactam, and erythromycin resistance genetic determinants. We also conducted similar experiments using swine lagoon slurry spiked with antibiotic-resistant E. coli and Salmonella. We found that the concentration of ARB and ARG recovered in the column effluent following application of the swine lagoon slurry generally decreased with increasing lag time between slurry application and simulated rainfall, though most of these decreases were not statistically significant. Moreover, no statistically significant differences in CFU or GU concentration in the column leachate were observed between the low and high slurry application rates. In the experiments using swine slurry spiked with E. coli and Salmonella, concentrations of both microorganisms eluted from fine sand columns were affected by both slurry application rate and lag time; recovery of ARGs, however, was mostly unaffected, but some differences were observed. In columns packed with loamy sand, no recovery was detected in the column effluent for either organism and recovery of ARG was unaffected by manure application rate or rainfall lag time.
This is a preview of subscription content, log in to check access.
Access options
Buy single article
Instant access to the full article PDF.
US$ 39.95
Price includes VAT for USA
Subscribe to journal
Immediate online access to all issues from 2019. Subscription will auto renew annually.
US$ 199
This is the net price. Taxes to be calculated in checkout.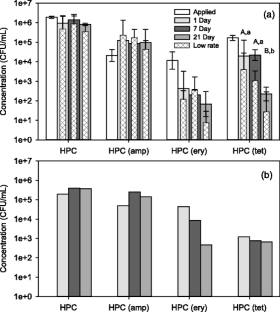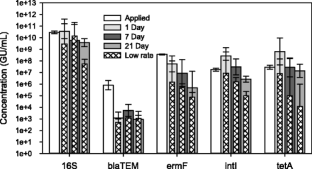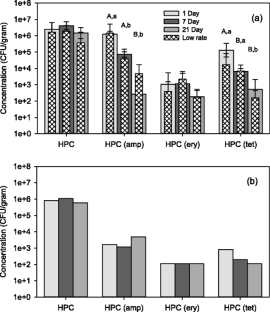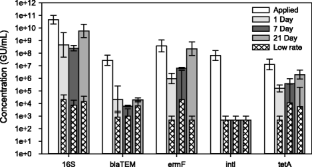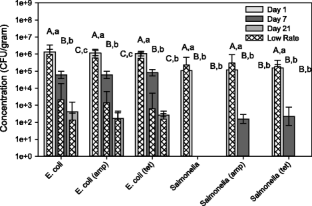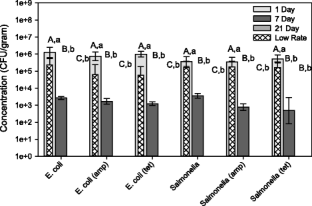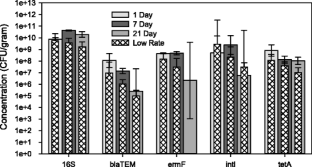 References
Abit, S. M., Bolster, C. H., Cai, P., & Walker, S. L. (2012). Influence of feedstock and pyrolysis temperature of biochar amendments on transport of Escherichia coli in saturated and unsaturated soil. Environmental Science & Technology, 46, 8097–8105.

Abit, S. M., Bolster, C. H., Cantrell, K. B., Flores, J. Q., & Walker, S. L. (2014). Transport of Escherichia coli, Salmonella typhimurium, and microspheres in biochar-amended soils with different textures. Journal of Environmental Quality, 43, 371–378.

Asadishad, B., Ghoshal, S., & Tufenkji, N. (2011). Method for the direct observation and quantification of survival of bacteria attached to negatively or positively charged surfaces in an aqueous medium. Environmental Science & Technology, 45, 8345–8351.

Baguer, A. J., Jensen, J., & Krogh, P. H. (2000). Effects of the antibiotics oxytetracycline and tylosin on soil fauna. Chemosphere, 40, 751–757.

Bolster, C. H., & Abit, S. M. (2012). Biochar pyrolyzed at two temperatures affects Escherichia coli transport through a sandy soil. Journal of Environmental Quality, 41, 124–133.

Bolster, C. H., Mills, A. L., Hornberger, G. M., & Herman, J. S. (2001). Effect of surface coatings, grain size, and ionic strength on the maximum attainable coverage of bacteria on sand surfaces. Journal of Contaminant Hydrology, 50, 287–305.

Bolster, C. H., Walker, S. L., & Cook, K. L. (2006). Comparison of Escherichia coli and Campylobacter jejuni transport in saturated porous media. Journal of Environmental Quality, 35, 1018–1025.

Bolster, C. H., Vadas, P. A., Sharpley, A. N., & Lory, J. A. (2012). Using a phosphorus loss model to evaluate and improve phosphorus indices. Journal of Environmental Quality, 41, 1758–1766.

Brooks, J. P., Maxwell, S. L., Rensing, C., Gerba, C. P., & Pepper, I. L. (2007). Occurrence of antibiotic-resistant bacteria and endotoxin associated with the land application of biosolids. Canadian Journal of Microbiology, 53, 616–622.

Brooks, J. P., McLaughlin, M. R., Adeli, A., & Miles, D. M. (2016). Cultivation and qPCR detection of pathogenic and antibiotic-resistant bacterial establishment in naive broiler houses. Journal of Environmental Quality, 45, 958–966.

Chee-Sanford, J. C., Mackie, R. I., Koike, S., Krapac, I. G., Lin, Y. F., Yannarell, A. C., Maxwell, S., & Aminov, R. I. (2009). Fate and transport of antibiotic residues and antibiotic resistance genes following land application of manure waste. Journal of Environmental Quality, 38, 1086–1108.

Chen, J., Yu, Z. T., Michel, F. C., Wittum, T., & Morrison, M. (2007). Development and application of real-time PCR assays for quantification of erm genes conferring resistance to macrolides-lincosamides-streptogramin B in livestock manure and manure management systems. Applied and Environmental Microbiology, 73, 4407–4416.

Cook, K. L., & Britt, J. S. (2007). Optimization of methods for detecting Mycobacterium avium subsp paratuberculosis in environmental samples using quantitative, real-time PCR. Journal of Microbiological Methods, 69, 154–160.

Fan, W., Hamilton, T., Webster-Sesay, S., Nikolich, M. P., & Lindler, L. E. (2007). Multiplex real-time SYBR green IPCR assay for detection of tetracycline efflux genes of gram-negative bacteria. Molecular and Cellular Probes, 21, 245–256.

Foppen, J. W., Liem, Y., & Schijven, J. (2008). Effect of humic acid on the attachment of Escherichia coli in columns of goethite-coated sand. Water Research, 42, 211–219.

Gieraltowski, L., Higa J., Peralta V., Green A., Schwensohn C., Rosen H., et al. (2016). National Outbreak of Multidrug Resistant Salmonella Heidelberg Infections Linked to a Single Poultry Company. PLoS One. 11(9):e0162369

Hardwick, S. A., Stokes, H. W., Findlay, S., Taylor, M., & Gillings, M. R. (2008). Quantification of class 1 integron abundance in natural environments using real-time quantitative PCR. FEMS Microbiology Letters, 278, 207–212.

Hutchison, M. L., Walters, L. D., Moore, A., Crookes, K. M., & Avery, S. M. (2004). Effect of length of time before incorporation on survival of pathogenic bacteria present in livestock wastes applied to agricultural soil. Applied and Environmental Microbiology, 70, 5111–5118.

Huysman, F., & Verstraete, W. (1993). Water-facilitated transport of bacteria in unsaturated soil columns-influence of inoculation and irrigation methods. Soil Biology and Biochemistry, 25, 91–97.

Khanna, T., Friendship, R., Dewey, C., & Weese, J. S. (2008). Methicillin resistant Staphylococcus aureus colonization in pigs and pig farmers. Veterinary Microbiology, 128, 298–303.

Kumar, K., Gupta, S. C., Chander, Y., & Singh, A. K. (2005). Antibiotic use in agriculture and its impact on the terrestrial environment. Advances in Agronomy, 87, 1–54.

Lachmayr, K. L., Kerkhof, L. J., DiRienzo, A. G., Cavanaugh, C. M., & Ford, T. E. (2009). Quantifying nonspecific TEM beta-lactamase (Bla(TEM)) genes in a wastewater stream. Applied and Environmental Microbiology, 75, 203–211.

Lieberman, J. M. (2003). Appropriate antibiotic use and why it is important: The challenges of bacterial resistance. The Pediatric Infectious Disease Journal, 22, 1143–1151.

Liu, P., Soupir, M. L., Zwonitzer, M., Huss, B., & Jarboe, L. R. (2011). Association of antibiotic resistance in agricultural Escherichia coli isolates with attachment to quartz. Applied and Environmental Microbiology, 77, 6945–6953.

Mckeon, D. M., Calabrese, J. P., & Bissonnette, G. K. (1995). Antibiotic-resistant gram-negative Bacteria in rural groundwater supplies. Water Research, 29, 1902–1908.

Mills, A. L., Herman, J. S., Hornberger, G. M., & Dejesus, T. H. (1994). Effect of solution ionic-strength and Iron coatings on mineral grains on the sorption of bacterial-cells to quartz sand. Applied and Environmental Microbiology, 60, 3300–3306.

Nadkarni, M. A., Martin, F. E., Jacques, N. A., & Hunter, N. (2002). Determination of bacterial load by real-time PCR using a broad-range (universal) probe and primers set. Microbiology, 148, 257–266.

Pachepsky, Y. A., Yu, O., Karns, J. S., Shelton, D. R., Guber, A. K., & van Kessel, J. S. (2008). Strain-dependent variations in attachment of E. coli to soil particles of different sizes. International Agrophysics, 22, 61–66.

Sabet, N. S., Subramaniam, G., Navaratnam, P., & Sekaran, S. D. (2007). Detection of methicillin- and aminoglycoside-resistant genes and simultaneous identification of S-aureus using triplex real-time PCR Taqman assay. Journal of Microbiological Methods, 68, 157–162.

Sapkota, A. R., Curriero, F. C., Gibson, K. E., & Schwab, K. J. (2007). Antibiotic-resistant enterococci and fecal indicators in surface water and groundwater impacted by a concentrated swine feeding operation. Environmental Health Perspectives, 115, 1040–1045.

Sasidharan, S., Bradford, S. A., Torkzaban, S., Ye, X., Vanderzalm, J., Du, X., & Page, D. (2017). Unraveling the complexities of the velocity dependency of E. coli retention and release parameters in saturated porous media. Science of Total Environment, 603-604, 406–415.

Schulz, L. L., & Rademacher, C. J. (2017). Food and Drug Administration Guidance 209 and 213 and Veterinary Feed Directive regulations regarding antibiotic use in livestock: A survey of preparation and anticipated impacts in the swine industry. Journal of Swine Health and Production, 25, 247–255.

Sengelov, G., Agerso, Y., Halling-Sorensen, B., Baloda, S. B., Andersen, J. S., & Jensen, L. B. (2003). Bacterial antibiotic resistance levels in Danish farmland as a result of treatment with pig manure slurry. Environment International, 28, 587–595.

Sharpley, A., Beegle, D., Bolster, C., Good, L., Joern, B., Ketterings, Q., Lory, J., Mikkelsen, R., Osmond, D., & Vadas, P. (2012). Phosphorus indices: Why we need to take stock of how we are doing. Journal of Environmental Quality, 41, 1711–1719.

Sistani, K. R., Torbert, H. A., Way, T. R., Bolster, C. H., Pote, D. H., & Warren, J. G. (2009). Broiler litter application method and runoff timing effects on nutrient and Escherichia coli losses from tall fescue pasture. Journal of Environmental Quality, 38, 1216–1223.

Stevik, T. K., Aa, K., Ausland, G., & Hanssen, J. F. (2004). Retention and removal of pathogenic bacteria in wastewater percolating through porous media: A review. Water Research, 38, 1355–1367.

Tufenkji, N., & Elimelech, M. (2004). Deviation from the classical colloid filtration theory in the presence of repulsive DLVO interactions. Langmuir, 20, 10818–10828.

USDA NRCS Natural Resources Conservation Service (2011). Conservation Practice Standard, Nutrient Management, representing Code 590. Washington, DC: USDA-NRCS. http://www.nrcs.usda.gov/Internet/FSE_DOCUMENTS/stelprdb1046177.pdf. Accessed 30 October 2017.

Walczak, J. J., Bardy, S. L., Feriancikova, L., & Xu, S. P. (2011). Comparison of the transport of tetracycline-resistant and tetracycline-susceptible Escherichia coli isolated from Lake Michigan. Water, Air, and Soil Pollution, 222, 305–314.

Wallace, C. B., Burton, M. G., Hefner, S. G., & DeWitt, T. A. (2013). Effect of preceding rainfall on sediment, nutrients, and bacteria in runoff from biosolids and mineral fertilizer applied to a hayfield in a mountainous region. Agricultural Water Management, 130, 113–118.

Zhao, W. Q., Liu, X., Huang, Q. Y., Walker, S. L., & Cai, P. (2012). Interactions of pathogens Escherichia coli and Streptococcus suis with clay minerals. Applied Clay Science, 69, 37–42.

Zwonitzer, M. R., Soupir, M. L., Jarboe, L. R., & Smith, D. R. (2016). Quantifying attachment and antibiotic resistance of Escherichia coli from conventional and organic swine manure. Journal of Environmental Quality, 45, 609–617.
Acknowledgements
We are grateful to Stacy Antle for conducting the column experiments, Rohan Parekh for isolating DNA for antibiotic-resistant gene analysis, and Alexandra Rohde for assistance with data management and statistical analysis. This research was partially funded by the National Pork Board (#13-113) and is part of USDA-ARS National Program 212: Soil and Air.
Ethics declarations
Conflict of interest
The authors declare no competing financial interest. Mention of a trade name, proprietary product, or vendor is for information only and does not guarantee or warrant the product by the USDA and does not imply its approval to the exclusion of other products or vendors that may also be suitable. USDA is an equal opportunity provider and employer.
Electronic Supplementary Material
About this article
Cite this article
Bolster, C.H., Brooks, J.P. & Cook, K.L. Effect of Manure Application Rate and Rainfall Timing on the Leaching of Antibiotic-Resistant Bacteria and Their Associated Genes. Water Air Soil Pollut 229, 130 (2018). https://doi.org/10.1007/s11270-018-3781-6
Received:

Accepted:

Published:
Keywords
Antibiotic resistance

E. coli
Salmonella

Leaching

Microbial transport

Tetracycline

Erythromycin

Ampicillin