Abstract
Petroleum hydrocarbons in the bilge water of small fishing vessels are continuously released into the environment. The bilge water samples usually contained low amounts of oil-degrading bacteria; therefore, this study examines application of polyurethane foam (PUF)-immobilized Gordonia sp. JC11, a known lubricant-degrading bacterial inoculum, for the treatment of bilge water. Batch microcosm experiments showed that the PUF-immobilized bacteria were more efficient at removing oil than indigenous microorganisms and were able to remove approximately 40–50 % of the boat lubricant (1,000 mg L−1). The immobilized PUF samples rapidly adsorbed oil from the bilge water inside a small fishing vessel; however, the uninoculated PUF contained more oil than the inoculated PUF at most time points. The hydrocarbon components were also different when comparing inoculated and uninoculated PUF. These results indicate that the oil accumulated inside the PUF containing immobilized bacteria was being degraded by the Gordonia sp. JC11. However, these bacteria gradually die off after repeated oil exposure, and it is suggested that PUF-immobilized cells be replaced at timed intervals. This technique is considered simple and cheap; thus, it could be used to reduce chronic oil pollution from the release of bilge water.
This is a preview of subscription content, log in to check access.
Access options
Buy single article
Instant access to the full article PDF.
US$ 39.95
Price includes VAT for USA
Subscribe to journal
Immediate online access to all issues from 2019. Subscription will auto renew annually.
US$ 199
This is the net price. Taxes to be calculated in checkout.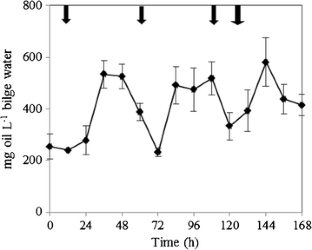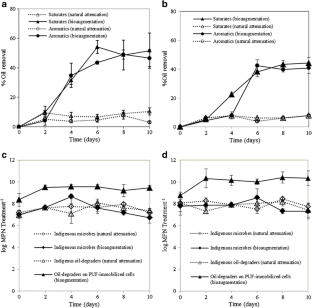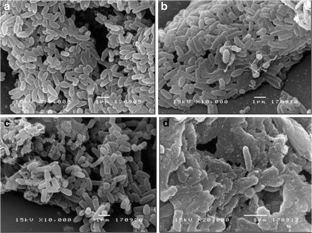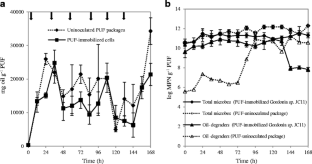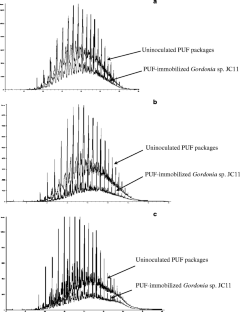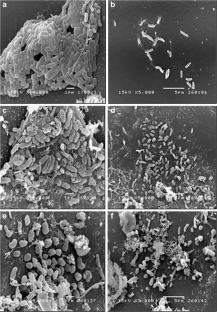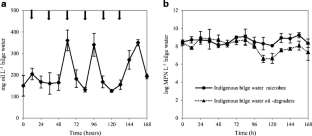 References
Cappello, S., Santisi, S., Calogero, R., Hassanshahian, M., & Yakimov, M. M. (2012). Characterization of oil-degrading bacteria isolated from bilge water. Water, Air, and Soil Pollution, 223, 3219–3226.

Chanthamalee, J., & Luepromchai, E. (2012). Isolation and application of Gordonia sp. JC11 for removal of boat lubricants. Journal of General and Applied Microbiology, 58, 19–31.

Feng, Q., Wang, Y., Wang, T., Zheng, H., Chu, L., Zhang, C., et al. (2012). Effects of packing rates of cubic-shaped polyurethane foam carriers on the microbial community and the removal of organics and nitrogen in moving bed biofilm reactors. Bioresource Technology, 117, 201–207.

Ghidossi, R., Veyret, D., Scotto, J. L., Jalabert, T., & Moulin, P. (2009). Ferry oily wastewater treatment. Separation and Purification Technology, 64, 296–303.

Guo, W., Ngo, H. H., Dharmawan, F., & Palmer, C. G. (2010). Roles of polyurethane foam in aerobic moving and fixed bed bioreactors. Bioresource Technology, 101, 1435–1439.

Higashihara, T., Sato, A., & Simidu, U. (1978). An MPN method for the enumeration of marine hydrocarbon degrading bacteria. Bulletin of the Japanese Society of Scientific Fisheries, 44, 1127–1134.

Hosokawa, R., Motonori, N., Morikawa, M., & Okuyama, H. (2009). Autochthonous bioaugmentation and its possible application to oil spills. World Journal of Microbiology and Biotechnology, 25, 1519–1528.

Lin, B., Lin, C.-Y., & Jong, T.-C. (2007). Investigation of strategies to improve the recycling effectiveness of waste oil from fishing vessels. Marine Policy, 31, 415–420.

Luo, Q., Shen, X.-R., Zhang, J.-G., Fan, Z.-Q., & He, Y. (2012). Isolation, identification and biodegradation ability of diesel oil degrading Pseudomonas sp. strain C7 from bilge water. African Journal of Microbiology Research, 6, 1033–1040.

Maruyama, A., Ishiwata, H., Kitamura, K., Sunamura, M., Fujita, T., Matsuo, M., et al. (2003). Dynamics of microbial populations and strong selection for Cycloclasticus pugetti following the Nakhoda oil spill. Microbial Ecology, 46, 442–443.

Nievas, M. L., Commendatore, M. G., Olivera, N. L., Esteves, J. L., & Bucala, V. (2006). Biodegradation of bilge waste from Patagonia with an indigenous microbial community. Bioresource Technology, 97, 2280–2290.

Oh, Y.-S., Maeng, J., & Kim, S.-J. (2000). Use of microorganism-immobilized polyurethane foams to absorb and degrade oil on water surface. Applied Microbiology and Biotechnology, 54, 418–423.

Quek, E., Ting, Y.-P., & Tan, H. M. (2006). Rhodococcus sp. F92 immobilized on polyurethane foam shows ability to degrade various petroleum products. Bioresource Technology, 97, 32–38.

Sivaraman, C., Ganguly, A., Nikolaus, M., & Mutnuri, S. (2011). Isolation of hydrocarbonoclastic bacteria from bilge oil contaminated water. International Journal of Environmental Science and Technology, 8, 461–470.

Sun, C., Leiknes, T., Weitzenbock, J., & Thorstensen, B. (2010). Development of a biofilm-MBR for shipboard wastewater treatment: The effect of process configuration. Desalination, 250, 745–750.

Zhu, X., Venosa, A. D., & Suidan, M. T. (2004). Literature review on the use of commercial bioremediation agents for cleanup of oil-contaminated estuarine environments. EPA/600/F-04/075, Office of Research and Development, US EPA, Gulf Breeze, FL.
Acknowledgments
This study was financed by the Commission on Higher Education of Thailand and the 90th Anniversary of Chulalongkorn University Fund (Ratchadaphiseksomphot Endowment Fund), Chulalongkorn University. Some instruments were provided by the Thai Government Stimulus Package 2 (TKK2555) under the Project for Establishment of the Comprehensive Center for Innovative Food, Health Products and Agriculture.
Electronic supplementary material
Below is the link to the electronic supplementary material.
About this article
Cite this article
Chanthamalee, J., Wongchitphimon, T. & Luepromchai, E. Treatment of Oily Bilge Water from Small Fishing Vessels by PUF-Immobilized Gordonia sp. JC11. Water Air Soil Pollut 224, 1601 (2013). https://doi.org/10.1007/s11270-013-1601-6
Received:

Accepted:

Published:
Keywords
Petroleum pollution

Biodegradation

Bilge water

Bacterial inoculum

Fishing vessels