Abstract
The current study estimates premature mortality caused by long-term exposure to elevated concentrations of PM2.5 (particulate matter with aerodynamic diameter equal to or less than 2.5 μm) in Japan from 2006 to 2009. The premature mortality is calculated based on a relative risk of 1.04 (95 % CI, 1.01–1.08) per 10 μg m−3 increase above the annual mean limit of 10 μg m−3 taken from the World Health Organization Air Quality Guidelines. The spatiotemporal variations of PM2.5 are estimated based on the measurements of suspended particulate matter (SPM) (with aerodynamic diameter approximately less than 7.0 μm) at 1,843 monitors. The improvements of air quality in Japan by reducing the emissions of SPM from 2006 to 2009 could save 3,602 lives based on a reduction target of 10 μg m−3 annual mean concentration. This finding could be a tangible benefit gained by reducing the emissions of particulate matter in Japan.
This is a preview of subscription content, log in to check access.
Access options
Buy single article
Instant access to the full article PDF.
US$ 39.95
Price includes VAT for USA
Subscribe to journal
Immediate online access to all issues from 2019. Subscription will auto renew annually.
US$ 199
This is the net price. Taxes to be calculated in checkout.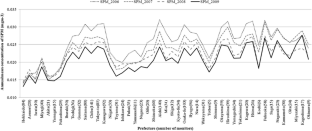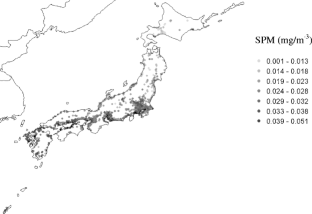 References
Anenberg, S., Horowitz, L., Tong, D., & West, J. (2010). An estimation of the global burden of anthropogenic ozone and fine particulate matter on premature human mortality using atmospheric modeling. Environmental Health Perspectives, 18(9), 1189–1195.

CIESIN, 2005. Gridded Population of the World, Version 3 (GPWv3). Center for International Earth Science Information Network (CIESIN), Columbia University.

Cohen, A., Anderson, H., Ostra, B., et al. (2005). The global burden of disease due to outdoor air pollution. Journal of Toxicology and Environmental Health. Part A, 68, 1–7.

e-stat: Official statistics of Japan (in Japanese/English) (2011). http://www.e-stat.go.jp/SG1/estat/eStatTopPortalE.do. Accessed 6 Mar 2013.

Iwai, K., Mizuno, S., Miyasaka, Y., & Mori, T. (2005). Correlation between suspended particles in environmental air and causes of disease among inhabitants: cross-sectional studies using the vital statistics and air pollution data in Japan. Environmental Research, 99(1), 106–117.

Jerrett, M., Burnett, R., Pope, A., III, et al. (2009). Long-term ozone exposure and mortality. The New England Journal of Medicine, 360(11), 1085–1095.

Kagawa, J. (1994). Atmospheric pollution due to mobile sources and effects on human health in Japan. Environmental Health Perspectives, 102.

Katanoda, K., Sobue, T., Satoh, H., et al. (2011). An association between long-term exposure to ambient air pollution and mortality from lung cancer and respiratory diseases in Japan. Journal of Epidemiology, 21(2), 132–143.

Lippmann, M. (2009). Environmental toxicants/human exposures and their effects (pp. 317–359). Hoboken: Wiley.

Liu, J., Mauzerall, D., & Horowitz, L. (2009). Evaluating inter-continental transport of fine aerosols: (2) global health impact. Atmospheric Environment, 43(28), 4339–4347.

MOEJ (2009). 21 JFY Air quality monitoring report (in Japanese). http://www.env.go.jp/en/. Accessed 6 Mar 2013.

Nakatani, J., Aramaki, T., & Hanaki, K. (2007). Applying choice experiments to valuing the different types of environmental issues in Japan. Journal of Environmental Management, 84(3), 362–376.

Nawahda, A., Yamashita, K., Ohara, T., et al. (2012). Evaluation of premature mortality caused by exposure to PM2.5 and ozone in East Asia: 2000, 2005, 2020. Water, Air, and Soil Pollution. doi:10.1007/s11270-012-1123-7.

Omori, T., Fujimoto, G., Yoshimura, I., Nitta, H., & Ono, M. (2003). Effect of particulate matter on daily mortality in 13 Japanese cities. Journal of Epidemiology, 13(6), 314.

Pope, C. A., III, & Dockery, W. D. (2006). Health effects of fine particulate air pollution: lines that connect. Journal of the Air & Waste Management Association, 56, 709–742.

Pope, C. A., III, Burnett, R. T., Thun, M. J., et al. (2002). Lung cancer, cardiopulmonary mortality, and long-term exposure to fine particulate air pollution. Journal of the American Medical Association, 287(9), 1132–1141.

Saikawa, E., Naik, V., Horowitz, L., et al. (2009). Present and potential future contributions of sulfate, black and organic carbon aerosols from China to global air quality, premature mortality and radiative forcing. Atmospheric Environment, 43(17), 2814–2822.

Shima, M., Nitta, Y., & Adachi, M. (2003). Traffic-related air pollution and respiratory symptoms in children living along trunk roads in Chiba Prefecture, Japan. Journal of Epidemiology, 3(2), 108–119.

Ueda, K., Nagasawa, S., Nitta, H., et al. (2012). Exposure to particulate matter and long-term risk of cardiovascular mortality in Japan: Nippon data80. Journal of Atherosclerosis and Thrombosis, 19(3), 246–254.

USEPA (2010a). Quantitative health risk assessment for PM. http://www.epa.gov/ttn/naaqs/standards/pm/data/PM_RA_FINAL_June_2010.pdf. Accessed 6 Mar 2013.

USEPA (2010b). Environmental Benefits Mapping and Analysis Program (BenMAP). http://www.cmascenter.org/help/model_docs/benmap/4.0/BenMAPManualAppendices.pdf. Accessed 6 Mar 2013.

USEPA (2010c). Review of particulate matter risk and exposure assessments 2010/03/10-11. http://yosemite.epa.gov/sab/sabproduct.nsf/bf498bd32a1c7fdf85257242006dd6cb/63a75420a265e70e852576700066c72d!OpenDocument&Date=2010-03-10Accessed 6 Mar 2013.

Wang, X., & Mauzerall, D. (2006). Evaluating impacts of air pollution in China on public health: implications for future air pollution and energy policies. Atmospheric Environment, 40, 1706–1721.

WHO (2005). Air quality guidelines for particulate matters, ozone, nitrogen dioxide/global update/summary of risk assessment. http://whqlibdoc.who.int/hq/2006/WHO_SDE_PHE_OEH_06.02_eng.pdf. Accessed 6 Mar 2013.

Yamazaki, S., Shima, M., Ando, M., Nitta, H., Watanabe, H., & Nishimuta, T. (2011). Effect of hourly concentration of particulate matter on peak expiratory flow in hospitalized children: a panel study. Environmental Health, 1, 10–15.

Yorifuji, T., Kashima, S., Suzuki, E., et al. (2008). Long-term exposure to particulate matter and all-cause and cause-specific mortality in Japan. Shizuoka study. Epidemiology, 19(6), S195.
Acknowledgments
Thanks for Allah, my parents, and my wife and for Asia Center for Air Pollution Research, Japan for their support. Also, thanks for Dr. Scott Voorhees, USEPA for his comments and thanks for the Research Council in Oman for the support.
About this article
Cite this article
Nawahda, A. Reductions of PM2.5 Air Concentrations and Possible Effects on Premature Mortality in Japan. Water Air Soil Pollut 224, 1508 (2013). https://doi.org/10.1007/s11270-013-1508-2
Received:

Accepted:

Published:
Keywords
Premature mortality

SPM

Exposure

PM2.5

Japan