Abstract
The utilization and disposal of alkaline waste materials such as slag and coal fly ash as cement aggregates and raw materials in cement manufacturing can pose environmental and health hazards because these waste materials usually contain elevated concentration of toxic elements. This study examined the possibility of controlling the pore water chemistry of these waste materials in order to induce the secondary mineral formation of Mg-bearing minerals as major sorbing solids for oxyanions during the utilization and disposal of alkaline wastes. The formation of Mg-bearing minerals was examined at ambient temperature and alkaline pH conditions in the Mg–Si–Al system. The interaction of Mg-bearing minerals with oxyanions using arsenate as an analog was examined during and after mineral formation. The results revealed that the generated Mg-bearing mineral phases were smectite and brucite in Mg–Si system and hydrotalcite and serpentine in Mg–Si–Al system. Moreover, hydrotalcite, serpentine, brucite, and smectite phases formed under low Si ratio showed high sorption capacity for arsenate, but only high Al content hydrotalcite and serpentine showed substantial irreversible fraction of sorbed arsenate. Hence, the generation of these kinds of hydrotalcite and serpentine phases as scavengers for oxyanions must be considered during the utilization and disposal of alkaline wastes.
This is a preview of subscription content, log in to check access.
Access options
Buy single article
Instant access to the full article PDF.
US$ 39.95
Price includes VAT for USA
Subscribe to journal
Immediate online access to all issues from 2019. Subscription will auto renew annually.
US$ 199
This is the net price. Taxes to be calculated in checkout.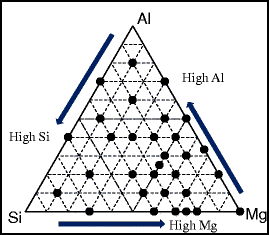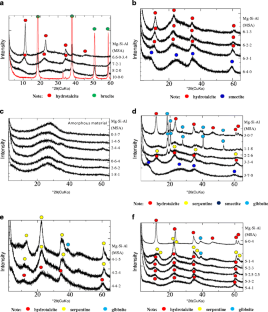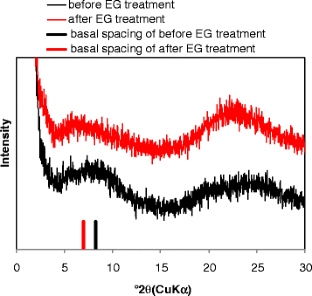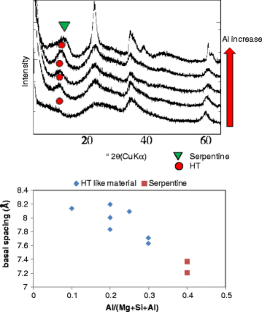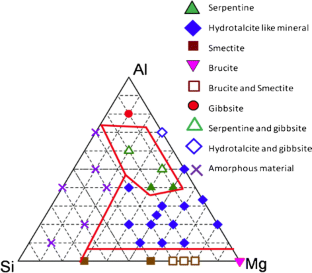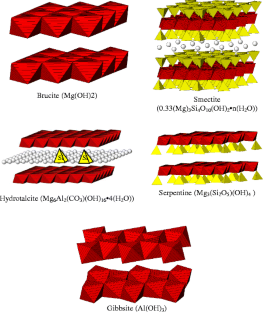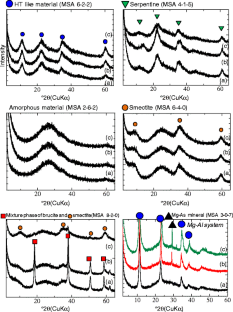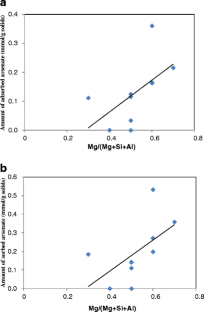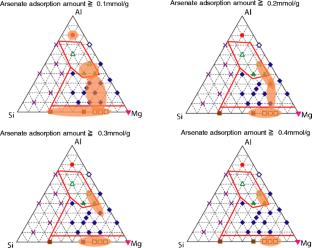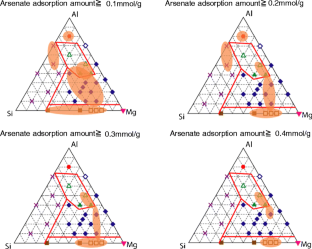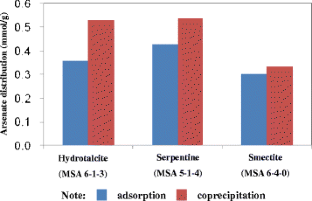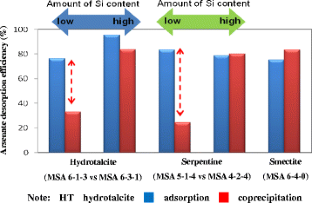 References
Cornelis, G., Johnson, C. A., Gerven, T. V., & Vandecasteele, C. (2008). Leaching mechanisms of oxyanionic metalloid and metal species in alkaline solid wastes: A review. Applied Geochemistry, 23, 955–976.

Depege, C., El Metoui, F., Forano, C., de Roy, A., Dupuis, J., & Besse, J. (1996). Polymerization of silicates in layered double hydroxides. Chemistry of Materials, 8, 952–960.

Donahoe, R. J., & Liou, J. G. (1985). An experimental study on the process of zeolite formation. Geochimica et Cosmochimica Acta, 49, 2349–2360.

Fukushi, K., Tsukimura, K., & Yamada, H. (2006). Surface acidity of amorphous aluminum hydroxide. Acta Geologica Sinica (English Edition), 80(2), 206–211.

Hattori, K., Takahashi, Y., Guillot, S., & Johanson, B. (2005). Occurrence of arsenic (V) in forearc mantle serpentinites based on X-ray absorption spectroscopy study. Geochimica et Cosmochimica Acta, 69(23), 5585–5596.

Miyata. (1983). Anion-exchange properties of hydrotalcite-like compounds. Clay and Clay Minerals, 31, 305.

Mizutani, T., Fukushima, Y., & Kamigaito, O. (1990). Synthesis of nickel and magnesium phyllosilicates with 1:1 and 2:1 layer structures. Bulletin of the Chemical Society of Japan, 63(7), 2091–2098.

Myneni, S. C. B., Traina, S. J., Logan, T. J., & Waychunas, G. A. (1997). Oxyanion behavior in alkaline environments: Sorption and desorption of arsenate in ettringite. Environmental Science and Technology, 31, 1761–1768.

Neal, C., & Stanger, G. (1983). Hydrogen generation from mantle source rock in Oman. Earth and Planetary Science Letters, 66, 315–320.

Opiso, E., Sato, T., Morimoto, K., Asai, A., Anraku, S., Numako, C., & Yoneda, T. (2010). Incorporation of arsenic during the formation of Mg-bearing minerals at alkaline condition. Minerals Engineering, 23, 230–237.

Pokrovsky, O. S., & Schott, J. (2004). Experimental study of brucite dissolution and precipitation in aqueous solutions: Surface speciation and chemical affinity control. Geochimica et Cosmochimica Acta, 68(1), 31–45.

Raposo, J., Zuloaga, O., Olazabal, M., & Madariaga, J. (2004). Study of the precipitation equilibria of arsenate anion with calcium and magnesium in sodium perchlorate at 25°C. Applied Geochemistry, 19, 855–862.

You, Y., Vance, G., & Zhao, H. (2001). Selenium adsorption on Mg–Al and Zn–Al layered double hydroxides. Applied Clay Science., 20, 13–25.

Zhang, M., & Reardon, E. J. (2003). Removal of B, Cr, Mo and Se from wastewater by incorporation into hydrocalumite and ettringite. Environmental Science and Technology, 37, 2947.
About this article
Cite this article
Opiso, E., Asai, A., Sato, T. et al. Sorption Behavior of Arsenate by Mg-Bearing Minerals at Hyperalkaline Condition: Implications for Oxyanions Sequestration During the Use and Disposal of Alkaline Wastes. Water Air Soil Pollut 223, 3471–3483 (2012). https://doi.org/10.1007/s11270-012-1125-5
Received:

Accepted:

Published:

Issue Date:
Keywords
Oxyanions

Arsenate

Sorption

Slag

Coal fly ash