Abstract
Vegetated roofs are becoming more commonly deployed as a means of mitigating stormflow in urban areas. A greenroof performance comparison of stormwater runoff has yet to be conducted with controlled rain events and quantifiable antecedent soil moisture. This study aimed to investigate the rainwater management provided by various greenroof design schemes. Runoff retention, peak flow lagtime, conductivity, and pH of ten different small-scale greenroof schemes were observed and analyzed under repeatable rain simulations in a pilot-scale study. Sedum rupestre Angelina, Sedum hispanicum, Trifolium repens (white clover), Trifolium pratense (red clover), Vinca major (Big-Leaf Periwinkle), and Lolium multiflorum (ryegrass) were grown in the same type of soil media but separate 2′ × 2′ trays at depths of 5 cm and 14 cm to observe how soil depth and root zone development affects stormwater flow through for each plant type. Results showed that increased green roof soil depth improved water retention and runoff lagtime; the effect of plant type was mixed and inconclusive. Runoff conductivity test results depended primarily on soil depth and the existence or absence of vegetation. Testing results show that pH normalization provided by a greenroof does not depend significantly with the substrate depth.
This is a preview of subscription content, log in to check access.
Access options
Buy single article
Instant access to the full article PDF.
US$ 39.95
Price includes VAT for USA
Subscribe to journal
Immediate online access to all issues from 2019. Subscription will auto renew annually.
US$ 199
This is the net price. Taxes to be calculated in checkout.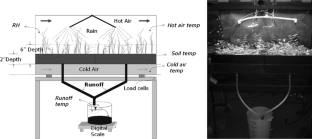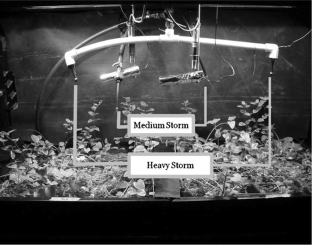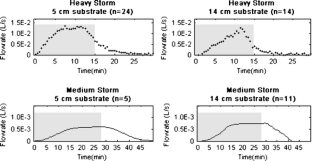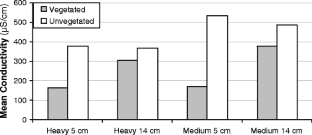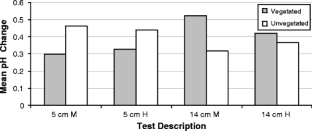 References
Berghage, R., Beattie, D., Jarrett, A., & O'Connor, T. (2007). Greenroof runoff water quality. Proceedings of the Greening Rooftops for Sustainable Communities, Minneapolis, Minnesota.

Carter, T. L., & Rasmussen, T. C. (2006). Hydrologic behavior of vegetated roofs. Journal of the American Water Resources Association (JAWRA), 42, 1261–1274.

Champagne, C., Staenz, K., Bannari, A., McNairn, H., & Deguise, J. C. (2003). Validation of a hyperspectral curve-fitting model for the estimation of plant water content of agricultural canopies. Remote Sensing of Environment, 87(2-3), 148–160.

Clark, S., Pitt, R., & Field, R. (2001). Wet-weather pollution prevention by product substitution. ASCE Urban Water Resources Research Council/Engineering Foundation Conference, Snowmass, Colorado, August 19–24, 2001.

DeNardo, J. C., Jarrett, A. R., Manbeck, H. B., Beattie, D. J., & Berghage, R. D. (2003). Stormwater detention and retention abilities of green roofs. Proceedings of the World Water & Environmental Resources Congress. Philadelphia, PA June 23–26, 2003. doi:10.1061/40685(2003)310

Forster, J., & Knoche, G. (1999). Quality of roof runoff from green roofs. Proc. the Eighth International Conference onUrban Storm Drainage. August 30–September 3, 1999, Sydney, Australia. Edited by IB Joliffe and JE Ball. The Institution of Engineers Australia, The International Association for Hydraulic Research, and The International Association on Water Quality, 1312.

Gupta, R. (2001). Hydrology and hydraulic systems. Long Grove, IL: Waveland Press, Inc.

Hunt, W. F., Hathaway, A. M., Smith, J. R., & Calabria, J. (2006). Choosing the right green roof media for water quality. Proceedings of the Greening Rooftops for Sustainable Communities, Boston, Massachusettes, 2006.

Hutchinson, D., Abrams, P., Retzlaff, R., & Liptan, T. (2003). Stormwater monitoring two ecoroofs. Proceedings of Greening Rooftops for Healthy Cities Conference, Chicago, Illinois, 2003.

Kohler, M. (2004). Energetic effects of green roofs to the urban climate near to the ground and to the building surfaces. Proc. Intl. Green Roof Conf. Nuertingen, IGRA, pp. 228–236.

Kohler, M., Schmidth, M., Grimme, F. W., Laar, M., de Assuncao Paiva, V. L., & Tavares, S. (2002). Greenroofs in temperate climates and in the hot-humid tropics—far beyond the aesthetics. Environmental Management and Health, 13(4), pp. 382–391(10).

Liptan, T., & Strecker, E. (2003). Ecoroofs (Greenroofs)—A more sustainable infrastructure. National Conference on Urban Stormwater: Enhancing Programs at the Local Level, USEPA 2003. http://www.epa.gov/nps/natlstormwater03/20Liptan.pdf. accessed on July 14, 2008

Moran, A., Hunt, B., & Jennings, G. (2004). A North Carolina field study to evaluate greenroof runoff quantity, Runoff Quality, and Plant Growth. http://www.bae.ncsu.edu/greenroofs/GRHC2004paper.pdf. accessed in May, 2008.

Spolek, G. (2008). Performance monitoring of three ecoroofs in Portland, Oregon. Urban Ecosystems, 11, 349–359.

Teemusk, A., & Mander, U. (2007). Rainwater runoff quantity and quality performance from a greenroof: The effects of short-term events. Ecological Engineering, 30, 271. doi:10.1016/j.ecoleng.2007.01.009.

Tenenbaum, F., Buchanan, R., & Holmes, R. (2001). Taylor's master guide to gardening. Houghton Mifflin Gardening, p. 525.

Van Metre, P. C., & Mahler, B. J. (2003). The contribution of particles washed from rooftops to contaminant loading to urban streams. Chemosphere, 52(10), 1727–1741. doi:10.1016/S0045-6535(03)00454-5.

Van Seters, T., Rocha, L., & MacMillan, G. (2007). Evaluation of the Runoff Quantity and Quality Performance of an Extensive Green Roof in Toronto, Ontario. Proceedings of the Greening Rooftops for Sustainable Communities, Minneapolis, MN.

Whitlow, T. H. (2006). A zero discharge green roof system and species selection to optimize evapotranspiration and water retention. Fourth Annual Greening Rooftops for Sustainable Communities Conference, Boston, MA.
About this article
Cite this article
Buccola, N., Spolek, G. A Pilot-Scale Evaluation of Greenroof Runoff Retention, Detention, and Quality. Water Air Soil Pollut 216, 83–92 (2011). https://doi.org/10.1007/s11270-010-0516-8
Received:

Accepted:

Published:

Issue Date:
Keywords
Best management practices

Low impact development

Stormwater management

Runoff

Nonpoint source pollution

Greenroofs

Ecoroofs