Abstract
Reservoirs play a strategic role in the rapid monetary growth of the world by providing numerous benefits. However, the reduction in appropriate sites along with environmental and social apprehensions has resulted in curtailment of new reservoirs around the world in twenty-first century. There is a potential of benefits available from existing reservoirs which can be best capitalized through their optimized operation. Reservoirs Operation Optimization considering Sediment Evacuation (RESOOSE), recently developed model which combines multiple reservoirs operation and sediment evacuation with Genetic Algorithm based optimization module, has been used in the study. The objective of the study was to optimize the irrigation deficit through cascade reservoirs with consideration to hydropower, sediment evacuation and flood damages reduction benefits. The RESOOSE model was applied to optimize the irrigation deficits of Tarbela and Diamer Basha Reservoirs in Pakistan using developed objective function. The article computed and compared the benefits of optimized and existing rule curves. The hydropower benefits of 36.92 Billion Kw, sediment evacuation benefits of 21.534 Million m3 and flood damages of 616.19 Million US$ due to existing rule curves were considered as minimum benefits for achieving the optimized rule curves to minimize irrigation deficits. The developed optimized rule curves reduced the irrigation shortages of case study reservoirs from 6.9 to 5.8 Billion m3 (16% enhancement) annually as compared to existing rule curves. The optimized rule curves minimized the irrigation deficits by maintaining the existing benefits and without lowering the minimum operating levels of case study reservoirs. The study suggests change in existing rule curves of Tarbela and Diamer Basha Reservoirs due to less irrigation shortages. The RESOOSE model can be applied to other cascade reservoirs for optimizing the rule curves.
This is a preview of subscription content, log in to check access.
Access options
Buy single article
Instant access to the full article PDF.
US$ 39.95
Price includes VAT for USA
Subscribe to journal
Immediate online access to all issues from 2019. Subscription will auto renew annually.
US$ 99
This is the net price. Taxes to be calculated in checkout.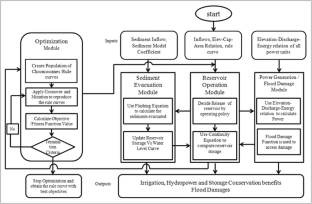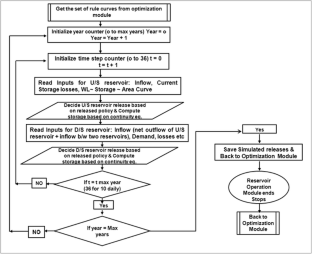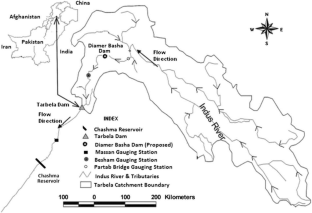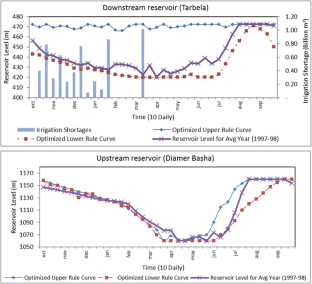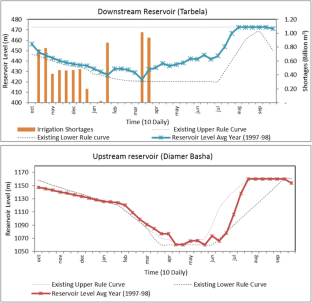 References
Ahmad A, Shafie AE, Razali SF, Mohammad ZS (2014) Reservoir optimization in water resources: a review. Water Resour Manag 28(11):3391–3405

Birhanu K, Alamirew T, Dinka MO, Aklog D (2014) Optimizing Reservoir Operation Policy Using Chance Constraint Nonlinear Programming for Koga Irrigation Dam, Ethiopia. Water Resour Manag 28(14):4957–4970

Chang FJ, Chen L, Chang LC (2005) Optimizing the reservoir operating rule curve by genetic algorithm. Hydrol Process 19(11):2227–2289

Chang FJ, Lai JS, Kao LS (2003) Optimization of operation rule curves and flushing schedule in a reservoir. Hydrol Process 17(8):1623–1640

Chen L, Chang FJ (2007) Applying a real-coded multi population genetic algorithm to multi reservoir operation. Hydrol Process 21(1):688–698

Goldberg DE (1989) Genetic Algorithms in search, optimization and machine learning. Addison – Wesley, Reading Mass

Hajiabadi R, Zarghami M (2014) multi-objective reservoir operation with sediment flushing: case study of Sefidrud Reservoir. Water Resources Management, Published online October 2014. DOI: https://doi.org/10.1007/s11269-014-0806-9

Holland J (1975) Adaptation in natural and artificial systems. University of Michigan Press, MIT Press, Ann Arbor, p 1992

IRTCES (1985) Lecture notes of training course on reservoir sedimentation. International research and training centre on erosion and sedimentation (IRTCES), The Tshingua University, Beijing, China (referenced by Khan and Tingsanchali, 2009)

Juran AA, Sarma AK (2005) Genetic algorithm for optimal operating policy of a multipurpose reservoir. Water Resour Manag 19(2):145–161

Khan NM, Tingsanchali T (2009) Optimization and simulation of reservoir operation with sediment evacuation: a case study of the Tarbela Dam, Pakistan. Hydrol Process 23(5):730–747

Khan NM, Babel MS, Clemente RS, Tingsanchali T, Loung HT (2012) Reservoir Optimization-Simulation with a Sediment Evacuation Model to Minimize Irrigation Deficits. Water Resour Manag 26(11):3173–3193

Kumphon B (2013) Genetic algorithms for multi-objective optimization: application to multi-reservoir system in the Chi River Basin, Thailand. Water Resour Manag 27(12):4369–4378

Mathworks (2013a) MATLAB capabilities: verification, validation and test of available tools. Web http://www.mathworks.com/. Accessed 29.06.2013

Mathworks (2013b) Advantages and Optimization capabilities of MATLAB computer language. Web http://www.mathworks.com/products/matlab/. Accessed 29.07.2013

Michalewicz Z (1996) Genetic algorithms, data structures and evolutionary programs, 3rd edn. Springer, Berlin Heidelberg New York

Ndiritu JG (2003) Reservoir system optimization using a penalty approach and a multi-population genetic algorithm. Water SA 29(3):273–279

Ranjithan SR (2005) Role of evolutionary computation in environmental and water resources systems analysis. J Water Resour Plan Manag 131(1):1–10

Rashid MU (2014) Optimization of multiple reservoir operation with consideration to sediment evacuation. Ph.D. Dissertation, University of Engineering and Technology Lahore, Pakistan

Rashid MU, Shakir AS, Khan NM (2014) Evaluation of sediment management options and minimum operation levels for Tarbela Reservoir, Pakistan. Arabian Journal of Science and. Engineering 39(4):2655–2668

Rashid MU, Shakir AS, Khan NM, Latif A, Qureshi MM (2015) Optimization of Multiple Reservoirs Operation with Consideration to Sediment Evacuation. Water Resour Manag 29(7):2429–2450

Suiadee W, Tingsanchali T (2007) A combined simulation genetic algorithm optimization model for optimal rule curves of a reservoir: a case study of the Nam Oon Irrigation Project, Thailand. Hydrol Process 21(23):3211–3225

Tate EL, Farquharson FA (2000) Simulating reservoir management under the threat of sedimentation: the case study of Tarbela Dam on Indus River. Water Resour Manag 14(3):191–208

Unver OI, Mays LW (1990) Model for real-time optimal flood control operation of a reservoir system. Water Resour Manag 4(1):21–46

Wan XY, Wang GO, Yi P, Bao WM (2010) Similarity-based optimal operation of water and sediment in a Sediment-Laden Reservoir. Water Resour Manag 24(15):4381–4402

Wang F, Valeriano OC, Sun X (2013) Near real-time optimization of multi-reservoir during flood season in Fengman Basin of China. Water Resour Manag 27(12):4315–4335

WAPDA (2008) Reservoir Operation and Sediment Transport Study: Diamer Basha Dam Project, Pakistan. Published by WAPDA. Web http://www.wapda.gov.pk. Accessed 1.10.2012

WAPDA (2012) Design Report of Diamer Basha Dam Project, Pakistan. Published by WAPDA. Web http://www.wapda.gov.pk. Accessed 1.10.2012

Wardlaw R, Bhaktikul K (2004) Comparison of genetic algorithm and linear programming approaches for lateral canal scheduling. Irrigation and Drainage. Engineering 130(4):397–414

Wardlaw R, Sharif M (1999) Evaluation of genetic algorithm for optimal reservoir system operation. J Water Resour Plan Manag 125:25–33

WCD (2000) Dams and development: A new framework for decision-making by World Commission on Dams. Earthscan Publications Ltd., London and Sterling, Va

White WR (2010) A review of current knowledge world water: resources, usage and the role of man-made reservoirs. FR/R0012, Foundation for Water Research Allen House, Liston Road, Marlow
Acknowledgements
An initial shorter version of the paper has been presented at the 10th World Congress of EWRA "Panta Rhei", Athens, Greece, 5-9 July, 2017.
About this article
Cite this article
Rashid, M.U., Latif, A. & Azmat, M. Optimizing Irrigation Deficit of Multipurpose Cascade Reservoirs. Water Resour Manage 32, 1675–1687 (2018). https://doi.org/10.1007/s11269-017-1897-x
Received:

Accepted:

Published:

Issue Date:
Keywords
Tarbela

Diamer Basha

Optimization

Multi-objective

Genetic Algorithm

RESOOSE Model

Irrigation Deficit