Abstract
Floods as natural phenomena exist and will continue to occur. No manmade project can stop a flood from happening, but there are several effective methods to reduce its risk, aftermath and consequences. This paper considers a novel formulation of the network interdiction problem with application on controlling floods. The aim of this work is to identify those arcs prone for flood, and implementing flood-control projects on these arcs, while required budget for deriving all these operations is bounded. the model is tested on a real-world case in Tabriz-Iran, and results are visualized.
This is a preview of subscription content, log in to check access.
Access options
Buy single article
Instant access to the full article PDF.
US$ 39.95
Price includes VAT for USA
Subscribe to journal
Immediate online access to all issues from 2019. Subscription will auto renew annually.
US$ 99
This is the net price. Taxes to be calculated in checkout.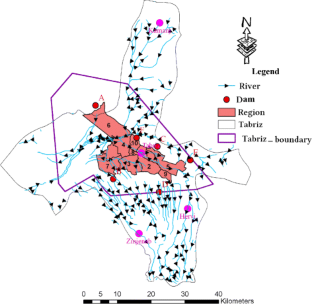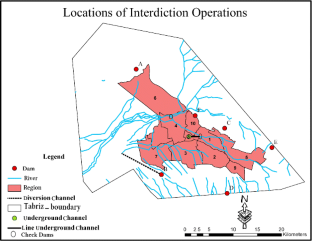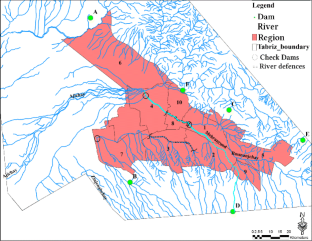 Notes
1.

United Nations International Strategy for Disaster Reduction

2.

3.

4.

5.

6.
References
Assimakopoulos N (1987) A network interdiction model for hospital infection control. Comput Biol Med 17:413–422

Ahuja RK, Magnanti TL, Orlin JB (1993) Network flows: theory, algorithms, and applications. Prentice Hall, Englewood Cliffs

Che D, Mays LW (2015) Development of an optimization/simulation model for real-time flood-control operation of river-reservoirs systems. Water Resour Manag 29 (11):3987–4005

Corely HW, Sha DY (1982) Most vital links and nodes in weighted network. Oper Res Lett 1:157– 160

Cormican KJ, Morton DP, Wood RK (1998) Stochastic network interdiction. Oper Res 46:184–197

Garg M, Smith C (2008) Models and algorithms for the design of survivable multicommodity flow networks with general failure scenarios. Omega 36:1057–1071

Lim C, Smith JC (2007) Algorithms for discrete and continuous multicommodity flow network interdiction problems. Dep Syst Ind Eng 39(1):15–26

Liu YC, Cheng CL (2014) A solution for flood control in urban area: using street block and raft foundation space operation model. Water Resour Manag 28(14):4985–4998

Lunday BJ, Sherali HD (2010) A dynamic network interdiction problem. Informatica 21(4):553–574

McMasters AW, Mustin TM (1970) Optimal interdiction of a supply network. Naval Res Logist Q 17:261–268

Malaviya A, Rainwater C, Sharkey T (2012) Multi-period network interdiction problems with applications to city-level drug enforcement. IIE Trans 44:368–380

Mehdipour EF, Bozorg Haddad O, Orouji H, MA Mario (2015) Application of genetic programming in stage hydrograph routing of open channels. Water Resour Manag 27(9):3261–3272

Morton D, Pan F, Saeger K (2007) Models for nuclear smuggling interdiction. IIE Trans 39:3–14

Pan F (2005) Stochastic network interdiction: models and methods, Doctoral dissertation, The University of Texas at Austin

Ratliff HD, Sicilia GT, Lubore SH (1975) Finding the n most vital links in flow networks. Manag Sci 21:531–539

Unver OI, Mays W. (1990) Model for real-time optimal flood control operation of a reservoir system. Water Resour Manag 4(1):21–46

Wood RK (1993) Deteministic network interdiction. Math Comput Model 17:1–18

Zarghami M, Safari N, Szidarovszky F, Islam S (2015) Nonlinear interval parameter programming combined with cooperative games: a tool for addressing uncertainty in water allocation using water diplomacy framework. Water Resour Manag 29(12):4285–4303

Zucco G, Tayfur G, Moramarco T (2015) Reverse flood routing in natural channels using genetic algorithm. Water Resour Manag 29(12):4241–4267
About this article
Cite this article
Soleimani-Alyar, M., Ghaffari-Hadigheh, A. & Sadeghi, F. Controlling Floods by Optimization Methods. Water Resour Manage 30, 4053–4062 (2016). https://doi.org/10.1007/s11269-016-1272-3
Received:

Accepted:

Published:

Issue Date:
Keywords
Network interdiction

Flood-control

Mixed-integer linear programming