Abstract
Integrated water management seeks to balance the interests of multiple stakeholders who desire many end-uses for water within the context of institutions and regulations. This problem is particularly complex in transboundary and water-scarce basins. In the Big Bend region of the Rio Grande/Bravo, an arid, monsoonal climate combines with multiple human and environmental water demands and established treaty requirements to stress available water resources. We analyzed reservoir operation strategies in the basin to integrate environmental flow (EF) considerations into existing management objectives using a linear programming model to assess reservoir operation policies. Five potential EF regimes are evaluated for improving aquatic and riparian habitat in the Big Bend region. The model uses the historical hydrologic record of river inflows, data for flood control and bi-national water allocation requirements, and parameters for human demands and infrastructure; to compare current and optimized operations of Luis L. Leon reservoir for multiple objectives. Results indicate that alternative operational policies for monthly reservoir storage (compared to historic values) can increase EF allocations without affecting water deliveries or treaty allocations. Some tradeoffs may exist, however, in managing reservoirs for both EFs and flood control. Our approach informs management strategies for the water-stressed basin that seek to incorporate environmental goals into existing infrastructure and operations.
This is a preview of subscription content, log in to check access.
Access options
Buy single article
Instant access to the full article PDF.
US$ 39.95
Price includes VAT for USA
Subscribe to journal
Immediate online access to all issues from 2019. Subscription will auto renew annually.
US$ 99
This is the net price. Taxes to be calculated in checkout.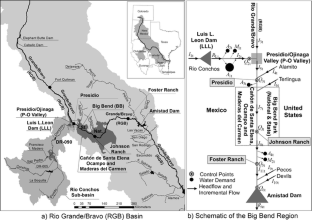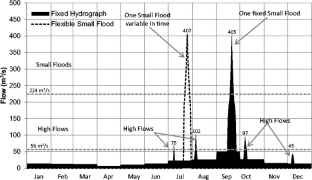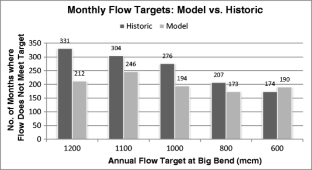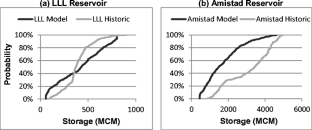 References
Ai XS, Sandoval-Solis S, Dahlke HE, Lane BA (2013) Reconciling hydropower and environmental water uses in the Leishui River Basin. River Res Appl. doi:10.1002/rra.2728

Biswas AK (2008) Integrated water resources management: is it working? Int J Water Resour Dev 24:5–22. doi:10.1080/07900620701871718

Booker JF, Michelsen AM, Ward FA (2005) Economic impact of alternative policy responses to prolonged and severe drought in the Rio Grande Basin. Water Resour Res 41:n/a–n/a. doi: 10.1029/2004WR003486

Bovee KD (1978) The incremental methods of assessing habitat potential for coolwater species, with management implications. In: Kendall RL (ed.) Sel. Cool. Fish N. Am. pp 340–346

Calizaya A, Meixner O, Bengtsson L, Berndtsson R (2010) Multi-criteria Decision Analysis (MCDA) for Integrated Water Resources Management (IWRM) in the lake Poopo Basin, Bolivia. Water Resour Manag 24:2267–2289. doi:10.1007/s11269-009-9551-x

Cohen Liechti T, Matos JP, Boillat JL, Schleiss AJ (2015) Influence of hydropower development on flow regime in the Zambezi River Basin for different scenarios of environmental flows. Water Resour Manag 29:731–747. doi:10.1007/s11269-014-0838-1

Collado J (2002) Criterios de distribución del agua en la Cuenca del Rio Bravo. Instituto Mexicano de Tecnología del Agua (IMTA), Cuernavaca

CONAGUA (2004a) Ley de aguas nacionales y su reglamento. Comision Nacional del Agua, Mexico City

CONAGUA (2004b) Registro público de derechos de agua. Comision Nacional del Agua, Mexico City

Dean DJ, Schmidt JC (2011) "The role of feedback mechanisms in historic channel changes of the lower Rio Grande in the Big Bend region." J Geomorphology 126:333–349

Doremus HD, Tarlock AD (2008) Water war in the Klamath basin: macho law, combat biology, and dirty politics. Island Press, Washington

Enriquez-Coyro C (1976) El Tratado entre México y los Estados Unidos de América sobre Ríos Internacionales. Facultad de Ciencias Políticas y. Universidad Nacional Autónoma de México, Sociales

GWP (2000) Integrated water resources management. Global Water Partnership, Stockholm

Harman C, Stewardson M (2005) Optimizing dam release rules to meet environmental flow targets. River Res Appl 21:113–129. doi:10.1002/rra.836

Hoekstra AY, Mekonnen MM, Chapagain AK, Mathews RE, Richter BD (2012) Global monthly water scarcity: blue water footprints versus blue water availability. PLoS One 7(2):e32688. doi:10.1371/journal.pone.0032688

IBWC (1906) International Boundary and Water Commission. Convention between the United States and Mexico. Equitable distribution of waters of the Rio Grande, El Paso, TX

IBWC (1944) Treaty between the United States and Mexico. Utilization of waters of the Colorado and Tijuana Rivers and of the Rio Grande. International Boundary and Water Commission, Washington

IBWC (1971) Proposed flood control project Rio Grande, Presidio Valley, Texas. Report as part of an international coordinated flood control plan with Mexico for the Presidio-Ojinaga Valley. International Boundary and Water Commission, El Paso

IBWC (2015) Rio Grande historical mean daily discharge data. International boundary and water commission

Ingol-Blanco E, McKinney DC (2011) Analysis of Scenarios to adapt to climate change impacts in the Rio Conchos Basin. Am Soc Civil Eng pp 1357–1364

Kim T-W, Valdés JB, Aparicio J (2002) Frequency and spatial characteristics of droughts in the Conchos River Basin, Mexico. Water Int 27:420–430. doi:10.1080/02508060208687021

Konrad CP, Olden JD, Lytle DA et al (2011) Large-scale flow experiments for managing river systems. BioScience 61:948–959. doi:10.1525/bio.2011.61.12.5

Lane BA, Sandoval-Solis S, Porse EC (2014) Environmental flows in a human-dominated system: integrated management strategies for the Rio Grande/Bravo Basin. J River Res Appl. doi:10.1002/rra.2804

Lund JR, Ferreira I (1996) Operating rule optimization for missouri river reservoir system. J Water Resour Plan Manag 122:287. doi:10.1061/(ASCE)0733-9496(1996)122:4(287)

Meijer KS, van der Krogt WMN, van Beek E (2012) A new approach to incorporating environmental flow requirements in water allocation modeling. Water Resour Manag 26:1271–1286. doi:10.1007/s11269-011-9958-z

Mitchell B (2005) Integrated water resource management, institutional arrangements, and land-use planning. Environ Plan A 37:1335–1352. doi:10.1068/a37224

Mix K, Lopes VL, Rast W (2012) Environmental drivers of Streamflow change in the upper Rio Grande. Water Resour Manag 26:253–272. doi:10.1007/s11269-011-9916-9

Nava L, Sandoval-Solis S (2014) Multi-tiered governance of the Rio Grande/Bravo Basin: the fragmented water resources management model of the United States and Mexico. Int J Water Gov 2:85–106. doi:10.7564/13-IJWG23

Pang A, Sun T, Yang Z (2013) A framework for determining recommended environmental flows for balancing agricultural and ecosystem water demands. Hydrol Sci J 1–14. doi: 10.1080/02626667.2013.816425

Pasternack GB (2011) 2D modeling and ecohydraulic analysis. University of California at Davis, California

Poff NL, Zimmerman JKH (2010) Ecological responses to altered flow regimes: a literature review to inform the science and management of environmental flows: review of altered flow regimes. Freshw Biol 55:194–205. doi:10.1111/j.1365-2427.2009.02272.x

Postel S (2003) Rivers for life: managing water for people and nature. Island Press, Washington

Rahaman M, Varis O (2005) Integrated water resources management: evolution, prospects and future challenges. Sustain Sci Pract Policy 1:15–21

Richter BD, Thomas GA (2007) Restoring environmental flows by modifying dam operations. Ecol Soc 12

Richter BD, Baumgartner JV, Powell J, Braun DP (1996) A method for assessing hydrologic alteration within ecosystems. Conserv Biol 10:1163–1174. doi:10.1046/j.1523-1739.1996.10041163.x

Sandoval-Solis S, McKinney DC (2009) Hydrological feasibility of environmental flows in the Rio Grande/Bravo Basin. Am Soc Civil Eng pp 497–497

Sandoval-Solis S, McKinney DC (2014) Integrated water management for environmental flows in the Rio Grande. J Water Resour Plan Manag 140(3):355–364. doi:10.1061/(ASCE)WR.1943-5452.0000331

Sandoval-Solis S, Reith B, McKinney DC (2010) Hydrologic analysis before and after reservoir alteration at the big bend reach, Rio Grande/Rio Bravo. University of Texas, Austin

Sandoval-Solis S, McKinney DC, Loucks DP (2011) Sustainability Index for water resources planning and management. J Water Resour Plan Manag 137:381. doi:10.1061/(ASCE)WR.1943-5452.0000134

Schmandt J (2002) "Bi-national water issues in the Rio Grande/Rio Bravo Basin." J Water Policy 4:137–155

SECURE Water Act Section 9503(c) (2011) Reclamation climate change and water 2011, section 6 - basin report: Rio Grande

SEMARNAT (2004) Estadísticas del Agua en México. Secretaria de Medio Ambiente y Recursos Naturales, Comisión Nacional del Agua (CONAGUA), Sistema Unificado de Información Básica del Agua, Distrcito Federal, Mexico

Texas Commission on Environmental Quality (TCEQ) (1938) Rio Grande Compact. Texas Water Code (Title 3,Chapter 41). Austin

Tharme RE (2003) A global perspective on environmental flow assessment: emerging trends in the development and application of environmental flow methodologies for rivers. River Res Appl 19:397–441. doi:10.1002/rra.736

Tharme RE, King JM (1998) Development of the building block methodology for instream flow assessments, and supporting research on the effects of different magnitude flows on riverine ecosystems. Cape Town, South Africa

Upper Rio Grande Basin and Bay Expert Science Team (2012) Environmental flows recommendations report. Final submission to the environmental flows advisory group, Rio Grande Basin and bay area stakeholders committee and texas commission on environmental quality

Vanham D, Fleischhacker E, Rauch W (2009) Impact of snowmaking on alpine water resources management under present and climate change conditions. J Water Sci Technol 55(9):1793–1801. doi:10.2166/wst.2009.211

Vigerstøl KL (2003) Drought management in Mexico's Rio Bravo basin. Dissertation, University of Washington

Wesson MD, Hallmich C, Bennett J, Sifuentes-Lugo C, Frias-Garcia A, Roberson AM, Karges J, Garret GP (2014) Conservation assessment for the big bend- Rio Bravo Region: a binational collaborative approach to conservation. Commission for Environmental Cooperation, Montreal

Wilchfort O, Lund JR (1997) Shortage management modeling for urban water supply systems. J Water Resour Plan Manag 123:250–258. doi:10.1061/(ASCE)0733-9496(1997)123:4(250)

World Wildlife Fund (2006) Conclusions from the building block method specialist work session Rio Conchos. Chihuahuan Desert Program Office, Chihuahua City

World Wildlife Fund (2007) World's top 10 rivers at risk. Gland, Switzerland

Wurbs RA (1993) Reservoir‐system simulation and optimization models. J Water Resour Plan Manag 119:455–472. doi:10.1061/(ASCE)0733-9496(1993)119:4(455)

Yin X-A, Yang Z-F, Petts GE (2011) Reservoir operating rules to sustain environmental flows in regulated rivers. Water Resour Res 47:n/a–n/a. doi: 10.1029/2010WR009991
Acknowledgments
Primary research support came as part of the National Science Foundation-funded Responding to Rapid Environmental Change Integrative Graduate Research and Education Traineeship administered by the Department of Evolution and Ecology at UC Davis (NSF-DGE #0801430)
About this article
Cite this article
Porse, E.C., Sandoval-Solis, S. & Lane, B.A. Integrating Environmental Flows into Multi-Objective Reservoir Management for a Transboundary, Water-Scarce River Basin: Rio Grande/Bravo. Water Resour Manage 29, 2471–2484 (2015). https://doi.org/10.1007/s11269-015-0952-8
Received:

Accepted:

Published:

Issue Date:
Keywords
Environmental flows

Integrated water resources management

Rio Grande

Rio Bravo

Simulation

Optimization